Detailed Angel iTrade prime plan review: After the successful launch of premium services plan Angel iTrade, Angel Broking has released a brokerage plan: Angel iTrade Prime plan from 1st April 2019, where you can avail zero brokerage on delivery trades along with a flat rate of Rs. 20 per order for intraday, F&O, currency, and commodity trading.
As a new-age investor, you should always do proper market research before selecting a trusted and reliable brokerage stockbroker. While selecting the best stockbroker, you must compare the different brokerage plans.
It is also important to know the hidden charges because they can reduce your profits. For maximum profits and worry-free investments, you can consider the new plan offered by Angel Broking – among the largest independent full-service retail broking houses in India.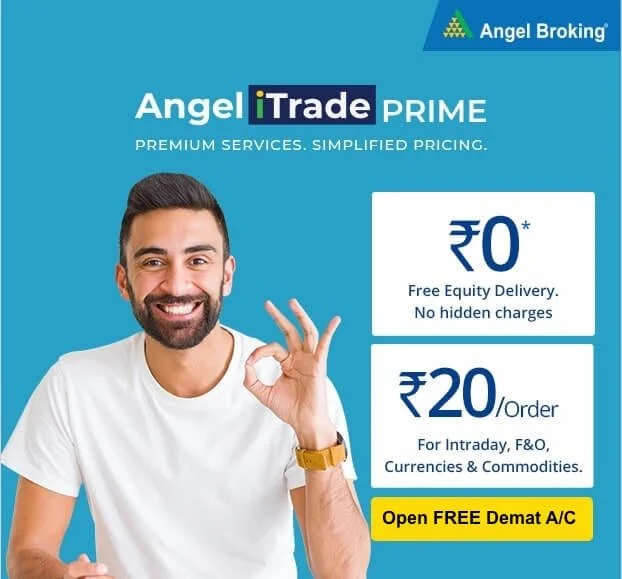 Angel iTrade Prime Plan Review – Key Features
Angel Broking launched its campaign titled: 'Aage Badhne ka Smart Sauda.' This campaign, popularly called the 'Smart Sauda' campaign, showcases a unique flat rate brokerage structure plan called: Angel iTrade Prime. The key features of this plan are as follows:
Cheapest plan among full-service brokers.
Zero hidden charges.
A flat rate of Rs 20 per order for intraday, F&O, currency, and commodity trading.
Offer clients an opportunity to avail full suite of broking services including basic research and advisory, absolutely free.
Read the detailed Angel Broking review to get more insights. You will get all Angel Broking iTrade plan detailes in the article.
Quick Note: If you want to open a FREE Demat account with Angel Broking, here's the direct link!
Angel iTrade Prime Plan Review – Charges
Mains Charges: Account opening charge gets waved off and Angel iTrade Prime AMC charges are also very nominal.
Charge Type
Amount
Initial Margin
Free
Account Opening Fee (includes GST)
₹699 (Will be Waved off)
Annual Maintenance Charges (AMC)
1st Year – Free
From 2nd Year – ₹450
Brokerage for Order Value <= ₹50,000
₹15 / Per Order
Brokerage for Order Value > ₹50,000
₹30 / Per Order
Call & Trade Charges
₹10/ Per Order
Online Fund Transfer via Net Banking & UPI
Free
ARQ ‐ Artificial Intelligence-based Advisory
Free
Technical & Derivatives trading ideas
Free
Other Charges:
Charge Type
Amount
Franking, KRA, CKYC, eSignature Charges
Free
Email statements / Contract notes
₹20
Transaction charges for Sell (Debit) &
Inter‐settlement Debit per transaction
₹20
Pledge Creation/ Closure / Invocation
₹25
Demat / Remat (Per Certificate )
₹50
Physical statements/ DIS request/ Physical contract
notes
₹50
Cheque Bounce Charges
₹350
Delay Payment Charges on outstanding bill amount
1.5% Per month (levied every 15 days)
Benefits of Angel Broking iTrade Prime Plan
As of now, it's all beneficial for those who opt for Angel Broking's iTrade prime plan since they need to pay a flat brokerage charge to get the services of a full-service stockbroker.
This plan is applicable for trading into equity, future and options, commodity, and currency. Also, there are no hidden charges.
With the new prime plan the brokerage charges would be zero resulting in less overall cost burden for the customer; thereby encouraging higher participation from the retail segment, especially first-time investors.
ALSO READ
Points to Note
Brokerage is levied per executed order across all segments and it will not exceed the SEBI prescribed limit.
The order value for Options is calculated as (Strike + Premium) x Lot size. Brokerage is also charged on expired, exercised, and assigned on the option contract.
Stamp duty, GST, Education cess & other statutory levies (if any) will be charged as applicable.
The above tariff is subject to change. Changes if any will be intimated 30 days in advance.
Closing Thoughts
The introduction of the Angel Broking iTrade Prime plan has proved to be a game-changer in India's retail investment segment. Be it first-time investors or self-employed/salaried individuals – exploring the common dream of flying high on the horizon of stock market investments – Angel Broking will help you secure a better future.
We hope you have liked the Angel iTrade prime plan review 2021 and find it helpful. You can open a FREE Demat account with Angel Broking. Do let us know your views in the comment section below. Happing trading!