About MetaTrader 5 Web Terminal
The MetaTrader 5 Web Terminal is a product re-developed by MetaQuotes from scratch that lets you trade from the comfort of any device. This Web Terminal enables all desktop & mobile device users to access the MetaTrader 5 platform and trade but from their web browser instead of an app.
Pros
Responsive interface
Easy to use
You can trade using a demo account
Effective analytics tools
Cons
Advanced features can be confusing to new users
Steep learning curve
Best For
Professional traders: The MetaTrader 5 Web Terminal includes many advanced features that make it convenient for professional traders. For instance, you can see market entries and exits displayed on charts. You can also see important economic calendar events displayed on charts. Likewise, you can live prices on different types of assets, including precious metals, currencies, commodities, etc.
Day Traders: Day traders always trade on the go, so they require a platform that's easy to access from anywhere. The MetaTrader 5 Web Terminal fits their requirements because you can access it so far you have a device with an active internet connection.
Thanks to the MetaTrader 5 Web Terminal, you no longer need to download the app on your smartphone or desktop to trade. You can access it as easily as you'd access any other website. This platform makes trading much more convenient.
Features
Instant Trading Execution
You can execute trades instantly on the MetaTrader 5 Web Terminal, unlike many other platforms where trades take significant time to settle. Just pick the asset you want to trade, select the volume, click buy or sell, and the trade will be instantly executed.
If you wish, you can specify a stop loss for your trade to minimize losses or a take-profit to maximize gain. These two mechanisms work the same way – an instruction to sell an asset once it reaches a particular price.
Charts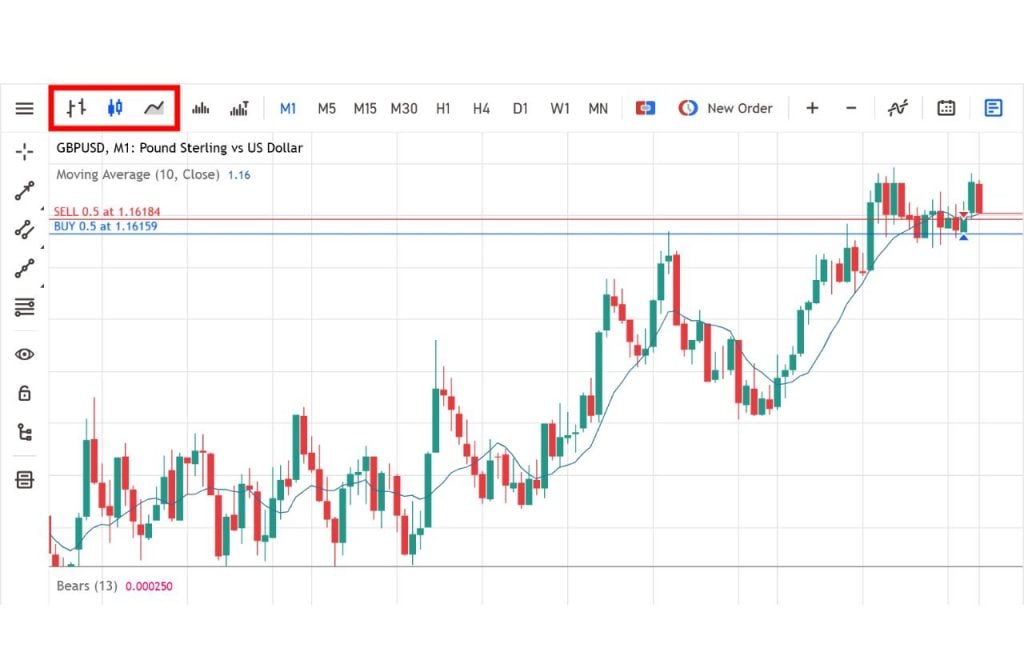 You can analyze assets with ease using charts provided by the platform. For example, you can analyze the historical price of the U.S. dollar and see which periods of the month it usually rises or falls. You can switch between different types of charts including a bar chart, candlestick chart, or area chart.
There are nine timeframes that you can set for each chart, such as monthly, weekly, and daily, so you can track price movements for these respective periods. These charts can guide you toward making profitable investment decisions.
The MetaTrader 5 Web Terminal also displays market entries and exits and notable economic calendar events on charts. A unique feature of this platform is that it lets you save charts as images on your device so that you can look at them later.
Dark Mode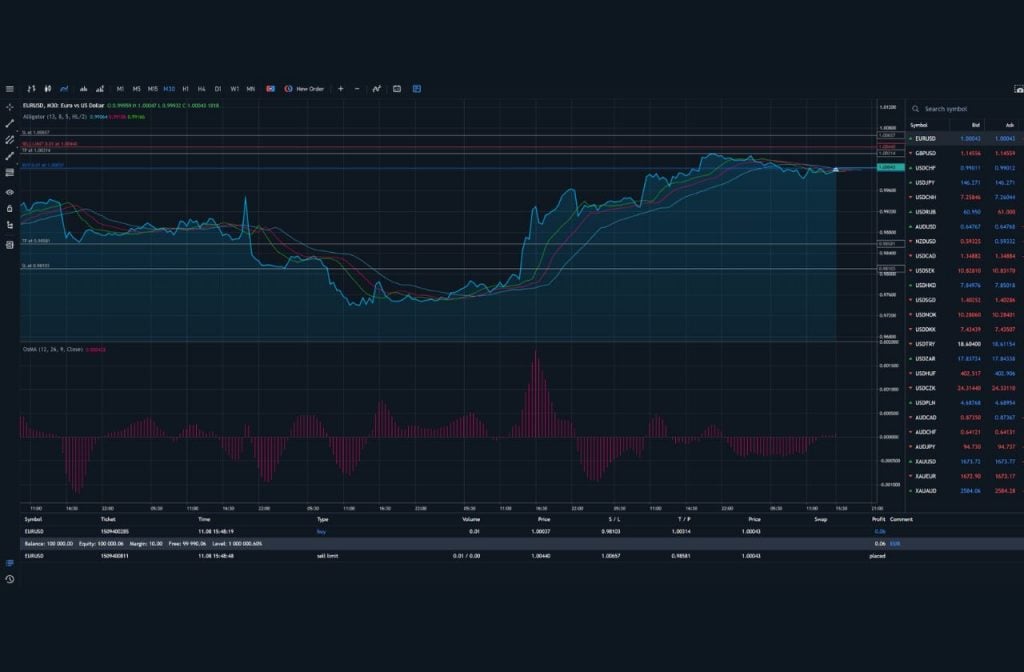 The dark mode is a color scheme that employs light-colored text and icons on a dark background, and you'll find it on many modern web apps, including the Web Terminal. On this platform, you can switch between dark mode and light mode at the click of a button.
Intuitive Interface
The MetaTrader 5 Web Terminal has a much more simplified interface than the desktop app. You can find all the relevant chart commands, technical indicators, and objects on the left or top panel of the dashboard. You can access additional commands through the hamburger menu in the top-left corner.
Mobile Responsiveness
The MetaTrader 5 Web Terminal was designed with mobile users in mind. It works seamlessly on all Apple and Android devices, enabling you to manage your trading account on the go regardless of what operating system you're running. You can receive financial quotes on your mobile phone, execute trades across different markets, and analyze assets using over 30 technical indicators.
Advanced Trading
The new Web Terminal offers features targeted at professional traders. These features include:
Leverage trading; users can amplify their bets with borrowed capital.
Two accounting modes; hedging mode for foreign exchange trades and netting mode for exchange markets.
Separate accounting for orders and trades.
One-click trading.
What Assets Can I Trade On The Web Terminal?
The MetaTrader 5 Web Terminal lets you trade currencies, commodities, precious metals, and indexes.
Currencies: You can buy or sell the U.S. dollar, Australian dollar, European euro, New Zealand dollar, Swiss franc, Japanese yen, and dozens of other currencies.
Commodities: You can trade commodities including crude, natural gas, coffee, corn, sugar, wheat, and cotton.
Metals: You can trade gold, silver, palladium, and platinum using specific currencies.
Indexes: You can buy into various well-known indexes including the S&P 500, ASX 2000, DAX 30, FTSE 100, EURO STOXX 50, NASDAQ 100, etc.
How To Get Started With The Web Terminal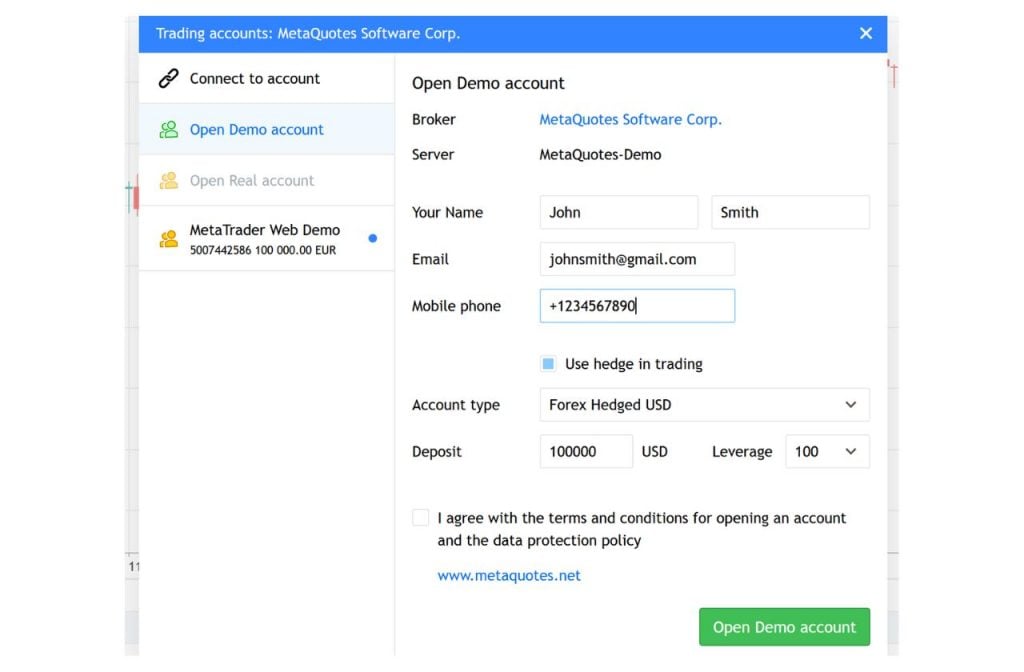 You can start trading with the MetaTrader 5 Web Terminal using either a demo account or a live account. A demo account lets you experiment on the platform & test your trading strategies.
MetaQuotes licenses its MetaTrader 5 platform to brokers that, in turn, offer trading services to end users. To use the Web Terminal as an end user, you'll need to contact your broker's representative to help you set up the working environment.
Multi-Platform Compatibility
The main appeal of the MetaTrader 5 Web Terminal is that it isn't selective regarding hardware. It's compatible with every device with an active internet connection and web browser. Just input the correct link on your web browser, log into your account, and you can start trading on the go.
Summary
It's very convenient to use the MetaTrader 5 Web Terminal because you don't need to download any app that takes up storage space on your device. Just input the link on your web browser and sign into your account, and you can begin trading as much as you wish. When you're done, close the browser tab.
The Web Terminal has a user-friendly interface, with features neatly arranged on the left side of the dashboard. The interface is responsive such that you can switch back and forth between different features seamlessly.
We think that MetaQuotes, the company behind the platform, will introduce more features to the Web Terminal as time goes on.
FAQ
What Is The Main Feature Of MetaTrader 5 Web Terminal?
The core of the web terminal has been rewritten practically from scratch. With the updated interface, the web terminal has become faster more stable, more convenient, and more adaptive for both desktop and mobile trading.
What Additional Features Have Been Added To The Updated Web Terminal?
Convenient tool customization, more analytical objects, economic calendar events displayed on the chart, a simplified interface, and much more. More details can be found in the official press release of MetaQuotes.
What Assets Can I Trade On the MetaTrader 5 Web Terminal?
You can trade currencies, precious metals, commodities, and indexes.
Do I Need To Pay To Use The MetaTrader 5 Web Terminal?
No, individual users don't need to pay any fees to use the Web Terminal. In order to get started, ask your broker's representative to set up a working environment.
Which Devices Are Compatible With The Web Terminal?
All the devices. You can access the MetaTrader 5 Web Terminal from any device & OS with an active internet connection and web browser.
To stay updated with the Latest Stock Market news, download our app here!

For editorial purposes, contact news@tradebrains.in
---
Start Your Financial Learning Journey
Want to learn Stock Market and other Financial Products? Make sure to check out, FinGrad, the learning initiative by Trade Brains. Click here to start your financial learning journey with us. And do not miss out on the Introductory Offer!!