Best Stock Screeners For Indian Stocks: There are over 5,500 companies listed on the Indian stock market. While investigating for good companies to invest in, if you start reading the financials of each and every single stock, then it might take years.
Moreover, it doesn't make sense to read the balance sheet, profit & loss statements, or cash-flow statements of all the listed companies, if you can filter them out based on just a few preliminary filters like debt or growth rate. And that is why stock screeners can be a handy tool for investors (and traders) to reduce hassle.
In this post, we are going to discuss the 5 best stock screeners that every Indian stock investor should know.
What is a Stock Screener?
A stock screener is a tool to shortlist a few companies from a pool of all the listed companies on a stock exchange using filters. The investors specify the filters and the stock screener gives the results accordingly. For example, if you want to find a list of companies whose
Market capitalization is greater than 10,000 Cr
The price to earnings is between 10 to 25.
Last 3 years average return on equity is 20%
And the debt-to-equity ratio is less than 1
Then, you can apply all these filters in a stock screener to get the list of the companies which fulfill the above criteria.
Stock screeners are very useful as they can save you a lot of time. You do not need to go through all the listed companies to shortlist a few good ones. You can just apply the basic filter to get the list of a few good ones that you want to investigate further.
Overall, the stock screener will help you to find good-performing stocks according to your specifications with a single click. Here is the list of the 5 best stock screeners for Indian stocks that every Indian investor should know. Further, please read this post until the end, as there is a bonus in the last section.
5 Best Stock Screeners That You Should Know
Here is the list of the 5 best stock screeners for Indian stocks that you should know and bookmark on your browser. All these best stock screeners are powerful are simple to use:
Best Stock Screeners #1 – Trade Brains Screener
Through Trade Brains "Stock Screener", you can scan and shortlist the stocks that fit your investment style by applying various parameters you choose while making an investment decision. Trade Brains Portal offers over sixty frequently used parameters to screen stocks. Using this portal, you can screen winning stocks based on different filters.
Apply different parameters to shortlist the best ones among over 5,000 publically listed companies in India. The biggest advantage of this feature is that rather than going through each and every share and testing the set of parameters, you can simply adjust it one time and the rest of the work will be done by our screener with the help of designed filters.
Here's a quick demo on how you can screen stocks using the Stock screener feature offered by Trade Brains Portal:
Best Stock Screeners #2 – Screener.in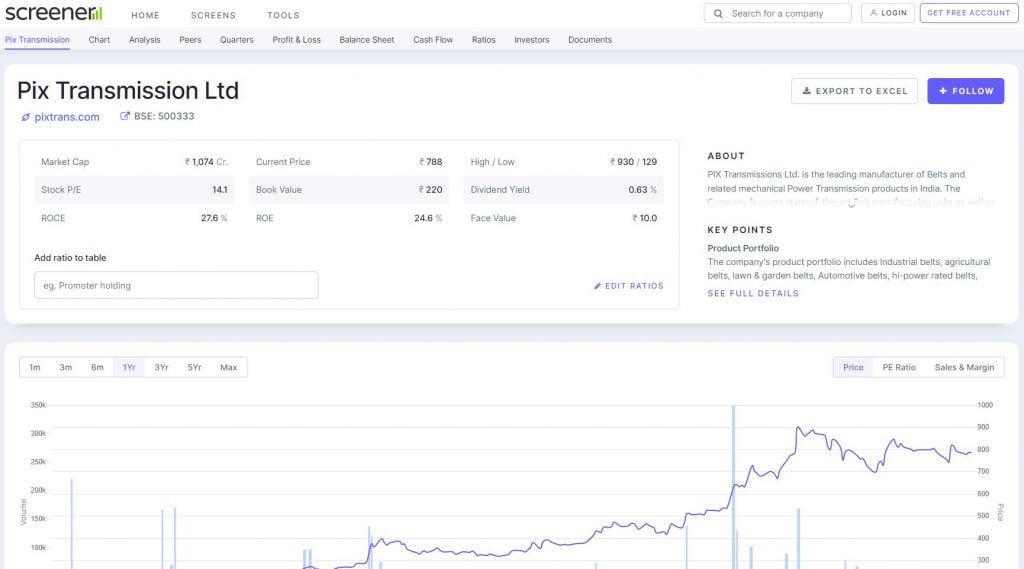 The Screener is a very simple yet powerful website for stock screening. The query builder of Screener allows the user to apply a number of filters to shortlist stocks based on PE ratio, market capitalization, book value, ROE, profit, sales, etc. The results of the stock screener can be powerfully customized and moreover, the screen can be saved for future use.
Also read: If you want to learn how to use the screener website efficiently for stock screening, you can find this post useful: How to use SCREENER.IN like an Expert
Best Stock Screeners #3 – Tickertape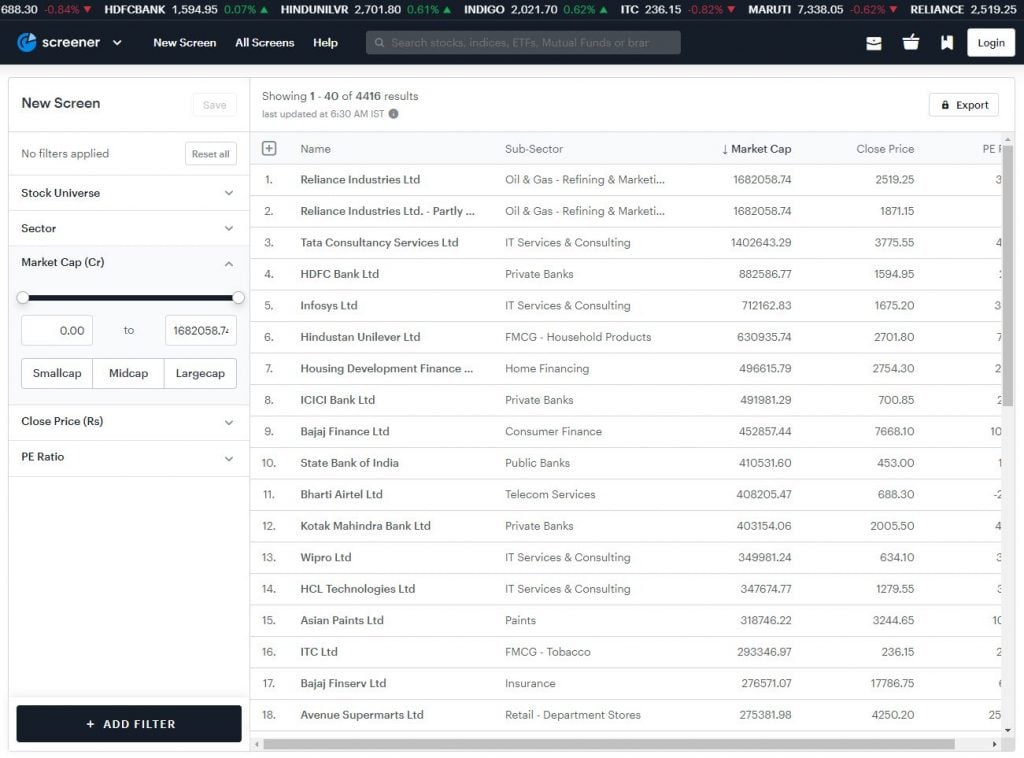 Tickertape Screener is yet another simple stock screener that has a lot more criteria to filter companies based on market cap, sector, close price, PE ratio, and other financial ratios. What makes this website stand out from the rest is its easy-to-use interface and feature to apply all these filters on the same tab to find specific stocks. The filters are fast to use and the results are easily customizable.
Best Stock Screeners #4 – Investing.com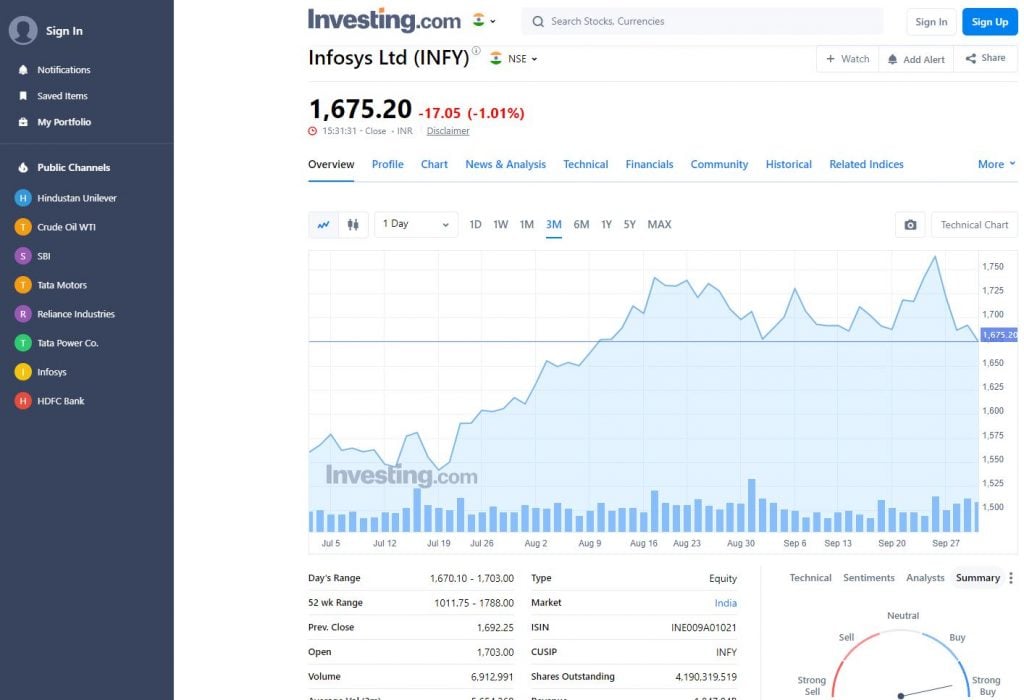 Investing.com is also a very powerful website for stock screening. You can find the list of all the companies trading on NSE and BSE here. There are a number of filters available on INVESTING for screening the stocks like ratios, price, volume & volatility, fundamentals, dividends, and technical indicators.
Moreover, it's a very useful site if you follow the top-down approach. You can select the industry which you want to research and then apply a number of filters like PE, P/Book value, ROCE, etc for shortlisting the best stock in that industry.
For example, if you are studying the chemical industry, then simply select this industry option. You will get a list of the companies in this industry. Next, you can apply different filters for screening the best one, according to your preference.
Best Stock Screeners #5 – CapitalCube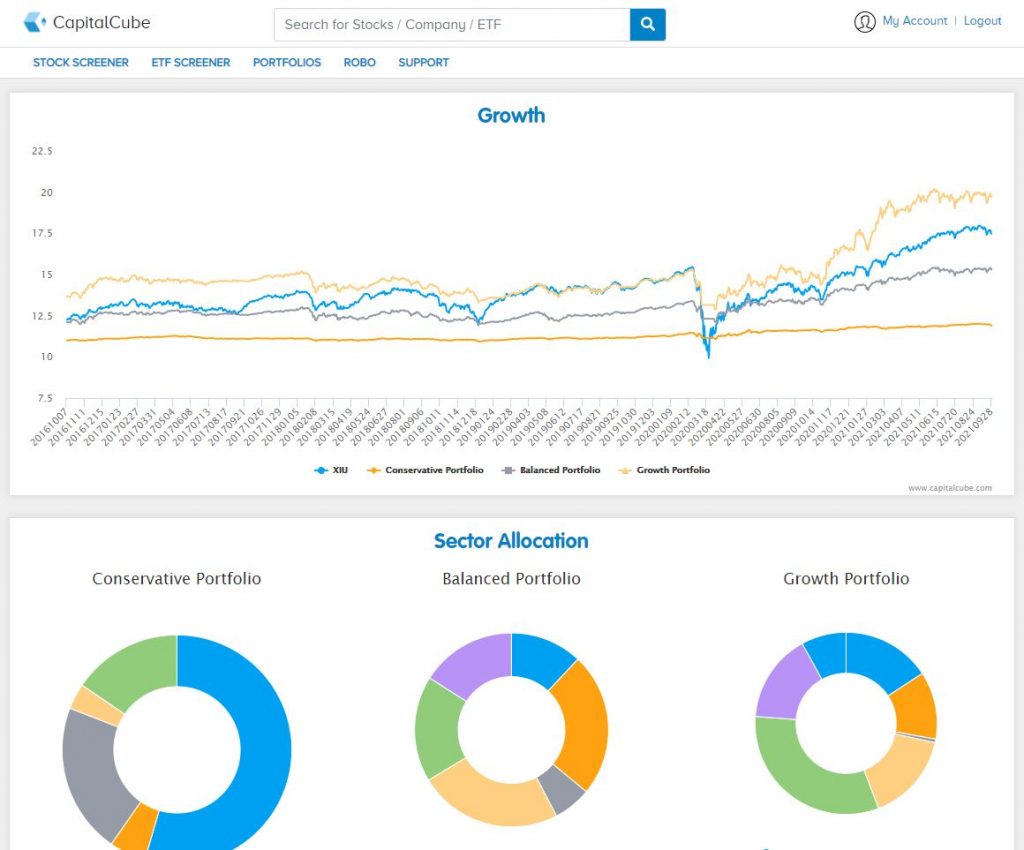 For investors, information providers, finance portals, and the media, CapitalCube offers financial research and content. They cover about 50,000 stocks and ETFs around the world and produce 1,000 pieces of auto-generated content every day. The Wall Street Journal and Yahoo! Finance have both featured their work.
Their predictive analytics and automatically created narratives enable investors to make judgments based on an in-depth study of a company's peer performance, earnings quality, and dividend strength. They also look at the impact of company operations like acquisitions, stock buybacks, and dividend revisions.
Bonus: A few other useful stock screeners
As always, we never end a post without some bonuses. Here is a list of a few other useful stock screeners that you should also know.
That's all. I hope that this list of the best stock screeners for Indian stocks is useful to you. If I missed the name of any other useful stock screener that deserves to be on this list, feel free to comment below. I'll add them to the bonus section above so that the readers can get more benefits. Happy Investing!
Frequently Asked Questions (FAQs)
Which is the best stock screener in India?
Well, there is no single answer to this. There are plenty of screeners in India and the best one depends on what works best for you and whether you're looking for a fundamental or technical screener. However, accurate and real-time data, ease of use, a good interface, quick filters, and customization are important things to consider. Some of the best screeners in India are Screener.in, Trade Brains Screener, Tickertape, Investing.com, and Trendlyne Screener.
What is a stock screener?
Stock screeners are tools used to shortlist companies based on various criteria as per a user's requirement. They help to study and choose stocks based on fundamental and technical factors. Users can find stocks in specific industries, above or below a certain market cap, financial ratios that apply a particular range, and so on.
Does Google have a stock screener?
Google no longer offers a stock screener. Earlier, the screener was available on Google Finance and had data related to stock markets in various countries.
Where can I buy a stock screener?
You do not have to buy stock screeners. Most stock screeners in India are free to use. You can use the data available on them by using their app or website. Some screeners have premium features that can be accessed by subscribing to them. These subscriptions can be bought on their respective websites.
What is the best way to scan stocks?
The best way to scan stocks is by using financial ratios like market capitalization, PE ratio, return on equity, debt-equity ratio, and technical factors like moving averages, highs, and lows, volume etc.

Also read: 3 Simple Tricks to Stock Research in India for Beginners.
Kritesh (Tweet here) is the Founder & CEO of Trade Brains & FinGrad. He is an NSE Certified Equity Fundamental Analyst with +7 Years of Experience in Share Market Investing. Kritesh frequently writes about Share Market Investing and IPOs and publishes his personal insights on the market.
---
Start Your Stock Market Journey Today!
Want to learn Stock Market trading and Investing? Make sure to check out exclusive Stock Market courses by FinGrad, the learning initiative by Trade Brains. You can enroll in FREE courses and webinars available on FinGrad today and get ahead in your trading career. Join now!!