7 Best Stock Market Apps that Makes Stock Research 10x Easier.
7 Best Stock Market Apps that makes Stock Research 10x Easier– Now a day, if you are a stock market trader, then it's essential for you to stay updated with every minute market movements. The modern stock market traders keep tabs on rising and fall of the stocks on daily basis and sometimes that too hourly.
The high-speed internet and handy mobile apps have made the life of traders simple, faster and efficient. These financial apps help the traders to stay informed and ready all the time.
From checking the real-time streaming market price of the stock, making a virtual portfolio, drawing stocks charts, following market trends to tracking your portfolio; everything is now accessible from your smartphone or tablet.
Therefore, today I am going to present you the 7 Best Stock Market Apps that will make your stock research easier in India. Moreover, all the apps listed here are free. So be with me for the next 5-8 minutes to learn best stock market apps for Indian stock research.
7 Best Stock Market Apps –
1. MoneyControl
Play store rating: 4.0/5 Stars (308k Reviews)
Downloads: +10 Million
Available on: Android, IoS, Windows
This is my personal favorite mobile app for stock market news and updates. If you are planning to keep only one stock market app on your smartphone, then I will highly recommend you to have this one. Money control app is simple, yet have tons of information and news.
You can track the latest updates on Indian and Global financial markets on your smartphone with the Moneycontrol App. It covers multiple assets from BSE, NSE, MCX and NCDEX exchanges, so you can track Indices (Sensex & Nifty), Stocks, Futures, Options, Mutual Funds, Commodities and Currencies with ease.
Features:
Ease of Use: Easy navigation to all financial data, portfolio, watchlist and message board. Single search bar with voice search for stocks, indices, mutual funds, commodities, news, etc
Latest Market Data: Latest quotes of stocks, F&O, mutual funds, commodities and currencies from BSE, NSE, MCX, and NCDEX
News: All-day coverage of news related to markets, business and economy; plus interviews of senior management
Portfolio: Easy monitoring your portfolio across Stocks, Mutual Funds, ULIPs, and Bullion. Timely updates on performance of your portfolio, and news & alerts relating to stocks you hold
Personalized Watchlist: Adding your favorite stocks, mutual funds, commodities, futures, and currencies to monitor. Get timely alerts in form of news and corporate action
Message Board: Follow your favorite topics and the top borders to get recommendations. Engage and participate in conversations relating to your portfolio or interest
Source: Money Control
---
2. Stock Edge
Play store rating: 4.6/5 Stars (24k Reviews)
Downloads: +1 Million
Available on: Android, iOS
Stock Edge helps Indian Stock market traders and investors do their own research and take better decisions by providing them with end-of-day analytics and visualizations and alerts.
Features:
Daily Updates Section for filtered major market tracking with News, NSE & BSE Corporate Announcements, Forthcoming events, & Corporate Actions and more.
FII/ FPI & DII Cash and Derivatives with strong historical data visualization Daily, Monthly & Yearly.
Opportunity Scans: Price Scans, Last week high/ low, Last Month high/ low, 52 weeks high/low, 3 days price behavior etc
Track what Big Indian Investors are doing. Use MyInvestorGroup section to create your own group of Investors with their multiple names/entities etc
Sector Research: Sector List, Industries in a sector, Companies in a sector/Industry, Price Movement of last 30 days presented in a simple graph, Gainers, Losers etc.
---
3. Economic Times(ET) Markets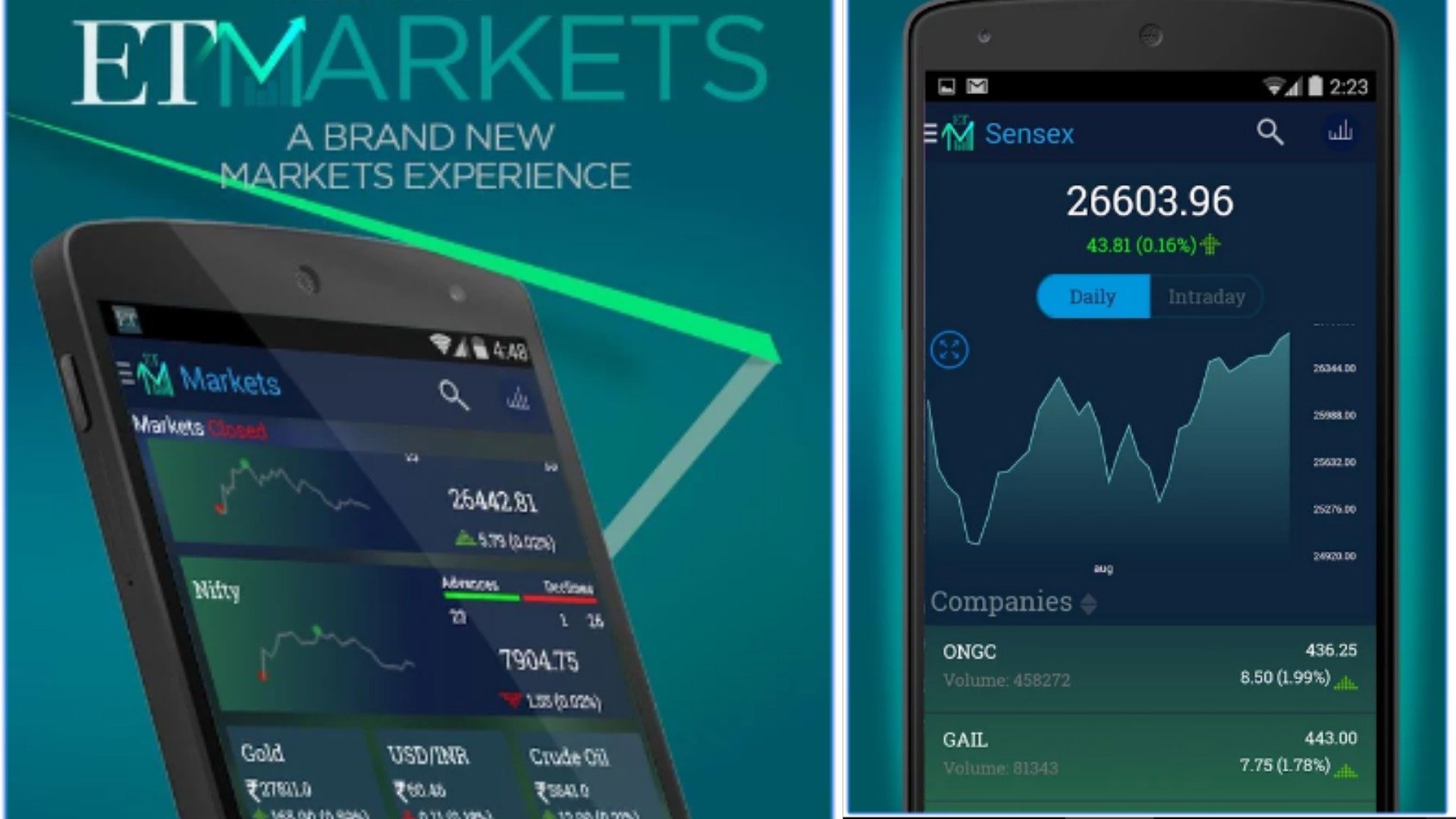 Play store rating: 4.1/5 Stars (26k Stars)
Downloads: +1 Million
Available on: Android, IoS, Windows
This is another of the best stock market apps. I regularly use ET Markets app for reading market news and updates as they provide the best latest news.
Features:
To track BSE Sensex, NSE Nifty charts live and get share prices with advanced technical charting.
Follow stock quotes real time, get tips on intraday trading, stock futures, commodities, forex market, ETFs on the go.
One-stop destination for mutual fund news, NAVs, portfolio updates, fund analysis, SIP calculator
Simple swipe to build, manage and access your portfolio; get customized news, analysis and data of the Indian stock market
To create your watchlist and track them regularly
Get analyses/expert views delivered to you, participate in discussions/conversations through comments
---
4. Yahoo Finance
Play store rating: 4.2/5 Stars (163k reviews)
Downloads: +5 Million
Available on: Android, IoS, Windows
First of all, after downloading this app, you need to change the settings. In the region settings, select 'India (English)' for getting the updates about the Indian stock market. The simple yet dynamic user interface makes it one of the best stock market apps for stock research.
Features:
Follow the stocks you care about most and get personalized news and alerts.
Access real-time stock information and investment updates to stay on top of the market.
Add stocks to watchlists to get real-time stock quotes and personalized news
Track the performance of your personal portfolio.
Find all the financial information you need with sleek, intuitive navigation
Go beyond stocks and track currencies, bonds, commodities, equities, world indices, futures, and more
Compare stocks with interactive full-screen charts
---
5. NSE Mobile Trading
Play store rating: 3.4/5 Stars (14k Reviews)
Downloads: +1 Million
Available on: Android, IoS, Windows
Another one of the best stock market apps in India. This app provides the freedom to trade hassle free anywhere and at any time. After downloading the app, you can get the User ID and Password by your NSE registered Trading Member. Further, you can call 1800 266 0052 (Toll-Free) for assistance
Features:
Real-time streaming quotes, with a simple and user-friendly interface for all types of users.
Comprehensive trading and market monitoring platform.
---
6. Investar
Play store rating: 4.0/5 Stars (1k Reviews)
Downloads: +100,000
Available on: Android, IoS
The simple navigation and interactive charts with zoom features make it one of the best stock market apps. It is a great app for technical analysis on your smartphone or tablet.
Features:
Live intraday candlestick chart updates (Stocks/FO) (1-min or 5-min, depending on the subscription type)
Live NSE Stocks/F&O updates.
Unlimited watch-lists.
Technical indicators like (EMA, SMA, MACD, RSI, STOCHASTICS, VOLUME, OPEN INTEREST, ADX, BOLLINGER-BANDS)
Pivot-point based resistance & support levels.
Push Notifications
---
7. Market Mojo
Play store rating: 3.9/5 Stars (1k Reviews)
Downloads: +100,000
Available on: Android
This is a new yet powerful app for stock market research. Market Mojo is great for the fundamental analysis of stocks. It offers pre-analyzed information on all stocks, all financials, all news, all price movement, all broker recommendations, all technicals and everything that matters in the Indian stock markets.
Features:
The Mojo Quality rank reflects the company's long-term performance vs its peers.
Its Valuation determines how the stock is valued at its current price
The current financial trend indicates if the company is currently on a growth path and its ability to generate profits.
The Portfolio Analyser evaluates every hidden opportunity and risk in the portfolio and tells the investor what he should be doing rather than what he should be just tracking. Every portfolio goes through our test of seven parameters-Returns, Risk, Diversification, Liquidity, Quality, Valuation & Financial Trend
---
BONUS App
Play store rating: 4.6/5 Stars
Available on: Android
Trade brains is a FREE financial education app focused on teaching stock market investing and personal finance to the DIY (do-it-yourself) Investors. Trade Brains app will guide you on how to invest in the Indian stock market with simple, easy-to-understand and original content.
Features:
Pocket guide for stock market Investment
Step-by-step stock investing lessons.
Easy to understand the contents of various investment concepts and strategies.
Best Investment quotes.
Any content can be shared with a simple click.
Bookmark your favorite content to read/revise later
Topic requests by the users.
Quick note: New to stocks and confused where to start? Here's an amazing online course for the newbie investors: INVESTING IN STOCKS- THE COMPLETE COURSE FOR BEGINNERS. Enroll now and start your stock market journey today!
That's all. I hope this blog post '7 Best Stock Market Apps that makes Stock Research 10x Easier' is useful to the readers. If I missed any amazing app that you believe should be mentioned here, feel free to comment below. Else, please comment below which Stock market app is your favorite? Happy Investing!
Save Upto 90% on Brokerage Fee
Trade Brains' recommended top brokers to open demat and trading account in India
No 1 STOCKBROKER IN INDIA
Zerodha
Free equity investments | Flat ₹20 intraday and F&O trades
TB Rating
★★★★★
APPLY NOW
GET FREE DEMAT ACCOUNT
Angel Broking
0 Brokerage on Equity Delivery | Rs 20 per order for Intraday‎ and F&O trades
TB Rating
★★★★★
APPLY NOW
GET FREE DEMAT ACCOUNT
5Paisa
Fix brokerage of Rs. 20 per trade
TB Rating
★★★★
APPLY NOW
Hi, I am Kritesh (Tweet me here), an NSE Certified Equity Fundamental Analyst and an electrical engineer (NIT Warangal) by qualification. I have a passion for stocks and have spent my last 4+ years learning, investing and educating people about stock market investing. And so, I am delighted to share my learnings with you. #HappyInvesting