List of Best Stock Market Apps in India 2021: Nowadays, if you are a stock market trader, then it's essential for you to stay updated with every minute market movements. The modern stock market traders keep tabs on the rising and fall of the stocks on a daily basis and sometimes that too hourly.
The high-speed internet and handy mobile apps have made the life of traders simple, faster, and efficient. These financial apps help the traders to stay informed and ready all the time.
From checking the real-time streaming market price of the stock, making a virtual portfolio, drawing stock charts, following market trends to tracking your portfolio; everything is now accessible from your smartphone or tablet.
Therefore, today we are going to present to you the 7 Best Stock Market Apps that will make your stock research easier in India. Moreover, all the apps listed here are free. In short, be with us for the next 5-8 minutes to learn the best stock market apps for Indian stock research.
7 Best Stock Market Apps in India 2021
1. MoneyControl
Play store rating: 4.1/5 Stars (360k Reviews)
Downloads: +10 Million
Available on: Android, iOS, Windows
This is our personal favorite mobile app for stock market news and updates. If you are planning to keep only one stock market app on your smartphone, then we will highly recommend you to have this one. The money control app is simple, yet has tons of information and news.
You can track the latest updates on Indian and Global financial markets on your smartphone with the Moneycontrol App. It covers multiple assets from BSE, NSE, MCX, and NCDEX exchanges, so you can track Indices (Sensex & Nifty), Stocks, Futures, Options, Mutual Funds, Commodities, and Currencies with ease.
Key Features:
Ease of Use: Easy navigation to all financial data, portfolio, watchlist and message board. Single search bar with voice search for stocks, indices, mutual funds, commodities, news, etc
Latest Market Data: Latest quotes of stocks, F&O, mutual funds, commodities and currencies from BSE, NSE, MCX, and NCDEX
News: All-day coverage of news related to markets, business and economy; plus interviews of senior management
Portfolio: Easy monitoring your portfolio across Stocks, Mutual Funds, ULIPs, and Bullion. Timely updates on the performance of your portfolio, and news & alerts relating to stocks you hold
Personalized Watchlist: Adding your favorite stocks, mutual funds, commodities, futures, and currencies to monitor. Get timely alerts in form of news and corporate action
Message Board: Follow your favorite topics and the top borders to get recommendations. Engage and participate in conversations relating to your portfolio or interest
You can download the MoneyControl App here!
(Source: Money Control)
2. Stock Edge
Play store rating: 4.4/5 Stars (31k Reviews)
Downloads: +1 Million
Available on: Android, iOS
Stock Edge helps Indian Stock market traders and investors do their own research and make better decisions by providing them with end-of-day analytics and visualizations and alerts.
Key Features
Daily Updates Section for filtered major market tracking with News, NSE & BSE Corporate Announcements, Forthcoming events, & Corporate Actions and more.
FII/ FPI & DII Cash and Derivatives with strong historical data visualization Daily, Monthly & Yearly.
Opportunity Scans: Price Scans, Last week high/ low, Last Month high/ low, 52 weeks high/low, 3 days price behavior, etc.
Track what Big Indian Investors are doing. Use MyInvestorGroup section to create your own group of Investors with their multiple names/entities etc.
Sector Research: Sector List, Industries in a sector, Companies in a sector/Industry, Price Movement of last 30 days presented in a simple graph, Gainers, Losers etc.
You can download the StockEdge App here!
3. Economic Times(ET) Markets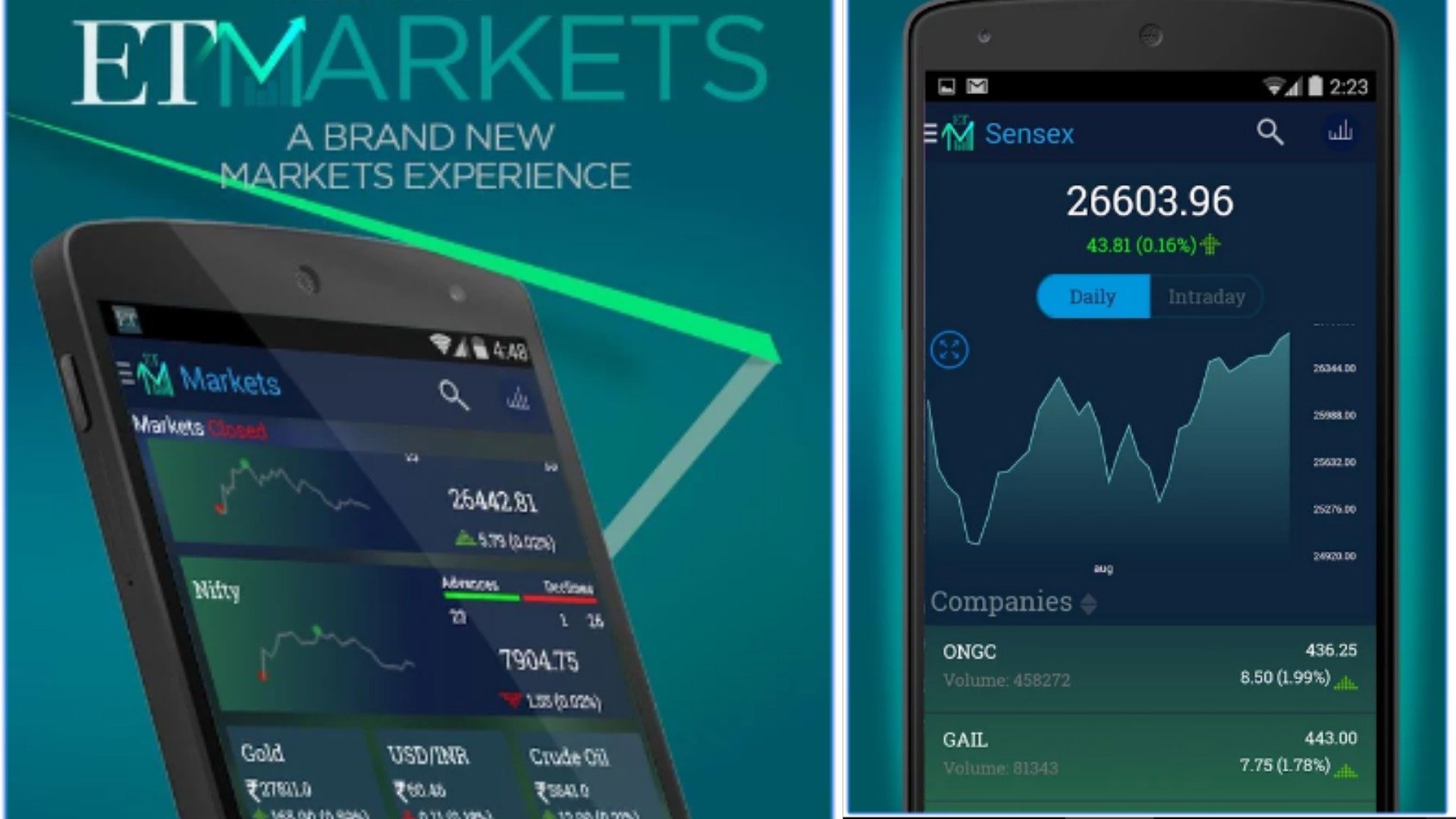 Play store rating: 4.7/5 Stars (52k Reviews)
Downloads: +1 Million
Available on: Android, iOS, Windows
This is another of the best stock market apps. we regularly use ET Markets app for reading market news and updates as they provide the best latest news. Moreover, the stock details feature on this app is always very well organized.
Key Features:
To track BSE Sensex, NSE Nifty charts live and get share prices with advanced technical charting.
Follow stock quotes real time, get tips on intraday trading, stock futures, commodities, forex market, ETFs on the go.
One-stop destination for mutual fund news, NAVs, portfolio updates, fund analysis, SIP calculator
Simple swipe to build, manage and access your portfolio; get customized news, analysis and data of the Indian stock market
To create your watchlist and track them regularly
Get analyses/expert views delivered to you, participate in discussions/conversations through comments
You can download the ET Markets app here!
4. Tickertape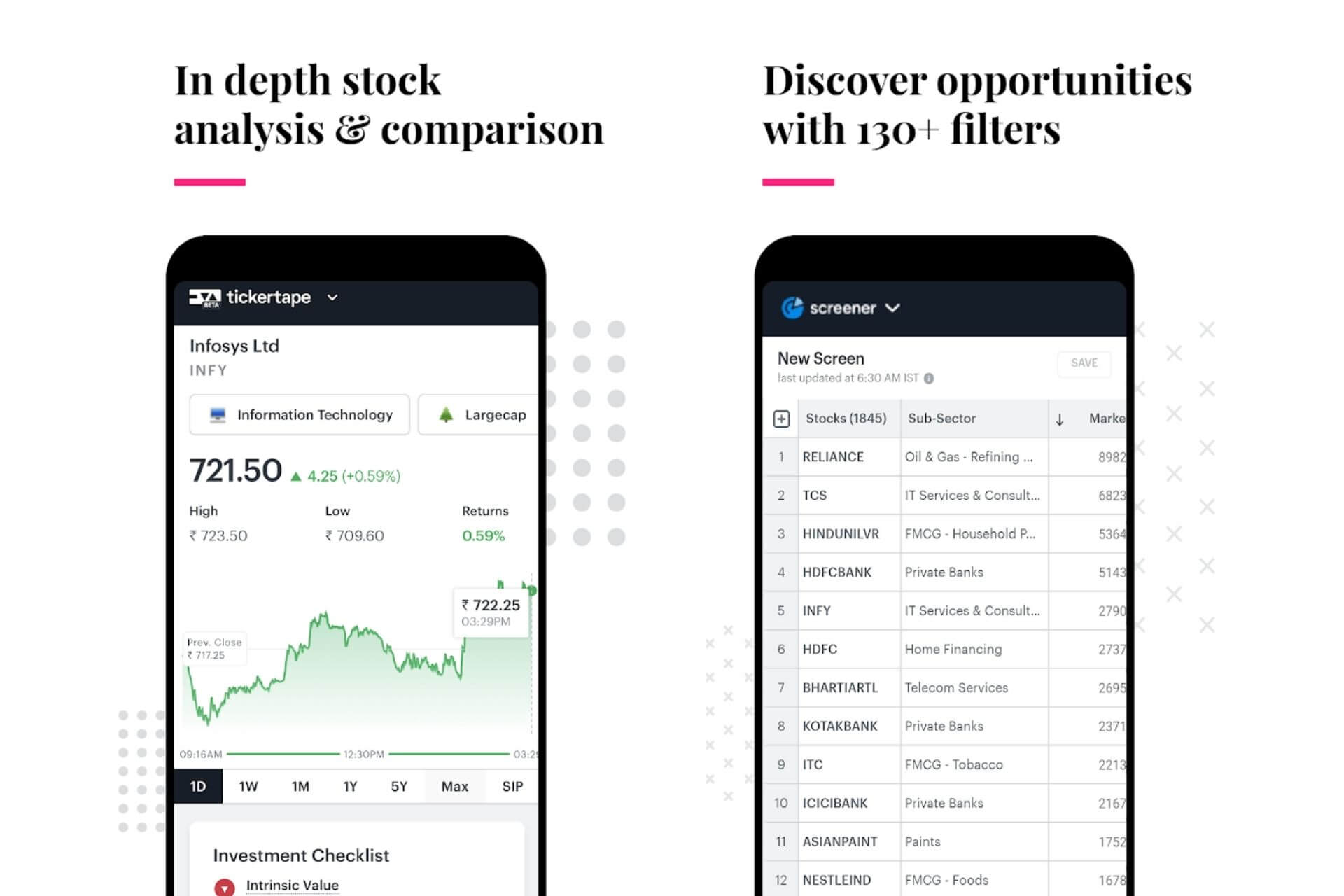 Play store rating: 4.5/5 Stars (19k reviews)
Downloads: +1 Million
Available on: Android, iOS,
This app has become quite popular in the best stock market apps in India in recent months and relatively newer when compared to other apps in this list. Tickertape is a modern stock analysis platform that is designed for keeping you at the center of the process.
It focuses on salient metric analysis with powerful tools and robust ecosystem support that can be a catalyst to improve your knowledge about the market and their participation in the same.
Key Features:
Detailed stock analysis for all the publicly listed companies in India.
Advanced Screener with 130 filters for you to analyze any Indian stocks.
Market mood Index (MMI) which is the market sentiment indicator trusted to correctly time their trades.
Peer comparisons, news, and events are presented in such a way that will help in your investment decisions.
Finally, Broker Connect to help you log in and connect your broker account to the Tickertape account.
You can download the Tickertape app here
5. Yahoo Finance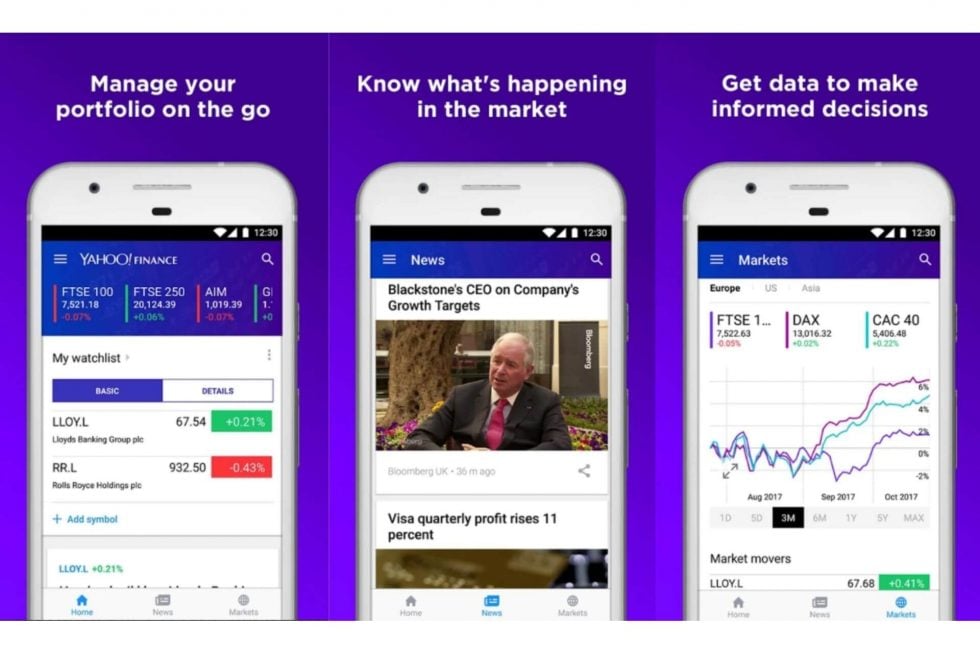 Play store rating: 4.1/5 Stars (175k reviews)
Downloads: +10 Million
Available on: Android, iOS, Windows
First of all, after downloading this app, you need to change the settings. In the region settings, select 'India (English)' for getting updates about the Indian stock market. The simple yet dynamic user interface makes it one of the best stock market apps for stock research.
Key Features:
Follow the stocks you care about most and get personalized news and alerts.
Access real-time stock information and investment updates to stay on top of the market.
Add stocks to watchlists to get real-time stock quotes and personalized news
Track the performance of your personal portfolio.
Find all the financial information you need with sleek, intuitive navigation
Go beyond stocks and track currencies, bonds, commodities, equities, world indices, futures, and more
Compare stocks with interactive full-screen charts
You can download the Yahoo Finance app here!
6. Market Mojo
Play store rating: 4.1/5 Stars (2.2k Reviews)
Downloads: +100,000
Available on: Android
This is a new yet powerful app for stock market research. Market Mojo is great for the fundamental analysis of stocks. It offers pre-analyzed information on all stocks, all financials, all news, all price movement, all broker recommendations, all technical and everything that matters in the Indian stock markets.
Key Features:
The Mojo Quality rank reflects the company's long-term performance vs its peers.
Its Valuation determines how the stock is valued at its current price.
The current financial trend indicates if the company is currently on a growth path and its ability to generate profits.
The Portfolio Analyser evaluates every hidden opportunity and risk in the portfolio and tells the investor what he should be doing rather than what he should be just tracking. Every portfolio goes through our test of seven parameters-Returns, Risk, Diversification, Liquidity, Quality, Valuation & Financial Trend.
You can download the Marketsmojo app here!
7. Investing.com

Play store rating: 4.4/5 Stars (448k Reviews)
Downloads: +10 Million Downloads
Available on: Android, iOS
Investing.com is a popular stock market app used worldwide. Along with Indian stock details, you can also find the details about the world indexes and foreign stock exchanges. It offers a set of financial informational tools covering a wide variety of global and local financial instruments.
Key Features:
Live quotes and charts for over 100,000 financial instruments, traded on over 70 global exchanges.
Live updates on global economic events customized to your personal interests.
Build your own customized watchlist and keep track of stock quotes, commodities, indices, ETFs and bonds – all synced with your Investing.com account.
Breaking news, videos, updates and analysis on global financial markets, as well as technology, politics and business.
Quick access to all of our world-class tools, including: Economic Calendar, Earnings Calendar, Technical Summary, Currency Converter, Market Quotes, advanced charts and more.
You can download the Investing.com app here!
---
BONUS App to Check: Best Stock Market Apps in India
Play store rating: 4.4/5 Stars (611 Reviews)
Downloads: +50,000
Available on: Android
Trade brains is a FREE financial education app focused on teaching stock market investing and personal finance to the DIY (do-it-yourself) Investors. Trade Brains app will guide you on how to invest in the Indian stock market with simple, easy-to-understand, and original content.
Key Features:
Pocket guide for stock market Investment.
LEARN- Step-by-step stock investing lessons.
Easy to understand contents on various investment concepts and strategies.
Financial Calculators to Simplify your investment planning
Stockbrokers section to compare the best Online Stockbrokers in India.
Investing quizzes to test your knowledge.
You can DOWNLOAD the TradeBrains App here!
2. Trendlyne
Play store rating: 4.5/5 Stars (1.5k Reviews)
Downloads: +100,000
Available on: Android
Trendlyne is a fast-rising best stock market app in India for market analysis and research. This app offers stock data, stock screeners, alerts, stock recommendations from analysts, SWOT Analysis, portfolio and watchlist tools, and a real-time newsfeed and many other powerful features to its users. Here are a few of the key features of the Trendlyne App:
Key Features:
NSE and BSE market feeds, and Trendlyne's trademark DVM Stock Scores
Fundamentals + Technicals – Keep track of price feeds, technicals, SMA/EMA, delivery and volume, insider trades, bulk block deals, and more.
SWOT Analysis for every Stock
Powerful Stock Screeners from Expert Strategies to Red Flags
You can download the Trendlyne App here for Android!
3. Trade Brains Portal (Early Access)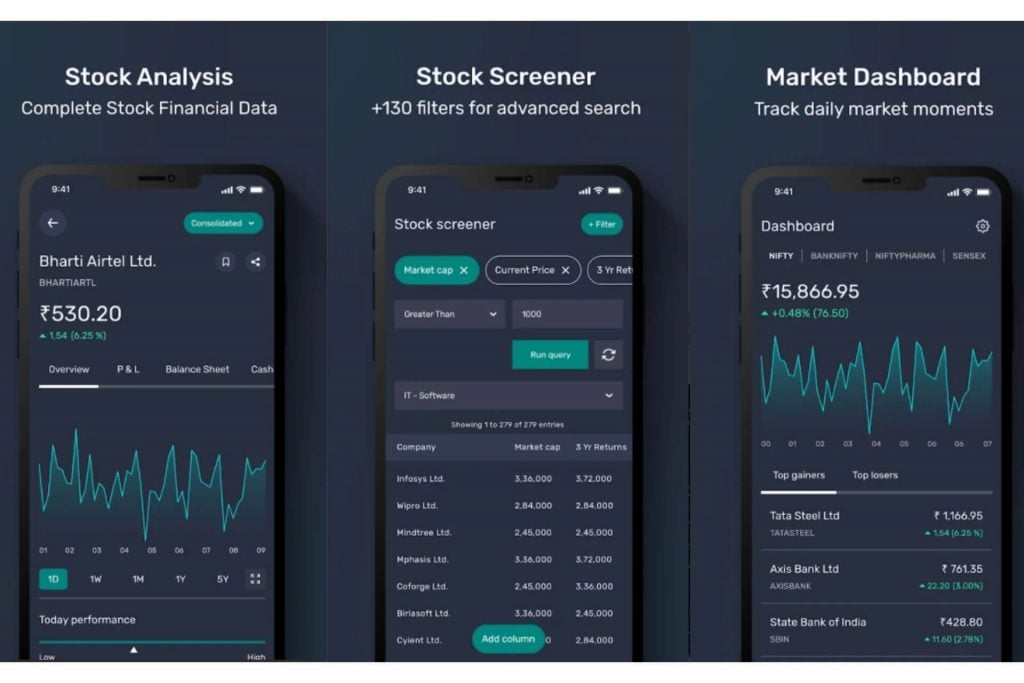 Available on: Android
Trade Brains Portal App helps investors make efficient stock research and analysis by providing quality fundamental data with insightful visuals. With the cleanest UI and fast analytics tool, Trade Brains Portal app is definitely one of the best stock market apps in India. Currently, Trade Brains Portal app is only available on Google Playstore for Android users.
Key Calculators and Features:
Stock Analytics: Find the stock details like financial ratios, charts, financial statements, shareholding pattern and more analytics data for over 4,000 publicly listed companies on NSE/BSE in India.
Multiple Watchlist: Create multiple watchlist to save your favorite stocks as per your preference.
Stock Screener: With over +130 filters, Trade Brains Screener is definitely one of the most advanced and fastest stock screener in India.
Superstar Portfolio: Track the latest portfolios of your favorite superstar investor in stock market and find out which stocks they are holding and how much.
Stock Buckets: Curated list of stocks to get you started in the stock analytics journey. You can find Thematic, Sectorial and Business houses buckets on Trade Brains Portal App!
You can DOWNLOAD Trade Brains Portal App here!
4. Intrinsic Value Calculator
Play store rating: 3.2/5 Stars
Downloads: +10,000
Available on: Android
Want to find the undervalue valued stocks? Then, download this app!! The intrinsic value calculator App helps the users to calculate the true value of stocks by offering different IV calculators like a Discounted cashflow calculator or DCF Calculator, Return on Equity Valuation or ROE Valuation calculator, Graham number valuation or Graham Calculator, Price to Earnings valuation, PE Valuation calculator and more.
Key Calculators and Features:
Discounted Cashflow (DCF) Calculator: DCF analysis is a method of valuing a company using the concepts of the time value of money.
Fair Value Calculator: This is a simple discounted model calculator to help you find the fair value of a company using Earnings per share (EPS) forecast. With a few simple values, you can estimate the intrinsic value of a company.
Graham Calculator: This calculator is a good tool to find a rough estimate of the intrinsic value. It is simple and very easy to use.
Future Value Calculator: This is a basic compound interest calculator. It will give the future value of one time lump-sum investment.
You can DOWNLOAD IV Calculator App here!
Nowadays, mobile trading is becoming more common. Traders and investors are increasingly gravitating toward brokers who offer the best stock market apps. If you've tried any other stock market app, please share your thoughts and opinions in the comments section.
That's all. we hope this blog post '7 Best Stock Market Apps that makes Stock Research 10x Easier' is useful to the readers. Do let me know if we missed any amazing apps that you think should be included in this list.
Further, please comment below which Stock market app is your favorite? Happy Investing!
Hi, I am Kritesh (Tweet me here), an NSE Certified Equity Fundamental Analyst and an electrical engineer (NIT Warangal) by qualification. I have a passion for stocks and have spent my last 4+ years learning, investing and educating people about stock market investing. And so, I am delighted to share my learnings with you. #HappyInvesting