Best Indian Stock Market Blogs to Follow to Learn Investing: If you are looking for a few best Indian stock market blogs to follow, then you have reached the right place.
Although there are hundreds of stock investing blogs in India, however, in this post we have hand-picked the 8 best Indian stock market blogs that every Indian equity investor should follow. (Quick note: Please read this post till the end as there's a bonus in the last section of this article).
8 Best Indian stock market Blogs to Follow
1. Trade Brains
Trade Brains was founded by Kritesh Abhishek, an NIT Warangal graduate, in Jan 2017. It is the fastest growing Financial Educational Blog in India with over 42,500+ newsletter subscribers within a year and a half of inception. Trade Brains blog is focused to teach stock market investing and personal finance to the DIY (do-it-yourself) Investors.
You can also learn about stock market investing in Trade Brains' recently launched Android mobile app. Here's the link to download the app on the play store.
2. Get Money Rich (GMR)
Get money rich (GMR) blog is run by Mani (founded in 2008). You can read a number of interesting articles regarding stock investing, mutual funds, real estate, income tax, personal finance, etc on this blog.
This blog keeps analyzing new stocks and if you're a beginner (or even a seasoned investor), you can read these articles to understand how to analyze stocks, which factors to consider and how to find whether a stock is undervalued or overvalued. Here's a list of a few recent stock analyses by getting a money-rich blog.
Because of its simple and easy-to-understand content, it's one of the best Indian stock market blogs to learn to invest in stocks alongside boosting your additional financial insights.
3. Fundoo Professor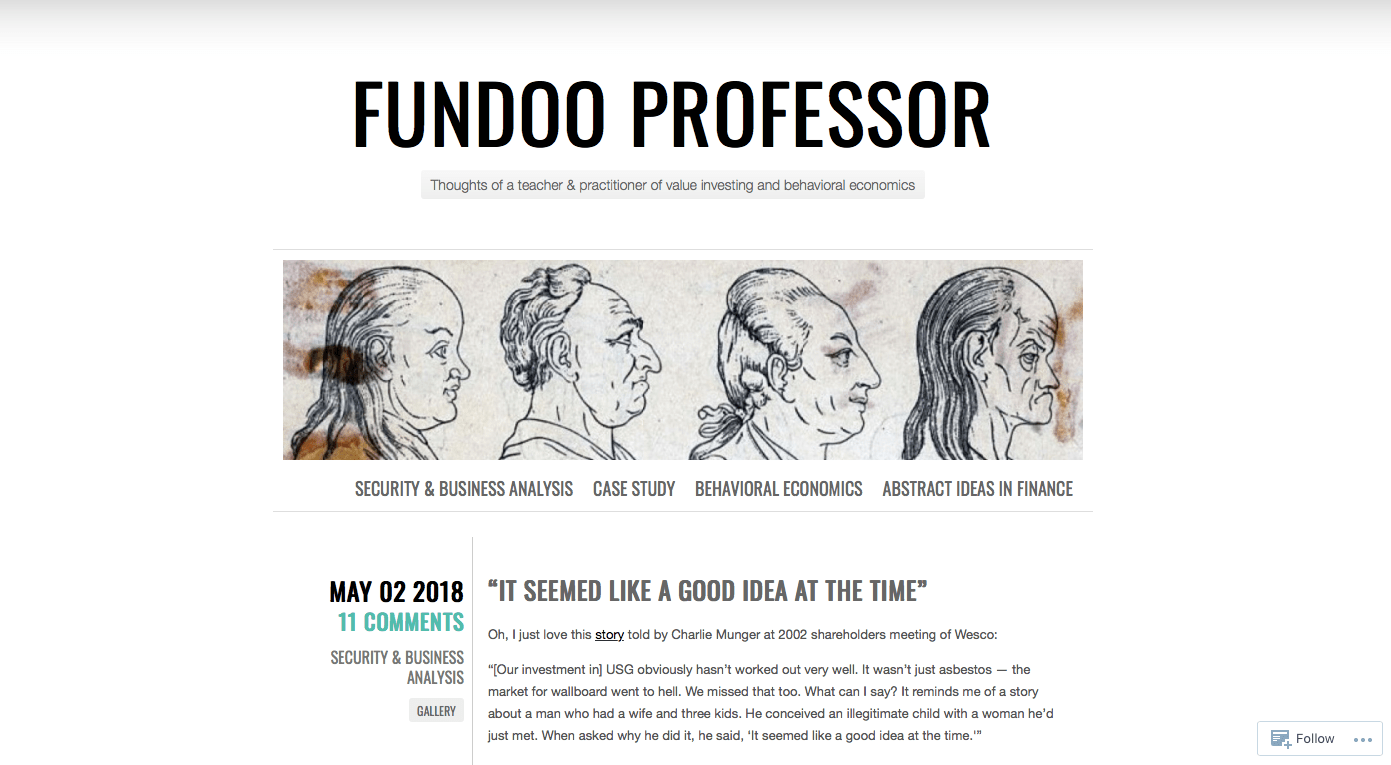 Fundoo Professor is managed by Prof. Sanjay Bakshi. He teaches MBA students (at MDI Gurgaon) two popular courses: "Behavioral Finance & Business Valuation" and "Financial Shenanigans & Governance". On fundoo professor blog, Mr. Bakshi shares his thoughts as a teacher & practitioner of value investing and behavioral economics.
This blog consists of hundreds of free amazing lessons on investing and human behavior. It's a great read for Indian investors to build a strong investing foundation.
4. Safal Niveshak
'Safal Niveshak' means a 'successful investor'. This blog is managed by Vishal Khandelwal and Anshul Khare. Vishal has 15+ years of experience as an investor. The Safal Niveshak blog is focused to help small investors, become intelligent, independent, and successful in their stock market investing decisions. They have a newsletter of over 47,000+ subscribers.
You can find many valuable investing lessons on this blog which definitely makes it one of the best Indian stock market blogs.
Also read: 7 Best Stock Market Apps that Makes Stock Research 10x Easier.
5. Nitin Bhatia
Website: https://www.nitinbhatia.in/
This blog is managed by Nitin Bhatia, who covers areas like Investment, Insurance, Stocks, Mutual Funds, Credit Score, Taxation, and Business Start-ups. They also run a YouTube channel with over 290,000+ Subscribers.
6. Stable Investor
Stable Investor is run by Dev Ashish, a SEBI Registered Investment Advisor.
This blog is focused to help people invest sensibly to achieve financial goals, get their personal finances in order, and invest profitably in stocks. Stable Investor has over 11,000+ Newsletter subscribers.
Stable Investor also provides various financial services like financial planning, retirement planning, children's future planning, etc.
7. Dr. Vijay Malik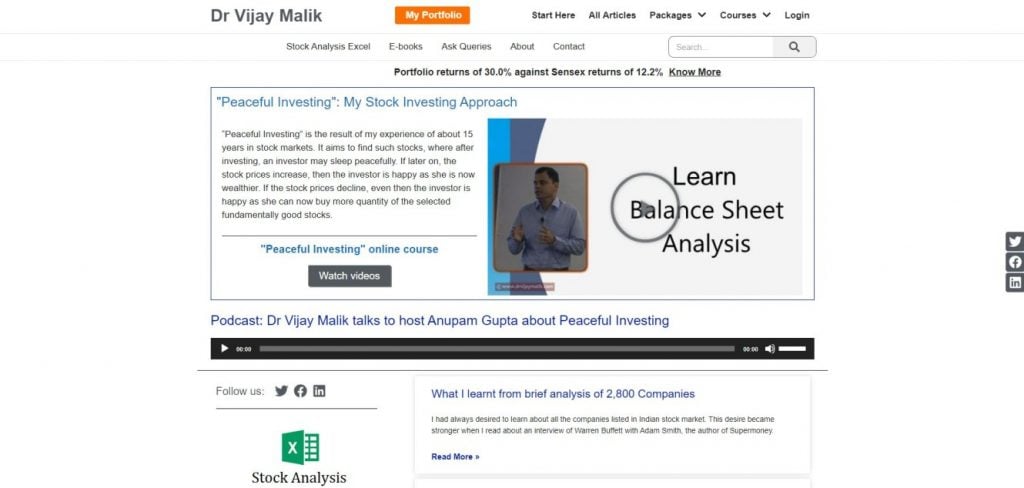 This blog is run by Dr. Vijay Malik, a SEBI registered analyst. He has been actively involved in the Indian equity markets since 2006. The articles on his blog attempt to simplify the process of investment decision-making. Dr. Vijay Malik's blog provides premium services like a 'Peaceful investing' workshop, stock analysis Excel sheet, ebooks, etc.
You can also read the analysis reports of various stocks published on this blog for free making it worth mentioning in our list of best Indian stock market blogs.
Also read: 7 Must Know Websites for Indian Stock Market Investors.
8. Moneyexcel Personal Finance
The blog is the brainchild of Shitanshu Kapadia. Moneyexcel blog spared awareness to people about finance and financial products. This blog has 1800+ articles & it mainly covers vast topics such as the stock market, mutual funds, income tax, and credit cards as well as business ideas & career guidance. They also run a YouTube Channel with 12400+ Subscribers.
Bonus: A Few Other Top Stock Market Blogs
9. Groww Blog:
This blog is run by the popular discount broker Groww. They cover the latest financials and stock market articles on a daily basis.
10. Finology Blog:
The articles on the latest financial updates, news, and legal updates in India. The articles cover all components of the stock market.
11. eLearn Markets Blog:
They provide share market news updates, Investment Tips, Commodity News, Stock market education, Derivatives, and insights from advisors by Elearnmarkets.
That's all for this post. If you think we missed any astonishing blog on our list of best Indian stock market blogs, feel free to comment below. We'll be happy to include it on our list if it's worth adding. Cheers!
Stay updated on the latest Stock Market News and Corporate Actions NSE with Trade Brains Portal, while also keeping an eye on the Top Gainers Today in NSE with our Stock Heatmap feature.

Kritesh (Tweet here) is the Founder & CEO of Trade Brains & FinGrad. He is an NSE Certified Equity Fundamental Analyst with +7 Years of Experience in Share Market Investing. Kritesh frequently writes about Share Market Investing and IPOs and publishes his personal insights on the market.
---
Start Your Stock Market Journey Today!
Want to learn Stock Market trading and Investing? Make sure to check out exclusive Stock Market courses by FinGrad, the learning initiative by Trade Brains. You can enroll in FREE courses and webinars available on FinGrad today and get ahead in your trading career. Join now!!