Adani Power Vs Tata Power: With great power come great electricity bills! Believe it or not, this week we saw a few things that we cannot forget. For starters, people were roasting chapattis on footpaths. Then, we saw a 'jaggeryfall' right inside a jaggery shop. And then, everyone covered their faces with a stole, to an extent that they were unrecognizable.
What's happening, you wonder? Well, it's the heat wave. The early onset of summer and the heatwave led to discomfort. As a result, the usage of air conditioners, fans, and coolers increased. So did the demand for power.
Well, let's not talk about bills. Instead, we'll compare Adani Power Vs Tata Power, that whip up the electricity. We'll compare them based on their business, profits, prospects, and more! Let's dive (right) in, shall we?
Industry Overview
Electricity is a very important part of the infrastructure of any country. Economic activities are no longer limited to daylight. Countries try to ensure affordable and uninterrupted power supply to everyone.
India is the third-largest consumer and producer of electricity in the world. However, the per capita consumption is less than a third of the global average. Therefore, power companies like Adani Power and Tata Power have a huge opportunity to tap into. Experts expect the demand for power in India to grow three-fold by 2040.
Adani Power vs Tata Power – Business Overview
Adani Power is a part of the Adani Group. Currently, it is India's largest thermal power company with a power generation capacity of 13,610 MW. Its thermal power plants are located in Gujarat, Maharashtra, Karnataka, Rajasthan, and Chhattisgarh. Further, it has a 40 MW solar power plant in Gujarat.
Adani power was the world's first company to set up a coal-based supercritical thermal power project. It was set up in Mundra in December 2010. Moreover, this project was registered under the Clean Development Mechanism (CDM) of the Kyoto protocol. Similarly, a project in Godda, Jharkhand will export power from India to Bangladesh. The company has more than 7000 MW capacity power plants in the making. These projects are planned across Jharkhand, Madhya Pradesh, Gujarat, Rajasthan and Karnataka.
Adani Power accounts for around 6% of the capacity created in India's multi-decade coal and lignite-based power generation sector. In addition, it accounts for 16% of all the investments made by the private sector in India's power generation sector.
It has co-signed a power supply agreement with Madhya Pradesh Power Management Company Ltd in FY21. Its long-term power purchase agreements account for 74% of the company's gross capacity. Further, the average life of these agreements was 18.5 years at the close of FY21.
Tata Power is present across the entire power value chain. It is India's largest integrated power company. This includes conventional & renewable energy, power services, and next-generation customer solutions including solar rooftops, EV charging stations, and home automation.
"Clean, cheap and abundant power is one the basic ingredients for the economic progress of a city, state or country."

–Sri Jamsetji Tata, Founder, Tata Group
Tata Power was the first company to set up India's first hydroelectric power stations in 1915. It was known as Tata electric then. It has 14,076 MW of generation capacity together with its subsidiaries & joint entities. About 34% of this comes from clean energy sources.
It is among the top private players in each sector of the value chain including solar rooftops and value-added services. Further, the company manages a transmission network of 3,532 km and a distribution network of more than 400 thousand circuit km across India.
Tata Power has over a hundred years of presence in the Indian power sector. It serves over 12 million distribution customers. It is credited with steering the energy sector on technology, process, and platform. Its latest business-integrated solutions, focus on mobility and lifestyle and are poised for multi-fold growth.
Adani Power vs Tata Power – Products/ Services
In short, Adani Power generates power using thermal and solar energy. Whereas, Tata Power generates power using thermal energy. In addition, it has a considerable renewable energy portfolio. Moreover, Tata Power transmits and distributes power. Consumer-centric business, energy as a service, and power trading are a few additional businesses of Tata Power.
Adani Power vs Tata Power – Competitive Advantage
Adani Power has:
Pan India presence
Long-term power purchase agreements
Pioneer in ultra-supercritical and supercritical technologies
Strategically located plants that lead to lower expenses.
On the other hand, Tata Power has:
Diversified presence across the energy value chain
Pan India presence
An experienced and well-established player in the energy sector.
Risks Involved
However, the unavailability of coal and fluctuations in coal prices affect both companies.
Adani Power vs Tata Power – Impact of Covid-19
There was a marginal impact on power generation companies because they are essential services. Though the demand for electricity declined in workplaces, it increased in households.
Once the economy opened up, the demand for electricity surged. A few people started working at offices, while others continued to work from home. The revenues of both companies took a hit due to the pandemic.
Adani Power vs Tata Power – Future prospects
As mentioned earlier, India is the third-largest consumer of electricity. However, its per capita consumption is much lower than the global average. But, the government's 'Power for All initiative aims to make India a manufacturing hub. As a result, the sector will flourish.
Adani Power is focusing on increasing its capacity across new and existing plants to capture the rising demand. Similarly, Tata Power is foraying into renewable energy and is aggressively increasing its renewable energy portfolio.
Growth with Goodness – Sustainability Efforts
Adani Power entered the sector only in 2006. However, it has remained resilient and has grown stronger. It empowers communities with well-defined human development goals. The company is committed to growth with goodness.
Adani Power has emerged as the leader in India's electric utility sector on ESG benchmarking for the year 2019 conducted by S&P Dow Jones Indices and SAM. Here's a little more about Adani Power's sustainability efforts:
Their coastal locations use seawater. In addition, they use recycled and reused water for ash handling and dust suppression. Further, they have implemented rainwater harvesting in their hinterland plants.
Their team tries to understand the needs of local communities. These needs may be in areas of education, health, livelihood, and infrastructure development.
They have a system to receive and address grievances of local communities at operating locations.
They try their best to minimize any negative impact on biodiversity and ecosystem services. Ecosystem services include forests, grasslands, mangroves, and urban areas.
The company undertook large-scale plantations in and around our power plants and office locations.
They dispose of hazardous waste through authorized agencies as per the Hazardous Waste Handling and Management Rules.
Their emissions are well within emission standards.
Supercritical boilers help them to save about 2% of fuel per unit. Thereby, they lead to a reduction in greenhouse per unit.
Tata Power tackles the issues of Climate Change by adopting sustainable and responsible growth. They have developed a holistic sustainability model. It includes the environment, community, customers, and people.
The company currently has a 30% clean energy portfolio, but it is aiming to have a 40-50% clean energy portfolio by 2025.
The health and safety of all employees and other stakeholders are its priority. Therefore, it is proactively driving the health and safety agenda through the length and breadth of the company.
PPC, fly ash bricks and road embankment constructions use the ash produced by its thermal power plants.
Tata Power educates its employees on the importance of proper management of E-Waste. Further, it looks out for possibilities for extending the usable life of things and minimizing e-waste generation.
Tata Power has a strategic intent to be water-neutral by 2035. Therefore it is committed to water conservation and management.
The company identifies risks and promotes a proactive approach to treating them. Further, it has allocated adequate resources to mitigate and manage risks.
Adani Power Vs Tata Power – Revenue Growth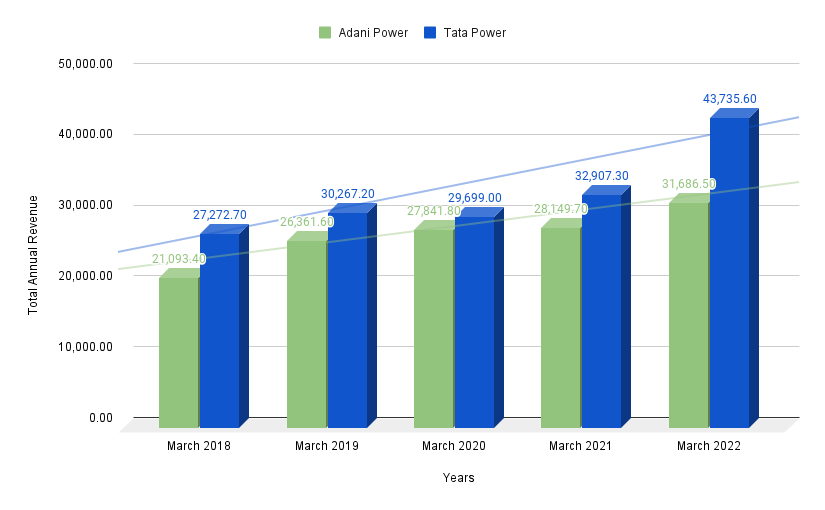 The revenues of both Adani Power and Tata Power show an increasing trend. Adani Power's total revenue grew at a compounded annual growth rate (CAGR) of 6.3% in the last three years and 6.5% in the last five years.
On the other hand, Tata Power's total revenue grew at a CAGR of 13.1% in the last three years and 9.2% in the last five years. In other words, it grew at a faster pace as compared to Adani Power.
The top private players didn't see strong growth in their revenues despite the under penetration of power in India. This was mainly because of a slowdown in economic growth.
Adani Power Vs Tata Power – Profitability
Adani Power's profitability was negative from 2018 to 2020. However, the company reported a steep rise in profits. Its profits were much higher than Tata Power over the last two years.
Currently, its profit shows an increasing trend. Adani Power's profits were negative before 2021 because of interest expenses on its debts. However, in the last two years, its net profits increased led by lower costs of imported coal.
On the other hand, Tata Power has been profitable over the last five years. However, its profits show a declining trend. The strong performance of Tata Power's EPC business and lower interest costs due to debt repayment have helped the company to maintain a positive net margin. Tata Power's net margin has declined from 3.93% in 2018 to 0.49% in 2022, but it has remained positive.
Adani Power Vs Tata Power – Key Metrics
| Particulars | Adani Power | Tata Power |
| --- | --- | --- |
| Face Value (₹) | 10 | 1 |
| EPS (₹) | 26.8 | 7.96 |
| ROE (%) | 370 | 8.42 |
| Current Ratio | 0.95 | 0.80 |
| Market Cap (Cr) | 113,703 | 67,533 |
| Promoter's Holdings (%) | 74.97 | 46.86 |
| Dividend Yield (%) | 0 | 0.83 |
| Stock P/E (TTM) | 11 | 26.6 |
| Net Profit Margin | 17.9 | 5.27 |
Adani Power has a higher revenue growth as compared to Tata Power, indicating better operational efficiency. It has long-term power purchase agreements with its customers, hence it wasn't impacted much during the economic slowdown.
Adani Power has long-term borrowings of ₹ 37,871.32 crores. On the other hand, Tata Power has total borrowings of ₹32,729.70 crores.
Both companies have a low current ratio. This indicates that they have difficulty paying their immediate debts and liabilities.
Is Tata Power better than Adani Power?
Tata Power triumphs with Adani Power on parameters such as backward integration, price-to-book value ratio, dividend yield and more. However, Adani Power has been a growth stock despite being in a slow-growth industry. It has grown multi-fold over the past few years. This puts Adani Power in a sweet spot over Tata Power, which has not grown much. Thus we can say that Adani Power is better than Tata Power from a growth perspective.
In Closing
In this article, we compared Adani Power Vs Tata Power. We understood their business and the industry that they are working in. Then we took a look at the impact of Covid on the companies and their future prospect. Later, we understood what they do to keep their business sustainable. And finally, we compared them on the basis of key metrics like revenue, profitability and financial ratios. That's all for today's article, folks.
We hope to see you around and happy investing, until next time!
You can now get the latest updates in the stock market on Trade Brains News and you can even use our Trade Brains Portal for fundamental analysis of your favorite stocks.

Hey, there! Thank you for stopping by 🙂 Simran is a master graduate in commerce from Bangalore University, an NSE-certified Fundamental Analyst and a NISM-certified Research Analyst. She finds interest in investing and personal finance. Outside of work, you can find her painting, reading and going on long walks.
---
Start Your Stock Market Journey Today!
Want to learn Stock Market trading and Investing? Make sure to check out exclusive Stock Market courses by FinGrad, the learning initiative by Trade Brains. You can enroll in FREE courses and webinars available on FinGrad today and get ahead in your trading career. Join now!!