A Case Study on Airtel's Journey after Jio entered Market: Do you know that India has the second-largest market in telecom industry by the number of users, thanks to its gigantic mobile using population! Despite this, we only see 2.5 players. Out of this only Jio thrives whereas Airtel manages to compete and VI looks into an uncertain future. Airtel vs Jio vs VI, the three side battle which started with Jio making its debut.
In this article, we take a look at how Airtel managed to survive the Jio storm. Keep Reading to find out!
The Backstory of the Telecom Industry
Bharti Airtel is one of the oldest operators in the telecom industry, surviving for over 2 decades. But if we take a look at Airtel's hold in the Indian market for the period before 5 years we would notice that the company dominated the Indian market despite facing huge competition. So much so that the company even expanded its business to Africa. 
However, Reliance's entry into the telecom industry with Jio took all the existing operators by shock. Jio offered their sim cards with 4G data capabilities for free. This also included free 4G data and free VoLTE calls for almost a year.
This took the industry by storm as the data packs provided by service providers used to last a month. But now we use the same data in a day thanks to Jio. Jio users could now access up to 4GB 4G data per day for free whereas existing providers offered 1-3GB 4G packs per month.
Although the quality of network provided by Jio paled in comparison to others it was impossible to compete with someone who offered their services for free. 
This forced the existing operators into damage control. 2016 started out with more than 12 operators, whereas only 3 private operators remain today. Within 6 months Jio managed to gain over 100 Million subscribers.
However, Jio did not stop after the free offer period. Once that was over they introduced the cheapest 4G data plans in the country. Here too the packs included data per day which otherwise were offered per month. 
ALSO READ
Supreme Court Verdict
However, Jio coming to existence was not the only bad thing that happened to telcos. In a court battle, the lasted more than a decade the courts ordered telcos to pay up their unpaid duties in AGR fees.
Airtel's total liability is estimated to be ₹41,507 Crore. Vodafone Idea's total liability was estimated to be ₹39,313 Crore.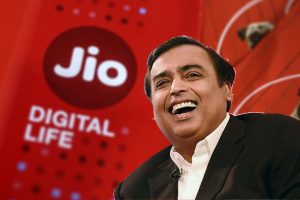 Within 3 years, Jio ranked second among telcos when it came to the number of subscribers and become everyone's favourite in the Airtel vs Jio battle.
Airtel and Vodafone Idea on the other hand ranked themselves among the companies to have the worst quarter in Indian history. They declared a combined loss of Rs. 73,000 crores. At the same time, Jio declared profitability. 
Why were these top telcos not able to handle Jio entering the market?
The telcos in 2016 which dealt mainly in 2G and 3G faced a very different digital environment than what we have today.
Although apps today that provide OTT content, music, and live TV existed they were not nearly as popular during the 3G era. Nor did the telcos make an effort to make data cheap enough to encourage this digitization. 
These telcos were still stuck in a world of voice calls. These telcos focussed on lobbying while spending too much on spectrum fees.
They also focussed on expanding their customer base outside India instead of providing the best services at the best rates possible. When they met a worthy competitor they suffered.
Where has Airtel reached today in Airtel vs Jio battle?
(Source: Business Insider)
Taking notice of the stats above one would expect the telecom sector to become a monopoly. But in reality, Airtel has managed to thrive whereas Vodafone and Idea have merged to survive the onslaught. 
Over the years Jio has managed to become a market leader in terms of the subscriber base of almost 411 million for the last quarter FY20-FY21, while Airtel and VI's stood at 307.94 million and 269.8 million respectively.
Although Jio is currently the undisputed leader right now it faces serious issues when it comes to active users.
According to the Telecom Regulatory Authority of India (TRAI) Jio had the lowest active user base at  79.01%. On the other hand, VI had  89.63% and Airtel had 97.44% of its users active. 
What was the Main Cause of This?
As observed earlier, although Jio offered its services at cheaper rates the quality of service was no match to Airtel. Once Jio was forced to increase its rates, Airtel adjusted its rates too and then there was little difference.
The price difference did not matter when Airtel's rates were slightly higher than Jio as they offered better quality. The main USP that Jio held onto was now washed away.
Also, Jio faces concerns about active user numbers as their older customers are shifting to other networks or simply using Jio as a backup sim on their dual sim phones.
Jio's network quality has suffered severely because of the limited spectrums available.  This bet by Airtel on quality has also bought it more quality users who are willing to spend.
When it comes to data consumption Airtel's users consume 16 GB a month per user and 1,005 min a month per customer. On the other hand, Jio customers consume 12 GB a month per user and 776 min a month per customer.
Quick Read
Closing Thoughts 
Airtel here cannot manage to rest of its laurels for having a high active user base. Jio too has identified this drawback and has accordingly acted on it in the recent spectrum sales to improve its quality.
In addition to this, the fate of the telecom industry will be decided on the basis of the telcos adaptability to 5G. With the way things are with Idea struggling to survive if it fails to raise funds, its customer base will simply be carved up by Airtel and Jio. 
What do you think about the future of the telecom industry and how does the Airtel vs Jio vs VI battle gonna take shape? Let us know in the comments below. Happy Reading!

Aron, Bachelors in Commerce from Mangalore University, entered the world of Equity research to explore his interests in financial markets. Outside of work, you can catch him binging on a show, supporting RCB, and dreaming of visiting Kasol soon. He also believes that eating kid's ice-cream is the best way to teach them taxes.