Bajaj Finance vs Bajaj Finserv: In today's day and age NBFC play, a very crucial role when it comes to the development of the country, especially in these tough times post-pandemic.
When it comes to investing in NBFC the stocks of Bajaj Finance and Bajaj Finserv top the list thanks to the whopping +108,433% and +1,904% returns since 2002 and 2008 respectively.
In this article, we are going to cover a detailed comparison of Bajaj Finance vs Bajaj Finserv, two of the biggest companies in the NBFC and insurance segments of India. Keep Reading to find out the differences between the two as we analyze them!
Introduction to NBFCs
Before we jump into the two stocks, have you ever wondered, if banks already exist and they give loans, accept deposits and provide financial services then why do we have NBFCs? Are these making any difference? So let's understand what NBFCs do.
NBFCs or Non-Banking Financial Companies offer similar services to the bank, but they do not have a banking license. This bars them from issuing cheques and demand drafts.
The economy is divided into a wide array of subsections with different sets of needs and wants. Banks alone cannot serve all with the same viewpoint.
That's where NBFCs come into the picture. NBFCs work as intermediator for channelizing the funds from the lender (Banks) to the financially scarce sector, majorly the unorganized sector.
NBFCs are more customer-oriented or tailor-made for individual needs which is beyond the scope of the banks. For this service, they generate income from the interest rate differential in borrowing lending.
Consumer lending was the sector where Bajaj Finance capitalized. This is where most banks were not interested in participating in the sector.
Now, let us compare Bajaj Finserv VS Bajaj Finance.
People tend to confuse lot between these two as both belong to the same sector and offer similar products just to different subsets. How? We answer them below!
TRENDING TOPIC
Bajaj Finance vs Bajaj Finserv: Sectoral Overview
Bajaj Finance comes under the umbrella of Bajaj Finserv. Formerly known as Bajaj Auto Finance it was the investment arm of Bajaj Finserv, one of the biggest players in the NBFC segment in India.
Bajaj Finserv holds a 52.49% stake in Bajaj Finance and a 74% stake in both Bajaj Allianz life Insurance and Bajaj Allianz General Insurance. Let's have a look at their organizational structure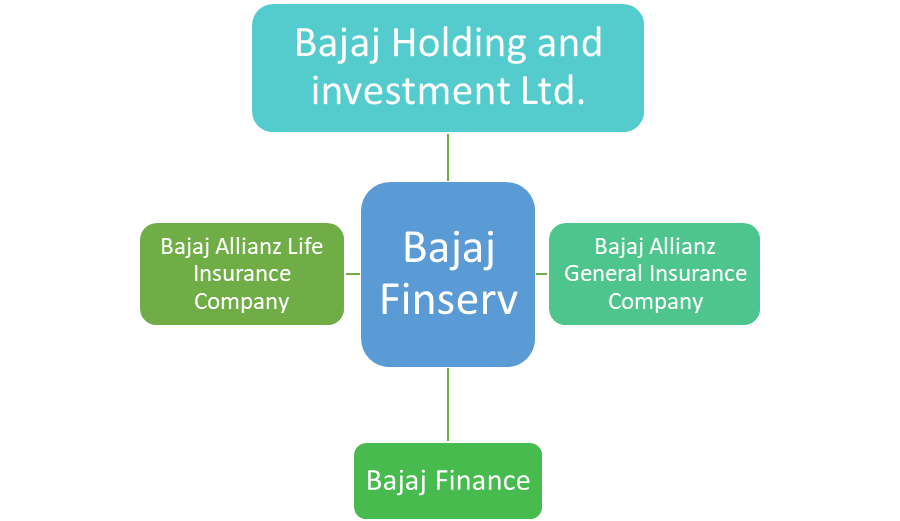 Even during times of liquidity crisis, the company was able to manage its operations with financial stability and longevity. The tightening norms from governing bodies have further made companies from this sector more resilient to the economic shocks and turmoil of the last few years.
Many companies like IIFL, DHFL, and SREI Infrastructure Finance have struggled during these worrying times. SREI Infrastructure Finance and DHFL, the third-largest NBFC in this segment have become bankrupt!
Bajaj Finance and Bajaj Finserv have stood tall amongst all challenges and have dominated this segment with their consistent performances.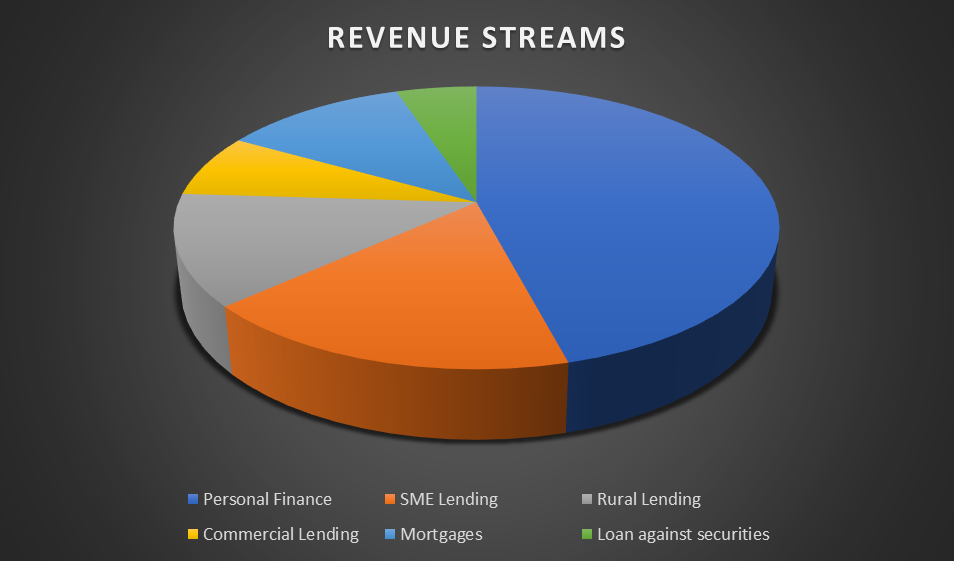 Personal Finance
Personal finance or the consumer lending segment deals with credit to consumers for personal and or household uses. Bajaj Finance offers consumer durable loans, lifestyle finance home loans, credit cards, two-wheeler and three-wheeler loans, construction equipment loans, etc.
From the above pie chart, we can analyze the Consumer lending segment has contributed over 45.9% of most of the revenue.
SME lending
Bajaj Finance promotes small and medium scales businesses with SME lending with no collateral and easy basic requirement at low-interest rates. This segment contributes about 17.4% of overall revenue.
Rural lending
Bajaj Finance also covers the far-fetched rural region and provides a line of credit specifically for the farmers in the agriculture sector. Bajaj Finance's newly launched Kisan credit card scheme provides loans and mortgage assistance for land development and farm equipment at low interest and a hassle-free onboarding process. with attractive growth in rural areas this segment is contributing 12.7%.
Commercial lending
India emerging as the startup capital of the world. More and more businesses today require loans for the short term such as meeting operating costs, acquiring machinery, etc. Bajaj Finance provides up to Rs.45 lakhs at a competitive interest rate which contributes 7.2 % in revenue.
Mortgages
Mortgages or secured loans are provided against the collateral. Bajaj Finance provides loans up to 5 crores against the property. Very popular in urban areas and this component contributes 11.7% to the total revenue.
Loans against securities
Just like in mortgages Bajaj finance is also involved in providing financial assistance against the securities. This contributes 5.1% to total revenue.
Bajaj Finserv is a financial service arm of Bajaj holding and investment Ltd. Unlike Bajaj Finance this focuses on the greater scale by offering services in asset management, wealth management, and insurance purviews.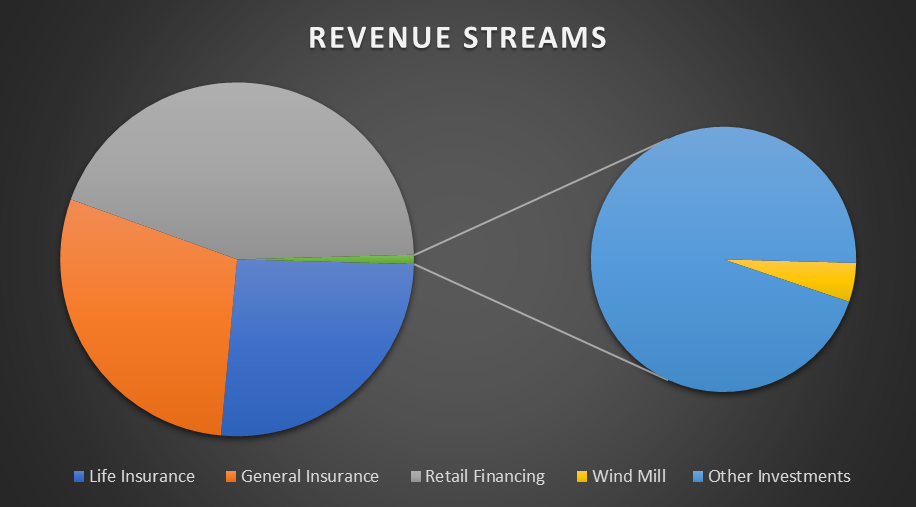 Life Insurance
From the above chart, we can see that 26 % of the contribution is made by the life insurance segment in the revenue. Bajaj Finserv has been in a joint venture with the German multinational Allianz SE since 2001.  Bajaj Allianz Insurance offers products in the life insurance domain relating to financial planning and security.
General Insurance
With the joint venture with Allianz SE. Bajaj Finserv offers products in general insurance which covers all other insurances except life insurance like motor, fire travel health, etc., and is known as Bajaj Allianz general insurance. This segment contributes 29% of the revenue.
Retail Financing
Retail financing is a 44% contributor to the overall revenue that primarily offers credit facilities to customers. Getting its popularity from cities, it has become one of the biggest contributors to the credit cycle in India.
Windmills
Bajaj Finserv owns and operates 138 Windmills with a capacity of 65.2 MW. Bajaj Finserv is taking steps toward a green and renewable future. It contributes around 0.04 % of revenue.
Other Investment
Bajaj Finserv investments account for 0.8% of revenues.
Key Metrics
Let us compare Bajaj Finance vs Bajaj Finserv with financial parameters from an investing standpoint
Revenue (Topline Growth)
Year
Bajaj Finance
Revenue
(Rs. Crores)
Bajaj Finserv
Revenue
(Rs. Crores)
2022
31,633
68,406
2021
26,673
60,592
2020
26,374
54,351
2019
18,487
42,605
2018
12,746
32,862
5-Yr CAGR
19.94%
15.79%
Bajaj Finserv a parent company of Bajaj Finance has the larger turnover but if we compare the CAGR for 5 years Bajaj finance has the upper hand with profit growth of 23.00% and Bajaj Finserv with 11.45%
Revenue for Bajaj Finserv has grown at 15.79% 3 years CAGR and for Bajaj Finance it's been 19.94%.
Bajaj Finance has seen continuous growth in AUM over the year. In FY21-22 Bajaj Finance increased by 26.3% (YoY) to Rs.181,300 Cr.
Net profit (Bottomline Growth)
Year
Bajaj Finance
Net Profit
Rs. Crores)
Bajaj Finserv
Net Profit
(Rs. Crores)
2022
7,028
4,557
2021
4,420
4,470
2020
5,264
3,369
2019
3,995
3,219
2018
2,496
2,650
5-Yr CAGR
23.00%
11.45%
Bajaj Finance's share price has grown 3.5X in the last 5 years as it was trading at Rs. 1,701 back in July 2017. Now it's at Rs. 6,255!! While Bajaj finserv's share price has grown about 2.5X times
Bajaj Finserv is highly dependent on the performance of its subsidiaries which impacts its profitability. While Bajaj Finance is an independent company its performance is mirrored in the profit growth
Given the future potential of the insurance industry. Bajaj Finserv is expected to greatly benefit from its insurance arm.
Let's compare Bajaj Finance vs Bajaj Finserv on current financials
Latest Financials
Bajaj Finance
| | | | |
| --- | --- | --- | --- |
| Face Value (₹) | 5 | Net Profit Margin (%) | 22.3 |
| Market Cap (Cr.) | 3,78,750 | Current Ratio | 1.72 |
| Promoter's Holdings (%) | 55.9 | Debt to Equity | 7.78 |
| Stock P/E | 53.7 | ROE (%) | 17.5 |
| EPS (₹) | 116 | Dividend Yield (%) | 0.32 |
In FY21-22 Bajaj Finance's net profits jumped by 84% (YoY) at a profit of Rs. 2125 Cr. with the major contribution from Net interest income (NII) with a growth of 40% (YoY) to Rs.6335 Cr.
And revenue at Rs 8532 Cr.
Bajaj Finance has shown improvement in the asset quality front with Net NPA seeing a constant decline currently at 0.78%. in Q3 of FY21-22.
Bajaj Finance has increased its customer base by 26 lakhs with total customers of over 5.54 Cr.
The liquidity buffer has been decreased to 14300 Cr. reflecting the more assertive lending approach by the company.
Bajaj Finserv
| | | | |
| --- | --- | --- | --- |
| Face Value (₹) | 5 | Net Profit Margin (%) | 12.1 |
| Market Cap (Cr.) | 2,029,000 | Current Ratio | 0.17 |
| Promoter's Holdings (%) | 60.8 | Debt to Equity | 4 |
| Stock P/E | 44.5 | ROE (%) | 12 |
| EPS (₹) | 286 | Dividend Yield (%) | 0.03 |
In FY21-22 Bajaj Finserv reported a net profit of Rs. 2,349 Cr. and revenue of Rs. 17,586 Cr.
In Q3 of FY21-22 Bajaj Alliance General insurance maintained its stable performance while Bajaj Alliance life insurance delivered a stellar performance with an increase of 68% in the newly rated business premium.
Total income increased by 10.4% (YoY) but auto sales remain dull
With an impressive performance by Bajaj finance let's look at the other 2 subsidiaries:
Bajaj Allianz General Insurance
Net earned premium increased by 5% and stood at Rs.1930 Cr.
AUM increased by 10% Rs. 23977 Cr.
High Solvency ratio at 333%
Bajaj Allianz Life Insurance
Net earned premium increased by 39% and stood at Rs.2377 Cr.
AUM increased by 18% at Rs. 83149 Cr.
High Solvency ratio at 604 %
Let's compare Bajaj Finance Vs Bajaj Finserv with a more pragmatic approach
ALSO READ
Technical Analysis
Bajaj Finance
Looking at price of the chart of Bajaj Finance shows an incremental rise in stock prices over the period.
The trend and 200 days moving average were never broken except during Covid disruptions but recovered from it with even more strength.
Bajaj Finance has given 200% of more returns when compared to the Nifty 100 indices.
Being a multi-bagger investment for at least the past 5 years that has attracted high PE figures amongst its peers is a red flag.
Bajaj Finserv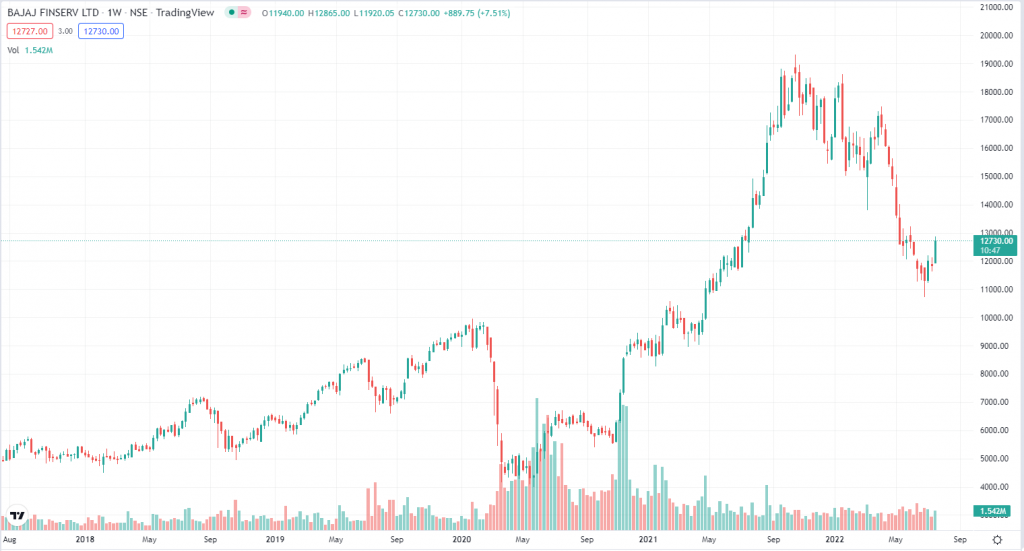 Bajaj Finserv has a similar price chart to Bajaj Finance. As a holding company.
Bajaj Finserv projects the growth-oriented approach with an EPS of 286 and an ROE of 12.
Stock prices remain above the trend and have 200 day moving average over the period with exception of Covid 19.
After a great run in FY21-22 with the market correction since January. Bajaj Finserv has taken a major blow with retail and High Net worth individuals (HNI) reducing their holdings from 9.55% to 7.38% currently.
This decline in the holding has been reflected in the stock prices.
Recent Developments
Looking at the current scenario Insurance sector seems to have a promising growth prospect with the opportunities to reach more under penetration to the major fragment of areas which presents a favorable scenario for Bajaj Finserv.
By maintaining its liquidity ratio on the higher side, Bajaj Finance is with dealing in a comparatively low-risk segment market.
Bajaj Finserv is planning to enter into the digital healthcare segments which will able the company to reach a wide array of populations.
Bajaj finance is growing aggressively now raising the funds by debt issuance up to the limit of 2.25 lakh Cr.
In Closing: Final Verdict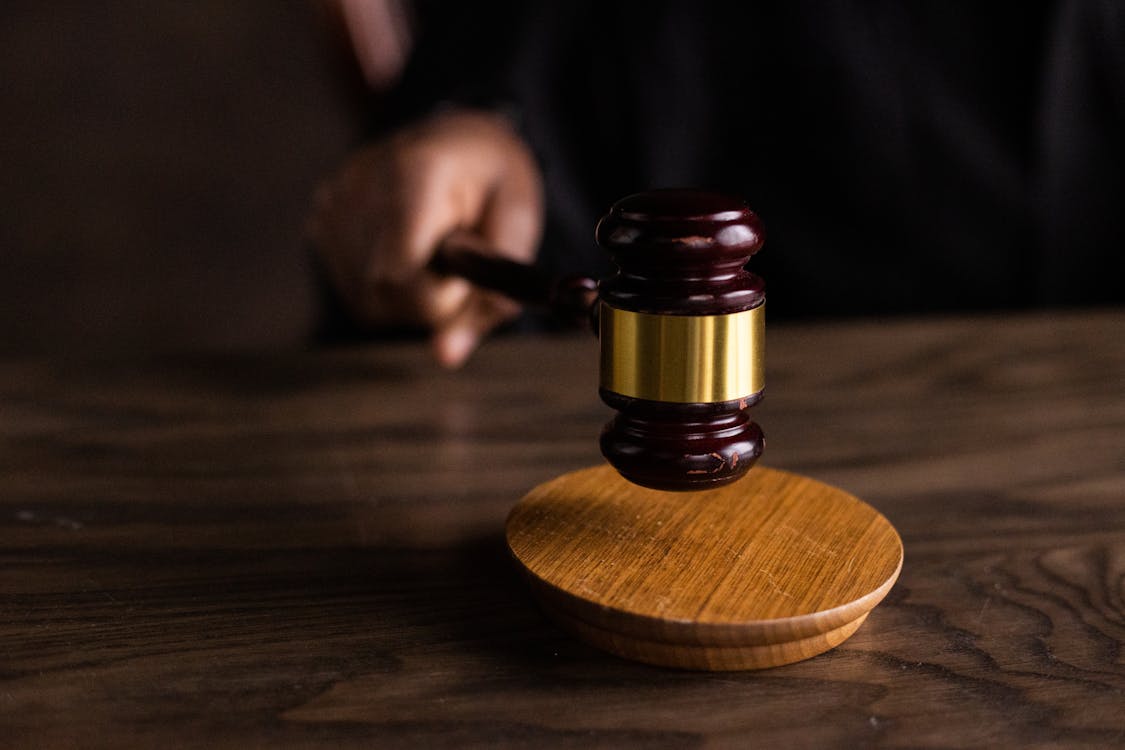 By analyzing the above, both companies have strong fundamentals. As both, companies are growing based they have moved aggressively in their field of business so even though their PE may be high they promise to deliver the same growth in the future as well.
But by considering the growth over the period, consistent rise in AUM, and the future prospects of customer-oriented services with a humongous reach, Bajaj Finance looks like a much more favorable choice in Bajaj Finance Vs Bajaj Finserv.
But in favor of Bajaj Finserv are the growth of its subsidiaries, Bajaj Finserv is also expected to be flourished.
You can now get the latest updates in the stock market on Trade Brains News and you can even use our Trade Brains Portal for fundamental analysis of your favorite stocks.

---
Start Your Stock Market Journey Today!
Want to learn Stock Market trading and Investing? Make sure to check out exclusive Stock Market courses by FinGrad, the learning initiative by Trade Brains. You can enroll in FREE courses and webinars available on FinGrad today and get ahead in your trading career. Join now!!