Best Money Control App Hacks For Beginners: Money control is one of the best apps for stock research. However, if you are new to this app, you might find it a little difficult to use. There is much information available on the moneycontrol app which can easily confuse a first-time user.
In this post, I'm going to explain few best money control app hacks for the beginners. Further, please read this article till the end as there is a bonus in the last section.
Quick Note: The first step that you need to take when you enter this app is to 'sign-up'. This will help you to personalize the app. After signing up, you can create your portfolio, add stocks to wish-list, track the returns, last visited stocks, get alerts etc. In short, SIGN UP first.
Also read: 7 Best Stock Market Apps that Makes Stock Research 10x Easier.
Best Money Control App Hacks
1. Home Screen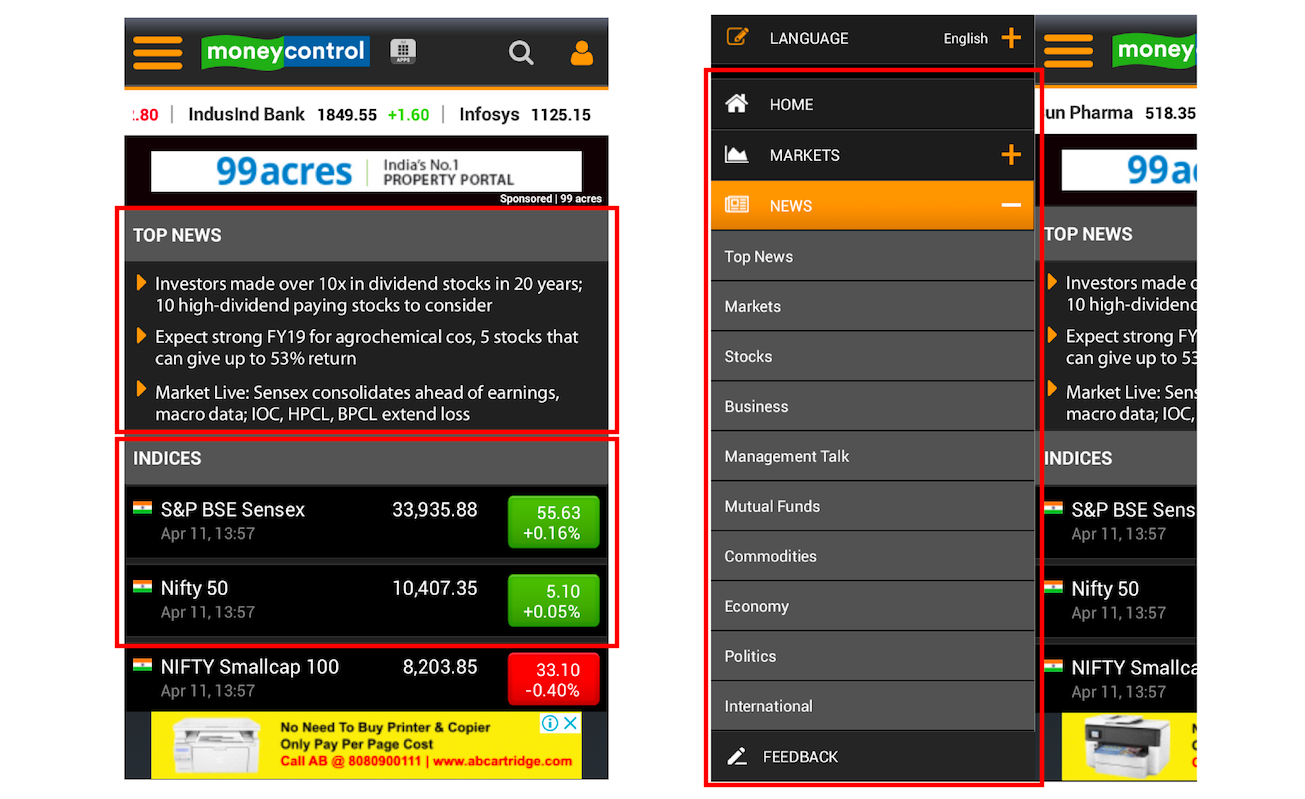 On the home screen of the mobile app, you can find:
Top News,
Indices (Sensex, Nifty, etc),
Your portfolio summary i.e net day profit/loss (if you have already created a virtual portfolio on the app),
Stocks last visited
Market Movers
Mutual funds, commodities, and currencies
The home screen is itself sufficient you give you an overall picture of the market. In addition, features like 'stocks last visited' and 'market movers' helps you track the recent stocks.
Next, if you click on the navigation (menu) button, you can select different options like markets, news, live tv, my stocks, forum, commodities, currencies, etc. I will cover the important ones here in this article.
2. Stock Research
Money control app gives you the power to research stocks 'anywhere' and 'anytime'.
I won't go into details about how to research stocks as it is itself a huge topic. However, I'll give you an idea of what informations you can get on the money control app.
In every stock, you will get the following information- Overview, futures, options, news & research, forum, market depth, corporate action, financials, balance sheet, profit and loss, financial ratios, peer comparisons, shareholding, info & management.
These pieces of information are enough are analyze the stocks on your phone.
Also read: How To Select A Stock To Invest In Indian Stock Market For Consistent Returns?
3. Market/Indexes Reserach
It will help you to keep track of what's happening in the market. Here, you can get the information regarding Indian Indices (Sensex, nifty 50, midcap, small cap, industry indices like Nifty Bank, Nifty FMCG, Nifty Energy, etc), global indices, market movers, earnings, IPOs etc.
TIP: Keep an eye on the 'Market Movers'. This will help you to get an idea of the stocks that top gainers, top losers, active by volume, 52 weeks high, 52 weeks low etc.
4. Portfolio
Using the portfolio feature, you can track your stocks, mutual funds and more.
For example, if you have bought 10 stocks, then just add those stocks (Stock name, average purchase price, quantity, and date) in the portfolio. This will help you to keep track of your performance (daily or overall 'profit/loss').
Further, after adding these stocks in your portfolio, you can also read the alerts regarding those stocks like important news, block deal, bulk deal, etc.
TIP: You can also add stocks that you are tracking (but haven't purchased) in your wishlist inside the app.
Also read: Resources- Stock Market India
5. Additional Features
FORUM: Money control app also provides forums for the users to engage in the discussions. Start participating and you may find a few helpful information/views there.
Currencies/Commodities/Gold: Moneycontrol also gives you pieces of information regarding top currencies, exchange rate, top commodities, commodities movers, Gold price, etc.
Also read: 7 Must Know Websites for Indian Stock Market Investors.
Summary
The money control app has made the life of investors/traders a little easier. You can easily track the market and monitor stocks and your portfolio if you are using the money control app effectively.
That's all. I hope this post is useful for beginners. Please comment below if you know any amazing money control app hacks worth sharing. #HappyInvesting.

New to stocks? Want to learn how to invest in Indian stock market from scratch? Then, here is an amazing online course: INVESTING IN STOCKS- THE COMPLETE COURSE FOR BEGINNERS. Enroll now and start your share market journey today.
Kritesh (Tweet here) is the Founder & CEO of Trade Brains & FinGrad. He is an NSE Certified Equity Fundamental Analyst with +7 Years of Experience in Share Market Investing. Kritesh frequently writes about Share Market Investing and IPOs and publishes his personal insights on the market.
---
Start Your Stock Market Journey Today!
Want to learn Stock Market trading and Investing? Make sure to check out exclusive Stock Market courses by FinGrad, the learning initiative by Trade Brains. You can enroll in FREE courses and webinars available on FinGrad today and get ahead in your trading career. Join now!!