DMart Business Model Explained: "One must not open any store within a 1km radius of DMart". This is a common saying in the retail industry to avoid direct competition with DMart. So what makes DMart so special to customers or so threatening to its competition. What are the strategies that have catapulted the retail chain to where stands today? Keep reading to find out. 
DMart's Growth Story
The success story of DMart is owed to its investor and trader turned entrepreneur 'Radhakishan Damani,' Now you know what the D stands for in DMart.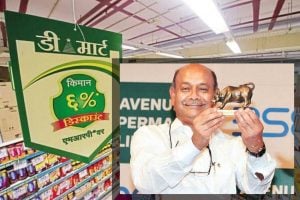 Founded in 2002, the DMart retail chain is owned by Avenue Supermarts. It started off with only two stores in the state of Maharashtra and today boasts 220 stores and 225 DMart Ready stores across 11 states and 1 union territory. DMart was also one of the few companies whose shares were listed at almost a 114% premium post its IPO.
Although DMart may fall short in terms of the number of stores it makes up for it in profitability. To put things in perspective in the FY 2014-15 Dmart booked profits of Rs. 211 crores beating both Reliance Retail and Future Retail which earned Rs. 159 crores and Rs. 153 crores. As of FY 2020, Avenue Supermart made a Net profit of Rs 1,349.89 Crores.
Just a few days back you may also have heard of DMart becoming an Rs. 2 trillion company. 
What is DMart's Business Model?
1. Product Mix
Have you ever examined the categories of products that are available in DMart? You would notice that they only sell those that fall in the category of Foods, Non-foods and General Merchandise, Apparel and other daily products. One may find this bizarre as retail chains also expand their product offerings to electronics, jewellery etc.
DMart has done this to ensure that the products they sell are in demand throughout the year. Thus maintaining consistency in sales and lower shelf life. This also meets their targeted low and middle-class's daily household needs.
Being influenced by Walmarts in the late 90s Damani made it clear that they must follow the principles laid down by Sam Walton. Damani along with other promoters even walked other stores at the time to gain an understanding of what customers put in their trolleys and what not.
In addition to this, DMart has also realised the importance of recognizing diversity in different states. DMart has identified this factor and tailored its product line to meet these expectations of consumers of the states it operates in. In order to achieve this, DMart increased its dependency on local suppliers in each region. This further helps them achieve their targets instead of having a centralized model.
Although DMart sources its products locally they avoid private labels by directly connecting with the manufacturers. Although this gives customers limited options in comparison to other chains, they still are those of known brands which sell. 
2. Brick and Mortar Stores – DMart Business Model
DMart may be one of the very few retail chains that actually owns the stores that they operate in. Yes, this is also something Damani has identified and adopted from Walmart. 90% of the stores are owned directly by DMart and the remaining are mostly taken on a 30-year lease. DMart so far has spent over Rs. 23 billion to buy their own land and stores.
One may think of this as retail suicide due to the huge cost involved in owning a store instead of renting. This, however, has helped DMart save a huge amount of money in the long term which otherwise would be paid as rent. It also saves them from the huge rents that other retailers bear in shopping malls.
This also ensures that the retail chain grows organically and only when they have the resources to do so making it stronger financially. It also provides them with a silver lining in the long term as the property value also increases in the long term. 
3. Strategic Locations and Designs
DMart has always tried to avoid malls and their inflated rents like a plague. Hence it chooses its locations in residential areas strategically. These decisions are further taking their targeted low and middle-class's into consideration. Most of their stores are in the suburbs of metros, tier II & tier III cities. Their store size is set based on the density of the targeted customers around it.
If you enter a DMart store you would notice that DMart has decided to keep their stores simple. This has further saved up on costs that would otherwise be spent on expensive interior designs. This means that every individual who enters the store is a customer unlike those in malls taking an evening stroll. Further, it makes DMart's main competitors the local Kiranas who receive similar types of customers. 
3. Relationship with Suppliers
At the end of the day, it is DMart's relationship with its suppliers which sets its miles apart from any other retail chain. All retail businesses operate on credit.
DMart clears its credit payments on the 11th day itself and always maintains assured payment in about 15 days. Other players work on a 60 day credit period. This further helps them negotiate their products at a cheaper price from the suppliers. 
4. Discounted Products – DMart Business Model
All the strategies we've seen above finally lead to Dmart's ultimate strategy for Indian markets which is discounts. DMart offers its products at a 6-7 % lower price than other retail chains and at times 10% off MRP. This further attracts the low and middle-class's to their stores.
Costs saved on inflated rent, designs, good relationships with suppliers are ultimately carried onto their customers. This allows them to maintain a loyal customer base as their customers already know that their desired products are available at cheaper rates at DMart. This even gives them an added advantage over local kiranas.
In Closing 
You may have observed that all the money saved through various strategies implemented were carried onto the customers further catapulting them to success. But another proponent that helped DMart was Damani's investor mindset.
Being a value investor Damani gave importance to the long-term view. In hindsight, none of the strategies would have worked if they weren't diligently applied over the long term.
That's all for this post. We hope the article was able to explain the DMart business model Let us know if you that Dmart has the potential to be crowned as India's retail king. Happy Holi!

Aron, Bachelors in Commerce from Mangalore University, entered the world of Equity research to explore his interests in financial markets. Outside of work, you can catch him binging on a show, supporting RCB, and dreaming of visiting Kasol soon. He also believes that eating kid's ice-cream is the best way to teach them taxes.
---
Start Your Stock Market Journey Today!
Want to learn Stock Market trading and Investing? Make sure to check out exclusive Stock Market courses by FinGrad, the learning initiative by Trade Brains. You can enroll in FREE courses and webinars available on FinGrad today and get ahead in your trading career. Join now!!