"It is remarkable how much long-term advantage people like us have gotten by trying to be consistently not stupid, instead of trying to be very intelligent." – Charlie Munger
Over the last couple of years, since I've started investing, I've come to know so many strategies followed by different investors. Whether they are- Value pickers (those who buy great businesses at a discounted price), growth picker (those who prefer stocks which are growing at a high pace compared to peers or industry) or income stock pickers (those who invests in stocks which give huge dividends), I have heard of them all.
Apart from them, another category of popular stock picking strategy are the ones who rely on algorithms, programs, expensive arrangements or robo-advisory to pick stocks. And they are also quite successful in making money from the stock market.
However, after interacting with thousands of the Trade Brains' blog subscribers and also through my personal experience, I've also come to know a few dumb strategies that many people use to pick stocks which mostly turn out to be a disaster a few years later down the road. (Btw, I've also been a victim of a few such strategies during my rookie days. Therefore, do not feel too bad if you have been using these strategies to pick stocks.)
Now, I totally understand that picking these stupid disastrous strategies are not entirely the fault of the beginners. After all, we are neither educationally trained or psychologically programmed to pick the best strategy that suits our interests. As humans, we generally prefer taking shortcuts and this is one of the biggest reason for the individuals to pick these dumb stock picking strategies.
Nevertheless, knowing the strategies which may turn out to be a catastrophe in the future may help the newcomers to avoid them. Therefore, in this post, we are going to discuss three dumb stock investing strategies that investors need to avoid else it may turn out to be a disaster in the future.
3 Dumb Stock Picking Strategies That You Need to Avoid
1. Investing based on Free Tips/Recommendations.
You are getting consistent stock tips on your phone to buy/sell equities and you finally decided to give it a try. This is one of the most dangerous stock picking strategies. Better you should put that money on a lottery ticket if you are willing to take such a risk.
Moreover, the majority of the free tips or recommendations that you receive on your phone via SMS or WhatsApp these days– are SCAMS. Don't believe me, then read further regarding the same here: 3 Most Common Scams in Indian Stock Market That You Should be Aware of.
Besides, let's say you're discussing the market with a colleague/friend/neighbor and they advised you to invest in a particular stock. Unless they are professionally trained in the market (such as research analyst or investment advisor), most of these recommendations are crap and a definite path for future regrets.
2. Picking a stock because a big investor recently invested in it.
Seriously, this is your strategy? Are you planning to match your investing strategy with that of a big successful investor?
As a matter of fact, you should understand that you can never meet the risk appetite, resources, and exit-strategies of the big investors. There are hundreds of things that may go wrong in this strategy and hence, it's never a good idea to blindly picking a stock just because a big stock market player invested in it.
Anyways, I agree that following the stock picking strategies and portfolio of big investors can be good learning. However, do your own research before investing and avoid being anchored with big investors' stock picks.
Also read: Is Copycat Investing Hurting Your Portfolio?
3. Picking a stock because it is continuously going higher
If there is a single lesson that you should learn from this post, then remember this- "Stock prices going upwards is not a reason to buy and prices going down is not a reason to sell."
You should never pick a stock just because it is going higher. Stock prices movement on its own tells nothing.
Here, you need to look into the fundamentals, recent quarterly/annual results, corporate announcements, and other related news to find out the reason of price movement. Always make an informed decision after properly analyzing the company, rather just the price movement.
Bonus
4. Picking a stock because you feel it will go high
Recently, I was talking with one of my friends, Manish, and we begin discussing the equity market. After debating various investing ideas, Manish said that he is planning to buy Tata Motors share because he thinks that its price will re-bounce in upcoming months (Btw, at the time of writing this post, Tata's share was down by over 57% in last one year).
I knew that Manish didn't have much investing experience and hence I simply asked why he thinks that Tata Motor's price will go up. He replied that the price is really down and he's getting a feeling that the share price will recover and go up in the future.
Now, the share price of Tata Motors 'may' or 'may not' go up in the future. This is an entirely different discussion which I do not want to start right now. However, the answer that he gave to explain why Tata's share price may go up is really stupid, right?
If he had talked the stuff like the sales of Tata Motors is going up, or their profit margin is increasing or Tata's are launching a new vehicle in a segment which may be demanding among the audience, then I might have considered the reasoning. I mean, if someone gives me a factual reason why they believe that the price will go up, then I might discuss it further. However, if the reason is your 'intuition' or 'gut feeling', I can't argue much regarding the same.
While investing in stocks, remember that you are not predicting whether it's gonna rain today or not. Here you are analyzing companies which have fundamentals. There are a lot of pieces of information like the company's financials, the board of directors talks/speeches, related news etc which are publically available to analyze companies. However, if instead of using these informations, you are making an investment decision based on your intuitions, you should rather be ready for an investment disaster.
Also read: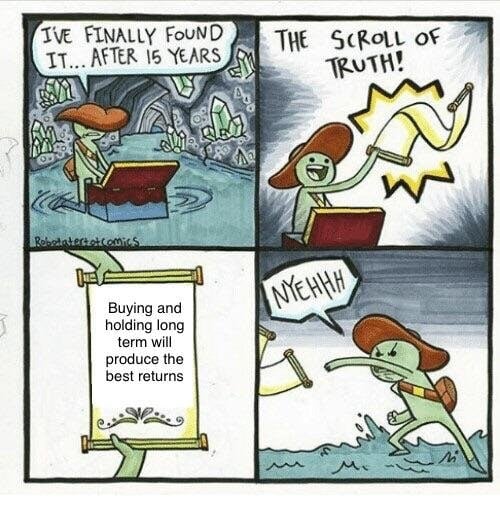 Closing Thoughts:
According to Benjamin Graham, the father of value investing, investment can be defined as "An investment operation is one which, upon thorough analysis, promises safety of principal and a satisfactory return. Operations not meeting these requirements are speculative."
If you want to make decent returns from the share market, you need to stop speculating and making decisions based on these dumb strategies. If you are new to investing, take your time, learn and start building your own repeatable strategy by properly analyzing the companies which may produce consistent returns in the long term.
That's all for this post. I hope it was helpful for you. Happy Investing!!

Kritesh (Tweet here) is the Founder & CEO of Trade Brains & FinGrad. He is an NSE Certified Equity Fundamental Analyst with +7 Years of Experience in Share Market Investing. Kritesh frequently writes about Share Market Investing and IPOs and publishes his personal insights on the market.
---
Start Your Stock Market Journey Today!
Want to learn Stock Market trading and Investing? Make sure to check out exclusive Stock Market courses by FinGrad, the learning initiative by Trade Brains. You can enroll in FREE courses and webinars available on FinGrad today and get ahead in your trading career. Join now!!