Duopolies in Indian Market: Visa vs MasterCard, Boeing vs Airbus, Coke vs Pepsi, Netflix vs Amazon prime, etc are some of the companies that have already been etched most notable duopolies throughout the world. Be it a boon or a bane, these mega-corporations cannot be named individually without mentioning the other. Such has been the tale of Duopolies, their fierce competition, and respectful cooperation eventually forming an interdependence where each has scaled summits.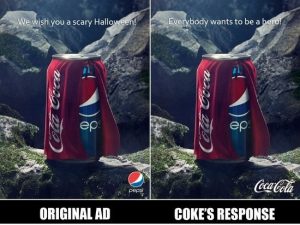 (Rivalry noticed through Advertisements)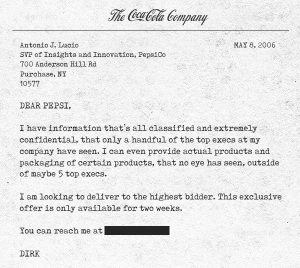 (Pepsi responded to the above-attempted sale of Coke's secret ingredients by notifying Coka-Cola)
In this article, we further look at Duopolies that have shaped and extended their segments, particularly in the Indian markets.
Duopolies in Indian Market
— Zomato vs. Swiggy –

Food tech
A decade ago Dominoes and their '30 minutes or free' scheme stood for food delivery in India. However, the real credit has to be given to Zomato and Swiggy for the development of the Food tech industry in India. They have now formed an integral part of our lives and also sets the perfect example of a duopoly in the Indian context in the food tech/delivery industry.
Zomato was founded in 2008 initially as a website that provided information on restaurants, access to their menus, the ability to view and provide reviews. However, they eventually ventured into the food delivery segment. On the other hand, Swiggy was set up as a food delivery platform from the beginning in 2014. Both competitors have used a strategic discounting model to attract and keep customers. Moreover, advertisements through social media have played a significant role in their growth and competition.
Strategies used by Zomato
Each of these corporations has strategically acquired other new entrants to enhance their growth to gain an upper hand. This was also done to use them as a doorway into new markets. Zomato has made 12 acquisitions which include companies throughout the globe. The acquisitions are involved in restaurant search service, table reservation, restaurant management platforms, logistic tech startups, food delivery startups with their most notable recent acquisition being UberEats. Zomato has also acquired companies involved in drone technology focusing on the possibility of a future with drone-based food delivery.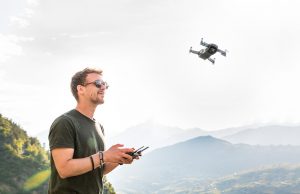 Strategies used by Swiggy
Swiggy also has made notable acquisitions like 48 east, Scootsy logistics and also invested in Fingerlix- a ready to eat food brand. They also enhanced its customer base by easing the payment systems for working customers by partnering with Sodexo. In addition, Swiggy has also partnered with Indifi technologies, a financing program for partner restaurants. 
The strategies used by Zomato and Swiggy show how the food tech duopoly in India has competed using the technique of an acquisition. As mentioned earlier, this was also used as a medium to enter new markets and build on the structure already set up by the company taken over.
But when the pages are flipped over it also shows the difficulty a startup could face when competing with companies having greater control over the market. This is because they have already built resources over the years and are ready to burn through cash even after going through losses. They will eventually have to give in to the offer placed by either of the duopolies as it would be an uphill battle to compete with strategic discounting employed by either of the companies.
Also read: Online Grocery Market: Overview & Future in India (2020)
— Ola vs. Uber – Ride Booking/Sharing
The ride-hailing segment in India is dominated by Ola and Uber. Uber a globally recognized corporation known for its ride-hailing service in 785 metro cities worldwide. They entered the Indian market in 2013 and currently boasts 14 million rides a week in India. Ola, on the other hand, had a three-year head start and currently boasts a reach of over 250 cities with 28 million weekly bookings.
Strategies used by Ola vs Uber
Ola and Uber too have used the strategies of acquisition and investment. Uber acquired Kareem particularly known for its service in the middle east and Ola has invested in VOGO to further its reach in the two-wheeler ride-hailing segment. Both Uber and Ola have competed aggressively in all road transport segments ( inc. two-wheeler, three-wheeler).
They have also entered other segments namely the food tech industry with Uber initiating UberEats and Ola acquiring Foodpanda. Uber has also extended its service to other means of transport through UberAir which uses VTOL aircraft in the US and also UberBoat in Mumbai at the jetty from Gateway of India to Alibaug. In addition, they are particularly keen on developing self-driving cars to be introduced in the ride-hailing segment.
However, in the case of Ola and Uber, we also see another side of the duopoly segment. Ola had been earlier accused of attempting to eliminate competition by lowering prices. This makes it impossible for new entrants to survive and then hiking prices when convenient.
Besides, both Ola and Uber have been accused of overcharging in situations where the same ride is charged different amounts based on the day, time, profile, history, rating of both the rider and the driver. This was opposed as both attempt to show a front of transparency to attract customers to their reasonable pricing. The same surge in pricing would not be acceptable when applied by local players.
They have also been accused of baiting riders with discounts and bonuses and then hiking fares without passing the gain from the price hike to the drivers. One of the main reasons that Uber and Ola have been in controversy is the fact the drivers are not considered employees of these corporations. They are instead considered as 'contractors' as this allows them to skirt legal obligations mandated towards employees.
If we look into the strategies used by Uber at a global stage to remain market heads they would seem to be straight out of a conspiracy novel. Uber to compete with Lyft in new York had formed a street team to gather information on Lyft's expansion plans and lure their drivers into Uber. In 2014, 177 employees of Uber were accused to have intentionally ordering and canceling 5560 rides.
Uber also has been criticized for the development and implementation of the software tool 'Greyball' which was used to gather user data from their phones and avoid giving rides to law enforcement officers and those involved in sting operations. Uber also used the Ripley a panic button 24 times at the times of raids. Ripley would shut off and change the passwords of the staff computers when initiated. The controversy with Uber gets worse as they have been accused of implementing 'God View' a function used to track journalists and politicians.
— Flipkart vs. Amazon – Indian

eCommerce
When it comes to E-commerce the duopoly Flipkart and Amazon are said to have a combined market share of over 90% in the Indian market. Flipkart was founded in India in the year 2007 whereas Amazon had been launched in India in the year 2012.
Strategies used by Flipkart and Amazon
In comparison, the homegrown company 'Flipkart' has been a market leader even when facing Amazon. Flipkart being an Indian company has used this to its advantage by spreading its reach even to rural areas whereas Amazon had initially limited itself only to metro cities. Almost 45% of Flipkart's sales currently come from smaller towns and cities giving them an edge over Amazon in India. Amazon, on the other hand, has targeted metro cities which formed 65% of its sales.
Flipkart too as noticed in the earlier examples has used similar strategies of acquisition ( Myntra, Jabong, PhonePe, and eBay). Amazon, on the other hand, has relied less on acquisition and more on forming partnership with local logistic companies to bolster business.
The entry of Walmart into India through the purchase of Flipkart gives an insight of means used by MNCs to enter new markets. This was also used by Zomato and Uber in the previous examples.
Disrupting a Duopoly
The duopoly held by MasterCard and Visa in the international payment segment was disrupted by the introduction of RuPay in India. After noticing multiple examples of new entrants not being able to compete with already set Duopolies eventually leading them to being acquired, the question arises on how RuPay was able to achieve this in India. 
RuPay belonging to the domestic payment system was set up in India in the year 2005 by the Board of payment and Settlement systems by the Reserve Bank of India. The RuPay card was introduced in 2012. As the processing of the transaction in RuPay is within India they are lower than that of MasterCard and Visa. This is because the processing in MasterCard and Visa take place abroad resulting in a higher processing fee along with their higher fee structure.
The rise of RuPay can also be attributed to Prime Minister Narendra Modi who had publicly endorsed it. One of Modi's schemes namely the PM Jan Dhan Yojana helped RuPay contend with global players. Here, financial services, bank accounts, and a RuPay card were made available to most of the rural population free of cost.
Government support, Deep Pockets and a focus on the local problems that MNCs overlook seem to have worked for RuPay to become the top player in India. However, this led to the government facing a lot of backlash on the global stage with Visa and MasterCard crying foul and alleging that Modi used patriotism which they viewed as a way of protectionism against them.
Closing Thoughts
After considering three of the most notable duopolies in India we can note that for the successful functioning of a company a certain degree of cooperation is required to maximize the profits. With both companies acting as a check on each other the greatest benefit reaches the consumer.
Example – strategic discounting used by Zomato and Swiggy. These benefits are not available in a monopoly. It is also important for the government to maintain stringent checks to avoid the formation of cartels. The best comparison can be seen in Uber. The management has been termed as a ' Group of Thugs' in the US ( where it has a market share of over 65%) due to its unethical practices. In India however due to a stronghold by its competitor Ola it has had to forego its 'win at all costs' attitude which was also later forgone in its operation in the US.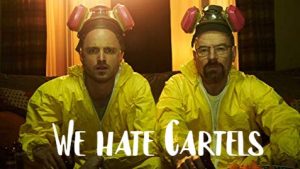 Another disadvantage a duopoly may have is on the stakeholders in the operating region, particularly its employees. All the companies taken as an example burn through cash without achieving profitability for a considerable period of time. This is done to survive the competition and eliminate new entrants. Failure of any of the companies will result in mass layoffs. Even if they enter a position of being acquired, employees that may increase duplication of jobs will not be hired. 
Acquiring a major market share does not then limit the competition in the Duopoly to each other. In the future, we will see many new entrants ready with deep pockets to take on these duopolies.
Amazon seems to be keen to make an entry into the food-tech segment. Also the Mukesh Ambani backed Jiomart has just made an entry into the eCommerce platform offering attractive incentives to users like savings of Rs. 3,000 on pre-registration.
The telecom sector, on the other hand, seems to be headed towards a duopoly with the supreme court taking a strong stand against Vodafone-Idea which owes the government $3.9 billion in dues interest and penalties. In the coming years, India will see Duopolies entering other segments and at the same time disrupt those that are currently in play.


Aron, Bachelors in Commerce from Mangalore University, entered the world of Equity research to explore his interests in financial markets. Outside of work, you can catch him binging on a show, supporting RCB, and dreaming of visiting Kasol soon. He also believes that eating kid's ice-cream is the best way to teach them taxes.
---
Start Your Stock Market Journey Today!
Want to learn Stock Market trading and Investing? Make sure to check out exclusive Stock Market courses by FinGrad, the learning initiative by Trade Brains. You can enroll in FREE courses and webinars available on FinGrad today and get ahead in your trading career. Join now!!