Exide Industries vs Amara Raja Batteries: We see heads turning when electric vehicles zoom past us. It makes us wonder how these vehicles are able to do so, that too with hardly any noise or emissions.
And what makes them even better is that people can charge them like they charge their phones.
A handful of people use electric vehicles these days. However, as more companies have begun focusing on them, many more people have adopted them.
Albeit, there are a few hiccups. Firstly, the initial cost involved with EVs definitely creates a hole in your pocket. And secondly, there's news about EV batteries catching fire. We'll have to wait and watch what's in store for EVs.
Batteries to electric vehicles are what mitochondria are to a cell. You guessed it right! They are the powerhouse of electric vehicles. In this article, we shall compare two prominent EV battery manufacturers in India- Exide Industries Limited and Amara Raja Batteries Limited.
Both these companies together make up 70% of the market share of the batteries in India. We shall discuss their businesses and compare them based on several parameters. Keep reading to find out!
EV Batteries Industry Overview
Electric cars have been in existence for a while now. Batteries are expected to be compatible to meet the requirements of various electric vehicles. Earlier, nickel-metal hydride batteries and lead-acid batteries were used.
These days most electric vehicles use lithium-ion batteries. These batteries can be charged and are known to last longer.
India too is slowly drifting towards clean sources of energy. The electrification of transport is a top priority. The government has incentivized the production and use of EVs in India. It is working relentlessly to boost the demand for electric vehicles.
It is encouraging companies to make batteries instead of importing them. Hence, it is promoting the 'Make in India' initiative in this industry. Making batteries will help manufacturers to reduce costs. This will in turn help in expanding the user base of electric vehicles in India.
Fuel prices are spiralling due to the Russia Ukraine crisis and other factors. Therefore, many people are switching to electric vehicles as they have very low running costs. Higher demand for electric vehicles will lead to a higher demand for their batteries. Hence, companies like Exide Industries and Amara Raja Batteries can hope to benefit from this opportunity.
About the Companies
Both Exide Industries and Amara Raja Batteries supply products to the automotive, renewable energy, railways, power, telecom, UPS and oil and gas industries.
Further, Exide Industries supplies products to mining as well as material handling equipment industries. Here is a little more information about these companies:
This 75-year-old company manufactures storage batteries and allied products in India. It is the largest lead-battery manufacturer in India. Exide manufactures batteries for automotive, industrial, and submarine sectors. Its customers are primarily from the power, solar, railways, telecom, and UPS sectors.
In 2018, Exide Industries formed a joint venture with Leclanche SA in the ratio of 75:25 to enter the domestic lithium battery business. Today, Exide has a wide distribution network with over 150 warehouses and sales offices.
It has over 55,000 direct & indirect dealers across India. In addition, it has tie-ups with around 100 OEMs (original equipment manufacturers) for testing different prototypes.
Some of its major customers in the automotive segment are General Electric and Mitsubishi. Excide operates ten manufacturing plants across India. These plants have a capacity to produce 57 m units of automobile batteries.

It is the flagship company of the Amara Raja Group. The company is the second-largest manufacturer of lead-acid batteries in India. It operates eight manufacturing plants and is a technology leader. Hence, its batteries are exported to over 32 countries across the globe.
Amara Raja Batteries cater to the huge demand on the Pan India level. Its distribution network comprises over 30,000 retailers. It has expanded its four-wheeler capacity from 2.5 million to 12 million. The company has expanded its two-wheeler manufacturing capacity from 4 million to 19 million units.
It forayed into the business of Lithium-ion packs in 2018-19 and is getting plenty of orders. Further, it manufacturesAmaron and PowerZone are their well-known brands. The company's products are exported to most of the countries in the Indian Ocean rim.
Impact of COVID-19 on Exide Industries Vs Amara Raja Batteries
The COVID-19 pandemic affected almost all the sectors in India. The battery sector too wasn't spared. Since people did not step out of their houses for months, the demand for vehicles dropped. As a result, the demand for batteries dropped.
On the bright side, people started working from home and power cuts hampered their work. As a result, both the companies saw a steep demand for UPS units. Further, people expected uninterrupted service expectations from telecom networks. This gave impetus to the demand for power backup.
The restrictions were eased a little later. People could step out of their houses for certain purposes. However, they did not prefer public transport. This led to an increase in demand for personal vehicles and batteries, as a result.
Future Prospects of Exide Industries Vs Amara Raja Batteries
Lead battery technology has a variety of applications and provides significant growth opportunities in the domestic and international markets. Further, lithium has opened exciting opportunities for battery manufacturers as it can be used as an alternate source of energy.
India is expected to adopt electric mobility on a large scale by 2030. The percentage of electric vehicles on the roads might increase from 6% to 33% by 2040. Lead batteries can serve as auxiliary batteries in EVs. Their demand might grow with the demand for EVs.
The data centre market in India is at a nascent stage in India. However, it promises exciting prospects for lead battery manufacturers. It has grown by 500% since 2014 and may continue the trend on a smaller base. Corporates are investing heavily in data centres. This can be a huge opportunity for backup power.
The growth in the telecom segment might create robust demand for lead batteries. All of this works well for battery manufacturers like Exide Industries and Amara Raja Batteries.
Revenue Comparison of Exide Industries Vs Amara Raja Batteries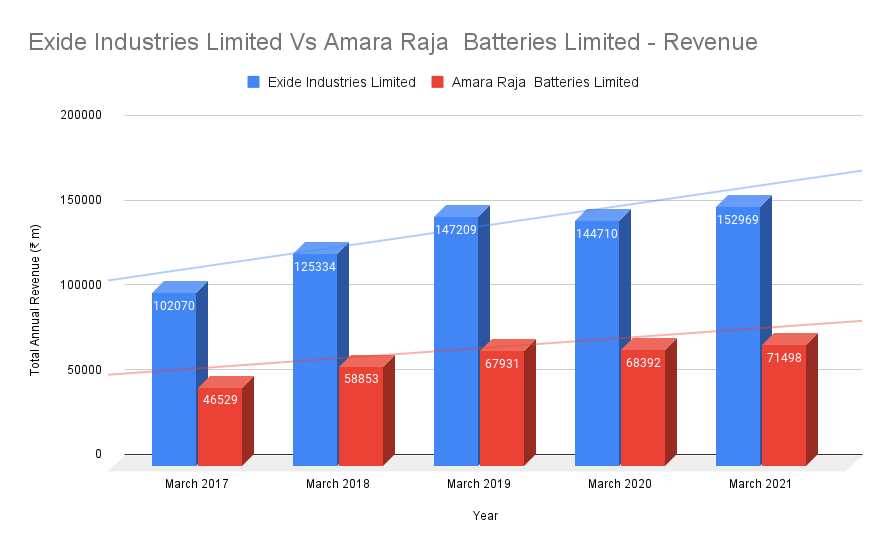 Both, Exide Industries and Amara Raja Batteries show an increasing trend in revenues, in general. Amara Raja Batteries' revenues grew during the last five years. However, Exide Industries' revenues dropped marginally in 2020.
They are largely dependent on the automobile segment for their growth. A drop in their demand caused a drop in the demand for batteries, hence their revenues.
Exide Industries' growth happened as it supplied lead batteries to dominant auto players across India. These include Tata Motors and Bajaj. It is present in the entire automotive value chain.
Exide has entered the EV segment. It is forging ahead by tying up with international players like Leclanche, to build lithium-ion batteries.
Amara Raja Batteries enjoys strong positions in the automotive as well as industrial battery space. Hence, it had strong revenue growth. It is positioning itself to benefit from the growth in the EV market.
Recently, it has set up a technology hub to develop lithium-ion batteries, at its Tirupati facility in Andhra Pradesh.
Profitability

of Exide Industries Vs Amara Raja Batteries
Though Amara Raja Batteries rank second, their margins show an increasing trend. On the other hand, Exide Industries' margins have remained mostly flat over the five-year period. Its low-margin insurance business could be a contributor. Its insurance business accounts for 30% of its revenue.
However, it generates an operating margin of a measly 4%. Exide recently sold its entire life insurance business to HDFC Life. Therefore, it might report better margins in the years to come.
Swift movements in lead prices lead to increased input costs. Both of these companies are auto ancillary companies hence they lack bargaining power. As a result, they operate with subdued margins. However, their revenues increase on account of high volumes.
Dividends
The dividend yield for Exide Industries is slightly higher as compared to Amara Raja Batteries. The five-year average dividend yield for Exide Industries is 1.4% and for Amara Raja Industries is 1.1%.
Key Metrics of the companies
| Particulars | Exide Industries Limited | Amara Raja Industries Limited |
| --- | --- | --- |
| Face Value (₹) | 1 | 1 |
| EPS (₹) | 51.38 | 35.31 |
| Debt to Equity | 0.02 | 0.01 |
| ROE (%) | 11.69 | 16.45 |
| Current Ratio | 1.3 | 2.12 |
| Market Cap (₹ in Cr) | 11985 | 8542 |
| Promoter's Holdings (%) | 45.99 | 28.06 |
| Dividend Yield (%) | 1.42 | 2.2 |
| Stock P/E (TTM) | 2.74 | 14.16 |
Both, Exide and Amara Raja Batteries have a face value of ₹1.
Exide Industries has given a better EPS as compared to Amara Raja Batteries.
Both the companies have an ideal debt to equity ratio.
The return on equity of Amara Raja Batteries is higher than that of Exide Industries.
Amara Raja Batteries has a better current ratio as compared to Exide Industries.
Exide Industries has a higher market cap as compared to Amara Raja Batteries.
The promoters' holdings of Exide Industries are higher than that of Amara Raja Batteries.
Amara Raja Batteries has a better dividend yield as compared to Exide Industries.
Amara Raja Batteries is trading at a higher price to earnings ratio.
In Closing
In today's article, we compared Exide Industries vs Amara Raja Batteries. We quickly understood their business and the factors that impact it. Then we took a look at their revenues, profit and dividend yield over five years. Later, we went through key metrics and compared them.
We hope that we helped you to compare both the companies and their stocks. However, if you're hungry for more information, head over to Trade Brains Portal to get more insights.
Our 'Stock Compare' feature can help you to compare two or more stocks in a jiffy! Thank you for hanging with us and we hope to see you around.

Hey, there! Thank you for stopping by 🙂 Simran is a master graduate in commerce from Bangalore University, an NSE-certified Fundamental Analyst and a NISM-certified Research Analyst. She finds interest in investing and personal finance. Outside of work, you can find her painting, reading and going on long walks.
---
Start Your Stock Market Journey Today!
Want to learn Stock Market trading and Investing? Make sure to check out exclusive Stock Market courses by FinGrad, the learning initiative by Trade Brains. You can enroll in FREE courses and webinars available on FinGrad today and get ahead in your trading career. Join now!!