financial statements of Indian Companies: Reading a company's financial statements is a key part of fundamental analysis that no investor should ignore.
Here, the investors need to read at least 5-10 years of financial reports of the company in order to understand its performance, growth rate, trends, consistency, etc. For example- a high profit for just one or two years is not sufficient to approach any conclusion.
However, if you can find that the bottom line of the income statement is consistently growing at a good pace for the last 5-10 years, this may be a healthy sign for the company. In short, it's imperative for investors to read (and understand) the financial statements of a company before investing.
However, for beginners, finding the last 10-year financial statements of Indian companies may look tedious. Besides, because of so many paid/subscription-based plans available for detailed financial statements of companies, it might be a little challenging for the newbies to decide whether to go for a paid plan or surf the internet to download the reports for free.
Paid plans are generally beneficial as they provide comprehensive reports and tools. However, they are often more useful to the professions, rather than the retail investors. For the common investors, it's better to use free websites/resources to find the last 10-year financial statements of Indian companies.
In this post, we are going to discuss the free websites and resources to find and download the financial statements of Indian companies. Let's get started!
How to find the last 10-year financial statements of Indian companies?
1. Company's official website
The company's website is the first and foremost source to find its financial statements. You can download the quarterly and annual reports of any company by visiting its official website and navigating to the 'Investors' or 'Investor's relations' page.
However, to arrange the last 10-year reports, here you might have to download the annual reports one by one manually. Nonetheless, this is the best source for investors to download the financial statements of publically listed Indian companies.
2. Financial websites.
There are a number of free financial websites in India which provide customized five to ten years financial statements of Indian companies, all in one place. Two of the simplest financial websites that beginners should know are:
Trade Brains Portal helps investors make efficient stock research and analysis by providing quality fundamental data with insightful visuals. This screener also provides you with Portfolio Analysis, Market research, Superstar Portfolios and More. To download financial statements go to your preffered stock and click the arrow button.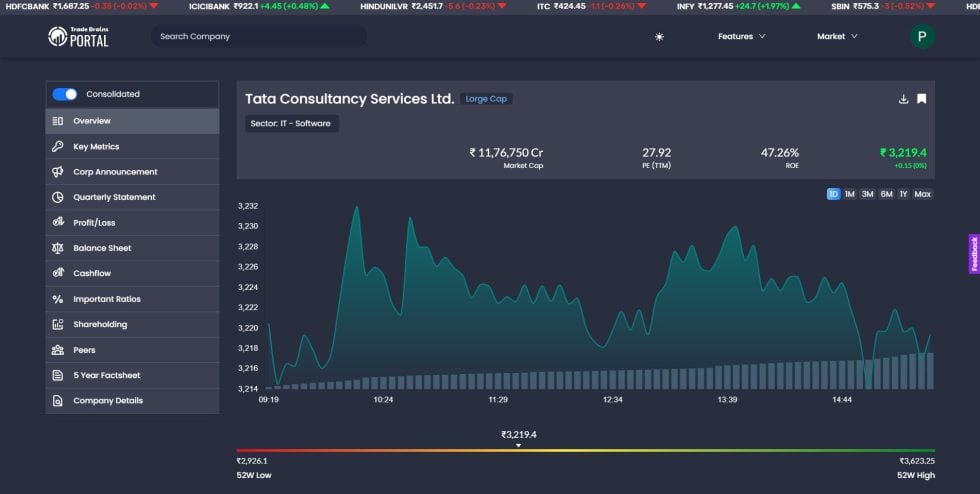 The Screener is a simple, clean, yet powerful website. Here, you can also download the financial statements of a listed Indian company in the Excel sheet.
For downloading the financial statements, simply go to the screener website and search for your interested company in the search bar. Next, go to the company page where you can find the 'Export to Excel' option.


Quick Note: You need to create a login account on Screener in order to download the excel report.
Money Control is probably one of the most popular financial websites in India for researching stocks and other financial instruments.
To download the financial statements of the Indian company, go to the company page on the money control website. Next, select the 'financials' option in the left tab and click on the financial statement (profit and loss statement, balance sheet or cash flow statement) that you would like to download.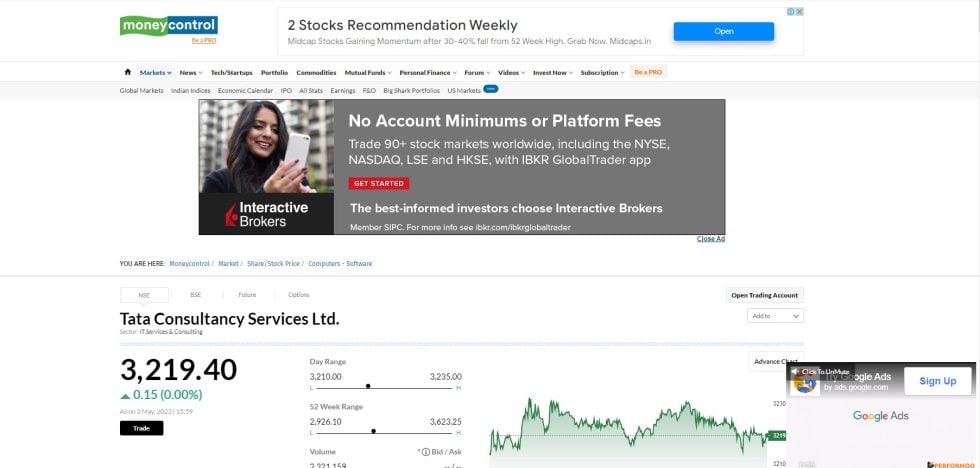 A few other websites that you can visit to find the financial statements of Indian companies are Yahoo Finance, Equity Master, Marketsmojo, Marketsmojo etc.
Also read: 7 Must-Know Websites for Indian Stock Market Investors.
3. Stock exchange websites
Finally, you can always visit the stock exchanges (NSE/BSE) website to download the financial statements of an Indian company. The exchanges are continuously working to improve their website and its UI is far better compared to what it used to be a few years ago.
To download the financial statements, search for the company name in the top search bar and open the company page. You can find the annual results and reports in the financial section on the company page.
Also read:
Closing Thoughts:
Although there are so many options for investors to find the last 10-year financial statements of Indian companies, however, the easiest and best one is the company's official website.
A notable problem with financial websites is that they have to adjust the financial data a little to customize their layout and hence the data shown on their website may not be exactly accurate.
Moreover, there have also been cases where the financial data reflected on these financial websites don't match with that of financial statements declared by the company (this may be because of human or computer error while gathering the data).
Therefore, it's always advisable to download the annual reports of the companies from their official website while researching the company as it is a more reliable source.
Nonetheless, an easier approach that investors can follow is to use these financial websites for a quick study and later download the annual reports from the company's website/NSE/BSE while performing the detailed study.
That's all for this post. I hope it is helpful to you. Happy Investing!!
Stay updated on the latest Stock Market News and Corporate Actions NSE with Trade Brains Portal, while also keeping an eye on the Top Gainers Today in NSE with our Stock Heatmap feature

Kritesh (Tweet here) is the Founder & CEO of Trade Brains & FinGrad. He is an NSE Certified Equity Fundamental Analyst with +7 Years of Experience in Share Market Investing. Kritesh frequently writes about Share Market Investing and IPOs and publishes his personal insights on the market.
---
Start Your Stock Market Journey Today!
Want to learn Stock Market trading and Investing? Make sure to check out exclusive Stock Market courses by FinGrad, the learning initiative by Trade Brains. You can enroll in FREE courses and webinars available on FinGrad today and get ahead in your trading career. Join now!!