Fundamental Analysis of BPCL: Did you know that yellow is one of the fastest colours that can be detected by the human eye? Many businesses use yellow lights or name boards to grab the attention of customers.
One such company that uses the colour is Bharat Petroleum Corporation Ltd. When running low on fuel, we breathe a sigh of relief when we spot a yellow and blue coloured petrol station nearby.
Well, we're not going to talk about the human eye or fuel issues. Instead, we shall do a fundamental analysis of BPCL, a company that competes with the likes of Reliance Industries. At least in terms of the nature of business. We'll go through its business, the industry that it functions in and more! Let's dive in, shall we?
Fundamental Analysis of BPCL
In this fundamental analysis of BPCL, we will know about the company, business verticals, financials and much more.
About the company
Bharat Petroleum Corporation Ltd (BPCL) is an oil marketing company. It refines crude oil and markets petroleum products. It is a Maharatna Public Sector Undertaking that ranks 295th on the Fortune 500- 2022 global list.
Upstream Presence
The company has an upstream presence in six countries, namely Russia, Brazil, Mozambique, UAE, Indonesia, and India. In addition, it has 18 blocks with an equity stake in two Russian entities. Moreover, it has more than 15 global partners including Total, ENI, ONGC, Rosneft, Mitsui, OIL, BP, ADNOC and Petrobras.
Midstream and downstream Presence
BPCL has a balanced portfolio with strategically located refineries and marketing infrastructure. It has three refineries in India with a refining capacity of 35.30 MMT. They are located in Mumbai, Kochi and Bina.
Moreover, it has 82 retail depots, 53 LPG Bottling Plants, 57 Aviation service stations, 4 lube blending plants in 50 geographical areas including joint ventures. It has a pipeline network of 2597 km with a capacity of 21.35 MMTPA. Further, it has a strong distribution network with 20,217 retail outlets and 6,227 LPG distributors.
Industry Overview
BPCL operates in the Indian oil industry. The oil and gas industry is one of the eight core businesses of India. Changes in this industry have a significant impact on all other major economic sectors.
According to World Energy Outlook 2022, published by the International Energy Agency (IEA) on October 27, 2022, India's coal generation and oil imports are going to peak in 2030, while gas imports will double around the same time.
The demand for oil in India is projected to register a 2x growth to reach 11 million barrels per day by 2045. Further, the demand for diesel is expected to double to 163 MT by 2029-30, with diesel and gasoline covering 58% of India's oil demand by 2045.
India aims to commercialise 50% of its SPR (strategic petroleum reserves) to raise funds and build additional storage tanks to offset high oil prices.
The government has allowed 100% Foreign Direct Investment (FDI) in upstream and private sector refining projects. In addition, it reduced the customs duty on certain critical chemicals such as methanol, acetic acid and heavy feedstocks for petroleum refining.
BPCL– Business Verticals
Fuels and Services
Bharat Petroleum provides a variety of product offerings like Petrol, Diesel, Automotive LPG and CNG. Further, it provides premium petrol products like Speed and Speed 97. It has specialized Fuel Station formats like Ghar, Highway Star, Pure for Sure, and other such services that guarantee a smooth business experience.
Bharatgas
Bharatgas provides end-to-end solutions and services to meet requirements for energy and helps create products that are superior in quality and reliable. It has spread its motto 'Cook Food Serve Love' across millions of families and has reached over 8 crore households.
MAK Lubricants
BPCL's product MAK Lubricants is a trusted brand in lubricants and greases in Indian and international markets. It serves a spectrum of the entire spectrum of automobile segments – bikes, scooters, cars, light and heavy commercial vehicles, and tractors.
Aviation Services
The company has a presence in the entire value chain of the Aviation fuel business right from the production of jet fuel at refineries, its transportation, storage, and Intoplane services as per international quality standards and other value-added services in the aviation business.
Other products & Services
BPCL has a presence in the business of natural gas, liquefied natural gas and compressed natural gas. In addition, it has started organizing Proficiency Test (PT) programs for the first time in the petroleum industry in order to cater to the needs of petroleum sector laboratories in the country and adjoining regions.
Competitors
Some of the major competitors of BPCL are Reliance Industries, Indian Oil Corporation, Hindustan Petroleum Corporation, Mangalore Refinery And Petrochemicals and Chennai Petroleum Corporation.
Fundamental Analysis of BPCL – Financials
Revenue and Profitability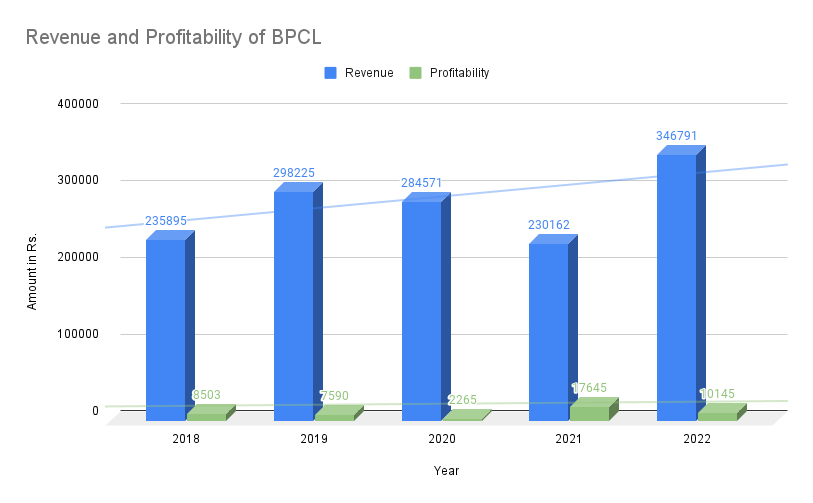 | Year | 2018 | 2019 | 2020 | 2021 | 2022 |
| --- | --- | --- | --- | --- | --- |
| Revenue | 235895 | 298225 | 284571 | 230162 | 346791 |
| Profitability | 8503 | 7590 | 2265 | 17645 | 10145 |
BPCL's revenue and profit show an increasing trend over a period of five years. The company in its investor presentation for the June quarter (Q1FY23) mentioned that its revenue grew at a CAGR of 10.6% from 2006 to 2022. At the same time, its profit after tax grew at a CAGR of 19.5%.
As far as the September quarter (Q2FY23) is concerned, oil marketing companies (OMCs) like BPCL have incurred losses for selling petrol and diesel lower than the cost. Petrol and diesel prices have remained stagnant in India, though the international prices of crude oil have been highly volatile and elevated during the period.
The Ministry for petroleum and natural gas, therefore said that it will support these companies. The Union Cabinet approved a one-time payment of ₹ 22,000 crores to OMCs to compensate them for their losses. These companies have sold cooking oil below cost. BPCL is included in the list of companies that will receive a portion of this grant.
Profit Margins
| Year | Gross Profit Margin (%) | Operating Margin (%) |
| --- | --- | --- |
| 2018 | 7.18 | 5.96 |
| 2019 | 5.75 | 4.60 |
| 2020 | 3.61 | 2.17 |
| 2021 | 10.23 | 8.34 |
| 2022 | 6.17 | 4.60 |
The above table shows the gross profit margin and the operating margin of BPLC for the last five years. These margins were falling till 2020, however, a sharp increase was seen in 2021 and a decline thereafter.
Return Ratios & Debt
| Year | Return on Networth / Equity (%) | ROCE (%) | Return On Assets (%) |
| --- | --- | --- | --- |
| Mar 2018 | 24.6 | 18.87 | 7.48 |
| Mar 2019 | 20.12 | 16.38 | 5.69 |
| Mar 2020 | 8.36 | 6.83 | 2.02 |
| Mar 2021 | 30.18 | 18.46 | 10.04 |
| Mar 2022 | 22.50 | 15.28 | 6.22 |
BPCL has a good return on equity at 22.50% and an ideal Return on assets at 6.22%. However, it has a moderate return on capital employed at 15.28%.
Over a period of five years, it has had an ideal return on equity ratio, except in 2020. Further, this ratio was excellent in 2021. Its return on capital is below the ideal level for all five years, but it was poor in 2020. A return on assets above 5% is considered to be ideal. This ratio has been ideal for the past five years except in 2020.
Further, its debt-to-equity ratio was 1.08 as per its latest annual report, which is slightly above the ideal level but manageable. This ratio was 0.87 in the previous year.
Shareholding pattern & pledged shares
The President of India is the company's promoter and holds a 52.98% stake in it. Another major shareholder is the Life Insurance Corporation of India with a 9.08% stake. Other DIIs hold a 12.76% stake, FIIs hold a 12.96% stake and the remaining is held by the public. Further, there is no pledge against the promoter's shares.
Fundamental Analysis of BPCL – Key Metrics
| Particulars | Values | Particulars | Values |
| --- | --- | --- | --- |
| Face Value (₹) | 10 | ROE (%) | 22.50 |
| Market Cap (Cr) | 65,869 | Net Profit Margin | 2.92 |
| EPS (₹) | 12.27 | Current Ratio | 0.75 |
| Stock P/E (TTM) | 24.75 | Debt to Equity | 1.08 |
| Dividend Yield (%) | 5.27 | Promoter's Holdings (%) | 52.98 |
The company's shares are currently trading at a price-to-equity ratio (PE) of 24.37, which is slightly higher than the industry PE of 22.60. Therefore, the stock might be overvalued as investors might be hoping that its price might increase in the future.
Future Plans of BPCL
These are a few strategic aspirations that the company has for 2022-27:
It plans to increase its petrochemical capacity generation, which will involve an investment of ₹ 38,000 crores. Moreover, it plans to triple its footprint in gas and increase its EBIT contribution. It aims at growing its bio-fuels portfolio, especially 1G ethanol. Further, it plans to open 7000 energy stations.
In Closing
In this article, we did a fundamental analysis of BPCL. We took a look at BPCL's business verticals, the industry in which it functions, its competitors, financials and more. That's all for this article folks! Happy investing, until next time.

You can now get the latest updates in the stock market on Trade Brains News and you can even use our Trade Brains Portal for fundamental analysis of your favourite stocks
Hey, there! Thank you for stopping by 🙂 Simran is a master graduate in commerce from Bangalore University, an NSE-certified Fundamental Analyst and a NISM-certified Research Analyst. She finds interest in investing and personal finance. Outside of work, you can find her painting, reading and going on long walks.
---
Start Your Stock Market Journey Today!
Want to learn Stock Market trading and Investing? Make sure to check out exclusive Stock Market courses by FinGrad, the learning initiative by Trade Brains. You can enroll in FREE courses and webinars available on FinGrad today and get ahead in your trading career. Join now!!