Fundamental Analysis of JSW Steel: Steel is one of the most important commodities that touches our lives every day. Whether it's the car we use, the house that we live in, or the water bottle we use, there is some form of steel in it.
However, steel does not occur naturally. It is made by combining coke and iron at very high temperatures. This calls for quite an investment. The steel industry mostly has old and huge companies that are involved in the making of steel.
Fundamental Analysis Of JSW Steel
In this article, we shall do a fundamental analysis of JSW Steel, one of the biggest steel companies in India. We'll take a look at the industry that it functions in, the business that it does, its financials, and more. Keep reading to find out
Industry Dynamics
The steel industry is cyclical. Demand and supply pull the strings when it comes to the price of this commodity. When the demand is robust, steelmakers expand their capacity. And when the demand ticks lower, they incur considerable losses due to huge investments.
In addition, production dynamics bother the industry. Coking coal and iron ore are key raw materials that go into making steel. India is almost entirely dependent on imports of coking coal from Australia. Whenever there is a disruption in the supply or an increase in the price of coking coal, the cost of production shoots up.
The players face cut-throat competition as their products have readily available substitutes. As a result, margins evaporate into thin air as steelmakers cannot pass on the cost to customers.
On the other hand, India is home to the fifth-highest reserves of iron ore in the world. In fact, it exports some to other countries. However, not all steelmakers have the resources to mine it. Huge players like Tata Steel and JSW Steel have an advantage here. They can mine the ore and control their input costs to a certain extent.
India is the second-largest producer of crude steel. China comes first, and it accounts for over 50% of the world's production. Most of their factories are directly owned by the Chinese state. Therefore they have access to cheap credit. This means that they can export steel at low prices and harm the domestic markets in various countries.
These countries, including India, can impose import duties. However, China can still manage to have a massive impact and push global prices lower. Sometimes domestic manufacturers have to slash prices and even sell steel below their cost.
Industry Overview
India's finished steel consumption is anticipated to increase to 230 MT by 2030-31 from 133.596 MT in FY22, according to an IBEF report. At the same time, the production is anticipated to exceed 300 million tonnes by 2030–2031. The industry is witnessing a consolidation of players, leading to investment by entities from other sectors. In fact, it is attracting global players to enter the market.
The government has taken various initiatives to boost the sector. This includes the National Steel policy 2017 and allowing 100% Foreign Direct Investment (FDI) in the steel sector under the automatic route. The Indian metallurgical industries attracted FDI inflows of US$ 17.1 billion between April 2000-March 2022, according to the data released by the Department for Promotion of Industry and Internal Trade (DPIIT).
The government announced guidelines for the approved specialty steel production-linked incentive (PLI) scheme in October 2021. It had allocated a budget of ₹ 6,322 crores for disbursals to be made to applicants who are selected under the scheme.
About the Company
JSW Steel is the flagship company of the JSW group. It is a leading integrated steel manufacturer and one of the fastest-growing companies in India, with a presence in more than 100 countries. It was the first company to manufacture high-strength and advanced high-end steel products for its automotive segments.
The company offers a variety of steel products like Hot Rolled, Cold Rolled, Bare & Pre-painted Galvanized & Galvalume, TMT Rebars, Wire Rods, and Special Steel.
Manufacturing Facilities
JSW Steel had a single manufacturing facility in the early '80s and it has grown to become India's leading integrated steel company. It has a steel-making capacity of 28 MTPA in India and the USA, including capacities under joint control. A new capacity is to be commissioned at Dolvi this year. Its manufacturing facility in Vijaynagar, Karnataka is the largest single-location steel-producing facility in India with a capacity of 12 MTPA.
Projects
JSW steel has worked on projects with organizations like SoftBank Solar Project, Yamuna Expressway, Mumbai monorail, Dedicated freight corridor Delhi Mumbai, Chennai Metro, Mumbai International Airport, Grand Hyatt Innovation Centre, ITC Grand, ISRO and more.
Distribution & Clientele
JSW Steel's Distribution network includes more than 11,000 exclusive and non-exclusive retail outlets. It has export footprints in over 100 countries across five continents and a strong presence in South and West India. Amber Enterprises, Bajaj Group, Bharat Heavy Electricals Ltd, Cummins India, Force Motors, Havells India, Mahindra Intertrade, and Tata Motors are some of its clients.
Competitors & Moat
JSW Steel's competitors include Tata Steel, Steel Authority of India, APL Apollo Tubes, Ratnamani Metals & Tubes, Tata Steel BSL and Jindal Stainless.
JSW Steel has a facility strategically positioned in the iron ore-rich Bellary Hospet belt in Karnataka. It is well-connected to both Goa and Chennai ports. It is the only steel plant in India with pair cross-technology and twin-stand reversible cold rolling mills. Its flexible operations allow for product mix as per market requirements.
In this article on Fundamental Analysis of JSW Steel, we took a look at the industry dynamics industry overview, and information about the company, its manufacturing facilities, projects, distribution network, competitors and moat. Let us now take a look at its financials.
Revenue & Profitability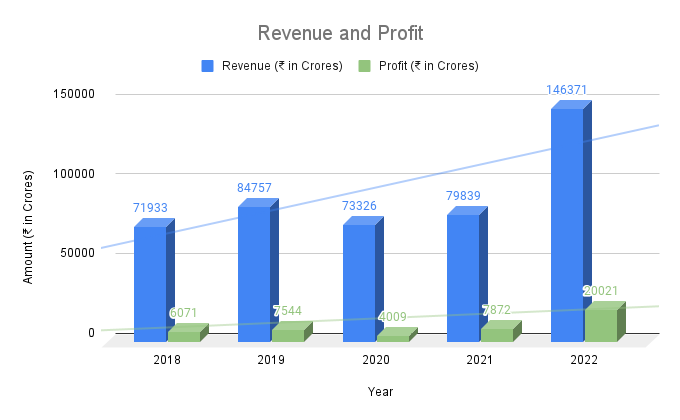 | | | | | | |
| --- | --- | --- | --- | --- | --- |
| Year | 2018 | 2019 | 2020 | 2021 | 2022 |
| Revenue (Rs. in Crores) | 71,933.00 | 84,757.00 | 73,326.00 | 79,839.00 | ₹ 1,46,371 |
| Profitability (Rs. in Crores) | 6,071.00 | 7,554.00 | 4,009.00 | 7,872.00 | 20,021.00 |
| Net Profit Margin (in %) | 8.44 % | 8.91 % | 5.47 % | 9.86 % | 13.68 % |
JSW Steels' revenue and profitability show an increasing trend over a period of five years. There was a decrease in its revenue and profitability in 2020 and 2021 because of the pandemic.
There was an economic slowdown in India even before the pandemic. The automobile industry and the real estate industry which are among the major consumers of steel weren't doing great. The pandemic added to the woes. However, India became the net exporter of steel to China after the initial months of the pandemic. This was unlikely, but it gave a much-needed boost to the industry.
Steel exports accounted for more than ₹ 19,267 crores while imports were at ₹ 16,369 crores by December of 2021. Once the lockdowns eased in India, the demand started gaining momentum.
There is an increasing trend in the company's net profit margin, from 8.44% in 2018 (FY19) to 13.68% in 2022 (FY23). Its revenue grew at a 3-year CAGR of 19.98% and its net profit grew at a 3-year CAGR of 39.34%.
Recent developments
The Finance Ministry recently scrapped the 15% export tax that it had previously imposed on several steel products to improve its availability in the domestic market and tame prices. This comes as a big relief to the players in the steel industry. In addition, the duty on high-grade iron ore has been cut from 50% to 30% while completely withdrawn for lower grades below 58% iron content.
However, the notification said that coking coal and ferronickel will attract an import duty of 2.5%, while coke and semi-coke will attract a 5% import duty.
Seshagiri Rao, joint MD, JSW Steel & Group CFO commented on this development. He said that it will be a big sentimental booster to revive domestic steel demand particularly when the global steel demand is on a steep decline.
Fundamental Analysis Of JSW Steel – Key Metrics
| | | | |
| --- | --- | --- | --- |
| Particulars | Values | Particulars | Values |
| Face Value (₹) | 1 | ROE (%) | 35.62 |
| Market Cap (₹ in Cr) | 1,71,247.98 | Net Profit Margin(%) | 13.68 |
| EPS (₹) | 31.36 | Current Ratio | 1.14 |
| Stock P/E (TTM) | 22.59 | Debt to Equity | 1.43 |
| Dividend Yield (%) | 2.37 | Promoter's Holdings (%) | 45.19 |
JSW Steel is a large-cap company with a market capitalization of ₹ 1,71,247.98 crores as of November 21, 2022. It has earnings per share of ₹31.36, indicating that ₹ 31.36 is allocated to every individual share of the stock. A high EPS indicates good profitability. It has a good dividend yield of 2.37%.
Its shares were trading at a price-to-equity ratio (P/E) of 22.59 which is higher than the industry P/E. This could mean that the company's stock is overvalued or its investors are expecting high growth in the future.
Return Ratios
The company has an excellent return on equity of 35.62%. This indicates that the company generates higher profits on the equity that is employed in the company. Further, it has a return on capital employed of 27.34%, indicating that it generates ₹ 27.34 for every ₹ 100 that is deployed in its business.
Debt
JSW Steel has a slightly high debt-to-equity ratio of 1.04, however, companies in this industry are capital-intensive and usually have high debts. On the bright side, it has a high-interest coverage ratio of 6.8, indicating its ability to comfortably provide for interest payments.
Liquidity
JSW Steel has a current ratio of 1.14. This indicates that its current assets are higher than its current liabilities. In a recent corporate presentation, it mentioned that it has cash and cash equivalents of ₹ 13,291 crores.
Credit Ratings
Among International credit rating agencies, Moody's has a Ba1 (Stable outlook) rating and Fitch has a BB (Stable Outlook) rating. Domestic credit rating agency CARE Ratings, ICRA, and IndRA have an AA rating indicating a stable outlook.
Shareholding
The company's promoters hold a 45.19% stake in it. Retail investors hold a 34.30%% stake, FIIs hold 10.75% and DIIs hold 9.76%. However, there is a pledge of 15.21 against the promoters' holding. On the bright side, its promoters have been increasing their stake in the company. Their holding increased from 44.09% in September 2021 to 45.19% in September 2022.
JSW Steel is planning to invest ₹ 47,457 crores (US$ 6.36 billion) to increase Vijayanagar's steel plant capacity by 5 MTPA and establish a mining infrastructure in Odisha, in the next three years, starting from June 2021. For the next phase of growth, it plans to achieve 37.5 MTPA steel capacity by FY25. Further, it is looking at realizing full benefits from 5mt Dolvi-II expansion, BPSL expansion, and expanded downstream capacities.
In Closing
In this article, we did a fundamental analysis of JSW Steel. We took a look at the company's industry dynamics industry overview, and information about the company, its manufacturing facilities, projects, distribution network, competitors, and moat. Then we took a look at the company's revenue, profits, key metrics, and future plans.
That's all for this article folks. We hope to see you around. Happy investing until next time!
You can now get the latest updates in the stock market on Trade Brains News and you can also use our Trade Brains Screener to find the best stocks.

Hey, there! Thank you for stopping by 🙂 Simran is a master graduate in commerce from Bangalore University, an NSE-certified Fundamental Analyst and a NISM-certified Research Analyst. She finds interest in investing and personal finance. Outside of work, you can find her painting, reading and going on long walks.
---
Start Your Stock Market Journey Today!
Want to learn Stock Market trading and Investing? Make sure to check out exclusive Stock Market courses by FinGrad, the learning initiative by Trade Brains. You can enroll in FREE courses and webinars available on FinGrad today and get ahead in your trading career. Join now!!