Fundamental Analysis of Prince Pipes And Fittings: Pipes form an integral part of infrastructure development. I mean, imagine homes and cities without pipes! We would have to go to rivers and ponds to fetch water. And imagine doing that when you have to reach the office by 10 AM after completing daily chores. That would be time-consuming. Maybe, work timings would have to be entirely different.
In short, pipes are important. Important enough to build ₹ 6,800 crore companies! In this article, we shall do a fundamental analysis of Prince Pipes and Fittings, a company that has been around for more than three decades. We'll take a look at its business, the industry in which it functions, its competitive strengths, financials, and more. Let's begin.
About the Company
Prince Pipes & Fittings Limited (PPFL) is one of India's largest integrated piping solutions and multi-polymer manufacturers. It has a history of more than 30 years and is a Fortune 500 company. It is promoted by the Chedda family and is recognized for its extensive range of products and pristine quality. The company manufactures polymer pipes and fittings for plumbing, irrigation, and sewage disposal.
PPFL has been considered the Industry's Most Trusted Brand and has the Largest Range of SKUs. The company ranks amongst the top 5 companies in the piping industry. Thanks to its massive production capacity and wide distribution network. Having operated for more than three decades, the company has numerous manufacturing units located strategically across the country.
It markets its products under two renowned brands – Prince Piping Systems and Trubore Piping Systems. It has more than 1500 distributors and 7 state-of-the-art facilities across India.
These are located at Haridwar (Uttarakhand), Athal (Dadra and Nagar Haveli), Dadra (Dadra and Nagar Haveli), Kolhapur (Maharashtra), and Chennai (Tamil Nadu). Besides, two contract manufacturing units are located at Hajipur (Bihar), Aurangabad (Maharashtra), Jobner (Rajasthan), and Sangareddy (Telangana).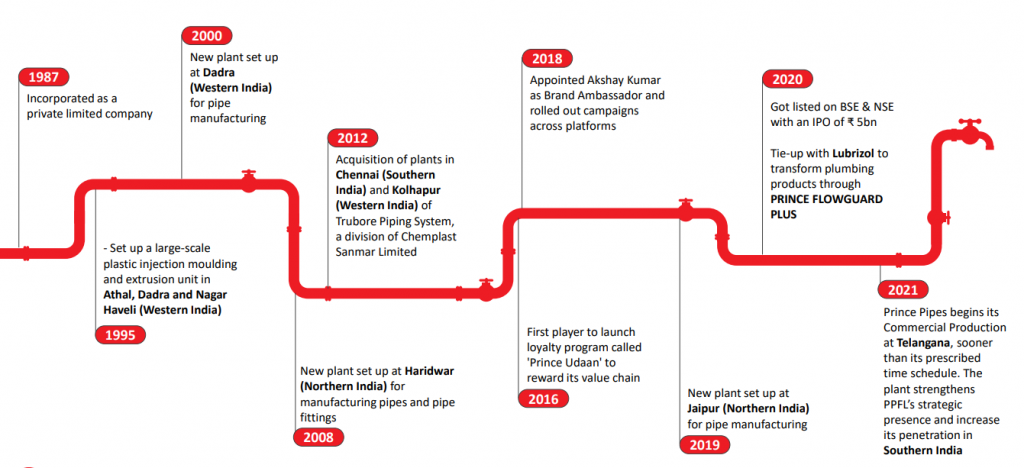 Industry Overview
Plastic pipes and fittings are used in irrigation, real estate, and for the development of water supply and sanitation. India has a low per capita consumption of pipes of 11 kg as compared to the world average of 30 kg. The market is estimated to grow at a CAGR of 12-14% annually till FY24. The growth outlook remains strong, driven by the Government's focus on expanding areas under irrigation and increasing urban infrastructure spending.
In addition, the growing penetration of branded plumbing pipes in the affordable housing project segment would further lead to demand in the pipe segment. However, the recent correction across polymers prices could lead to lower industry growth in value terms, as a decrease in raw material prices would impact realizations.
About 600 million Indians face high-to-extreme stress over water. The Swachh Bharat Mission aims to achieve higher sanitation coverage with a budget of ₹ 12,294 crores. The Atal Mission For Rejuvenation And Urban Transformation aims to provide basic civic amenities like water supply, sewerage, urban transport, and perks to improve the quality of life with a budget of ₹ 77640 crores.
Branded pipes and fittings companies continued to gain strong industry leads and market share from unorganized manufacturers over the last few years. The growth of the organized segment has further been aided by a greater lateral focus on value-added products and fittings and product portfolio expansion offered to channel partners. Consequently, organized players have become one-stop solution providers for plumbing applications.
Competitive Strengths
Strong brand presence in the pipes and fittings segment
Domain knowledge and understanding of the pipes and fittings industry have helped the company to build a strong distribution network.
Multi-location manufacturing units in India
A pan-India network of distributors
Technical collaboration with international players to maintain the quality of products
IPO
The company raised ₹ 500 crores, comprising 50% as an offer for sale and 50% fresh issue. It had a price bank of ₹ 177 to ₹ 178 per share. However, it had a muted debut. It got listed at ₹ 160 per share, i.e. at a discount. Its shares closed at ₹ 627.90 per share on December 08, 2022. This means that it gave multibagger returns of 292.43% since its listing.
Prince Pipes and Fittings – Financials
Revenue & Profitability
| | | | | | |
| --- | --- | --- | --- | --- | --- |
| Year | 2018 | 2019 | 2020 | 2021 | 2022 |
| Revenue (₹ in Crores) | ₹1,315.04 | ₹1,571.87 | ₹1,635.66 | ₹2,071.52 | ₹2,656.83 |
| Profit (₹ in Crores) | ₹72.77 | ₹82.13 | ₹112.51 | ₹221.83 | ₹249.40 |
| Net Profit Margin | 5.53 % | 5.23 % | 6.88 % | 10.71 % | 9.39 % |
The company's revenue, as well as profits, show an increasing trend. Its sales grew at a 3-year CAGR of 19.12%, while its profits grew at a 3-year CAGR of 44.81%. In addition, its net profit margin has been showing an increasing trend. It grew from 5.53% in the financial year 2017-18 to 9.39% in the financial year 2021-22. Similarly, its EBITDA margin grew from 12.3% in FY18 to 15.6% in FY22.
Prince Pipes and Fittings- Key Metrics
| | | | |
| --- | --- | --- | --- |
| Particulars | Values | Particulars | Values |
| Face Value (₹) | 10 | ROE (%) | 21.63 |
| Market Cap (₹ in Cr) | 6,834.00 | Net Profit Margin | 9.39% |
| EPS (₹) | 13.37 | Current Ratio | 1.89 |
| Stock P/E (TTM) | 46.32 | Debt to Equity | 0.11 |
| Dividend Yield (%) | 0.58 | Promoter's Holdings (%) | 62.94 |
Prince Pipes and Fittings is a small-cap company with a market capitalization of ₹ 6834.00 crores as of December 08, 2022. It has earnings per share of ₹ 13.34, indicating that ₹ 13.34 is allocated to every individual share of the stock. A high EPS indicates good profitability. Its shares were trading at a price-to-equity ratio (P/E) of 46.34 which is lower than the industry P/E of 61.71. This could mean that the company's stock is undervalued.
Return Ratios
The company has a good return on equity of 21.63%. This indicates that the company generates a good amount of profit on the equity that is employed in it. Further, it has a return on capital employed of 27.58%, indicating that it generates ₹ 27.58 for every ₹ 100 that is deployed in its business.
Debt & Liquidity Ratios
Prince Pipes and Fittings has a high debt-to-equity ratio of 1.15. This indicates that it is risky for lenders and investors. It suggests that the company is financing a significant amount of its potential growth through borrowing. This ratio varies from industry to industry, however, its peers have a debt-to-equity ratio ranging between 0 and 0.28.
Further, it has a current ratio of 2.19. This indicates that its current assets are almost twice its current liabilities. It has a dividend yield of 0.58. Prince Pipes and Fittings has a credit rating of A+ from CRISIL, indicating a stable outlook.
Shareholding
The company's promoters hold a 62.94% stake in it. Retail investors hold an 18.50% stake, FIIs hold 4.41% and DIIs hold 15.45%. Further, there is no pledge against the promoters' holding and their holding has decreased from 63.25% a year ago to 62.94% this year.
It has 11,05,61,079 outstanding shares. Some of the top institutional holders invested in the company include Mirae Asset (8.41%), Oman India Joint Investment Fund (2.54%), Kuwait Investment Authority (1.64%) New Mark Advisors LLP (1.13%), and Aditya Birla Sun Life Trustee Private Limited (1.05%).
Future Plans of Prince Pipes And Fittings
Prince Pipes and Fittings aims to
expand its distribution network across target markets.
Introduce value-added products to ensure cost efficiency.
reduce costs to ensure comfortable EBITDA margins.
improve RoCE and RoE ratios by monitoring volume and price growth.
In Closing
In this article on the fundamental analysis of Prince Pipes and Fittings, we took a look at the company's business, the industry in which it functions, and its competitive advantage. Later we took a look at financial metrics like revenue, profitability, ratios, and shareholding. That's all for this article folks. We hope to see you around and happy investing until next time!
You can now get the latest updates in the stock market on Trade Brains News and you can also use our Trade Brains Stock Screener to find the best stocks.

Hey, there! Thank you for stopping by 🙂 Simran is a master graduate in commerce from Bangalore University, an NSE-certified Fundamental Analyst and a NISM-certified Research Analyst. She finds interest in investing and personal finance. Outside of work, you can find her painting, reading and going on long walks.
---
Start Your Stock Market Journey Today!
Want to learn Stock Market trading and Investing? Make sure to check out exclusive Stock Market courses by FinGrad, the learning initiative by Trade Brains. You can enroll in FREE courses and webinars available on FinGrad today and get ahead in your trading career. Join now!!