How Big is Tata Group: Rome was not built in a day! And nor was Tata. If we take a look at the company today, from the salt we use, the clothes we wear, to the cars we drive, it is literally everywhere.
We at times forget that this is a 150-year-old conglomerate, which could be why it has lasted so long. In this article, we try and answer how big is Tata group? Keep Reading to find out.
About Tata Group
A few decades ago probably the Tata Group would be a name well recognized across India, but today after many power moves made across the globe, Tata is a well-known company internationally too.
But like many other giants, Tata found its humble beginnings way back in 1868 when its founder Jamsetji Tata, began expanding his family trading business. The company was founded after Jamsetji Tata founded a trading company with Rs. 21,000 in 1870.
Jamshedji Tata had 4 goals that he dreamt of. These included setting up a steel company, a hotel, a world-class learning institution, and lastly a hydroelectric plant.
If not under him, these were founded by the generations that followed him. Today the group is present in over 150 countries and there are 29 publicly listed companies. Put together these had a market cap of $314 billion as of December 2021.
Some other notable leaders from the Tata Group include J.R.D Tata and Ratan Tata. It was under Ratan Tata that the group got a modern look to compete with the changing times. His achievements included several international acquisitions, restructuring business verticals, and increasing promoter stake within Tata companies.
Thanks to a seed planted by Jamsetji Tata, who is also known as the 'Father of Indian Industry' the group has grown to the conglomerate it is today.
We all keep hearing about its size. But how big is Tata group today? Here's a sneak peek at how big the company actually is:
Company
Subsidiaries
IT Industry
Tata Consultancy Services (TCS)
Tata Elxsi
Automobiles
Tata Motors
1. Jaguar Land Rover
2. Tata Technologies Ltd.
3. Tata Daewoo
4. Tata Hispano
5. Tata Hitacho Construction Machinery
6. Tata Motors Cars
Tata Autocomp Systems
Consumer and Retail
Tata Chemicals
1. Tata Chemicals Europe
2. Tata Salt
Tata Consumer Products
1. Tata Coffee
2. Tetley
3. Eight O'Clock
4. Tata Starbucks
5. Good Earth Teas
Voltas
Titan Company Ltd
1. CaratLana
2. Favre-Leuba
3. Fastrack
4. Tanishq
Trent
1. Westside
2. Star
3. Landmark
4. Zudio
Aerospace & Defense
Tata Advanced Systems
Steel
Tata Steel
1. Tata Steel Europe
2. Tata Steel Long Products
3. Tata Steel Thailand
4. Tata Tinplate
5. Tayo Rolls
6. Tata Metaliks
Power
Tata Power
1. Tata Power Solar
2. Nelco Ltd.
Engineering
Tata Projects
Tata Consulting Engineers
Real estate
Tata Housing
Tata Realty and Infrastructure
Hemisphere Prop
Financial services
Tata Capital
Tata Asset Management
Tata AIG
Tata AIA Life
Tata Investment Corp
Hotels
Indian Hotel Company
Taj Hotels
Vivanta
Ginger
Airlines
Taj Air
AirAsia India
Air India Limited
1. Air India
2. Air India Express

Vistara
Telecom & Media
Tata Communications
Tata Teleservices
Tata Play
Trading & Investments
Tata International
Tata Industries Ltd
1. Tata Health
2. TataCLiQ
Digital
Tata Digital
1. BigBasket
2. Tata 1mg
3. Tata Neu
4. Infinity Retail
Tata Group and its companies
Now that you've gotten to know about the companies that make up the Tata empire let us take a look at some of its important listed companies.
Automotive Companies
Tata Motors is one of the most important companies in the group and is also one of India's largest Automobile manufacturing companies. Their portfolio does not limit itself to only passenger vehicles which we are used to noticing on the roads but also commercial vehicles.
In addition to this, the company has operations in the UK, South Korea, South Africa, China, Brazil, Austria, and Slovakia. In total, the company operates across +125 countries.
However, it may come as a surprise to you that Tata does not operate using its Tata brand alone in this segment. They also own the world-renowned luxury car company Jaguar Land Rover which became a part of their group in 2008.
In South Korea, they operate in partnership with Tata Daewoo. Tata Daewoo is Korea's 2nd largest truck manufacturer. They alone export to over 60 countries across the world. 
The company has a market capitalization of 1,37,848 crores. However, despite being founded in 1945 the company has found it hard to crack the profitability code late. They have been suffering from losses for 4 years since 2019.
As of FY2021 the revenue mix included receiving 13.3% from the commercial vehicles segment. Their Passenger vehicle segment only contributed 6.8% of the revenues. Surprising as it may seem JLR accounts for 78% of the company's revenues.
Whereas Tata Motors Finance Ltd accounts for 1.8% of the company's revenues whereas its other subsidiaries make up 0.1%. Other companies under this group include Tata Technologies, Tata Daewoo, Tata Hispano, and Tata Hitachi Constructions Machinery.
Another company that comes under this group despite not being directly involved in the manufacture of vehicles is Tata Motors Finance. This section includes NBFCs which assist their customers in financing new vehicles.
2. Airlines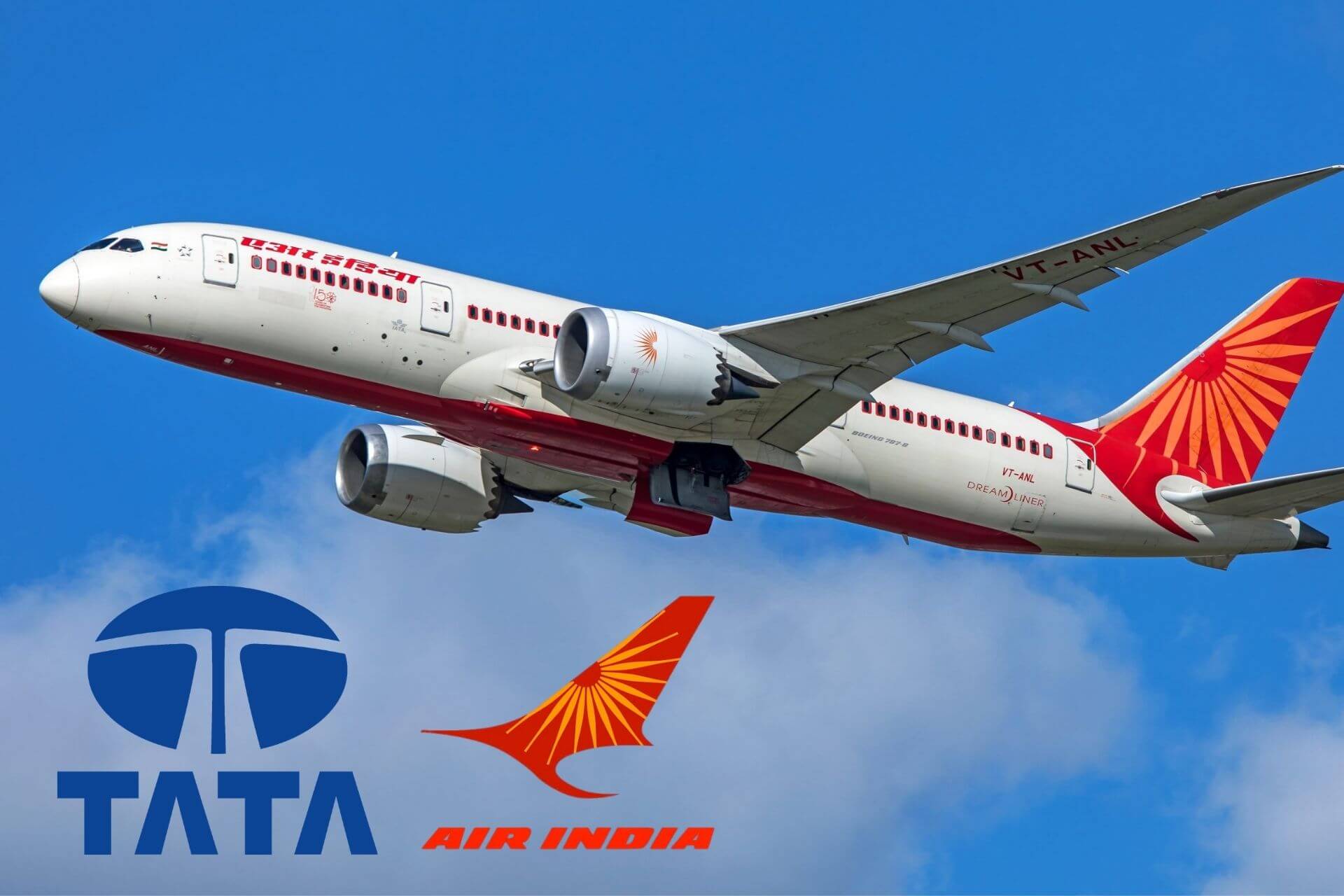 Earlier this year the TATA group announced the acquisition of Air India from the government of India making them a major player in the Airline Industry. This purchase includes 3 entities i.e. Air India, Air India Express, and AI SATS.
Not known to many this however was a repurchase. Air India was originally founded by Air India before a forceful takeover by the government in 1953.
However, before the acquisition, Tata themselves had already begun building a portfolio in the Airline Industry. These include Air Asia where they hold an 83.67% stake, Vistara with a 51% stake, and fully owned Taj Air.
Consumer and Retail Companies
Tata Chemicals is one of India's largest chemical companies. Headquartered in Mumbai, Tata Chemicals has an interest in chemicals, crop protection, and speciality, chemistry products headquartered in Mumbai.
Their operations however span across the globe in India, Europe, North America, and Africa. In addition to this, they also own the publicly listed company Rallis India.
Their product portfolio includes:
Soda Ash: This is an important component across industries. These include Detergent. Textiles, Tanneries, dyes. Other applications include float glass (which is used in construction, automobiles, and silicates), container glass( soft drinks, spirits, pharma, tableware, etc), and sodium silicates.
Sodium Bicarbonate: The end-users of this product include pharma, animal and poultry feed, flue gas treatment, explosion, suppressants, hemodialysis, dyes, textiles, etc.
Salt: Not much is needed to say about this segment as we are already familiar with Tata Salt. This is used in food processing. They also produce industrial salt. Other applications are diary products, water softening, etc. The consumer salt section was later sold to Tata Consumer Products.
Halogen Products: This segment finds its uses in Agri-chemicals, pesticides, pharma intermediaries, fire retardants, and textile processing.
The company's profits however have been on a decline since 2018 when it made a profit of 1510 cr. Its profits finally rebounded to touch Rs. 1,179 cr. in 2022. Its revenues however have continuously increased during this period from Rs. 10,269 Cr. in 2018 tp Rs. 12,622 Cr. The group holds a 37.98% stake in the company.
Founded in 1962, Tata Consumer products is Tata's FMCG company headquartered in Mumbai. The company was earlier known as Tata Global Beverages Ltd. until it took over the consumer products business of Tata Chemicals.
The company's products include:
Tea: These include brands like Tetley, Tata Tea, Vitax, good Earth, and tea pigs.
Coffee: These include brands like Tata Coffee Grand, Sonnets, Eight O Clock, and Laager.
Foods: Their products here include Salt, Pulses, Besan, Poha, Spices, Breakfast Cereals, and other healthy snacks. Their brands include Tata Salt, Tata Sampann, and Tata Soulful.
Beverages: Their products here include mineral water, Glucose based hydration drinks, juice, etc. The brands under which they are sold are Himalayan, Tata Water Plus, Tata Gluco Plus, and Tata Fruski.
Cafe: The company has entered into a partnership with Starbucks in India. However, they also have their own brand of outlets called Tata Cha.
Founded in 1954, Voltas was formed as a collaboration between Tata Sons and the Voltkart brothers. Tata's home appliance and consumer electronics arm. The company manufactures and sells products which include Air Conditioners, Air Coolers, Refrigerator, Washing machines, microwaves, Air purifiers, Water dispensers Chillers, etc.
As of 2021, the company held a market share of 25% in the room Airconditioner market. They also take on engineering projects and also produce engineering products and services.
Not known to many Voltas holds a 60% market share in spinning machinery. The company has a presence in India, Singapore, Mozambique, and GCC countries like the UAE, Qatar, Oman, etc.
Titan was founded as the result of a joint venture between Tata group and Tamilnadu Industrial Development Corporation (TIDCO) in 1984. The company started off by manufacturing electronic watches and after a decade moved into jewellery. 
Today Titan produces watches, jewellery, eyewear, perfumes, sarees, etc. 
Watch: In their watch segment the company holds a 60% market share in the organized domestic watch market. Their luxury brands here include Favre Leuba, and mid-market brand includes Titan, Zoop Fastrack, and Sonata.
Jewellery: Their Jewellery section has mainly 4 brands. The luxury section is made up of Zoya. This is followed by Tanishq their most famous jewellery brand. Their online section includes Caratlane. Whereas lately, their Mia brand offers workwear jewellery. 
Eyewear: Titans eyewear has bands such as Titan eye plus, Glares, and Fastrack. These generally cater to mid-market and mass-market customers.
Perfume: Their flagship brand in the perfume category is Skinn and Fastrack which caters to the mid-market and mass-market categories.
Sarees: The company has also ventured into the clothing business after it launched its saree brand called Taneira. The brand has 14 Taneira stores spread across 6 cities and is building up its presence across India.
Trent was founded in 1998. This happened when Tata decided to sell off their 50% stake in Lakme to HUL for Rs. 200 Cr. Tata used these funds to create Trent. This was done because Tata saw greater growth potential in retail. This was because it would now be harder for an Indian cosmetic brand to compete with global competitors.
Today Trent operates more than 400 stores with different product offerings across the country. Now let's take a look at its different verticals.
Westside: This retail section of Trent offers branded fashion wear and footwear. Westside caters to all age groups and also provides home furnishing and decor. As of FY21 the company had 174 stores across 90 cities.
Zudio: This is another of Trent's fashion brands that offer fashion wear and footwear across all age groups. But unlike Westside, Zudio focuses on affordability too. As of FY21, Zudio had 133 stores across 57 cities.
Star: You may also know this Trent retail brand in your city as Star Market. It is known to sell everyday grocery products which include everyday staples and beverages. They also sell health and everyday beauty products. As of FY21, they had 60 stores across 7 cities.
Landmark: Trent bought Landmark in 2005, from a Chennai-based retailer. Landmark offers toys, books, stationery, and sports merch. As of FY21, they had 6 stores across 4 cities.
Booker/Value Mandi: This section of Trent services cash and carry stores that service Kirana stores, traders, wholesalers, hotels, restaurants, and small businesses. As of FY21, they had 9 stores across 3 cities.
Others: In addition to this Trent also operates Zara ( 21 stores across 11 cities), Utsa( 4 stores across 4 cities), and Massimo Dutti ( 3 stores across 2 cities).
Over the last few years, Trent has experienced good revenue growth from Rs. 2,157 Cr. in 2018 to Rs. 4,498 Cr in 2022. The company's net profit, however, has not followed this trend suffering losses in 2021 and posting only profits of Rs. 29 Cr. in 2022 which is lower than profits of 2018, 2019, and 2020 by Rs. 80 Cr. each year. The Tata group holds a 37.01% stake in Trent.
Founded way back in 1907, Tata Steel was founded by Jamsetji Tata itself. The company was then known as Tata Iron and steel corporation (TISCO).
Fortunately for the company, the demand for steel during the world wars worked in their favor. Today they are one of the largest running steel manufacturers in the country.
Today Tata Steel produces as much as 34 million tonnes of steel per annum. They operate in over 26 countries. Their steel products include hot rolled steel, Cold-rolled steel, Coated coiled steel, Wire rods, Rebar, etc. These products are supplied to a diversity of sectors like automotive, agricultural, construction, etc.
Tata Steels revenues have continuously increased from Rs. 1,32,155 Cr in 2018 to Rs. 2,43,959 Cr in 2022. Despite suffering a fall in Rs. 17530 Cr in 2018 during the next 3 years the company posted impressive profits of Rs. 41,100 Cr in 2022. The Tata group holds a 33.92% stake in the company.
TCS or Tata Consultancy Services India's 2nd largest company. This is Tata's arm in the IT industry. The company focuses on IT services, consulting, and business solutions. Founded in 1968, today the company has a market capitalization of over $100 billion which it crossed in 2018.
The key business verticals for Infosys are financial services, retail, communication, energy & utilities, and the life science and healthcare division.
When it comes to its financials TCS revenues have continuously increased from Rs. 1,23,104 Cr in 2018 to Rs. 1,91,754 Cr in 2022. Their profits too have followed a similar trend by increasing from Rs. 25,880 Cr. in 2018 to Rs. 38,449 Cr. in 2022. Tata holds a 72.3% stake in the company.
Founded in 1989, Tata Elxsi is probably one of the most futuristic companies in the Tata group. The company was founded to promote applications of electronics, embedded systems, and software.
Today Tata Elxsi is known worldwide for its premium engineering services in industries like automotive, media, broadcast, communications, and healthcare. They are involved in various emerging technologies like IoT (Internet of Things), cloud, smart mobility, and AI.
If we take a look at the revenue contribution of FY21 a significant portion of their revenue i.e. 36.8% is received from the Americas, 36.3% from Europe, and 13.3% from India.
A look at their financials shows us impressive revenue growth from Rs. 1,389 Cr in 2018 to Rs. 2470 Cr in 2022. Its profits too have followed a similar trend by increasing from Rs. 240 Cr. in 2018 to Rs. 549 Cr. in 2022. The Tata Group holds a 44.08% stake in the company.
List of All Listed Tata Group Companies 
Company Name
Tata Consultancy service
Tata Steel Limited
Tata Motors Limited
Titan Company Limited
Tata Chemicals Limited
The Tata Power Company Limited
The Indian Hotels Company Limited
Tata Global Beverages Limited
Tata Communications Limited
Voltas Limited
Trent Limited
Tata Sponge Iron Limited
Tata Investment Corporation Limited
Tata Metaliks Limited
Tata Elxsi Limited
Nelco Limited
Tata Coffee Limited
Tata Consumer Products Ltd
Tata AutoComp System
In Closing
In this article, we took a look at how big is Tata group. However, it may surprise you that there are still many more companies that have not been mentioned here which are also part of the Tata group. This gives them a multi-million dollar valuation.
But looking at its size it makes you wonder if a company like Tata would still be a market leader or would succumb like many major giants of the past. Let us know what you think in the comments below. Happy Reading!
You can now get the latest updates in the stock market on Trade Brains News and you can even use our Trade Brains Portal for fundamental analysis of your favourite stocks.

Aron, Bachelors in Commerce from Mangalore University, entered the world of Equity research to explore his interests in financial markets. Outside of work, you can catch him binging on a show, supporting RCB, and dreaming of visiting Kasol soon. He also believes that eating kid's ice-cream is the best way to teach them taxes.
---
Start Your Stock Market Journey Today!
Want to learn Stock Market trading and Investing? Make sure to check out exclusive Stock Market courses by FinGrad, the learning initiative by Trade Brains. You can enroll in FREE courses and webinars available on FinGrad today and get ahead in your trading career. Join now!!