How big is Titan Company Ltd: When you think about buying a piece of jewellery a famous and trusted brand that comes to mind is Tanishq. When we think about buying a watch, Titan has got you covered from clocks to sports watches. This keeps going even when it comes to sunglasses too with Fastrack under its belt.
But did you know that all these famous brands come under Titan Company Ltd. Now you must be wondering how big exactly is the Titan company? In this article, we will discuss just that. Keep reading to find out!
History of Titan Company Ltd
Titan started as a joint venture between Tata group and Tamilnadu Industrial Development Corporation (TIDCO) in the year 1984. Their journey began by setting up a plant to manufacture quartz analogue electronic watches. 
After a decade of producing watches, it entered other ventures such as watch accessories and jewellery. They didn't stop there, eventually, their business expanded from selling kids' ranges to sunglasses.
The Tata group of companies has transformed itself from being one of the world's largest integrated watch manufacturers to a premier lifestyle Company. Along with various world-class brands, the company also has two key subsidiaries viz Titan Engineering & Automation Limited and Caratlane.
At present, the company holds the title of the world's fifth-largest wristwatch manufacturer. The company's reach expands to more than 241 cities in India. With 7000+ multi-brand watch outlet stores, they also have 2.5 million square feet of retail space. 
Brands of Titan at a glance
To understand how big Titan really is we should have a look at the various segments Titan is operating in.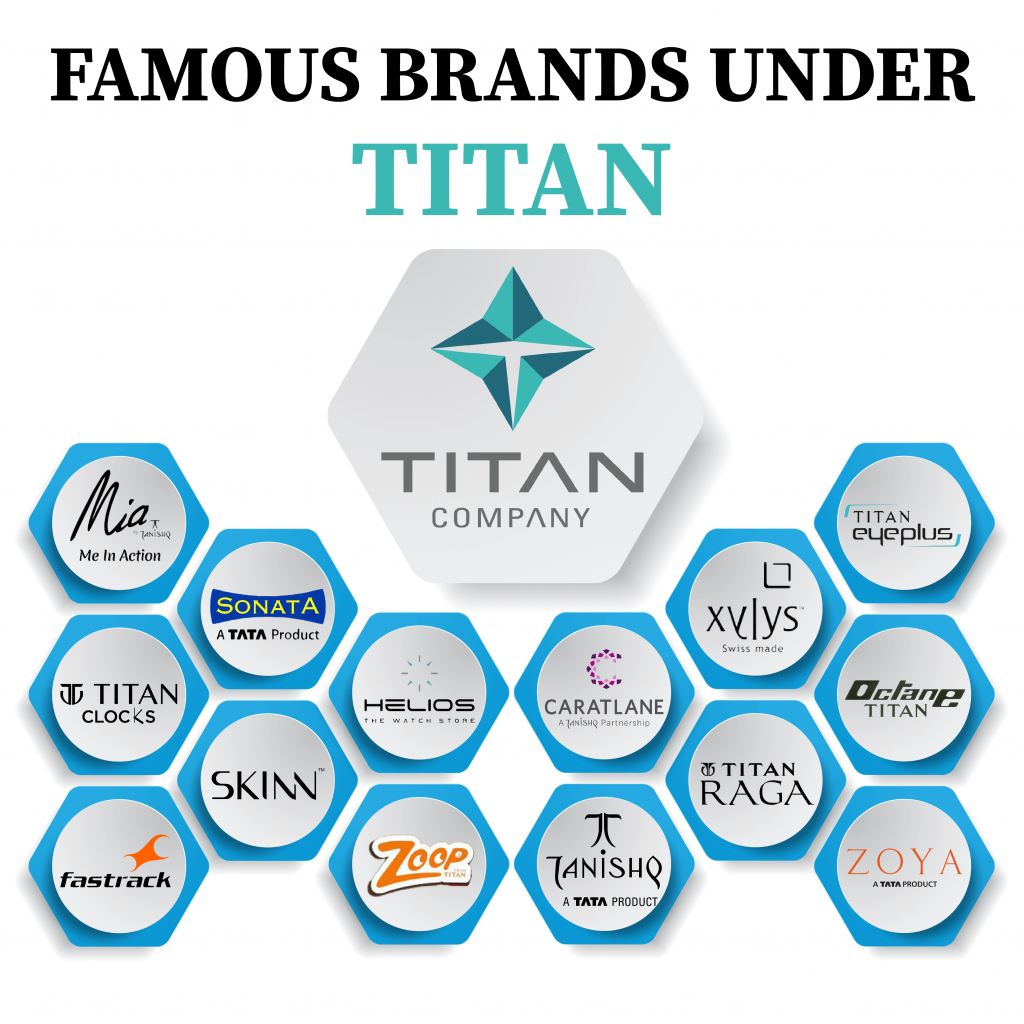 Watches
Titan is one of India's leading watch brands. The company has products for each market segment. This has led to the company gaining over 60% share in the organised domestic watch market.
Its luxury brand Favre Leuba caters to the premium market segment. However, due to the disruption caused by covid the board has decided to scale down its operation for this brand. Xylus and Nebula come under their premium segment.
It's Mid and mass-market brands including Titan, Fastrack, Zoop and Sonata need no introduction. The 'World of Titan' has a presence across 120 cities with over 440 exclusive showrooms.
Jewellery
Titan's jewellery arm mainly has four brands- Zoya, Tanishq, CaratLane, and Mia. In terms of market share, Titan holds around 3.2% led by Kalyan Jewellers India Pvt. Ltd with 3.7%.
Zoya is their luxury brand which sits on top of the product pyramid. It serves the premium market segment and offers the finest craftsmanship, inspired design and premium natural stones. 
Tanishq is their most famous brand which has a wide network of more than 350 stores spread across 200 cities.  CaratLane is an omnichannel brand and is currently the largest online jeweller, and Mia offers contemporary, workwear jewellery.
Eyewear
Titans eyewear has bands such as Titan eye plus, Glares and Fastrack. These generally cater to mid-market and mass-market customers. During the FY21, the eyewear division added 100 exclusive stores taking its total footprint to more than 700 exclusive stores.
Perfume
Their flagship brand in the perfume category is Skinn and Fastrack which caters to the mid-market and mass-market categories. This segment has suffered due to the pandemic as the lockdowns and restrictions on the movement led its audience to stay at home thus reducing their use of perfumes.
Sarees
The company has also ventured into the clothing business after it launched its saree brand called Taneira. The brand has 14 Taneira stores spread across 6 cities and is building up its presence across India. 
Financial snapshot of Titan Company
Revenue: The company has a very diversified source of revenue. Their jewellery division makes up about 83% of their total revenue followed by the watch segment which makes up 13% and eyewear which contributes 3% to the total revenue. The company has recorded an uptrend in revenue over the last 3 years.
Net Profit: The net profit of the company increased from FY19 to FY20. However, it declined in FY21. This can be attributed to the slowdown in business caused by the covid pandemic and the shutting down of stores across.
| Details | 2019 | 2020 | 2021 |
| --- | --- | --- | --- |
| Revenue (Rs in Cr) | 19,778.52 | 21,052.00 | 21,644.00 |
| Net Profit (Rs in Cr) | 1,404.15 | 1,501.00 | 973 |
Financial ratios of Titan company
Net Profit Margin: The net profit margin is used to assess how well the company is performing and how much profit is the company able to generate from its sales. Before the business of the company was hit by the pandemic, it was able to maintain a stable NP ratio.
Return on Equity (ROE): It is used by the investors to measure how efficient is the company in generating profits. A consistently growing ratio is considered ideal. In the case of titan, the ratios in the last 3 years are showing a declining trend due to a lower income.
Return on Capital Employed (ROCE): The ROCE shows how well the company is able to generate profits using its capital employed. There was an uptrend in the ratio from FY19 to FY20. However, during FY21 the ratio was lower as the EBIT for the company declined.
| Details | 2019 | 2020 | 2021 |
| --- | --- | --- | --- |
| Net Profit Margin | 7.03 | 7.11 | 4.52 |
| ROE | 24.94 | 22 | 12 |
| ROCE | 26.41 | 35 | 22 |
Valuation Ratios of Titan Company Ltd
Price-to-Earnings (P/E): The valuation of a company can be assessed by comparing its current price relative to the earnings per share of the company. Compared to the industry PE ratio which is 169.59,  Titan company has a lower ratio of 142.45.
Price-to-Book (P/B): The PB ratio is used as a valuation metric to compare a company's market valuation to its book value. It is calculated by dividing the stock price per share by its book value per share. A lower ratio is considered ideal. 
EV/EBITDA:  The Enterprise Value (EV) calculates a company's total value or assessed worth. It is used as a comparison tool of companies within the same industry. Generally, a lower ratio is healthy. Titan has had a higher EV/EBITDA ratio in the last three years. 
| Details | 2019 | 2020 | 2021 |
| --- | --- | --- | --- |
| P/E Ratio | 71.92 | 55.35 | 142.45 |
| P/B ratio | 16.65 | 12.47 | 18.5 |
| EV/EBITDA | 47.05 | 32.45 | 74.57 |
Stock performance of Titan Company Ltd
The shares of Titan company were listed on the stock exchange in September 2004. Since then the stock price has skyrocketed. In the last five years, the stock price has gained around 410% from Rs 491 per share to more than Rs 2500 per share.
Since the beginning of this year, the shares of Titan company have been volatile. This is mainly due to the bearish market along with the ongoing Russia-Ukraine war. The shares reached a high of 2712 in March and a low of 2310 in January.
The company has a market capitalization of Titan company is Rs 2,21,196.63 crores.
Shareholding pattern of Titan Company Ltd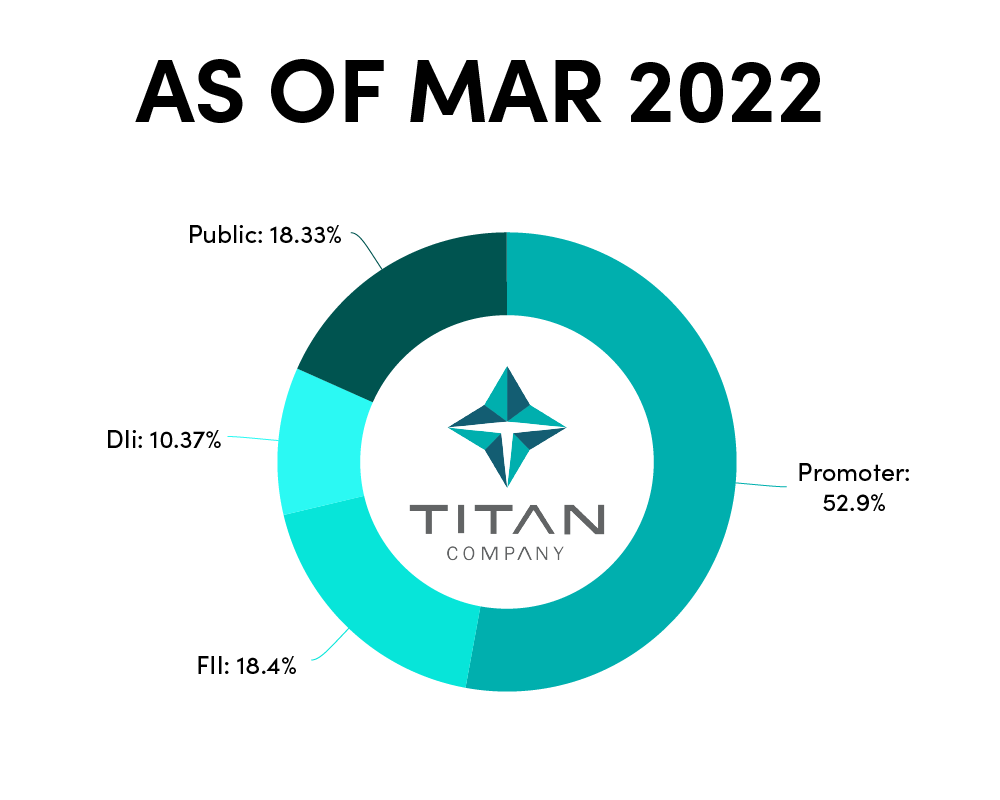 Promoters: Tamilnadu Industrial Development Corporation Ltd has the largest holdings in the company as a promoter with a total holding of 27.88% while Tata Sons Private Limited holds around 20.84%.
Ace investors: The big bull of the Indian stock market Rakesh Jhunjhunwala owes a part of his success to the stocks of Titan company. In 2002-03 he bought the share when it was trading around Rs 3 per share. The current market price of the share as of 29th April 2022 is Rs 2,466.35. His current stake in the company is around 3.98%.  His wife Rekha Jhunjhunwala also holds around a 1.07% stake in the company. 
Other investors: The FIIs owned 18.4% of Titan company while the DIIs had a 10.21% holding.
Future prospects of the company
The company has now a focus on cutting down costs and managing its expenses well especially after being hit severely. It is moving ahead by leveraging cutting-edge technology to deliver more innovative products to its customers.
For their Tanishq and Titan EyePlus websites, they have added an augmented reality
Feature. This allows the customers to virtually try-on products before buying them. Apart from that, it also forged alliances with e-commerce giants such as Amazon, Myntra and Flipkart to increase their sales. 
Apart from that, the company is also coming up with strategies to comply with the ESG norms. For this, it is adopting various sustainable methods of conducting its business. 
In closing
In this article, we looked at the business of Titan. The company is widely known for transforming the watch and jewellery industry in India and for shaping India's retail market by pioneering experiential retail. Just like others, this Tata group of companies is not only big but also a leader in various segments. That's all for this post!
Have you invested in Titan Company Ltd? Let us know in the comments below? 
You can now get the latest updates in the stock market on Trade Brains News and you can even use our Trade Brains Portal for fundamental analysis of your favourite stocks.

---
Start Your Stock Market Journey Today!
Want to learn Stock Market trading and Investing? Make sure to check out exclusive Stock Market courses by FinGrad, the learning initiative by Trade Brains. You can enroll in FREE courses and webinars available on FinGrad today and get ahead in your trading career. Join now!!