Essential Tips on How to Create Your Stock Portfolio: An intelligent investor should know the importance of building a well-diversified portfolio. Whether you're investing in stocks, bonds, or any other investment, you should always build your portfolio smartly. Although most investors have a different strategy for creating their stock portfolio, there are a few main points that should be taken care of.
In this post, we'll discuss what is how to create your stock portfolio and give you a few of the rudimentary tips while building the winning stock portfolio.
What is a Diversified Stock Portfolio?
A diversified portfolio is investing in different stocks from dissimilar industries/sectors in order to increase profits, reduce overall investment risk, and avoid damage to the portfolio by the poor performance of a single stock.
For getting good returns from your investments, it's important that your stock portfolio is well diversified. Both under diversification and over-diversification is adverse for an investment. A smartly diversified stock portfolio maximizes the profit and minimizes the risk. Hence, the first step of creating an intelligent portfolio is right 'Diversification'.
What diversification means, in general, is to buy stocks from different sectors (Ex: Banking, Auto, FMCG, Energy, IT, Metals, etc) rather than buying a single or two stocks of lump-sum. It follows the old rule of intelligent investing: 'Don't put all your eggs in the same basket.'
While many investors argue that it makes more sense to invest a huge sum of money in a sure-shot stock, however, we differ from this argument. There are various reasons we can give you to support our argument.
First, you can never exactly know which stock is the next Microsoft or the big shot. Stocks like Microsoft are only a few among more than 5,000 stocks in the stock market. If by any chance you made a mistake or if by bad circumstances, the company is not able to perform as expected, and then your entire investment will be in vain & you will face a tremendous loss.
Second, for investing in such a company, you need to be 1,000% sure. You need to do a lot of intense research about the company, which might be generally not possible for retail investors. However, if you build a diversified portfolio you can take slight risks if you are confident about your other holding stocks.
For example, if you have 10 good stocks and you're certain that most of them are fundamentally strong and are performing well in the market, you can take a little risk in the 11th stock. One riskier stock will not affect your entire portfolio. However, in the case of a single stock portfolio, it is either wins or gone.
Therefore, in this article on how to create your stock portfolio, we suggest retail investors to build a well-diversified portfolio. Do not buy one lakh shares of just one company in your portfolio.
ALSO READ: How Many Stocks Should you own for a Diversified Portfolio?
Advantages of a Diversified Stock Portfolio
Here are  a few of the best advantages of building a well-diversified stock portfolio:
1. Diversification helps you in giving liberty to choose a variety of stocks.
You do not need to do extraordinary in all the stocks you choose. If most of the stocks in your portfolio are performing well, then your portfolio will overall be in profit. Like the legendary investor Warren Buffett said 'You only have to do a very few things right in your life so long as you don't do too many things wrong.'
2. It will reduce the effect of the underperforming stocks: Sometimes economy or some sectors underperform and because of which the stock may underperform. Say, if the entire bank sector is not performing well, then your banking stock will be also probably at loss. However, it is very less likely that all other sectors (like IT, Auto, Pharma, FMCG etc), will also underperform at the same time. During such times, diversification can help you to remain in profit withholding the stocks of other sectors.
3. You can keep holding your favorite stocks for long: If because of some unpredictable reason, one of your stocks is not performing well, but you are confident that it will perform well in the future, you can still keep the stock on the stake of your other good-performing stocks. You just need to balance the portfolio and be overall it will be in profit. On the other hand, in the case of an undiversified stock portfolio, if your one stock is not performing, you will be in overall loss and which might lead you to sell that potentially strong stock.
Hence, from the above arguments that we just put forward, you must follow the diversified portfolio approach in your stock investment in order to maximize profits and minimize your losses.
How to Create Your Stock Portfolio?
Now, we will give you an example of how to create your stock portfolio using a diversified portfolio strategy so that you can get a clear idea of what we discussed above. Let's suppose you've to build a stock portfolio of approx Rs 1 lakh. You can build a diversified portfolio with allocations something like this:
| Stock | INDUSTRY | Price on 09-11-2017 | Number of Shares | Investment Value | Allocation |
| --- | --- | --- | --- | --- | --- |
| HDFC BANK | BANK | ₹ 913.92 | 13 | ₹ 11,880.96 | 11.78% |
| ASIAN PAINTS | PAINTS | ₹ 1,195.60 | 17 | ₹ 20,325.20 | 20.16% |
| HINDUSTAN UNILEVER | FMCG | ₹ 1,252.90 | 12 | ₹ 15,034.80 | 14.91% |
| RELIANCE | REFINERIES | ₹ 892.04 | 17 | ₹ 15,164.68 | 15.04% |
| CADILAC HEALTH | PHARMA | ₹ 478.80 | 17 | ₹ 8,139.60 | 8.07% |
| TITAN | JEWELLERY | ₹ 777.90 | 10 | ₹ 7,779.00 | 7.72% |
| TATA CONSULTANCY SERVICES | IT | ₹ 1,368.20 | 9 | ₹ 12,313.80 | 12.21% |
| BHARTI AIRTEL | TELECOMMUNICATION | ₹ 462.99 | 22 | ₹ 10,185.78 | 10.10% |
| | | | Total | ₹ 1,00,823.82 | 100% |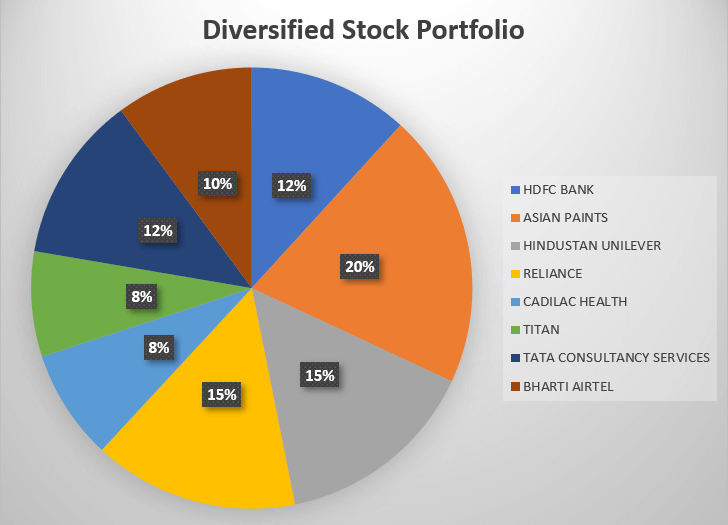 Quick Note: The above example is only for educational purposes and should not be considered as a stock recommendation or suggestion. Please pick stocks carefully before investing.
Closing Thoughts
In this article, we discussed how to create your stock portfolio. Here, we understood the importance of building a well-diversified stock portfolio that can maximize profits and minimize risks.
Although there are many other important points in our discussion about how to create your stock portfolio, however, we'll discuss them in our subsequent posts. Till then, have a great time and happy investing.

Kritesh (Tweet here) is the Founder & CEO of Trade Brains & FinGrad. He is an NSE Certified Equity Fundamental Analyst with +7 Years of Experience in Share Market Investing. Kritesh frequently writes about Share Market Investing and IPOs and publishes his personal insights on the market.
---
Start Your Stock Market Journey Today!
Want to learn Stock Market trading and Investing? Make sure to check out exclusive Stock Market courses by FinGrad, the learning initiative by Trade Brains. You can enroll in FREE courses and webinars available on FinGrad today and get ahead in your trading career. Join now!!