How to open a demat and trading account at Zerodha? (Updated: Feb 2021): In this article, we'll discuss the exact steps to open a demat and trading account at Zerodha. By the end of this article, you'll have an active Demat account with Zerodha for you, provided you've got all the personal documents and follow the procedure discussed in this post correctly.
Anyways, before getting into the steps in this article, let me tell you how and why I opened my Demat and trading account at Zerodha. When I first started investing, I used ICICI direct as my stockbroker for opening my demat and trading account. Although I was happy with the facilities and platforms provided by it, I soon realized that ICICI Direct was very expensive.
Many times, profits were killed by the brokerages in ICICI direct. The worst part was paying too much of brokerage even when you were selling the stock at a loss. Then, I asked for feedback from my friends who were using SBI Smart and HDFC securities. They both were also paying high brokerages and suggested not to go with them. Finally, after researching a lot, I opened my second demat and trading account at ZERODHA.
Zerodha is the biggest discount broker in India with over 30+ lakhs customers. The charges offered by Zerodha are nominal and the trading platform provided by it is also fast and friendly. It charges a brokerage of 0.03% or Rs 20 per executed order, whichever is lower, irrespective of the number of shares or their prices.
This is way cheaper compared to ICICI direct which asked a brokerage of 0.55% on each transaction in equity. If you buy stocks for Rs 50,000 in ICICI direct, then you have to pay a brokerage of Rs 275 (on the other hand, Zerodha will ask for a maximum of Rs 20 any trade). Further, as this amount is charged on both sides of the transaction (buying & selling), hence you have to pay a total of Rs 550 for the complete transactions (which is way too expensive than Zerodha).
In short, if you are planning to enter the stock market world (or even an existing participant), I would recommend opening accounts in this discount broker "Zerodha" so that you can save lots of brokerages.
To get started, here is the direct link to the account opening page at Zerodha.

Why should you open a demat and trading account at Zerodha?
Zerodha is the biggest stockbroker in India in terms of daily trading volume, growth, and active customer base. It is one of the most technologically advanced and affordable stockbrokers. Zerodha has over +3 million clients and contributes to over 15% of daily retail trading volumes across NSE, BSE, MCX. Even in terms of Active clients trading just on NSE, it has outranked all the other new and traditional brokers.
Started by Nitin Kamath in 2010, as of Aug 2020, Zerodha has been awarded "Startup of the Year" by Economic Times (ET) Startup Awards 2020 and joined the list of distinguished winners that have displayed the potential to go on to become blue-chip corporations. You can read the complete story here. Ironically, Nithin Kamath was named one of the "Top 10 Businessmen to Watch Out for in 2016 in India" by The Economic Times for pioneering and scaling discount broking in India. Here are a few of the famous awards won by Zerodha recently:
— ET Startup of the Year (2020)
— National Stock Exchange (NSE) "Retail brokerage of the year 2019" (& 2018)
— Outlook Money "Retail broker of the year 2017"
— Ernst & Young "Entrepreneur of the year (Startup) 2017"
Benefits of Opening your demat account with Zerodha: If you are still confused about why you should open a demat and trading account at Zerodha, then here are top reasons:
Rs 0 (FREE) for equity delivery trades.
Rs 20 or 0.03% whichever is lower per executed order intraday trading and for everything else
Same pricing for across all exchanges
No upfront fee or turnover commitment
Z-Connect, interactive blog, and portal for all your queries
Over +6 million happy customers with a reputable brand name
300+ dedicated support team to ensure the fastest turnaround time for your queries via email or phone
Trading, charting, and analysis, all rolled into one next-generation desktop platform Pi.
Minimalistic, intuitive, responsive web-based trading platform Kite
Average exchange margin utilization of 55% vs. an industry average of 70%—lower risk.
Also read: Zerodha Review –Discount Broker in India | Brokerage, Trading Platform & More
How to open a demat and trading account at Zerodha?
Documents required to open a demat and trading account at Zerodha.
Here are the documents required to open a demat and trading account at Zerodha. I will recommend keeping soft copies of all these documents ready before you apply for opening the accounts as you've to upload them during the account opening process:
PAN CARD (Card not valid without a sign, check reference below).
Aadhar Card (with linked mobile number)
Bank Account Proof: Bank passbook front-page photo/ Scan copy or online statement or cancelled cheque. [If you are submitting cancelled, Your name should be PRINTED ON IT, then only it's accepted]
Your Signature on a piece of paper (Photo or Scan copy).
*Income proof(Optional): Proof of Income is required if you wish to trade in F&O or commodity. Acceptable documents are the recent salary slip or the last six months' bank statement or ITR.
Account opening charges at Zerodha
Here are the account opening charges at Zerodha
Demat and Trading Account: Rs 200
Commodity Account: Rs 100
If you want to trade in both equity and commodity, then you need to pay an account opening charge of Rs 200+Rs 100 = Rs 300. However, if you want to trade just in equity (stocks), then you need to pay the charge of Rs 200 only.
Now, there are two ways to open a demat and trading account at Zerodha:
Online method
Offline method
Using the online method, you can open your account with Zerodha within 15 minutes, if you have all the required documents.
However, in the online method, to complete the eSign process, you will have to authenticate it with an OTP. So, make sure you have the number is linked to your Aadhaar. If not, you will not be able to complete the process. If the number linked to your Aadhaar is inactive, or if you don't have any number linked, then you can visit your nearest Aadhaar Seva Kendra to get it updated.
Anyways, if you don't want to use your Aadhaar, you can still open your account via the offline route. However, I would recommend you to open online as it is fast and easier.
In the trading world, you need to be tech-savvy and comfortable with doing things online. All the transactions (buy/sell) etc that you're going to perform in future, once your account is opened, will be online and through advanced trading platforms. They will require you to be technically smart. And therefore, start taking the online route as you can't ignore the digital path in the future.
How to open your account with Zerodha Online?
Short Answer to Open Your Zerodha Account
First of all, let me give a short answer on how to open your account at Zerodha before my step-by-step explanation.
To get started, here is the direct link to the account opening page at Zerodha.
On this page, the first step is to signup using your mobile number and verifying the OTP. Then you'll be required to enter your PAN, bank account, Aadhar verification, and personal details to continue with the signup.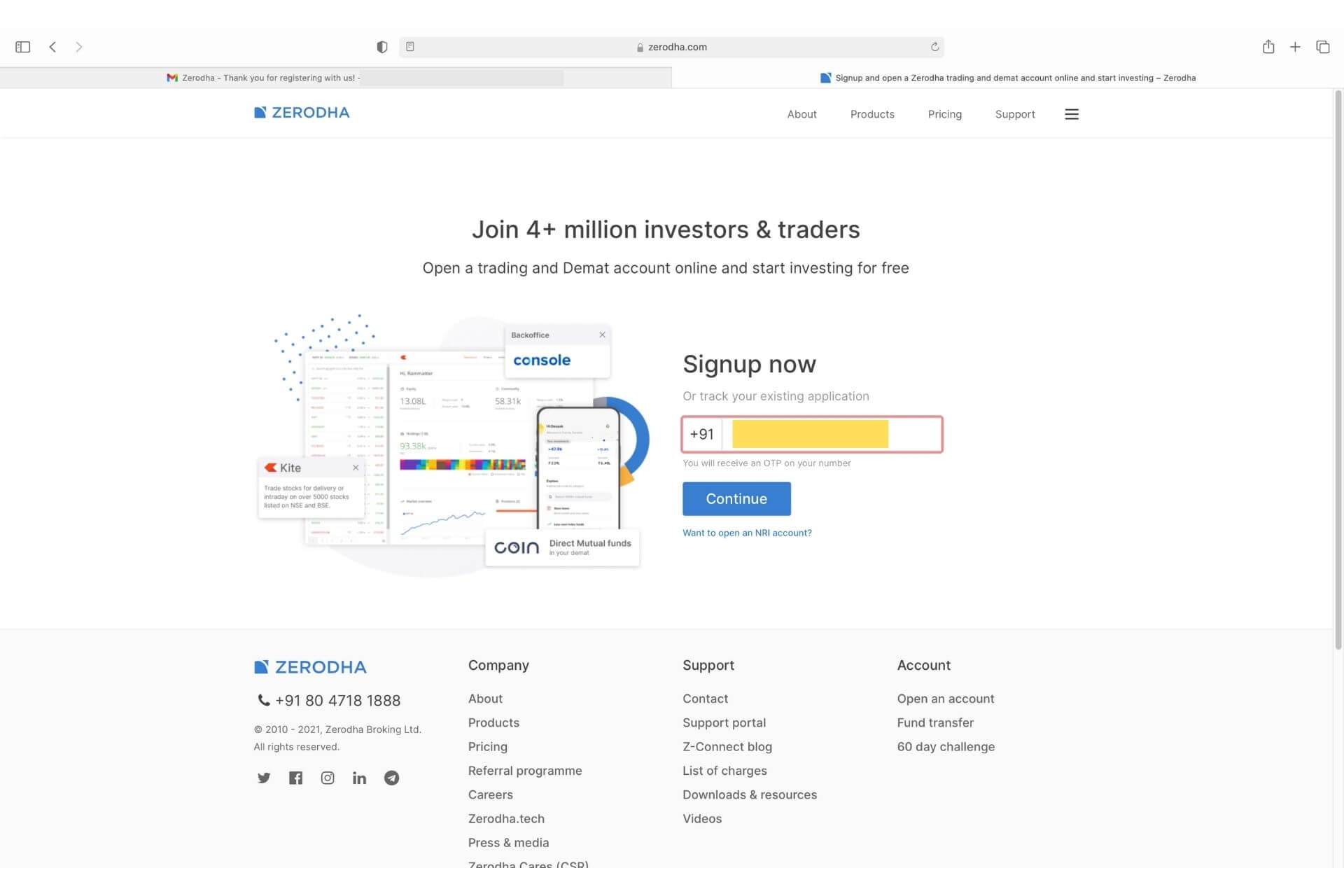 All the instructions are clearly mentioned in the each-step of the account opening page. If you are good at reading and following instructions efficiently, then you do not need to read this entire post. Just go to the account opening page, follow the instructions, upload the documents and your account will be opened.
Besides, if you face any difficulties while opening an account online, you could contact Zerodha at – 080 4913 2020.
A Quick Intro to DigiLocker
While opening your account online with Zerodha, it will ask you to connect with your DigiLocker account. However, if you are new to DigiLocker, let me give you a quick introduction about it.
I was quickly impressed with DigiLocker concept when I first heard about it in early 2017. DigiLocker is an online service provided by the Ministry of Electronics and IT, Government of India under its Digital India initiative. I always keep this app on my mobile phone and let me tell you why.
If you live in a city, many times, you may face a similar situation like this. You went out to buy some groceries from a nearby shop or to drop someone. And because of a hurry, you forgot your wallet. This means that you don't have your Driving license or vehicle registration doc with you. Next, if a traffic police stop you, then it might be a little trouble for you to explain to them why you traveling without docs.
However, if you have the DigiLocker app on your phone, you can show the driving license and vehicle registration from the app itself. Motorists can show docs in Digi locker during a traffic check as it is provided by the government of India. Moreover, it is more secure and acceptable by traffic police compared to the camera pic that you keep in your phone gallery.
Further, you can also keep all your other important docs in DigiLocker app like Aadhar card, Pan Card, Driving License, Voter Id, Education certificate, etc.
Overall, if you don't have a DigiLocker account yet, I'll highly recommend you to open one and download the app on your phone. It will help you to keep all your docs secured.
Moreover, this account is required while performing Aadhar verification during your Zerodha Account opening.
———————————————————
Detailed Zerodha Account Opening Process – Steps to Open your Account with Zerodha online
Now that you've got a basic idea of how to open your account at Zerodha online and what are the docs/things required, next, let me give you a detailed step-by-step explanation of the process:
Step 1: Go to the Zerodha account opening page on your browser. Here's the direct link to start the account opening process:
Once you click on the above link, Zerodha's account opening page will appear as shown below.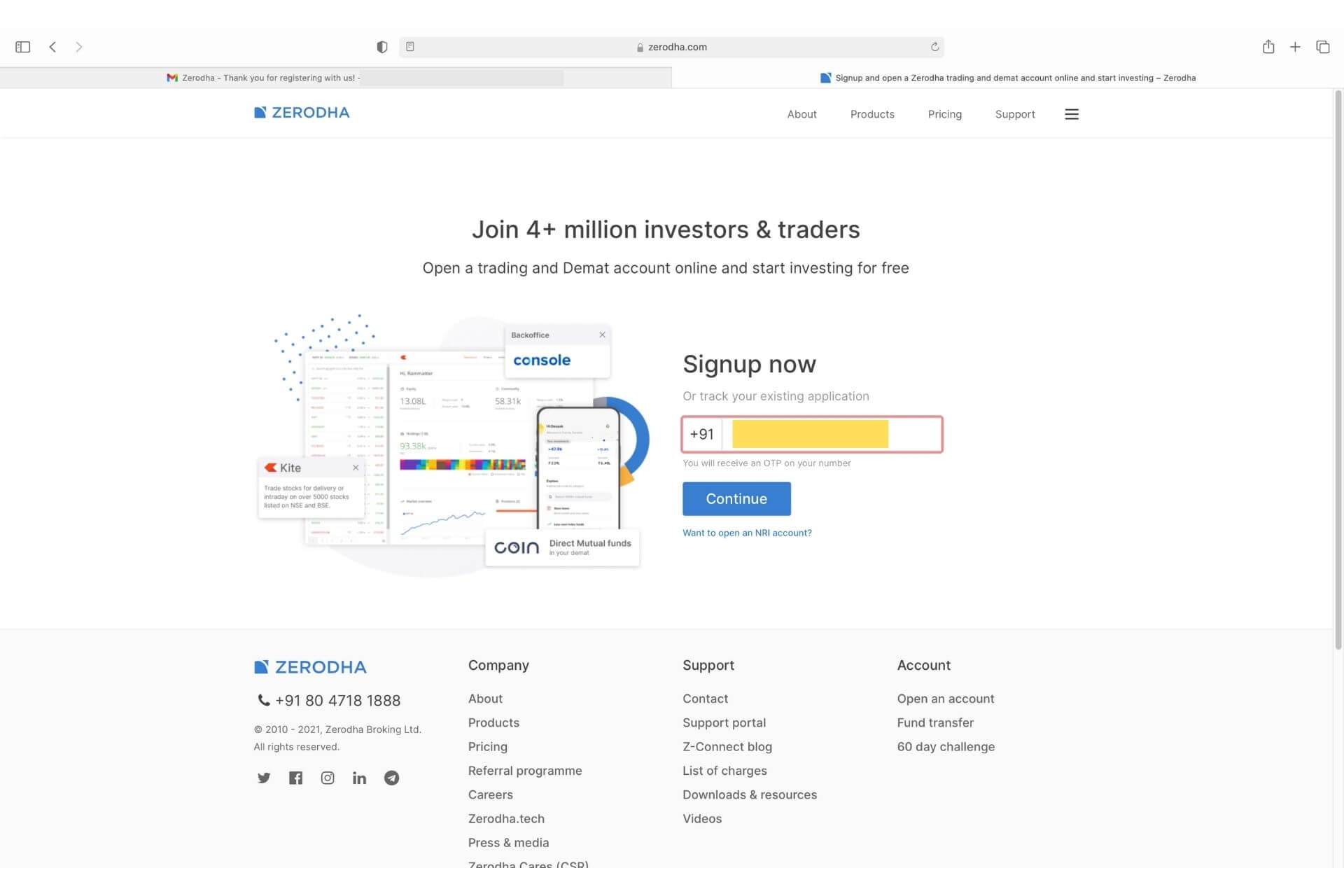 STEP 2: Enter your mobile number to Sign-up. You'll receive an OTP to verify the mobile number.
The OTP will be valid to login for the next 30 mins. Please check your SMS and use the same OTP for you mobile number verification.
Quick Note: In this step, you can sign up with any mobile number that you prefer. However, you also need to have the Aadhar linked mobile number (that will be used in a later step for Aadhar based OTP verification process). Only then you'll be able to complete the online account opening process.
STEP 3: Next, enter your PAN Card number along with date of birth (D.O.B) details in the field provided. Make sure to enter these properly. Below is the screenshot for your reference.
STEP 4: Now, you have to complete the account opening payment which is a one-time investment.
For equity– you've to pay Rs 200 and for commodity, the charge is Rs 100. (Commodity account is optional. If you wish to trade in the commodity, you can make this payment, else you can enable it later.)
You can complete the payment through UPI or Net-banking/Card payment (recommended). Below is the screenshot of this step for your reference.
STEP 5: After completing the payment, the next step is to connect your Aadhar details via Digilocker.
As already mentioned earlier, DigiLocker is a government initiative to share your aadhar details and highly secured. You need to create a 'DigiLocker: Towards Paperless Governance' account and link your Aadhar with it.
Below is the screenshot for your reference. Click on 'Connect to DigiLocker' and this will open a new page to sign up to Digilocker using your phone number. If you already have an account, click on 'Sign in' option in the bottom.
While connecting the Digilocker, you will be receiving the OTP to your AADHAR linked mobile number for your information. Once you get the OTP, enter it and hit continue. (Note: If you don't have the security PIN, then click on the forgot my PIN and reset it.)
Next, click on allow so that you can share a copy of your Aadhar to Zerodha. Finally, your Aadhar details will appear on the screen. Make sure you are entering the details correctly. Note: This step will only come if you haven't done KYC earlier.
STEP 6: Once your Aadhar verification is complete, next you need to enter your personal details like father's name, mother's name, your occupation, etc., Below is the Screenshot of this step for your reference. After entering the details, click 'CONTINUE'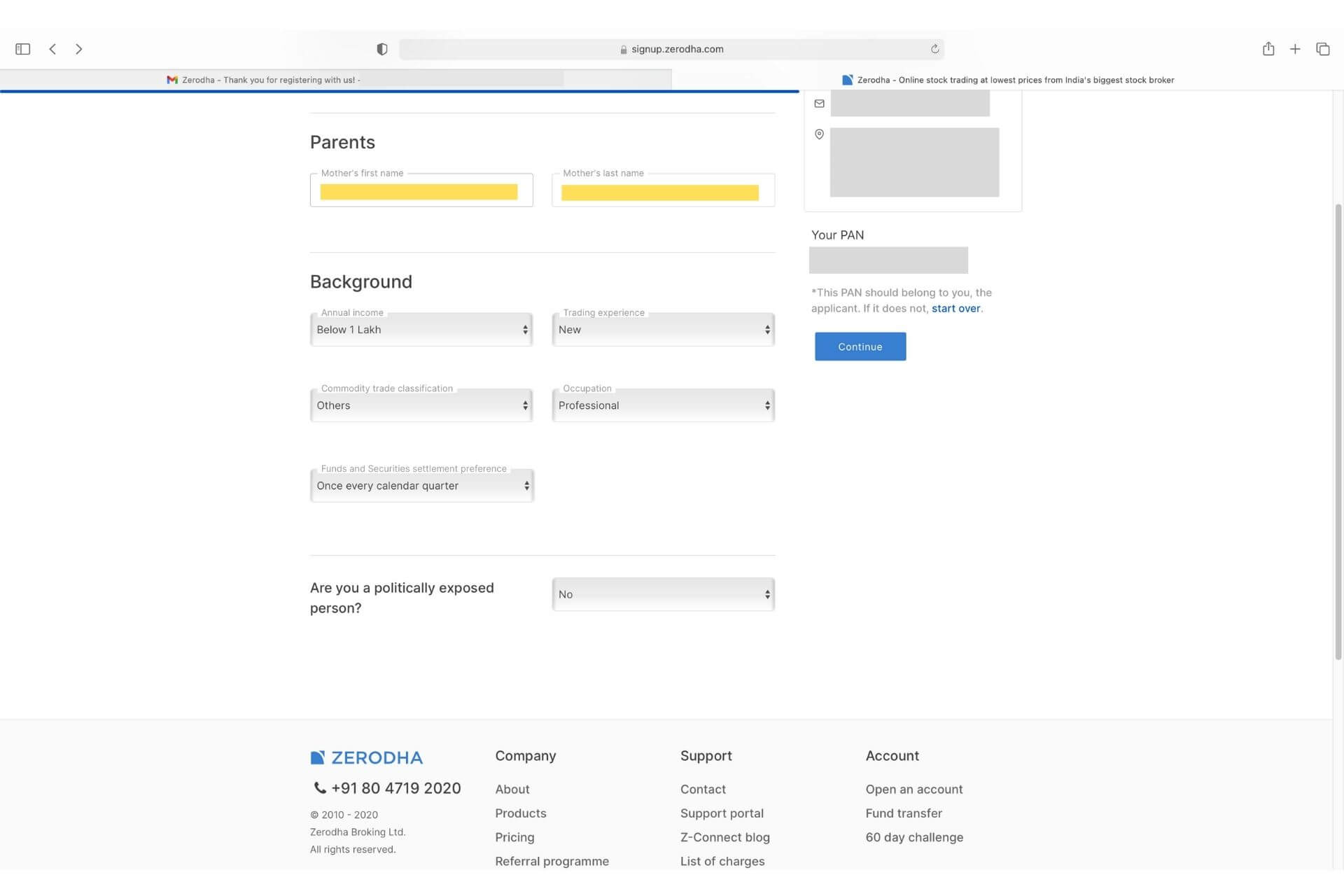 STEP 7: Next, you need to Link Bank Account. Here, you need to fill up more details starting by filling up Bank Details i.e. your bank account number, bank name, branch's IFSC Code & MICR code
Make sure you choose all the options (checkboxes) and after reading the information, hit on the continue button.
Note: Please cross verify the bank account details with bank passbook or cancelled cheque or online statement (soft or hard copies) to avoid re-processing the forms again. Here is the Screenshot of this step for your reference.
STEP 8: Next is IPV Verification over webcam/phone.
IPV or In-person-verification is a process where a depository participant in personal verifies documents and other details as per the law by SEBI. It is compulsory for every investor to go through the in-person verification process before opening a demat and trading account.
First, you've to allow the Camera on your browser/phone to start to IPV process (check the below screenshot). You should click on the Allow button. If you click on the Block button, the camera will be disabled, and you may not be able to enable it easily.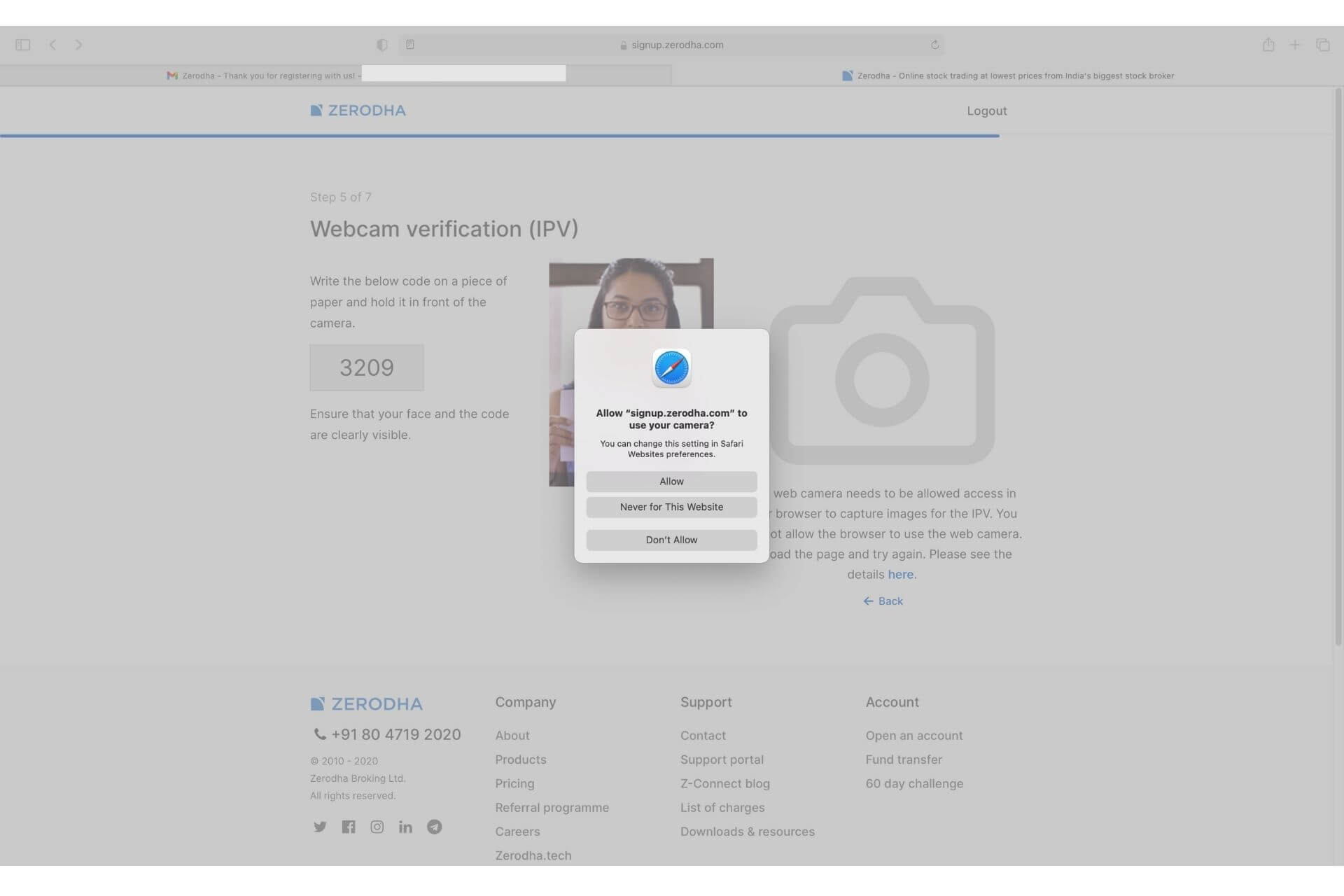 STEP 9: Next, they'll display an OTP on the screen. You need to clearly write down this OTP shown on a piece of paper or your smartphone. Then, hold the piece of paper/ mobile phone with the code in front of your mobile phone/ webcam.
Make sure to take the correct photo while holding the OPT written on Paper. You can take reference of how the person takes the photo in the below screenshot. Finally, click on the capture button.
Note: While taking the photo please don't move here and there until it gets captured and hold the paper (OTP written paper) in front of the camera.
STEP 10: In this step, you have to upload the relevant documents that we mentioned in the beginning. You have to upload documents like Bank Details, PAN CARD, Signature and, Proof of Income(optional).
Income Proof is optional & only required if you want to trade Futures & Options, currency, and commodities. Then click on continue. It will be redirected to the equity eSign page.
STEP 11: Next, it's time to eSign. Click on 'eSign Equity' button and proceed to the next step.
Once you click on the eSign button, the following screen will appear.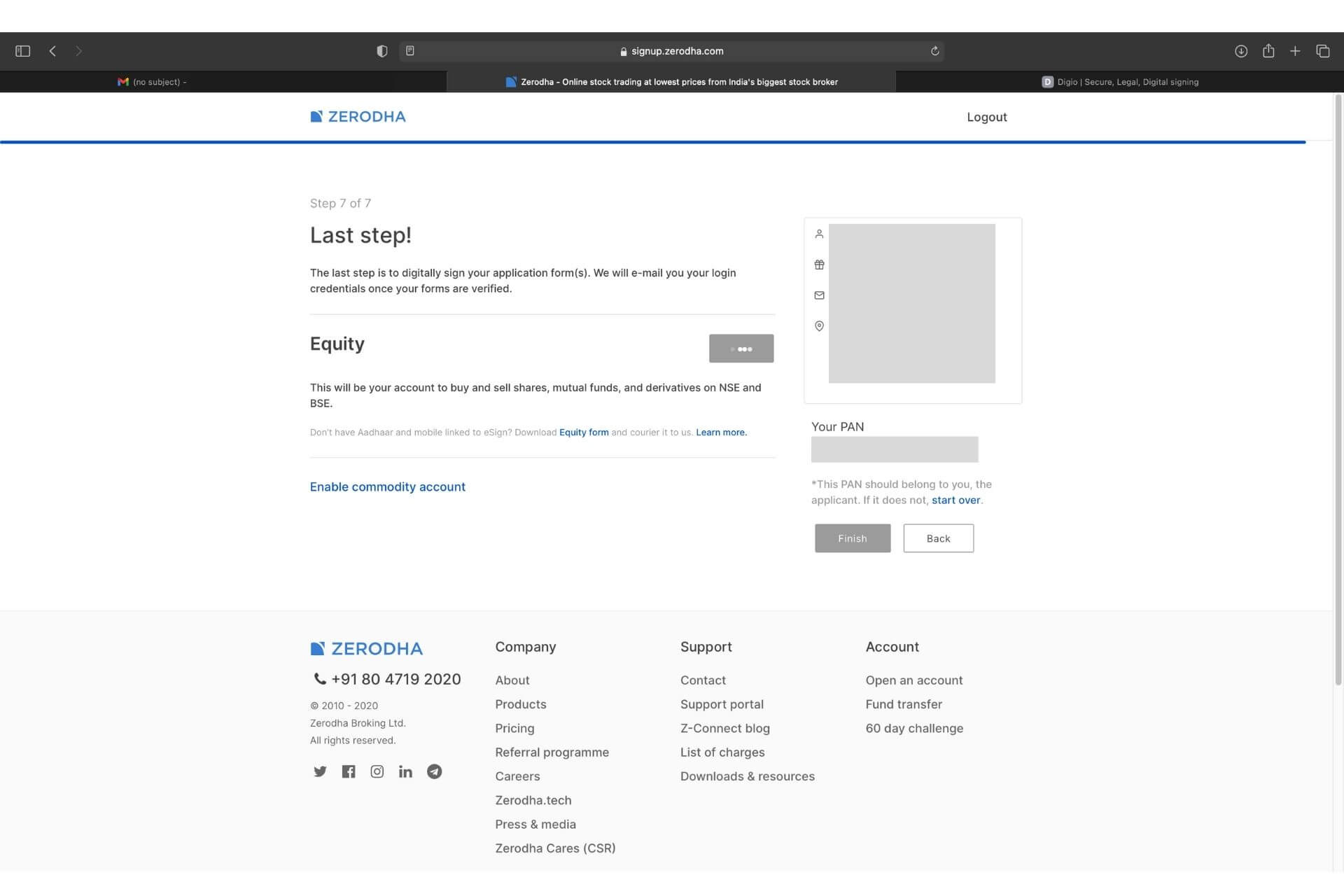 STEP 12: Once you click on the eSign equity, you've to verify your email. Here, two options will be available i.e. Google login or email login.
If you're going with an email login, please enter your email address correctly as you'll again receive an OTP to verify your email id. This is the same email where you'll receive all your future correspondence from Zerodha.
Enter the OTP that you've received on your registered email and verify.
STEP 13: Once your email verification is complete, a new page with the "SIGN NOW" option will be opened. Here's a screenshot for your reference. You should check the form.
Next, Click on the "Sign Now" button at the bottom of the page. It will redirect you to the NSDL page.
STEP 14: Once, you're on the NSDL Page, Click on the check box top left stating "I hereby…."
Next, enter your AADHAR number at the bottom of the page and click on the Send OTP. Finally, enter the OTP and verify.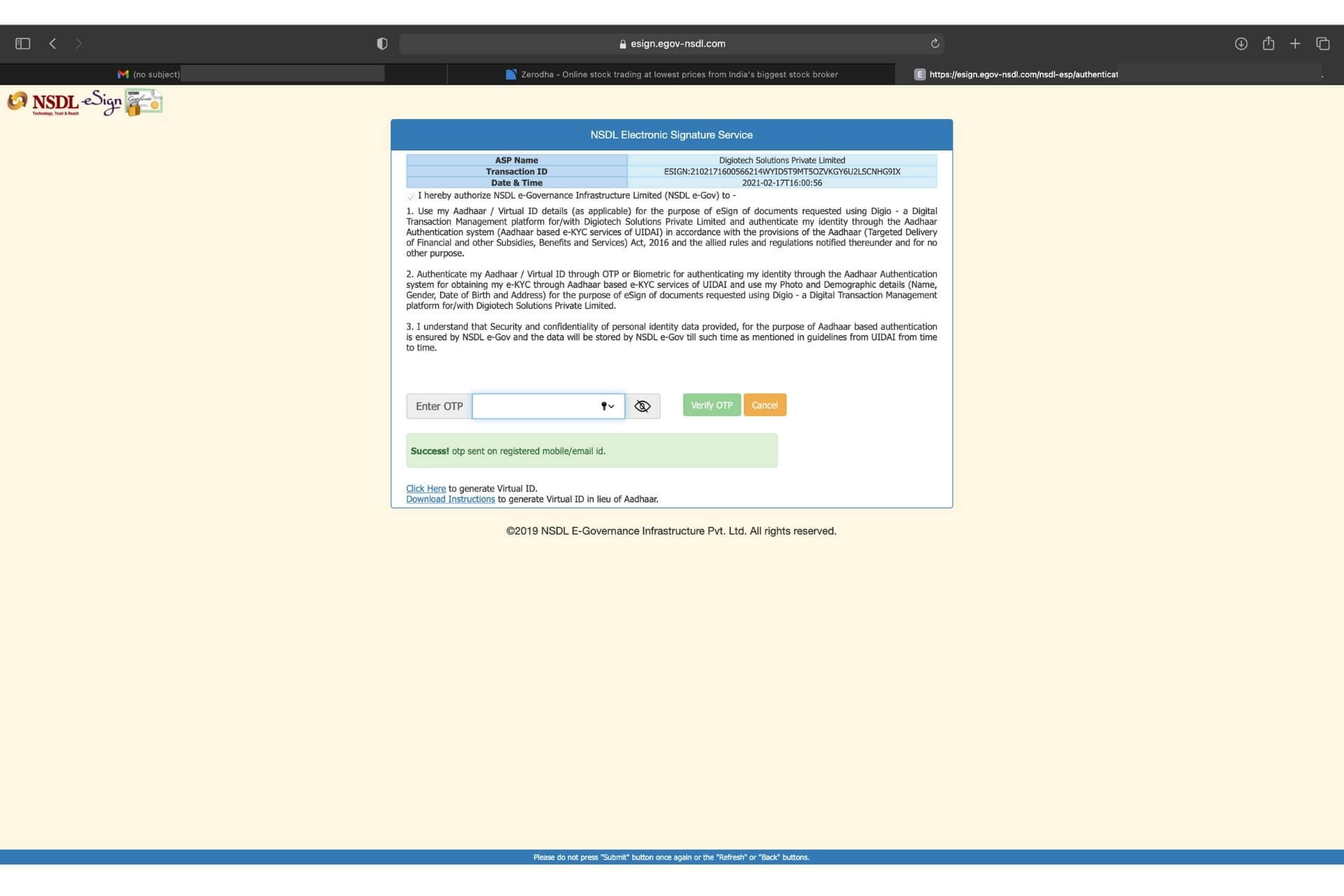 STEP 15: Once last step is complete, and it's verified, the entire page will become with green background and a message appearing as "You have successfully signed the document". This is a confirmation that your esign process is complete for the equity segment.
STEP 16: Next, you will be able to see the tick mark on the Equity segment which means that you've successfully signed up for this segment. You will also be able to download the eSigned Document on this page.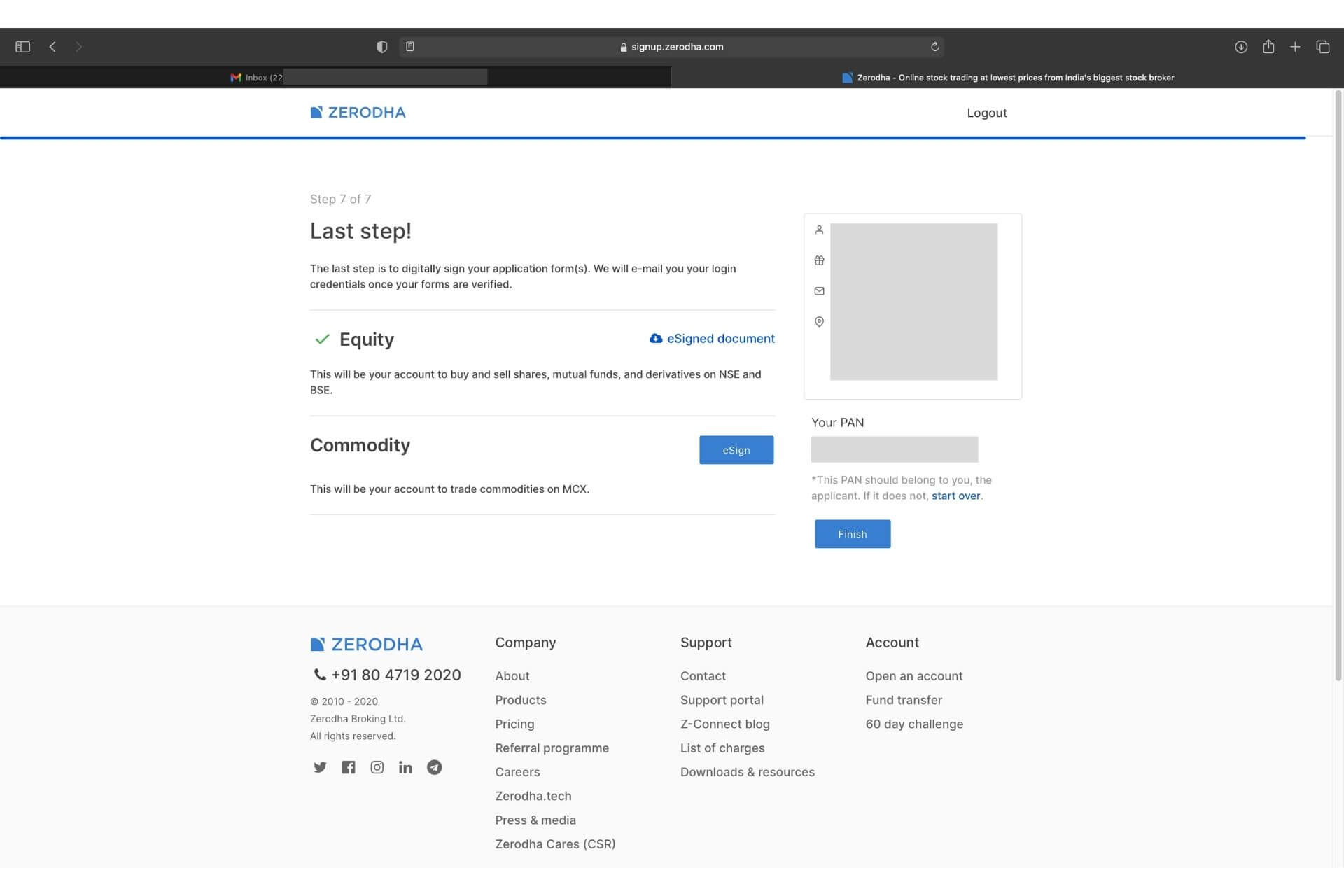 STEP 17: This step is applicable only for those who want to enable the commodity segment on their account. Here, they have to eSign again for the commodity segment.
Click on the commodity eSign. It will redirect you to the NSDL page. Next, click on the check box on the top left corner and enter the aadhar number. You will receive an OTP to the AADHAR linked mobile number. Once you enter the OTP and it is verified, the documents will be eSigned for the commodity segment too.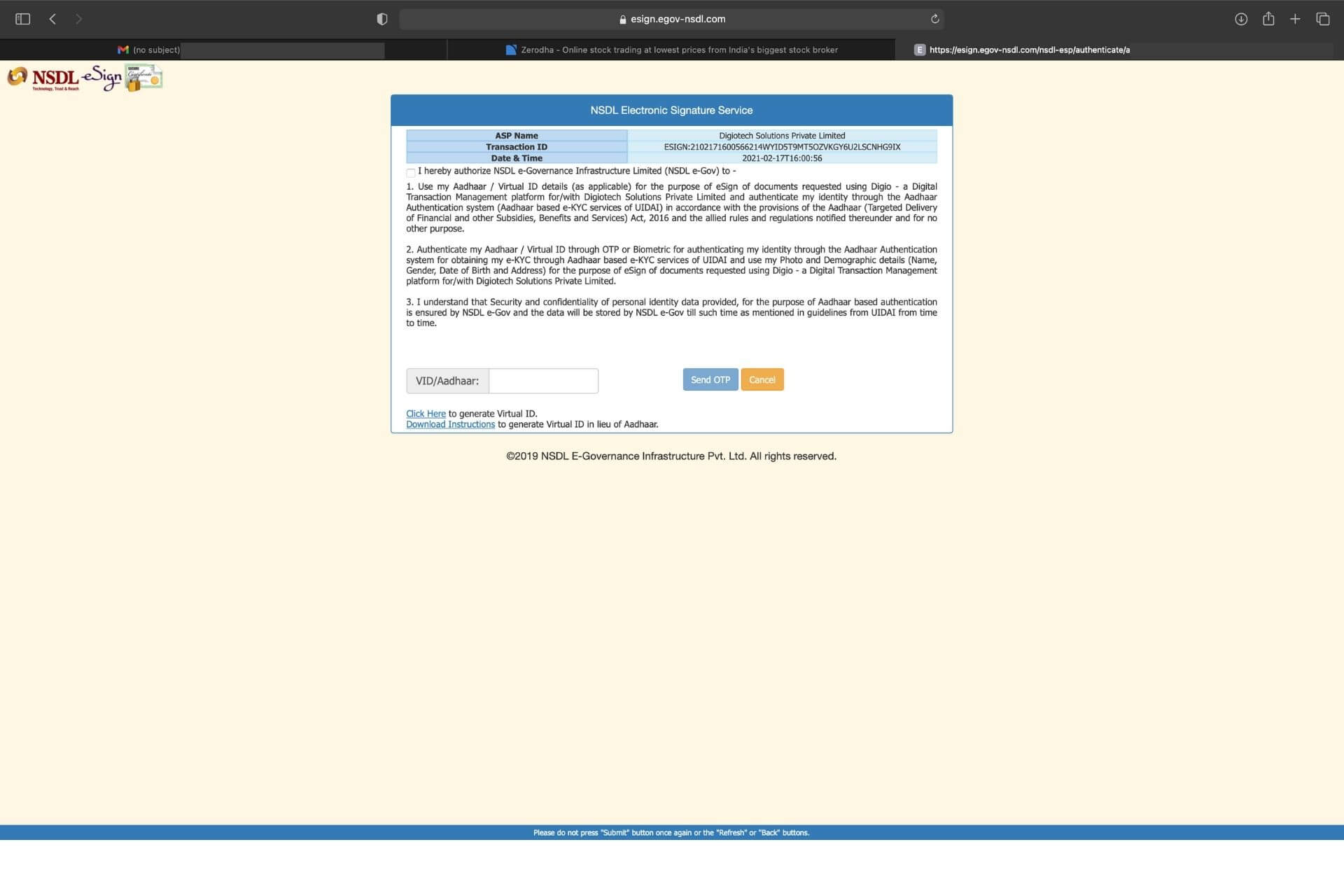 STEP 18: Congratulations, you have completed all the steps. A final Congratulations message will appear on your screen, once you've completed all the previous steps. Here's the screenshot for your reference.
Quick Note: Once you complete all the steps, then the Zerodha document verification team will verify your documents. Once it's verified, then you will get an email from the document verification team stating your documents are successfully verified. After receiving this email, you will get the login credentials within 24 hours.
Offline Account Opening Process
How to open your demat and trading account with Zerodha offline?
You can also open your account with Zerodha offline. However, the offline account opening charges are different than the online charges. Here are the charges for offline account opening:
Rs. 400 – for Trading & Demat Account
Rs. 600 – for Trading, Demat & Commodity account
In this approach, you will have to download application forms from Zerodha website, print out the forms, fill it up and sign it. If you need help at any point in filling out the application form you can call us on 080 4913 2020.
Here are the applications forms that you'll need to fill and courier for account opening:
Application Form: Trading Account & Demat Account

– Equity Segment
POA (Power Of Attorney) – Already included in the Application form above
ECN (Electronic Contract Note) for enabling Commodity segment – Already included in the application form 2

Nomination Form

: In case you would like to appoint a nominee to your trading and DEMAT account like your wife, father, mother or any other.
The documents required for opening your account offline is the same as that of the online process. You need to get a photocopy of your PAN Card, Address proof (Aadhar Card, Driving License, Voter-Id etc), Cancelled Cheque/Bank statement, Income proof & Passport size photographs. You also have to cross sign as self-attest on all these docs. You can find the list of all acceptable docs for account opening here.
Once you fill it up and sign it, you have to send the application forms over to the Zerodha head office address:
#153/154 4th Cross Dollars Colony,
Opp. Clarence Public School,
J.P Nagar 4th Phase, Bangalore – 560078
Alternatively, you can schedule a meeting with a Zerodha representative at an address, date and time as per your convenience, by calling up the account opening helpline (080 4913 2020) or by placing a request with the sales manager assigned to you.
Here, a Zerodha representative will contact you and direct you to keep all such necessary documents ready at the decided time and place of the meeting. The representative would take all necessary signatures and self-attested documents/attachments as required to complete the account opening procedure.
What Next After Opening Your Zerodha Account?
Once your account is open, you can log in to this link or use the KITE app on your mobile. Here's the link to the KITE trading platform.
Alternatively, you can also download the KITE app on android/iOS to start trading/investing in stocks. Besides, you can find the list of other Zerodha products like Console, Coin, Connect API, etc here.
Closing Thoughts
I will recommend using the online method while opening your account. Zerodha is working towards the Digital India initiative and you should be a part of it too. Although online methods seem to have too many steps, they do not take too long. Once you've started the application form, you can build a flow and complete the form within 15-20 minutes.
The offline method is good if you do not have an Aadhar card and you want to provide another address proof like Driving license, Voter Id, etc. However, if you are living in a village/small city, it might be a little difficult for you to get a Zerodha executive. Moreover, the offline method can easily take 7-10 days to open a demat and trading account. You can read Zerodha review 2021 here.
That's all. These are the steps to open a demat and trading account at Zerodha, online and offline. I hope this post on 'How to open a Demat and trading account at Zerodha?' is useful to the readers. If you have any doubts, comment below.
Stay updated on the latest Stock Market News and Corporate Actions NSE with Trade Brains Portal, while also keeping an eye on the Top Gainers Today in NSE with our Stock Heatmap feature.
Kritesh (Tweet here) is the Founder & CEO of Trade Brains & FinGrad. He is an NSE Certified Equity Fundamental Analyst with +7 Years of Experience in Share Market Investing. Kritesh frequently writes about Share Market Investing and IPOs and publishes his personal insights on the market.