Guide to using Google Alerts to Monitor Your Portfolio: Regularly monitoring the stocks in your portfolio is as important as picking good stocks. Many a time, the stock undergoes drastic price movement due to sudden news or change in the company's fundamentals. And if you are not monitoring your portfolio regularly, then you might have to book heavy losses.
In one of our earlier posts about how to monitor your stock portfolio, we have explained that in order to monitor your portfolio, you need to remain updated with the important news regarding the companies in your portfolio like corporate actions, announcements (example- mergers and acquisition, buyback, bonus, etc), quarterly results, annual results, etc. In that article, we also explained how Google alerts can be a very powerful tool for monitoring your stocks.
In this post, we are going to discuss how you can make your life as an investor a lot simpler by using google alerts. Keep reading to find out!
What is Google Alert?
Google Alerts is a content change detection and notification service, offered by the search engine company Google. In simple words, if you set an alert for any company on google alerts, then Google will send you all the important news published on the web related to the company directly in your email.
Each morning when I wake up, I find a mailbox filled with dozens of emails from Google related to all the stocks which I am either holding, tracking, or interested in. I've set alerts for all these companies so that I do not miss out on any important news. Here's how my inbox looks:
Also read: 3 Simple Tricks to Stock Research in India for Beginners.
These alerts have made my life a lot easier as in order to monitor the stocks, all I need to do is to go through the emails. Moreover, even if I miss reading few emails someday because of any reason, I'm relaxed that I can read them anytime when I'm free.
What's the best point of using google alerts is that unlike newspapers or financial websites where you have to search for all the important news related to your stocks, google alerts directly deliver the relevant news to your email. No time wasted!!
Further, if you missed any news on the financial websites or web, it's too hard to track it back or re-read the news after few days. There are tons of news published every day and it's really difficult to find the news that you missed long back.
Because of all these reasons, I use google alerts to monitor my stock portfolio. I will highly recommend you to set google alerts for the stocks in your portfolio to monitor them easily.
How to Use Google Alerts to Monitor Your Portfolio?
Here are the steps to set google alerts for the stock you want to monitor:
Log in to your google account. If you do not have one, then sign up to create a new account.
Search 'GOOGLE ALERTS' on google.
Select the link titled "Google Alerts – Monitor the Web for interesting new content" or simply go to this link- https://www.google.co.in/alerts
Add the list of the companies you want to track by entering it in the box.
Enjoy the alerts.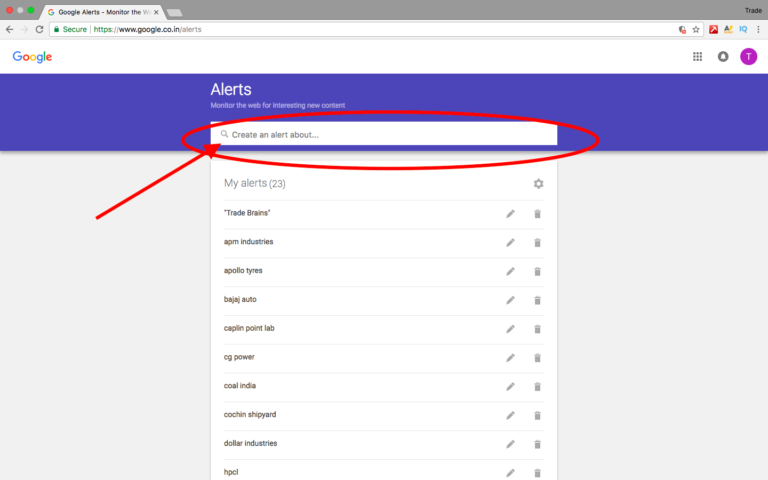 Note: No matter how many google alerts you set for the companies you are investigating or already invested, however, if you do not check your emails regularly, then there's no point setting the alerts. In such cases, where you do not check your emails daily, stick to the traditional way of monitoring your portfolio by reading financial websites/magazines/newspapers, etc.
Also Read:
Apart from the google alerts, I also study the financial websites and newspapers every day in order to carry out new stock research or to remain updated with the latest happenings. Google alerts are a good tool for monitoring your portfolio, however, when you're researching the stocks, you have to put a lot more effort.
That's all. This is how simple it is to set Google alerts and monitor your stocks. I hope this post on "How to use google alerts to monitor your portfolio?" is useful to the readers. If you need any help regarding setting google alerts, please comment below. I'll be happy to help you out. Happy Investing!

Kritesh (Tweet here) is the Founder & CEO of Trade Brains & FinGrad. He is an NSE Certified Equity Fundamental Analyst with +7 Years of Experience in Share Market Investing. Kritesh frequently writes about Share Market Investing and IPOs and publishes his personal insights on the market.
---
Start Your Stock Market Journey Today!
Want to learn Stock Market trading and Investing? Make sure to check out exclusive Stock Market courses by FinGrad, the learning initiative by Trade Brains. You can enroll in FREE courses and webinars available on FinGrad today and get ahead in your trading career. Join now!!