Herd mentality is a very common investing psychology seen in most investments done by the people. Here, a majority of past investment done by the mass constitutes refined data to show inferences.
An investor's natural instinct goes with the ones of masses, which means that he/she doesn't seem to have a rational view on a certain investment but is more likely to deviate where the majority mass is moving – this little phenomenon is known as the "Herd Mentality".
The term has been derived from the natural instinct of a number of sheep walking together in a herd so as to avoid falling into the pitfalls of danger.
If you look around, our daily actions are based on this little psychological term that we have just read about. If we break down the context of "Herd Mentality" to its core, we would find out that the concept is more related to "how do the natural instincts work for humans".
Interestingly, you can also find a large population of investing community following herd mentality psychology in making various financial decisions like buying a new property or investing in the stock market. Seeing others getting profited with investment, our brain tells us to go for it without a second thought.
QUICK READ – How to Invest Your First Rs 1,000 In The Stock Market?
Why does herd behavior happen?
Although investing collectively is harmful and irrational, however, most people choose this tendency because of two basic (human) reasons:
Strong social pressure: Most of the people like to be accepted by a group, rather than branded as an outsider or outcast. Following what the others are doing is a natural way of becoming a member of that group. That's why following the herd is the logical tendency to avoid social pressure.
Irrational belief that a large number of people cannot be wrong: In general, people believes that the larger the group of people involved in any decision, the lessor is the chance of the decision being incorrect. Again, this is a natural instinct of humans. Until and unless anyone has little experience and expertise of the domain, he/she avoid directly opposing the masses.
Herd Mentality in Stock Market:
Many of the worst financial crises in the stock market like the dot-com bubble or the economic recession of 2008 can be attributable to the same human tendency- HERD MENTALITY. Here are a few examples of herd mentality in the stock market from day to day market scenario:
Buying a stock that everyone else is buying
The buying decision of an average investor can be easily influenced by the actions of his friends, neighbours, or acquaintances. Suppose all your friends bought one specific stock whose price is rising day by day. Further, all your friends are making fun of you that you didn't buy that stock when then initially recommended. What would be the natural instinct of an average investor here?
If everyone around you is investing in a particular stock, then the tendency for potential investors is to do the same. However, this strategy never turns out to be fruitful for an investor in the long run.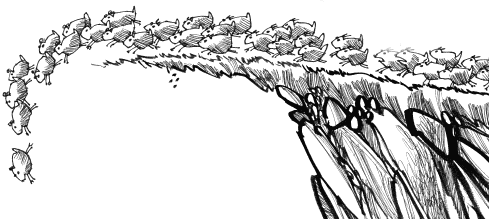 Investing in 'Hot' Stocks
Hot stocks are the darlings of the new investors as these stocks are the ones that are constantly in news and everyone is talking about their upside potential. However, hot stocks become 'hot' only when the majority of the herd moves their money in this stock after seeing so many other investors doing the same thing.
The ones who are actually going to get benefit from these stocks are the ones who invested in these stocks way before it became a hot stock. The rest (herd) who puts their money in these stocks (when the prices are already high) is going to lose their hard-earned money in the stock market.
ALSO READ
How to Avoid the Herd Mentality and Make Better Investment Decisions?
It is quite clear by now that judging "collective" behaviour wouldn't do any good when it comes to making an important decision about investments. Most naturally, following what the majority of people has chosen is always a tempting and "safe" option to go for. However, without foreseeing the background, one can't be sure of any important decision.
Jumping on a bandwagon without knowing every bit and piece of details about it is something unnecessary in the investment domain. Before making an investment, make sure that you do the following things:
1. Do your research: A little bit of research never hurts. In fact, this should be one's habit before making any investment. You can use various references to know the details about any kind of investment you want to jump into. In fact, the more you read, the better it would be.
2. Consult a financial advisor: If you cannot give enough time for the research/study, then why not consult an expert. He/she will be able to give you better advice compared to your amateur friends or neighbours.
At last, use your wit to make your decision!

---
Start Your Stock Market Journey Today!
Want to learn Stock Market trading and Investing? Make sure to check out exclusive Stock Market courses by FinGrad, the learning initiative by Trade Brains. You can enroll in FREE courses and webinars available on FinGrad today and get ahead in your trading career. Join now!!