Meet the Guy Behind Trade Brains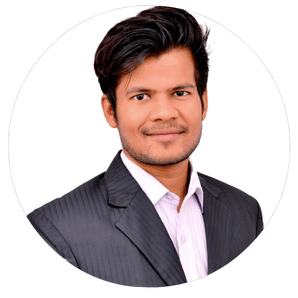 Kritesh Abhishek
Founder & Author, Trade Brains
Electrical Engg, NIT Warangal (Class of 2016)
Former Manager, Tata Motors
"The journey of a thousand miles begins with one step." - Lao Tzu
********
Hi, I am Kritesh Abhishek.
I'm 23, Entrepreneur, Stock Investor, Electrical Engineer, Car-Enthusiast, Fitness conscious and self-improving freak... In my free time, either I'll be reading the stock-market related news or some personal finance books. (Btw, although I have two names, most people call me Kritesh. And Kritesh works well too).
I am a graduate of the National Institute of Technology (NIT), Warangal with Bachelors' of Technology in Electrical Engineering, Class of 2016.
At NITW, along with my core engineering, I was also exposed to courses like Basic Finance, Engineering Economics, Accountancy etc.  It was during my college days when I got infatuated with stocks and companies. Although the undergraduate study in Electrical Engineering was attracting, however, I found the study of investing & finance more fascinating. From then on, I developed a keen interest towards the Stock Market.
Besides, I also interned at National University of Singapore, Singapore during my third year- which I consider as the best year of my college life. During this time period, I realized how people in developed countries are participating seriously in the equity market. On the other hand, Indians are missing out on the opportunity to invest in the growing economy of our country.
After graduation, I started working as a Manager in Quality Assurance (QA) department at Tata Motors, Pune, India. This was the time when I met my idol, RATAN TATA. In the words of my parents, my position at Tata Motors can be considered as a safe, secured and respectable job. However, I resigned within 18 months of my joining to chase my entrepreneurial dreams.
"It's not about being the best. It's about being better than you were yesterday." -Anonymous
Anyways, back to my original story, when I first started investing in the Stock Market (during my college days), I had many doubts regarding my investments. I wasn't certain when to buy, when to sell, how much I should invest, what is the correct time to enter the market, how long I should invest, should I prefer short-term profits or long-term capital appreciation, etc.
Although I already studied many great books before entering the market like 'The Intelligent Investor' by Ben Graham, 'Common Stocks and Uncommon Profits' by Philip Fisher, 'One Up On Wall Street' by Peter Lynch, 'Rich Dad's Guide to Investing' by Robert Kiyosaki etc. However, when it came to my first investment, it was all 'my decisions' and 'my confidence' that mattered. Slowly, I realized that it's the personal experience that matters the most. Moreover, the earlier you start investing, the better are the outcomes. (Quick note: You can find the list of my favorite stock market investment books here).
Now, by no means, I claim to be a financial guru or a stock expert. I'm still learning a lot every single day in my investing journey and my blogs aim to share my learnings with the readers. However, after having a decent experience in the stock market, I am sure that I can help out all those who need a little motivation & guidance to invest intelligently in the stock market.
Finally, here's the golden rule of investing that I strictly follow- "Invest early, invest consistently and invest for the long-term".
*****
GENERAL DISCLAIMER: The articles written by me on this blog should only be considered for educational purpose. The stocks discussed here should not be taken as any kind of advisory or recommendation. I (KRITESH), AM NOT A SEBI REGISTERED STOCK ADVISOR and do not intend to provide any kind of stock advisory through my articles. The views shared on my blogs are my research and personal opinion. Please do your own study or take the help of your financial advisor before making any investment decision. Afterall, no one cares about your money more than you do. The purpose of my articles are only to educate and help people. Happy Investing.
Feel free to comment below if you have any questions.
If you have any queries regarding investing, shoot in the comment box below. I will be glad to help you out. Further, I will also appreciate if you can write any feedback or remark regarding 'Trade Brains'. Keeps me motivated. Cheers!