A mutual fund is a collective investment that pools together the money of a large number of investors to purchase a number of securities like stocks, bonds etc.
When you purchase a share in the mutual fund, you have a small stake in all investments included in that fund. Hence, by owning a mutual fund, the investor participates in gains or losses of all the companies in the fund.
For instance, you can take a mutual fund as a basket of investments. When you purchase a share of that mutual fund, you are buying one share of this basket and hence has an ownership in the all the investments in one such basket.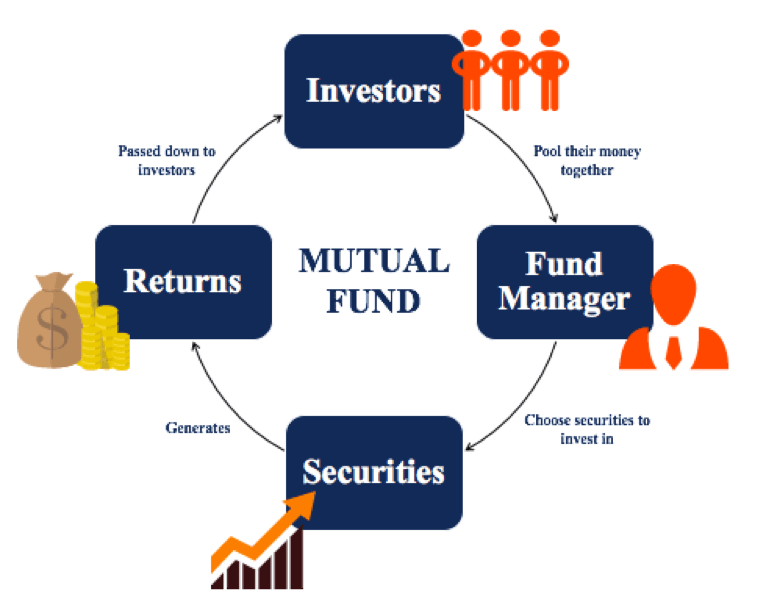 Image source: Corporatefinanceinstitute.com
Major Types of Mutual Funds
Based on Asset Class
Equity Funds: These funds invest the amassed money from investors in equities i.e. the stocks of different companies. The associated risks for these funds are comparatively higher as they invest in the market. However, they also provide higher returns.

Debt Funds: These funds invest in debt instruments like bonds, securities, fixed income assets, the company's debentures etc. They provide a safer investment option for investors looking for small regular returns with low risk.

Hybrid Funds: As the name suggests, Hybrid or balanced funds invests in both equity and debt instruments like stocks, bonds etc. This ratio can be variable or fixed depending on the fund. This fund helps to bridge the gap between entirely equity or debt fund and suitable for investors looking to take higher risk than debt funds in order to get bigger rewards.

Money Market Funds: These funds invest in liquid instruments such as bonds, T-bills, certificate of deposits etc. The risks associated with these funds are relatively low and suitable for short-term investments, less than 12 months.
Based on Structure
Open End Funds: The majority of mutual funds in India are open-end funds. These funds are not listed on the stock exchanges are available for subscription through the fund. Hence, the investors have the flexibility to buy and sell these funds at any time at the current asset value price indicated by the mutual fund.
Closed-End Funds:- These funds are listed on the stock exchange. They have a fixed number of outstanding shares and operate for a fixed duration. The fund is open for subscription only during a specified period. These funds also terminate on a specified date. Hence, the investors can redeem their units only on a specified date.
(Image Credits: Kotak Securities)
Benefits of Mutual funds
There are a couple of benefits in investing in a mutual fund.
For example, if there is an investor who wants to invest in stocks but has no time to analyze and create a portfolio. Then he can be benefited from the mutual fund. This investor just has to buy a mutual fund and hence, in a single purchase he gets an investment similar to purchasing the entire portfolio of stocks.
The various benefits of investing in a mutual fund are described below:
A simple way to make a diversified investment: A mutual fund has a number of securities like stocks, bonds, fixed etc already in its portfolio. Therefore, buying a mutual fund is a simple way to make a diversified investment. Further, diversification also reduces risk which is an added benefit of buying a mutual fund.
Managed by a financial professional: The Fund manager or managers actively manage a mutual fund. They try to give the maximum returns to the investors using their professional expertise. Hence, those investors who don't have time to invest by their own can get benefits from the expertise of these fund managers.
Allow investors to participate in a wide variety of investments: This is one of the greatest advantages of buying a mutual fund. There are a variety of mutual funds available to invest in equity fund (Index funds, growth funds, etc.), fixed income funds, income tax saver funds, balanced funds etc. An investor can easily select the best one which suits his strategy.
Investors can buy/sell/increase/decrease their mutual funds whenever they want: There is great flexibility to for the investors while investing in mutual funds. They can easily buy, sell, increase or decrease their investment in different funds within seconds. However, please note that it's suggested to read the mutual fund prospectus carefully before subscribing as some mutual funds have an entry or exit-load.
If you are new to mutual fund investing and want to learn from scratch, I highly recommed you to check out this online course: Investing in Mutual Funds? A Beginner's Course.
Which mutual fund to buy?
After understanding the benefits of a mutual fund, the next question is which mutual fund to buy? There is a variety of mutual funds available in the market which you can find online.
These mutual funds have different ratings & rankings and you can choose a suitable mutual fund according to your goal. Here are the two few sites where you can search online:
Generally, you need to read the prospectus of a mutual fund which gives a wide variety of information about the fund. The fund prospectus has details like fee & charges, minimum investment amount, performance history, risks, and other particulars. Here are the few examples of mutual funds (provided by moneycontrol website):
Disadvantages of Mutual Funds
Here are the few disadvantages of buying a mutual fund:
Fees and Expenses: There are a couple of possible fees in mutual funds like expense fee, exit fees etc which might reduce the overall returns.
No Insurance: There is no guarantee of success in the mutual funds. The mutual fund providing companies always state the following in the declaimer in their advertisements:
Mediocre Performance: On an average, a majority of mutual funds are not able to beat the market indices.
Loss of Control: The fund managers are responsible for buying and selling of the securities and you have no say in managing the portfolio. You are trusting someone else with your money when you invest in mutual funds.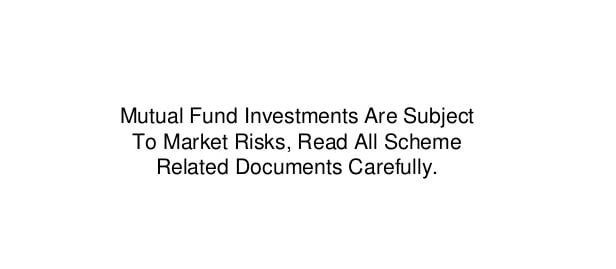 How to make money by the mutual fund?
There are basically two ways to make money by a mutual fund –
Appreciation: When the mutual fund appreciates i.e. when the fund grows in value. You can sell the mutual fund at the appreciated value and get a good return on your investment.
Dividend Payment: Mutual funds also provide dividends to the investors when they receive the dividend from the companies they own in their portfolio. Please read the prospectus carefully if you are buying a mutual fund for dividend payments.
Also read: Growth vs Dividend Mutual Funds: Which one is better?
So, that's all for the basics of the mutual fund. In the next post, I will describe how to buy a mutual fund. In the meantime, if you need any help or have any doubts, feel free to comment below. I will be happy to help you.

Kritesh (Tweet here) is the Founder & CEO of Trade Brains & FinGrad. He is an NSE Certified Equity Fundamental Analyst with +7 Years of Experience in Share Market Investing. Kritesh frequently writes about Share Market Investing and IPOs and publishes his personal insights on the market.
---
Start Your Stock Market Journey Today!
Want to learn Stock Market trading and Investing? Make sure to check out exclusive Stock Market courses by FinGrad, the learning initiative by Trade Brains. You can enroll in FREE courses and webinars available on FinGrad today and get ahead in your trading career. Join now!!