Narayana Murthy's Success Story: Today we look at Infosys as a behemoth in the global IT sector. But this all started with Narayana Murthy's home office with Rs. 10,000 of borrowed capital from his wife.
If you know the Indian IT Industry, you would definitely have heard the name, Narayana Murthy. But do you know how he started his company and became a legend? In this article, we take a look at Narayana Murthy's success story. Keep Reading to find out!
Early Life of Narayana Murthy
Nagavara Ramarao Narayana Murthy, popularly known as Narayana Murthy or NRN Murthy was born on August 20, 1946, in Mysore, Karnataka.
Despite being born into a middle-class family and facing several other hurdles he showed significant academic brilliance during his childhood.
Narayana Murthy received his Bachelor's degree in Electrical Engineering from the University of Mysore and went on to pursue his Masters at the prestigious Indian Institute of Technology, Kanpur.
After completing his education Narayana Murthy went on to work as a Research Associate at IIM Ahmedabad.
His career progressed and Murthy was appointed as the Chief Systems Programmer at IIM. Here he worked on India's first time-sharing computer system.
In addition to this, he also designed and implemented a BASIC interpreter for Electronics Corporation of India Ltd. But despite achieving this he always had a burning desire to venture into entrepreneurship.
What pushed Narayana Murthy to Become an Entrepreneur?
In his early years, Murthy shared strong leftist values but this all changed on a train journey in 1974. While passing through Nis, a town bordering Serbia and Bulgaria, Narayan engaged in conversation with a girl who only spoke French on the train.
However, this upset the boy accompanying her who got the police involved. The police in Bulgaria arrested Murthy taking away his passport and luggage and also dragged him onto the platform. 
Murthy spent the next 72 hours in what he describes as an 8X8 cell with primitive toilet facilities. One would at least expect civil treatment in these circumstances but Murthy was also denied any food or drink during these 72 hours.
He was finally released and Murthy recalls the guards stating, "Look, you are from a friendly country called India, so we are letting you go but we will give you your passport when you reach Istanbul."
Murthy wondered that if a country treats its friends in such a manner he would never want to be part of a communist country.
This whole ordeal turned Murthy from a confused leftist to a determined compassionate capitalist. This further built his desire to become an entrepreneur.
Narayana Murthy's Entrepreneurial Journey
Narayana Murthy's entry into entrepreneurship was filled with obstacles. At the time he was only dating his future wife Sudha Murthy.
However, her father did not appreciate Murthy's entrepreneurial plan. He expected Murthy to have a job with a stable income. During this period Murthy founded a company in Pune called Softronics- an IT firm for the domestic market.
Although this marked his entry into entrepreneurship the venture did not survive for long. Softronics closed down 1.5 years after its inception.
Murthy then joined  Patni Computer Systems as General Manager. This allowed him to marry Sudha Murthy a year later in 1978.
However, Sudha noticed that her husband has now stuck in the corporate world a place he desperately wanted to get out of.
She gave him Rs. 10,000 from her savings and 3 years to explore his desire for entrepreneurship. She told him not to worry as she would take care of the household.
In January 1981, Narayana Murthy met with 6 of his software engineering friends at his apartment to create a company.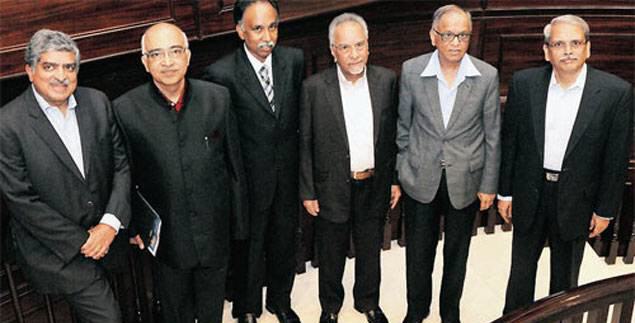 Hence Infosys Consultants Pvt. Ltd. was founded on 2nd July 1981.
The company was founded by Narayana Murthy, Nandan Nilekani, N. S. Raghavan, S. Gopalakrishnan, S. D. Shibulal, K. Dinesh, and Ashok Arora. They moved to Pune where all of them used Murthy's house as an office.
During this period Sudha Murthy took up the role of their Clerk-cum-Cook-cum-Programmer. She also took up another job to support the household.
They recall this period as being extremely challenging as they would often see their peers moving ahead in life.
Finally, Infosys had a breakthrough when they got into a joint venture with Kurt Salmon Associates. But this too fell apart in 1989. This put Infosys in trouble of shutting down.
The co-founders now had to decide whether to continue or save themselves in case things got worse. Ashok Arora decided to move out and sold his stake to the other partners.
Murthy gave the same option to the other partners as well but they decided to stick with the company.
ALSO, READ
Luckily for the Company then Came the Liberalisation of the Indian Economy in the 90s
There was no stopping them now as their revenues touched $100 million by 1999. The same year they also listed on Nasdaq.
Today Infosys is an MNC that provides business consulting, information technology, and outsourcing services.
For the financial year 2020-21, Infosys made revenues of $14 billion with a net profit of $2.7 billion.
The company has over 2.5 lakh employees and is one of the largest IT companies in India with an MCap of 5,24,106 Cr. 
Narayan Murthy served as the CEO of Infosys for 21 years before stepping down in 2002. Not known to many Murthy made several other contributions other than founding the company.
While at Infosys he designed and implemented the Global Delivery Model. This concept is popular around the world in IT companies and is even taught in business schools.
In Closing 
Today Narayan Murthy is worth $ 3.5 billion. But his success is also owed to the tremendous support he received from his wife Sudha Murthy. He also has contributed significantly to philanthropic causes through Infosys Foundation.
In 2000, Murthy was awarded the Padma Shri by the Government of India for his significant contribution to the country's IT sector and economy.
He is often referred to as the Father of the IT sector after being described as such by Time magazine.
That's all for this post! Let us know what you think about Narayana Murthy's success story and who you would like us to cover next. Happy Reading!
Stay updated on the latest Stock Market News and Corporate Actions NSE with Trade Brains Portal, while also keeping an eye on the Top Gainers Today in NSE with our Stock Heatmap feature


Aron, Bachelors in Commerce from Mangalore University, entered the world of Equity research to explore his interests in financial markets. Outside of work, you can catch him binging on a show, supporting RCB, and dreaming of visiting Kasol soon. He also believes that eating kid's ice-cream is the best way to teach them taxes.
---
Start Your Stock Market Journey Today!
Want to learn Stock Market trading and Investing? Make sure to check out exclusive Stock Market courses by FinGrad, the learning initiative by Trade Brains. You can enroll in FREE courses and webinars available on FinGrad today and get ahead in your trading career. Join now!!