List of Best Newspapers for Stock Market India: Every active investor and trader needs to stay updated with the latest news about the stock market.
Missing one key piece of information – a big corporate announcement, new deals/projects, change in management or any scam/fraud allegations about your favorite stock may result in a change in profitability in your portfolio.
But how to stay updated with the current happenings and events in the stock market? A simple answer is by reading newspapers.
We all know that reading newspapers is a good habit that can provide a great sense of educational value as well as keep us updated with the latest happenings around us.
A newspaper is basically a periodical publication containing well-written information about current events. Moreover, with the availability of the 'e-Newspapers' i.e. online newspapers, accessing these is a lot easier.
In this article, we are going to discuss the seven best newspapers to read and stay updated about the Stock Market. Here they go:
7 Best Newspapers for Stock Market India
The daily newspaper Business Standard (also available as an e-paper) is the first preferred choice of serious business readers. It is one of the largest Indian English-language daily edition newspapers published by Business Standard Ltd.
The Business Standard provides the latest news about the Economy, Finance, Current Affairs, International Management, Personal Finance, etc. You can check out the stock prices of India's leading companies, Sensex, Nifty, Gold, Silver, etc.
They also offer an Android App available in the google play store.
Livemint is one of my favorite newspapers to read and stay updated with the stock market. The reason is its clear editorials and nicely designed pages.
This newspaper is published by HT Media, a Delhi-based media group that is controlled by the KK Birla family and also publishes Hindustan Times.
Livemint provides information about Markets, Companies, Money, startups, Mutual Funds, Investment Queries, Insurance, Technology and more. They also offer e-Paper, you can log-in and get the latest news.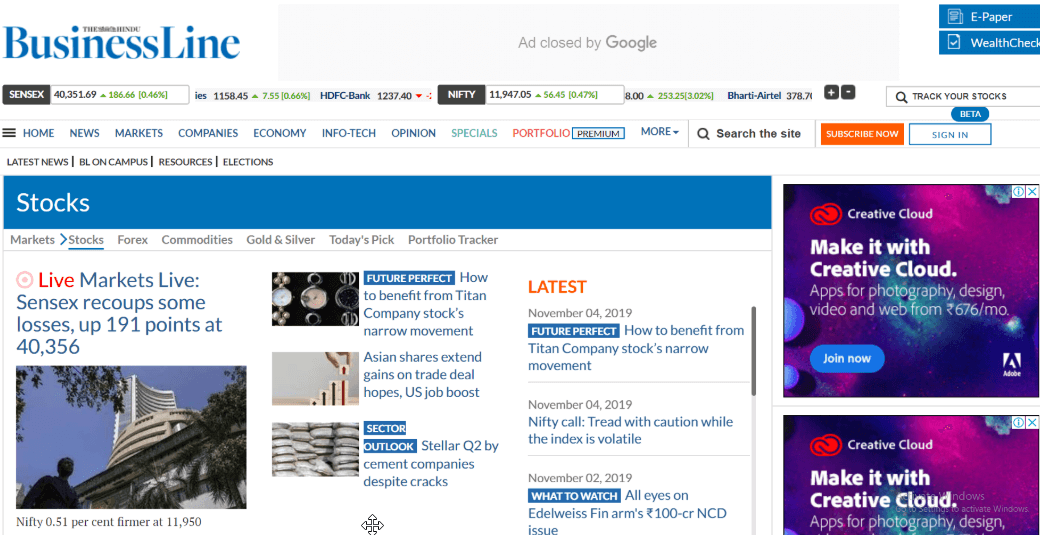 The Hindu Business Line is an Indian business newspaper published by the publishers of the newspaper The Hindu is located in Chennai, India.
It gives daily market live updates about Sensex and Nifty, information about commodities, Forex, Gold & Silver Science, World, Sports, Real Estate, and also Trending topics in the Market.
The e-Newspaper for the Hindu Business Line is also available.
Reuters is the world's largest international multimedia news. It provides trusted business, financial, national, and international news to professionals via Thomson Reuters desktops, the world's media organizations, and directly to consumers.
Here you can get updates about Stocks, Business, Technology, Sports, Entertainment, etc. You can easily subscribe to their newsletters. The Reuters app is available in the play store.
Moneycontrol is one of the most popular websites to read financial news in India. It is owned by E-EIGHTEEN Dot Com Ltd., a subsidiary of the media house TV18.
Though it is not exactly a newspaper, Moneycontrol financial portal offers end-of-day stock prices, stores of news (text and videos), analysis, data, and tools for investing (across diverse asset classes), the business sector, and the economy.
It also provides a few recommended Market Podcasts like ''A morning walk down Dalal Street'. You can also track the Market using Moneycontrol mobile app.
Originating in 1961, The Economic Times is an Indian daily newspaper headquartered in Mumbai, India in English-language and published by Bennett, Coleman & Co. Ltd.
They provide the latest news updates on investing, Economy News, Business News, technology, etc. They offer a separate Economic Times Market section for their readers to stay updated on the stock market and financial world.
Apart from the newspapers, the Economic Times also provides e-edition for the convenience of the user.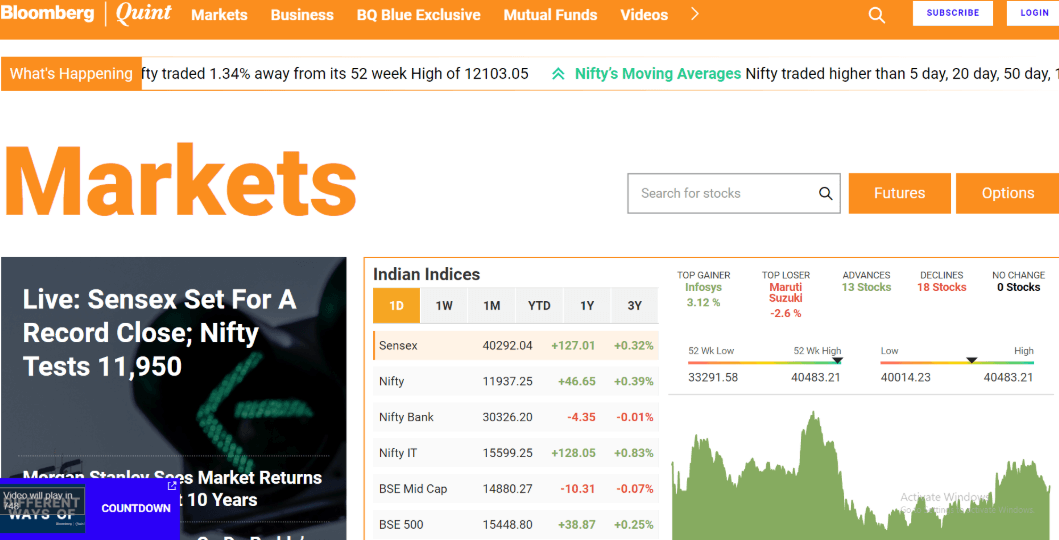 Bloomberg Quint is a multiplatform, Indian business and financial news company. It is a joint venture of Bloomberg News and Quintillion Media.
They provide Bloomberg's global leadership in business & financial news and data with Quintillion Media's deep expertise in the Indian market and digital news delivery.
Its main content is based on high-quality business news, market-moving news, top trends, economy news, international finance news, and compelling perspectives. They also offer market Podcasts.
Also read: 7 Must-Know Websites for Indian Stock Market Investors.
Bonus: 3 Additional Newspapers for Stock Market India
New Delhi Television, popularly known as NDTV, is an Indian television media company founded in 1988 by Radhika Roy, a journalist.
NDTV gives updates like news, videos & photos about Business, Stock, Entertainment, stock talk, Sports, etc. They also have an app that is Faster and Lighter, with features that ensure you get the latest news notifications.
Yahoo! Finance, a part of Yahoo!'s network, provides financial news, data, and commentary including stock quotes, press releases, financial reports, and original content.
It provides real-time streaming quotes for many exchanges and provides stock information like their financial statements, latest announcements, updates, etc.
Yahoo Finance also offers online tools for personal finance management which are very useful for its readers.
Google Finance is not exactly a publication but a news aggregator. On Google Finance, you can find all the latest financial information about stocks, market news, economy news, and top stories around the world in Finance.
In Closing
There are hundreds of newspapers available in the market to read and stay updated with the Stock market. However, not all are equally good.
Out of all the ten Best Newspapers, for the stock market in India to read, my favorite ones are Livemint, MoneyControl, and Bloomberg Quint. Which one is yours? Comment below to answer.
Further, if  I missed any popular newspapers that provide genuine information about the stock market, then please do comment below. Cheers!
Stay updated on the latest Stock Market News and Corporate Actions NSE with Trade Brains Portal, while also keeping an eye on the Top Gainers Today in NSE with our Stock Heatmap feature.

---
Start Your Stock Market Journey Today!
Want to learn Stock Market trading and Investing? Make sure to check out exclusive Stock Market courses by FinGrad, the learning initiative by Trade Brains. You can enroll in FREE courses and webinars available on FinGrad today and get ahead in your trading career. Join now!!