Nexus select trust REIT IPO Review: Nexus select trust REIT is coming up with its Initial Public Offering. The IPO will open for subscription on May 9, 2023, and close on May 11, 2023. The company is looking to raise  Rs 3,200 Crores through the IPO out of which Rs 1,400 Crore will be a new issue and the remaining Rs 1,800 Crore will be an offer for sale.
In this article, we take a closer look at the Nexus select trust REIT IPO Review and its possible future prospects. Keep Reading to find out!
About the company
Nexus Select Trust is sponsored by global investment giant Blackstone. This would be the fourth REIT to make its debut on the Indian stock markets and the first in the retail space since the other three listed REITs are in the residential sector. Nexus Select Trust has a portfolio of 17 operational shopping centers throughout 14 major cities, totaling 9.8 million square feet, with 96% of its properties under lease and a diverse tenant base of 983 domestic and international brands with 2,924. Shopping centers are located in major cities of India such as Delhi, Navi Mumbai, Bengaluru, Pune, Hyderabad, and Chennai. 
Company Having a diverse tenant mix in industries such as fashion & accessories, hypermarket, entertainment, and food and drinks which accounted for 30% of India's total discretionary retail spending in FY20 and had a population CAGR that was 226 basis points higher than the national average from 2011 to 2021.
Financial Highlights
According to Nexus Select Trust's financials, their assets have decreased from Rs.9,527.63 crore in March 2020 to Rs. 9,052.07 crore in March 2022.
Their revenue from operations has also decreased, from Rs. 1,621.97 crore in March 2020 to Rs. 1,318.21 crore in March 2022. Further, its earnings turned negative as it reported a loss of Rs 10.95 Crore against a profit of Rs 2,06.7 Crore in March 2020.
It is also notable that the company's borrowing has risen from Rs. 5,955.67 crores in March 2020 to Rs. 6,311.20 crores on March 22.
The company is well-positioned for substantial organic growth as a result of contractual rent increases, increasing tenant sales, higher Turnover Rentals, and re-leasing at higher market rates. Between FY23 and FY25, their Portfolio's total NOI is expected to expand organically by 26.8%, up from 15.9%.
The balance sheet of the company
(Source: DRHP of the company)
Profit & Loss statement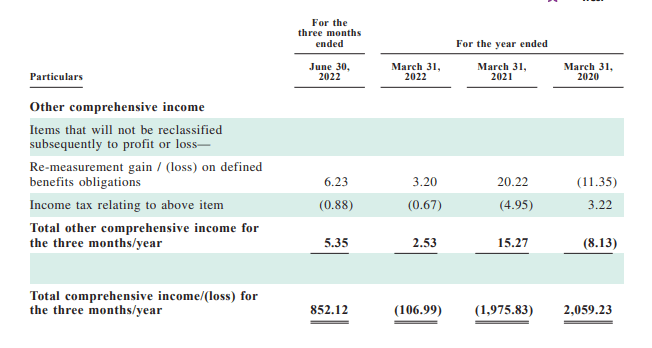 (Source: DRHP of company)
Competitors of the company
As per the DRHP of the company, there are no direct competitors of the company. However, there are three other REITs listed in the Indian stock exchanges- Embassy Office Parks REIT, Mindspace Business Parks REIT, and Brookfield India Real Estate Trust.
Strengths of the company
The company has Leased 3.5 msf, added 332 new brands to the tenant base, and achieved average Re-leasing Spreads of 19.5% on approximately 2.2 msf of re-leased space.
The company's pan-India presence helped drive portfolio-level leasing synergies, developing close connections with tenants, and attracting and retaining high-quality tenants.
Highly occupied by a diversified tenant base of renowned national and international brands.
The shopping centers are carefully positioned in ideal in-fill locations with strong entry barriers.
Has a highly stabilized portfolio with committed occupancy of 93.5%. 
Through industry-leading technology initiatives, the company has proprietary insights and access.
The company has increased leased retail spaces from 3.5 msf to 5.0 msf through strategic acquisitions and accretive build-outs of urban consumption centers.
The company's tenant leases provide for Minimum Guaranteed Rentals with built-in contractual rent escalations of 12% to 15% over a period of three to five years. 
Strong organic growth is estimated to contribute 87.0% of the projected rise in NOI over the Projections Period. In addition, they have a proven track record of generating inorganic growth through accretive acquisitions of stable assets and turnaround of underperforming businesses.
Weakness of the Company
The company is subject to extensive government regulations that are prone to change. Any failure to comply with these regulations or the regulatory agencies can negatively affect the business.
The company may face a variety of risks and uncertainties relating to public health emergencies, including the continuing worldwide COVID-19 outbreak. The future impact of COVID-19 is uncertain and hard to measure.
Increased online purchasing and decreased footfalls may result in lower tenancy demand for company property.
The leasing of space assets drives a significant portion of revenue.
Changes in local development regulations may have an impact on business.
Tenant leases across our Portfolio are susceptible to non-renewal, non-replacement, default, early termination, regulatory or legal procedures, or changes in relevant laws or regulations, which can have an impact on leasing and other income..
Low occupancy and rent levels may hurt the business
The top ten customers account for 21.6% of the gross rentals and 35.9% of its occupied area
If the Indian real estate market weakens, it adversely affects operating performance and cash flow results.
Key IPO Information
Promotors: Arjun Sharma, Dalip Sehgal, Tuhin Parikh, Michael Holland and Jayesh Merchant, Sadashiv Rao.
Book Running Lead Manager:
1. BOFA Securities India Limited
2. Axis Capital Limited
3. Citigroup Global Markets India Private Limited
4. HSBC Securities & Capital Markets Pvt Ltd
5. IIFL Securities Ltd
6. JM Financial Limited
7. J.P. Morgan India Private Limited
8. Kotak Mahindra Capital Company Limited
9. Morgan Stanley India Company Pvt Ltd
10. SBI Capital Markets Limited
| Particulars | Details |
| --- | --- |
| IPO Size | ₹3200 cr |
| Fresh issue | ₹1400 cr |
| Offer for sale | ₹ 1800 cr |
| Opening date | May 9,2023 |
| Closing date | May 11,2023 |
| Face value | - |
| Price brand | ₹95 to ₹100 per share |
| Lot size | - |
| Minimum lot size | 150 ( ₹15,000) |
| Maximum lot size | - |
| Listing date | May 19, 2023(Likely to be) |
The Objective of the Issue
Acquisition of holdings in certain asset SPVs and redemption of debt securities.
Repayment and redemption of some financial debts of asset SPVs and investment entities, as well as for general purposes.
In Closing
In this article, we looked at the details of Nexus select trust REIT IPO Review 2023. Analysts remain divided on the IPO and its potential gains. This is a good opportunity for investors to look into the company and analyze its strengths and weaknesses. That's it for this post
Stay updated on the latest Stock Market News and Corporate Actions NSE with Trade Brains Portal, while also keeping an eye on the Top Gainers Today in NSE with our Stock Heatmap feature

---
Start Your Stock Market Journey Today!
Want to learn Stock Market trading and Investing? Make sure to check out exclusive Stock Market courses by FinGrad, the learning initiative by Trade Brains. You can enroll in FREE courses and webinars available on FinGrad today and get ahead in your trading career. Join now!!