Study on future of OTT Platforms in India: In recent times, the excitement and enthusiasm for the much-anticipated web series or for the second part of the successful first season of the web-series have been unparalleled. We have seen such excitement grow more during the times of Pandemic (COVID-19). Mirzapur is a classic example of this. After the success of the first part, the much anticipated next season was a success even before it was available on OTT media for viewing. The OTT medium has become one of the sought after modes of entertainment during COVID-19.
In today's article of market forensics by Trade Brains, we'll cover the OTT Platforms in India, their history, current scenario, and expected future. Let's get started.
What is OTT?
OTT or, Over-The-Top platforms are audio and video hosting platforms, which earlier started as content hosting platforms but eventually branched out to production and short movie releases, feature films, web-series, documentaries, sports, and other entertainment forms.
These platforms run on cutting edge technology and state of the art functioning. These platforms use Artificial Intelligence (AI) to figure out the content which might interest the user (depending on the previous usage or browsing history) and gives out recommendations based on them. These OTT platforms work on Trail or FREEMIUM model, where they generally give some content for free and have a premium subscription for their exclusive content that is not available elsewhere. 
History of OTT Platforms in India

The first Indian OTT platform was BigFlix, which was launched by Reliance Entertainment in 2008. OTT gained momentum in Indian in 2013 when Ditto TV (Zee) and Sony Liv were launched. 
Disney Hotstar was launched in the year 2015. And it is one of the highest watched OTT platforms in India. As of July 2020, it has more than 300 million active users. Soon after, Netflix began its operations in India in the year 2016 (January). Its is one of the most recognised and prominent global OTT segment player. Netflix faces stiff competition in India from players like Amazon Prime, Disney+Hotstar etc.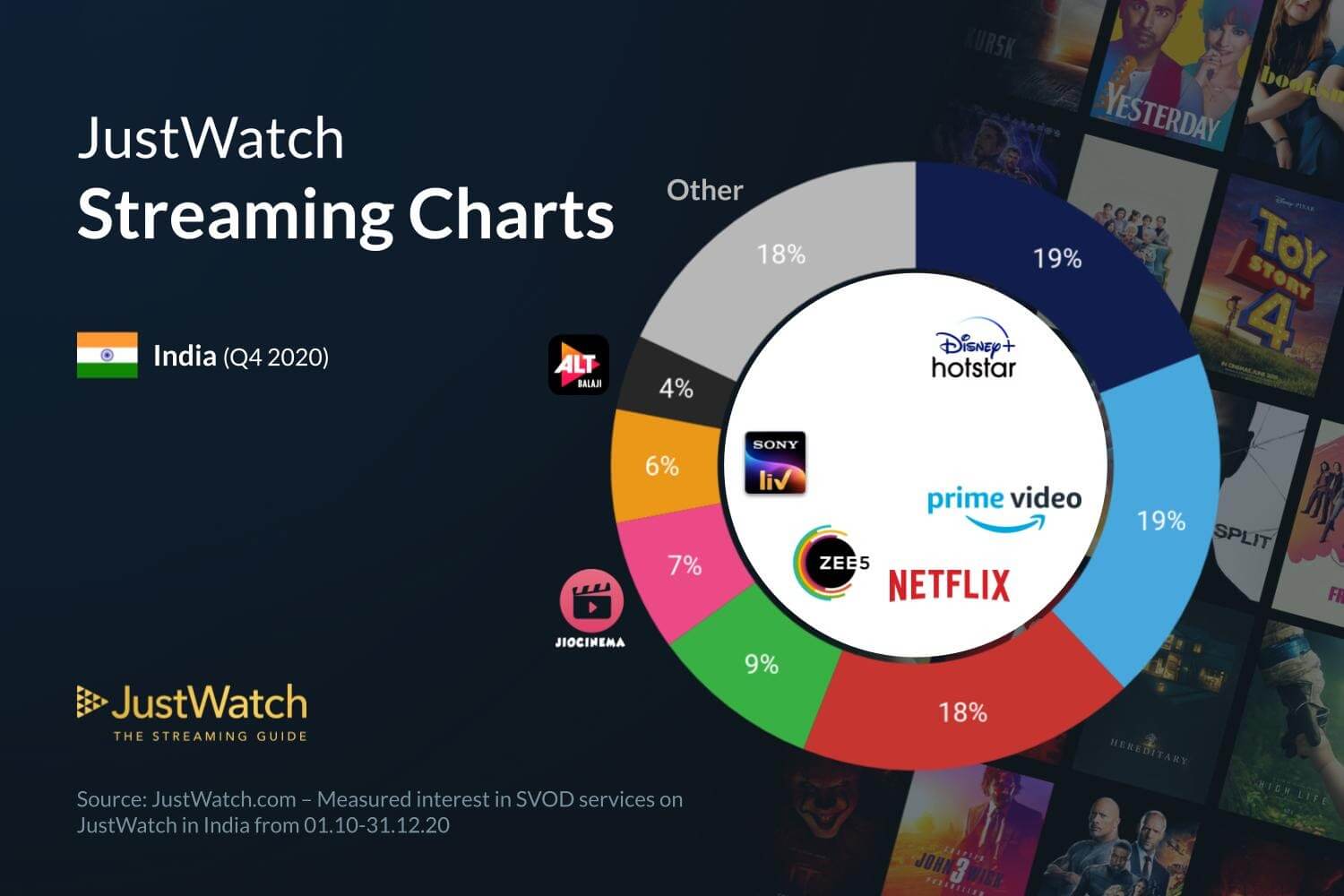 (Image Credits: Justwatch.com)
Market Size of OTT industry in India
There are currently more than 40 OTT service providers in India, which provide streaming services over the Internet. In the Fiscal year 2018, the OTT market in India was estimated at Rs. 2150 crores (nearly 300 million dollars)  and its value grew to nearly Rs. 3,500 crores (nearly 500 million dollars) in 2019. And this market is anticipated to grow at a cruising rate in years to follow. 
According to a report by E&Y, the number of OTT users in India will exceed 500 million by 2020, thereby making this country the second–biggest market after the US. In a recent report published by Boston Consulting Group, titled 'Entertainment Goes Online', the Indian OTT market is expected to reach US$ 5 billion by 2023 (Refer Image1 below). In India, Disney+Hotstar has the highest number of subscribers, followed by Amazon Prime, Sony Liv, Netflix, and Voot. However, this ranking figure may differ in terms of watchtime.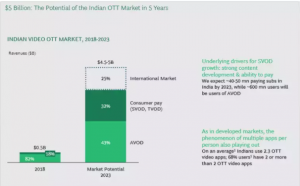 Image 1: Indian OTT market expected size (source: Brand Equity)
OTT Demographics in India
Here are a few more facts about the OTT platforms in India and their demographics:
Indians under the age of 35, account for nearly 90% of the time spent on OTT medium. And out of which, 79% of the viewers are male. 

The top 5% of the metros account for nearly 55% of the OTT platform users. 

The Indian OTT market ecosystem comprises of players from various industry segments like Televisi0n distributors (Videocon, Tata Skr, D2H, etc), telecom companies (Airtel, Reliance Jio, etc), companies with content presence (saregama, Filter copy, EROS now, etc), broadcasters (Disney+Hotstar, Zee5, etc) and independent platforms (Amazon Prime, Netflix, etc)

The OTT market is a very ad-based model. Advertisements derive a large chunk of the revenue for OTT platforms. And even subscription-based content is also on rise in India. 

And in India approximately 35% of users spend anything between 0-3 hours on OTT platforms, 35% spend anything between 3-9 hours on OTT platforms and nearly 7% spend more than 21 hours per week on OTT platform (

Image 2)

Salaried employees are the highest consumer of OTT platforms followed by students, business owners, housewives, and others.

The most preferred language for video content is English and Hindi. And even the regional language content has its fair market share.
Image 2: Weekly time spent on OTT media (source: India OTT Video Content Market Survey)
OTT Platforms Under the purview of Ministry of I&B
On November 9, 2020, the Government of India signed a gazette notification, to bring online films and audio-visual programs, and online news and current affairs content under the ambit of the Ministry of Information and Broadcasting (I&B) headed by Prakash Javadekar. Earlier the content of these platforms was not strictly regulated, as the audience for these platforms was limited in size. But with the growing reach and demand, these platforms have come under the regulatory purview of the GOI. The Government issued a negative list of dont's for video streaming platforms. The list of prohibited content is as follows:
Content deliberately and maliciously disrespecting the national flag or the national emblem.

Content having any visual or storyline promoting child pornography.

Content that maliciously intends to outrage religious sentiments.

Content that deliberately and maliciously promotes or encourages terrorism.

Content that has been banned for exhibition or distribution by law or court
What does this notification mean for OTT platforms?
With tighter norms and regulations, the OTT platforms will have to be more careful about the kind and quality of content that goes on their platform for public viewing. The OTT platforms might need to apply for the certification and approval of the content they wish to stream. 
Post Pandemic scenario of OTT platforms
By far the biggest challenge for the OTT platforms will come when the situation comes back to normal post Pandemic. When the other sources of entertainment like the Movie theatres, live shows, live performances, sports, gymnasium, etc resume, it remains to be seen as to how will the OTT platforms handle that situation. The OTT mediums might lose their charm amongst the viewers. This can be judged from the fact that even though the IPL tournament was scheduled without any audience in the stadium, but the viewership on the TV and other live medium (Disney+Hotstar) was more by 25-30% over the previous years. 
According to Ajay Bijli, Chairman and Managing director of PVR Ltd, "Human beings are not hardwired to sit at home. That is what gives me a lot of hope and confidence. Once the Pandemic surge comes down and vaccine arrives, new films will start coming, things are going to revive and pent-up demand is going to be huge". 
The Movie theatres were the first one to close and the last one to open due to Pandemic and lockdown. But once the situation gets normal, we could see a revival of this industry. But the surge of something comes at a cost of something else. And OTT platforms might be in for a stiff fight from other entertainment modes. And it remains to be seen as to how this industry comes out fighting and maintains its place in the world of entertainment.
That's all for today's Market Forensics. We'll be back tomorrow with another interesting market news and analysis. Till then, Take care and Happy investing!!


Hitesh Singhi is an active derivative trader with over +10 years of experience of trading in Futures and Options in Indian Equity market and International energy products like Brent Crude, WTI Crude, RBOB, Gasoline etc. He has traded on BSE, NSE, ICE Exchange & NYMEX Exchange. By qualification, Hitesh has a graduate degree in Business Management and an MBA in Finance. Connect with Hitesh over Twitter here!
---
Start Your Stock Market Journey Today!
Want to learn Stock Market trading and Investing? Make sure to check out exclusive Stock Market courses by FinGrad, the learning initiative by Trade Brains. You can enroll in FREE courses and webinars available on FinGrad today and get ahead in your trading career. Join now!!