Senco Gold IPO Review: Senco Gold Limited is coming up with its Initial Public Offering (IPO). The IPO will be open for subscription on July 4, 2023, and closes on July 6, 2023. The company is looking to raise Rs 405 Crores through IPO out of which Rs 270 Crores will be a fresh issue and the remaining will be an offer for sale of  Rs 135 Crores.
In this article, let us look deeper into the Senco Gold IPO Review and its future prospects, financials, opportunities, threats, and many more. Keep reading to know more!
Senco Gold IPO Review – About the Company
Senco Gold Limited is a pan-India jewellery retailer which was incorporated in 1994 in West Bengal, India. Later, in order to expand its activities in the field of the jewellery business, the Company was converted to a public limited company in August 2007 with the name Senco Gold Limited.
It primarily sells gold and diamond jewellery along with jewellery made of silver, platinum, and other precious stones under the brand name "Senco Gold & Diamonds". The company also sells costume jewellery, gold and silver coins and silver utensils across its stores.
With over 5 decades of experience, Senco Gold Limited is the largest organized jewellery retail player in the eastern region of India based on the number of stores. As on March 31, 2023, the company has 136 showrooms, which have a total area of approximately 409,882 sq. ft., in 96 cities and towns over 13 states across India. Senco Gold has both online and offline stores.
With a catalogue of 120,000 designs for gold jewellery and more than 69,000 designs for diamond jewellery, it offers a large variety of designs of handcrafted jewellery, most of which are designed and manufactured in-house in close collaboration with over 170 skilled local craftsmen (generally termed Karigars) in Kolkata and across the country.
With a team of 20 dedicated designers, the company also manufactures machine-made lightweight jewellery in gold and diamonds and source jewellery from third-party vendors.
Products of the Company
Senco Gold Limited primarily sells gold, diamonds, studded gold jewellery, jewellery made of silver, and platinum, gold and silver coins. It also sells other products like costume jewellery and utensils made of silver. In these categories, it offers jewellery like
Wedding Jewellery
Festival Jewellery
Daily wear Jewellery
Men's Jewellery
Kids Jewellery
Now let us look into their brand collections of Senco Gold Limited
Everlite is a collection of light-weighted jewellery crafted for modern Indian Women. The lightweight gold and diamond collection starts from approximately ₹ 5,000 and goes up to ₹ 60,000.
'Gossip' brand is made of sterling silver or base metal with precious and semi-precious stones, including zirconia, to cater to the silver jewellery needs of our customers, we have launched our 'Gossip' brand for fast-moving, fashionable and easy-to-wear jewellery.
Aham collection has been designed especially for the cosmopolitan man and can be used as part of daily wear as well as on social occasions. It includes a collection of rings, bracelets, cufflinks, ear-studs, chains and pendants in diamond, platinum, gold and silver.
The Vivaha Collection (marketed under the Senco-Di-wedding campaign) has a wide range of jewellery for weddings in the family, including the bride, the groom and their respective families. This collection offers an exclusive range of Filigree, Temple, Antique, Polki, Kundan and a unique diamond collection. The product offerings include waistbands, rings, Jhoomar, Nath, Haathphol, Maangtika, Necklace Sets, Armbands, Nose Pin, Hair Accessory, Bangles, Toe rings, Anklets, Nath, Sankha & Pola (Bangle), Kharu, Cheek and Long Chain.
Perfect Love Diamond Solitaire
This collection offers an exquisite range of solitaire earrings, rings, pendants, nose pins and single diamond studs.
Senco Gold IPO – Industry Overview
If we look at the global gems and jewellery industry, the global gold demand was at an 11-year high in 2022, followed by robust investment demand. Additionally, the demand for bars and coins grew by 2% to 1,217 tonnes, while holdings in ETFs fell by a smaller amount when compared to CY 2021. Investment demand (excluding OTC) reached 1,107 tonnes – recording a growth of 10%.
Coming to the Indian gems and jewellery industry, we can see that the gems and jewellery market was roughly valued around Rs 4,700 billion in fiscal 2023 with gold jewellery dominating the overall market with a 66% share as per the CRISIL reports. As a feather in the cap, India surpassed China in terms of gold consumption and emerged as the largest consumer of gold jewellery in the year 2022.
Senco Gold IPO – Financial Highlights 
If we look at the financials of Senco Gold Limited we can see that their assets have increased from Rs 1559.30 Crores to Rs 2905.32 Crores from FY21 to FY23. Similarly, the revenue of the company has increased from Rs 2,674.92 Crores to Rs 4,108.54 Crores from FY21 to FY23 respectively.
Moving forward if we see the net profits of the company, it has increased from Rs 61.48 Crores to Rs 158.48 Crores from FY21 to FY23. Additionally, the revenue CAGR of the company increased at a CAGR of 15.36% and the profit for the year has increased at a CAGR of 22.75%from Fiscal 2022 to Fiscal 2023
Another key metric to consider here is that the borrowings of the company have considerably increased from Rs 532.44 Crores in FY21 to Rs 1,177.17 Crores in FY23.
Summary of Financial Information
The Balance Sheet Of The Company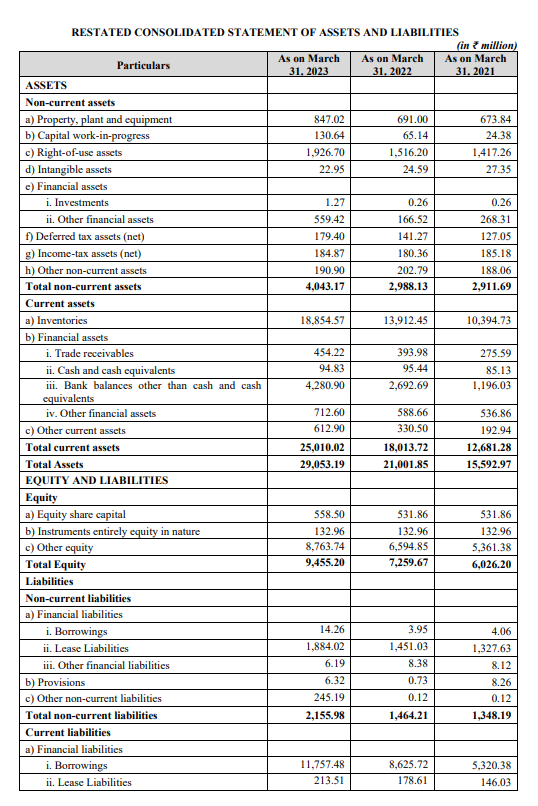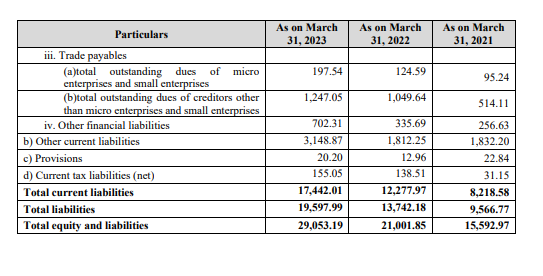 Competitors of the company
Strengths of the Company
The basic criteria that every buyer of gold and diamonds looks at is the authenticity of the brand. With a strong brand name and legacy of over five decades, Senco Gold Limited has gained the confidence of many customers.
The company has been doing BIS Hallmarking to all its gold jewellery since 2012, much prior to the mandatory use of BIS Hallmark which started in 2021. The act of the company to ensure transparency in its operations has increased the trust in the company which is a major strength of the company.
The company has focused more on the lightweight affordable jewellery and the designs liked by the younger generation. This is seen as a core competency of the company, as the working-age population (15-64 years) as a part of the overall population has risen from 65% in 2013 to 67% in 2021 and directly impacts the revenue of the company.
Senco Gold Limited has an experienced management team and institutional investor support which is a key contributor to the sustainable growth of the company
The company offers a wide variety ranging from festive collections to daily wear. This optimal product mix helps in increasing the overall profit margins of the company
Weaknesses of the Company
The company operates in a highly competitive market where there are several gold and jewellery companies that are well established, for example, Tanishq by TATA, Malabar Gold, etc. If these companies offer products at competitive prices, it would be a sign of threat to the company
The company requires a huge amount of working capital for continued growth. Hence the lack of working capital in the future would cause an adverse impact on the financial position of the business
The company was subjected to a "search and seizure" operation by the Income tax department in the past, which has resulted in taxation and criminal proceedings being initiated against our Company and our Individual Promoter. Any adverse outcome of such proceedings might have a negative impact on the business
As the prices of gold and diamond are volatile and dependent on many national and international factors, this might affect the revenue and profitability of the company.
Senco Gold IPO Review – Key IPO Information

| Particulars | Details |
| --- | --- |
| IPO Size | Rs 405 Crores |
| Fresh Issue | Rs 270 Crores |
| Offer For Sale | Rs 135 Crores |
| Opening Date | July 4, 2023 |
| Closing Date | July 6, 2023 |
| Face Value | Rs 10 per share |
| Price Band | Rs 301 to Rs 317 per share |
| Lot Size | 47 shares |
| Minimum Lot Size | 1 (47 shares) |
| Maximum Lot Size | 13 (611 shares) |
| Listing Date | July 14, 2023 |
Promoters: Suvankar Sen, Jai Hanuman Shri Siddhivinayak Trust And Om Gaan Ganpataye Bajrangbali Trust
Book Running Lead Managers: IIFL Securities, Ambit Private Limited and SBI Capital Market Limited
Registrar to the Offer: KFIN Technologies Limited
Objectives of the Issue
Funding working capital requirements of the Company
General corporate purposes
Senco Gold IPO – GMP
The shares of Senco Gold Limited traded at a premium of 18.93% in the grey market on June 30th, 2023. The shares are estimated to trade at Rs 377. This gives it a premium of Rs 60 per share over the cap price of Rs 317.
Closing Thoughts
In this article on Senco Gold Limited IPO Review, we looked in detail at the key information of the company including its overview and financials. Market analysts remain divided on the IPO and its potential gains due to the legal proceedings on the company. That's it for this post. Happy Reading!
Written by Bhagyalakshmi Patil
By utilizing the stock screener, stock heatmap, portfolio backtesting, and stock compare tool on the Trade Brains portal, investors gain access to comprehensive tools that enable them to identify the best stocks also get updated with stock market news, and make well-informed investment decisions.

---
Start Your Stock Market Journey Today!
Want to learn Stock Market trading and Investing? Make sure to check out exclusive Stock Market courses by FinGrad, the learning initiative by Trade Brains. You can enroll in FREE courses and webinars available on FinGrad today and get ahead in your trading career. Join now!!