Tata-Mistry Case Explained: The Supreme Court last month ruled in favor of the Tata Sons board and upheld their decision to remove then chairman, Cyrus Mistry from 2016. The Tata vs Mistry feud has been one of the most high-profile cases in the country. But what was it all about? Despite having a decades-long relationship that spanned two generations of the billionaire families, they are ending it in a messy divorce. Keep Reading to find out!
The
Tata

,

Mistry,

and

Wadia

History
The three remarkable families belong to the Parsi Zoroastrian community. Their ancestors are said to have fled persecution from Persia over a century ago finally making their way and finding refuge in western India. 
All 3 of them over the years have contributed massively to the country and currently hold billionaire status, making them one of the richest in the world. 
Deepening Ties between the Families 
The business ties between the families deepened during the 1970s. Charitable institutions like the Sir Dorab Tata and the Sir Ratan Tata currently own up to 66% of Tata Sons. Tata Sons were the holding company that managed the underlying Tata companies like Tata Motors, Tata Chemicals, Tata Steel, etc. But in 1969 these underlying companies were managed by a managing agency which was controlled by Tata Sons.
Wadia helps Tata retain control
Unfortunately for the Tata family the Monopolies and Restrictive Trade Practices (MRTP) Act was introduced in 1969. This made sure that the management agency system was abolished in India. According to this act, the charitable trusts could no longer cast a direct vote in corporate matters. They were to be represented by a neutral nominee who was appointed by the government.
This was an added blow in addition to Section 153A of the Companies Act, 1963, which allowed the government to add a public trustee on behalf of private trusts. This meant that the Tata companies were now independent of the parent board which in turn put the conglomerate at risk of hostile takeovers and coups.
For a while, the Tata companies stood firm together thanks to their visionary leader JRD Tata. But it still seemed that the group companies would fall apart and become independent in the long run or once JRD Tata retired. It was during this difficult period that Wadia a descendant of Muhammed Ali Jinnah and two other elite Parsi families, Petit's and the Tata's came to the rescue of the group. Nusli Wadia was also the godson of JRD Tata.
Wadia used his close relationship with BJP leaders PM Atal Bihari Vajpayee and L K Advani to lobby on behalf of Tata. Finally, in 2002 the Companies Act was amended. Several sections like Section 153A were even specifically amended. This allowed the Tata trusts to vote directly on the Tata Sons board which controlled all the group companies. 
Other Favors among the Tata and Wadia Families
These favors were common between the families as JRD had first helped Wadia to keep his inheritance. Young Wadia has just returned after completing his education only to find that his father was ready to sell Bombay Dyeing & Manufacturing Co. Ltd to R.P. Goenka with the support of Shapoorji Pallonji Mistry.
Thanks to the support given by JRD Tata their ties deepened. For a period of time, it was also rumored that Wadia was the possible heir to Tata and Sons.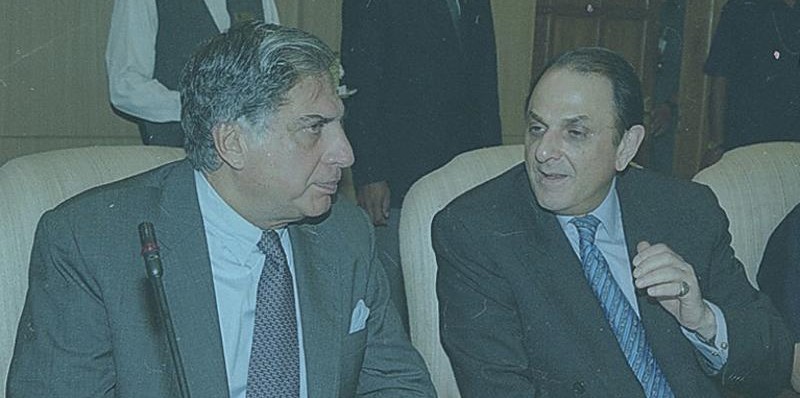 Wadia also further deepened his ties with Ratan Tata. To everyone's surprise, Ratan Tata was appointed as the chairman of Tata and Sons. Wadia stood by Ratan Tata and deal with the uprising within the group companies. 
How did the Mistry family enter the picture?
The Mistry family started holding a significant stake in Tata and Sons in the 1960s. This was made possible as several members of the Tata family decided to sell their stake. The first purchase for a 5.9% stake was made in 1965 when JRD Tata's widowed sister sold her stake.
Mistry further increased his stake in Tata Sons when Naval Tata chairman to the Sir Ratan Tata Trust tried to raise funds. This was done by selling off a 4.81% stake. They sold their stakes on the approval of JRD Tata. The third sale however was done without JRD Tata's consent in 1974 when his younger brother Darab Tata sold his stake to Mistry. This further created a rift between Mistry and JRD Tata. 
JRD and Wadia vs. Mistry and Naval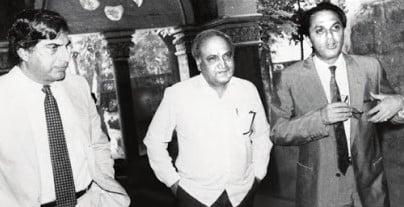 Rifts within the 3 families were common as family members would often take opposing sides. Thanks to their good relations JRD Tata even went on to invite Wadia to join the Tata board. This move however was opposed by Ratan Tata's father and Pallonji Mistry. The two even sought help from Indira Gandhi who already was wary of Wadia because of his connections with the opposing parties.
Wadia however backed out as it was evident that he would be met with hostility on the board. The relationship between Naval and Pallonji further was further carried on when Ratan entered the picture. When Ratan Tata was appointed as the chairman in 1991 in addition to Wadia's support Pallonji Mistry also helped strengthen Ratan Tata's position within the group.
Just a few days after becoming chairman Ratan Tata wrote to Pallonji Mistry. The letter stated "Our common agreement and mutual faith will foster a true and lasting relationship. Our standing together will be a matter of strength". This was followed by "Let me reiterate that I will never do anything to hurt you or your family." Sadly for the Mistry's this line no longer holds true in the current circumstances.
Tata-Mistry Case: Cyrus becomes CEO of Tata
When Ratan Tata finally decided it was time for him to step down as the chairman his possible heirs included the likes of John Thain (who was an American investment banker and the former CEO of Merill Lynch) and Cyrus Mistry.
Cyrus Mistry who was already a member of the board since 2006 was selected on the basis of a letter he had circulated among the board which outlined how Tata Sons must be managed. It was after he was appointed as Chairman that the cracks began to develop between the Tata and Mistry relationship.
When Cyrus was appointed as the chairman to Tata Sons he was the only one to holds that position and not be appointed as the chairperson for  Sir Dorab Tata Trust. This position was retained by Ratan Tata. Nusli Wadia is reported to have stated in response," All you have done is move the power center from the board to the trusts.''. This meant that Cyrus now had lesser power in comparison to other chairmen before him. You can already see the friction forming among the families. 
Mistry's Identity Crisis
The main reason why Ratan Tata had not considered John Thain as his replacement despite having a stellar resume was because Ratan felt that Tata should be managed by an Indian to retain its Indian identity. This moved the post in favor of Cyrus Mistry. There however was one problem, Cyrus held Irish citizenship. Despite receiving repeated requests from Tata, Mistry never renounced his Irish citizenship.
Several Conflict of Interests
During Mistry's time as Chairman of Tata, there arose several conflicts of interest between his personal life and the company. The most consequential of these was when Tata paid Rs 2,926.35 crore to Shapoorji Paloonji & Co. Although the payment was made for several constructions made by the company for Tata, Cyrus benefited from the contracts as he was part of the Mistry family which owned Shapoorji Paloonji. 
Another conflict of interest arose when a multi-million dollar endowment fund created for Yale. The conflict of interest once again arose here as Cyrus Mistry's son joined Yale the same year. 
Cyrus Questions Tata Trusts
As we have seen earlier Tata has always battled questions of their Trusts playing a role in the running of the companies. The trusts had received special treatment where even laws had favored them in addition to the tax exemption. This time the questions came from within the company. Mistry questioned why an entity set up for philanthropic causes was being used to ruin and control the conglomerate.  
Mistry already did not have the same powers the chairmen had before him. So he did the next best thing to attain this. He set up the Group Executive Council (GEC) which was meant to supervise the CEOs of the group companies. In addition to this, the individual underlying companies of Tata Sons were now being also asked to set up their own philanthropic foundation. Despite institutions like Sir Dorab Tata and the Sir Ratan Tata Trust already existing.
Another instance that further dented Mistry's relationship with Tata was during the acquisition of Welspun Renewables Energy. Although the talks had begun back in November 2015 this was only disclosed to the board in May 2016. Although it was Tata Power that was acquiring Welspun there was no mention of the acquisition during their March 2016 meeting for talks on energy issues. Finally, when they were informed in May the email was only meant to inform and not seek approval from the directors.
Another factor that played a major role in Mistry's removal was his motivation to sell several loss-making entities of Tata instead of helping them turn their fortunes. These included the Nano project and Tata Steel Europe among others. This ultimately would have undone Ratan Tata's legacy within the conglomerate.
Removal of Cyrus Mistry 
On 24th October 2016, Ratan Tata along with Nitin Nohria met with Cyrus asking him to step down as the chairman of Tata. They also made it clear that they were otherwise going to move a resolution for this matter before the board if he refused. They also made it clear that his term would anyways run out in March 2017.
Mistry however refused to step down. A board meeting was held 15 minutes later which eventually resulted in Mistry being sacked. Tata then went onto appoint N Chandrashekaran as Chairman. N Chandrashekaran was also Tata's first non-Parsi chairman. 
Mistry's removal also saw Wadia who was once known as Ratan's corporate samurai turn against Tata. Following this even Wadia was voted out of the boards of Tata Steel, Tata Chemicals, and Tata Motors. 
Mistry Sues Tata
Mistry went on to file a suit against Tata Sons alleging oppression and mismanagement. The NCLT ruled in favor of Tata dismissing Mistry's allegations. The NCLAT however ruled in favor of Mistry in December 2019 citing the removal as illegal.
Ratan Tata and Tata Sons challenged the NCLAT before the supreme court. The Supreme Court bench which included Chief Justice SA Bobde and Justices AS Bopanna and V Ramasubramanian on March 26, 2021, set aside the ruling given by the NCLAT hence ruling in favor of Tata.
 Ratan Tata stated in a Twitter post.
In Closing
The ruling by the Supreme Court saw shares of Tata Motors and Tata Steel Rally. On the other hand, the shares of SP Group companies saw a sharp single-day decline. The ruling however did not mean an end to the drama. The court has left it to the two parties to discuss the terms of their separation. The SP Group has valued its stake in Tata at $24 billion.
Tata on the other hand responded by valuing their stake only at $11 billion. What is certain now is all three families have fought hard to arrive at their wealthy position. Wadia fought for his company only when he was 26, Ratan Tata managed to retain control when he was just appointed chairman and the Mistry family has always been strategic in their options. 
What do you think about the future of the three parties and the Tata-Mistry case judgment? This could finally be the part where Tata finally begins to focus on their growth prospects or this could also take a turn for the worse. Let us know what you think in the comments. Happy reading!


Aron, Bachelors in Commerce from Mangalore University, entered the world of Equity research to explore his interests in financial markets. Outside of work, you can catch him binging on a show, supporting RCB, and dreaming of visiting Kasol soon. He also believes that eating kid's ice-cream is the best way to teach them taxes.
---
Start Your Stock Market Journey Today!
Want to learn Stock Market trading and Investing? Make sure to check out exclusive Stock Market courses by FinGrad, the learning initiative by Trade Brains. You can enroll in FREE courses and webinars available on FinGrad today and get ahead in your trading career. Join now!!