Consumer Durable Stocks in India: The term 'consumer durables' has become a little difficult to define these days. Our grandparents used to boast about how they used appliances for more than thirty years. Life was simple.
Gone are the good old days when owning certain appliances was a matter of pride. These days we prefer upgrading them every time we're told of new technology, even when expenses are mounting.
Consumer durables include appliances for domestic use, such as televisions, refrigerators, air conditioners and washing machines. They tend to be expensive as they last longer.
In this article, we shall take a look at the top five consumer durable stocks in India. We shall understand their business and compare them based on various parameters. Keep reading to find out!
Consumer Durable Stocks in India #1 – Voltas Limited
Voltas has been keeping India cool since 1954. Tata Sons joined hands with a swiss company Volkart Brothers to form the reputed engineering solutions provider. Voltas is India's No. 1 Room Air Conditioner brand and a globally recognized project specialist. The company enjoys a strong presence across India, the Middle East, South East Asia and Africa.
Voltas offers a comprehensive range of cooling solutions. Its product portfolio includes refrigerators, washing machines, microwave ovens, and dishwashers.
In addition, its projects business provides MEP (Mechanical, Electrical and Plumbing) and HVAC (Heat, Ventilation, and Air Conditioning) solutions. The company closely works with the government of India for various rural electrification and water management projects.
Market Share
Voltas has been a market leader in the room AC segment since 2012. Currently, it has a market share of over 24%. Further, it is a market leader in textile spinning machinery. The company manages over 5,000 customer sites across India in industries like healthcare, IT infrastructure, hospitality, metro rail, airports and so on.
Manufacturing Facilities
Voltas has four manufacturing facilities across India. It has a manufacturing facility in Gujarat in collaboration with a Turkish brand Arçelik. This joint venture has helped it to capture a larger market share in the white goods segment. The facility has an annual production capacity target of 2.5 million units by 2025.
Production – Voltas Beko
Voltas entered the home appliances industry under the brand Voltas Beko in 2018. This is with the help of a 50:50 joint venture with Arçelik.
Distribution Network
The company is continuously expanding its distribution channels. Further, it is setting up exclusive outlets that will act as an 'Experience Zone', providing a hands-on feel for the complete range of Voltas products.
Awards
Here's a list of some of the recent awards won by Voltas:
National Energy Conservation Award, 2020
ET Most Iconic Brand, 2020
'Digital Marketing Excellence – Marketer of the Year – Gold Winner' at DIGIXX 2020
India's Most Desired Brand – Air Conditioner
Gold Standard of Marketing Award at the 2020 Effie Award
Reader's Digest Trusted Brand Award – Air Conditioner
Consumer Durable Stocks in India #2 – Dixon Technologies
Dixon Technologies is the largest manufacturer of LED TVs in India. They are the brand behind many brands. They manufacture for companies like Samsung, Panasonic, TCL, OnePlus, Xiaomi and many more. In addition, they manufacture lighting products for companies like Philips, Havells, Syska, Bajaj, Wipro, Orient and more.
Further, they are leading contract manufacturers of semi-automatic washing machines for clients like Godrej, Samsung, Lloyd, and Panasonic. They dabble with manufacturing mobile phones and security systems. In short, they are leading contract manufacturers of consumer durables in India.
Contract manufacturing is booming these days. Companies do not want to invest a tonne of money in production facilities when they can get equally good products made from somewhere else. Many companies like outsourcing production and Dixon's numbers have exploded. Their revenue has grown almost nine-fold from FY13 to FY15 to ₹10700 crores!
Dixon Technologies operates on the Original Designing Manufacturer (ODM) as well as the Original Equipment Manufacturer (OEM) model. Under the ODM model, Dixon Technologies can flaunt its creativity. It can sprout the idea, design the product from scratch, choose raw materials and even change certain technical specifications.
However, under the OEM model, it sources parts, components and other materials to assemble the final product based on the client's specification. The client decides how the product will look and feel.
Revenue contribution and Production Capacity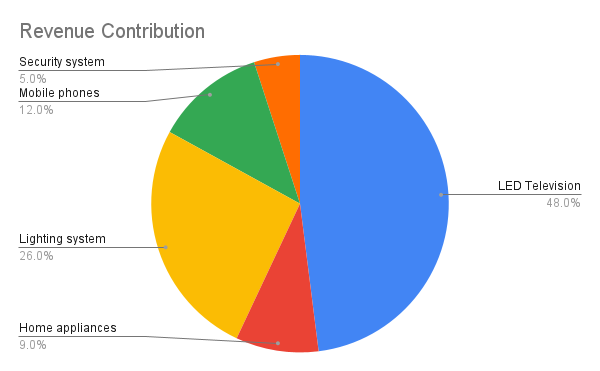 LED Televisions (48% ) – 4.4 Mn units P.A
Home appliances (09% ) – 1.2 Mn units P.A
Lighting system (26% ) – 240 Mn units P.A
Mobile phones ( 12% ) – 40 Mn units P.A
Security system (05% ) – 7.5 Mn units P.A
Manufacturing Facilities
Dixon Technologies has 11 Manufacturing units covering 12 lac sq ft in India. They offer complete solutions to their customers from manufacturing and designing to assembly and delivery support across all the verticals. The company has also widened its customer base across both Domestic and International brands across various business segments.
The company's new manufacturing facility has been set up and is under the trial phase. It has a capacity to produce 20 Mn smartphones per annum. With the help of this facility, the company expects to generate a cumulative revenue of 25,000-28,000 Crores in the next 5 years.
Approval under the PLI scheme
Padget Technologies, a wholly-owned subsidiary of Dixon Technologies has received permission from the government under Production linked incentive for manufacturing mobile phones. Under this scheme, there is an incentive of 4- 6% on incremental sales.
Foray into Medical electronics
Dixon entered into an agreement with Molbio in FY20 for the manufacturing of Truelab and the machine is capable of performing multiple tests per day for critically infectious diseases including Covid-19.
MoU with Bharti Enterprise
Dixon Technologies has entered into an MoU with Bharti Enterprise Ltd to form a joint venture to manufacture telecom and networking products like modems, routers, set-top boxes, IoT devices and many more for the telecom sector including Airtel. Dixon will own a 74% stake and Bharti enterprise will own 26% of the joint venture.
Whirlpool of India Ltd is one of the leading manufacturers and marketers of major home appliances in India. Its product portfolio includes a variety of refrigerators, washing machines, air conditioners, microwave ovens, and built-in and small appliances.
The company serves certain countries in SAARC and ASEAN, in addition to Indian markets. The company is one of the largest exporters of home appliances from India.
They export to more than 30 markets across the globe and exports account for about 5% of their revenues. The revenue from the sale of its products accounts for more than 90% of its revenues and the rest comes from the sale of services.
Parent Company
Whirlpool Corporation of USA is the parent company of Whirlpool of India. It has an iconic brand portfolio that includes Whirlpool, KitchenAid, Maytag, Consum, Brastemp, Amana, and others. Whirlpool of India. The company provides product development and procurement services to Whirlpool Corporation, USA and other group companies.
Manufacturing Facilities
Currently, Whirlpool of India Ltd. owns and operates 3 manufacturing facilities in Faridabad (Haryana), Pune (Maharashtra) and Puducherry. These factories are supported by a Global Product Development Centre located in India. Hundreds of engineers and technicians work here, round the clock, developing product designs for the company's entire market.
Consumer Durable Stocks in India #4 – TTK Prestige
TTK Prestige is India's largest kitchenware company. It was established in 1955 as a private limited company and it went public in 1994.
Revenue Mix
TTK Prestige's product profile is diversified with
31% of the revenue coming from pressure cookers
15% from cookware
14% from gas stoves
12% from mixer grinders
and 28% from appliances and cleaning solutions.
Manufacturing Facilities
TTK Prestige has five state-of-the-art manufacturing plants at Hosur, Coimbatore, Karjan, Roorkee, and Khardi. In addition, it has two dedicated Research and Development centres.
Distribution Companies
It has a presence in more than 305 cities all over India with 545 prestige exclusive stores. In addition, it has 24 regional sales centres and more than 350 authorized service centres. The company opened two prestige lifestyle stores in Bengaluru in FY20.
Crompton Greaves Consumer Electricals Limited is one of the leading consumer companies in India. It has two business segments – Lighting and Electric Consumer Durables. They market their products under the "Crompton" brand name in India and select export markets.
Manufacturing Facilities
The company's manufacturing facilities are located in Goa, Vadodara (Gujarat), Ahmednagar (Maharashtra) and Baddi (Himachal Pradesh).
Revenue Mix
Electrical Consumer Durables (Fans, Pumps & Appliances) account for 75% of its revenues. Lightning Products (Luminaire, Light sources) account for the remaining 25%.
Product Portfolio
Fans– It manufactures ceiling fans, table fans, pedestal fans and wall-mounted fans. In addition, it manufactures ventilating fans, heavy-duty exhaust fans, air circulators, and industrial fans.
Pumps– The company manufactures residential, agricultural, solar and speciality pumps.
Appliances– Further, it manufactures water heaters, air coolers, mixer grinders, irons, small kitchen appliances, and power solutions.
Lighting– The company manufactures LED lamps, battens, panels, streetlights and floodlights, interior & architectural lighting, incandescent lamps, compact lamps, and fluorescent lights.
Moreover, it is a leader in fans, domestic pumps and street lighting in the Indian market.
Expanding Reach
Crompton Greaves Consumer Electricals Ltd has been investing in building its brand through marketing activities. It has stepped up its above-the-Line (ATL) marketing and digital advertising for all its business segments.
These activities are non-targeted and have a wide reach. Its products are present in approximately 60% of the electrical goods stores in India. Further, it is targeting rural channels with towns with populations of 50,000 to 1,00,000 through a focused approach.
Change in Promoters
Initially, Crompton Greaves Consumer Electricals was a part of the Avantha Group. It was demerged and the group sold its entire 34.37% stake. This stake was bought by Advent International and Temasek for approximately 2000 crores. Thereafter, they sold 8.15% of their stake in December 2019 and 8.77% in December 2020.
SBI Mutual Fund, HDFC Life Insurance, Norges Bank, Fidelity, and Societe Generale bought this stake. With this, Advent and Temasek's combined stake decreased from 34% to 17% in the last two years.
Key Ratios of 5 Consumer Durable Stocks in India
| Company | Voltas | Dixon Technologies | Whirlpool of India | TTK Prestige | Crompton Greaves Consumer Electricals |
| --- | --- | --- | --- | --- | --- |
| Face Value (₹) | 1 | 2 | 10 | 1 | 2 |
| EPS (₹) | 15.23 | 32.04 | 44.64 | 21.99 | 9.13 |
| ROE (%) | 9.64 | 25.25 | 18.1 | 16.87 | 39.84 |
| Debt to Equity | 0.07 | 0.21 | 0 | 0.02 | 0.27 |
| Current Ratio | 1.45 | 1.17 | 2.09 | 3.31 | 1.91 |
| Market Cap (Cr) | 33,075 | 21,423 | 20,022 | 11,249 | 21,888 |
| Promoter's Holdings (%) | 30.3 | 34.3 | 75 | 70.41 | 5.94 |
| Dividend Yield (%) | 0.55 | 0.06 | 0.32 | 0.74 | 0.72 |
| Stock P/E (TTM) | 65.63 | 112.68 | 35.35 | 36.91 | 37.84 |
| Net Profit Margin | 7.76 | 1.77 | 8.99 | 11.21 | 10.72 |
In Closing
In this article, we took a look at the top 5 consumer durable stocks in India. We started Voltas Limited, followed by Dixon Technologies (India) Limited, Whirlpool of India Limited, TTK Prestige Limited and Crompton Greaves Consumer Electricals Limited.
We took a look at their revenue mix, manufacturing facilities, distribution network and more. Later, we compared them based on key ratios. That's all for this article, folks. We hope to see you around 🙂
You can now get the latest updates in the stock market on Trade Brains News and you can even use our Trade Brains Portal for fundamental analysis of your favourite stocks.

Hey, there! Thank you for stopping by 🙂 Simran is a master graduate in commerce from Bangalore University, an NSE-certified Fundamental Analyst and a NISM-certified Research Analyst. She finds interest in investing and personal finance. Outside of work, you can find her painting, reading and going on long walks.
---
Start Your Stock Market Journey Today!
Want to learn Stock Market trading and Investing? Make sure to check out exclusive Stock Market courses by FinGrad, the learning initiative by Trade Brains. You can enroll in FREE courses and webinars available on FinGrad today and get ahead in your trading career. Join now!!