Credit Rating Agencies In India: What is the first question that pops into one's head when someone asks them for money? It is the borrower's creditworthiness. In other words, the lender wonders if the borrower has the capacity to repay the amount borrowed. If it's a small amount, the lender might lend it with faith.
On the contrary, if the sum involved is large, they get to know the borrower better and then decide. They find out details about the borrower's credit score, income, existing debts and more.
Similarly, companies may have the need to borrow money. Their lenders check if the company is in a position to repay the amount. Here's where credit rating agencies like S&P Global, Moody's, and the Fitch Group step in. They decide whether a company or government might default on the money that it has borrowed.
They assign probabilities to such events and rate companies on a scale from AAA to D. AAA is the highest rating, while D indicates a default.
In this article, we'll take a look at credit risk and the top credit rating agencies in India. We'll understand how they work. Then we'll take a look at the importance of credit ratings and more. Keep reading to find out!
What is Credit Risk?
Credit risk is the possibility of a lender incurring a loss, due to the borrower's failure to repay a loan. It is the risk borne by lenders when they extend credit to borrowers. The possibility of a default is very real and it can hit the lender's bottom line. When lenders anticipate interruptions of cash flows and increased cost of collection, they increase the coupon rate. This mitigates credit risk and provides for greater cash flows.
Credit Rating and Credit Rating Agencies
A credit rating is the opinion of a credit rating agency regarding the willingness and ability of an entity to fulfil its financial obligations within the established due dates and in full. Additionally, it indicates the likelihood that a debtor will default. However, a credit rating does not guarantee or assure the performance of a debtor.
Credit rating agencies are independent entities. They are not involved in the transactions of the deal. Therefore, they are deemed to provide an independent and impartial opinion. They analyze the qualitative and quantitative attributes of borrowers before rating their credit.
Top Credit Rating Agencies in India
The Securities and Exchange Board of India (SEBI) has authorized seven credit rating agencies in India. These are CRISIL, ICRA, CARE, India Ratings and Research Pvt Ltd, Acuité Ratings & Research, Brickwork Ratings India Pvt. Ltd. and Infomerics Valuation and Rating Pvt. Ltd.
Credit Rating Agencies in India #1 – CRISIL
CRISIL Ltd is one of the oldest credit rating agencies in India. In fact, it is India's first credit rating agency. It is the foremost provider of high-end research to large banks and leading corporations. The erstwhile ICICI Ltd along with UTI and other financial institutions were its promoters.
CRISIL Ltd is a globally diversified analytical company that provides ratings, research, risk and policy advisory services. It operates in India, the UK, the USA, Poland, China, Hong Kong and Argentina. It evaluates the credit ratings of entities based on their strengths, market reputation, market share and board.
Rating Business
The company has ratings outstanding on over 8,000 large and mid-scale corporates and financial institutions. This is the most profitable business of the company.
It accounts for more than half of the total profits though it contributes only 28% to its revenue. Pursuant to changes in SEBI's regulations, the company separated its credit rating business into a wholly-owned subsidiary, CRISIL Ratings Ltd.
Other Businesses
CRISIL's other businesses include its research business and advisory business. Its research business contributes to about 65% of its revenues while its advisory business contributes to 7% of its revenues.
Under its research business, it provides economy and industry research to over 140 global and regional financial institutions. Further, it provides business intelligence services to over 25 corporates and investment banks across the global financial services industry. It acquired a 100% stake in Greenwich Associates in 2020. This subsidiary provides high-value data, analytics and insights to the financial services industry. This helps its clients to improve their business results.
CRISIL also provides a wide array of advisory services across the infrastructure development cycle. It provides policy and regulatory advisory, infrastructure financing, programme management and others.
Association with S&P Global
CRISIL is a subsidiary of S&P Global Inc. This association helps it to blend local and global perspectives in shaping its strategy and governance systems. It has an opportunity to leverage the S&P Global brand through referrals and partnerships in the international market.
In addition, the regular interface between the teams helps in knowledge sharing. Further, they can pursue commercial opportunities on an arm's length basis.
Credit Rating Agencies in India #2 – ICRA
Leading financial/investment institutions, commercial banks and financial services companies set up ICRA Limited in 1991. It is an independent and professional credit rating agency. It provides rating, management consulting and outsourcing and information services.
Services
ICRA provides rating services and industry research and is one of the most experienced credit rating agencies in India. It rates debt instruments that are issued by manufacturing companies, commercial banks, non-banking finance companies, financial institutions, public sector undertakings and municipalities, among others.
Further, it provides research services across the economy, industry and companies. S&P India LLC holds a 42.77% stake in it, followed by S&P Global Asian Holdings Pte. Ltd (15.79%) and Standard & Poors International LLC (8.22%).
ICRA provides research services across more than 60 industries. Its reports provide in-depth analysis across business and profitability outlook, industry analysis, competitive landscape, regulatory environment and more.
Revenue Breakup
It derives about two-thirds of its revenue from ratings, research and other services. The remaining one-third of its revenue comes from outsources and information services followed by consulting services. Three-fourths of its revenue comes from its services in India and the rest comes from the services provided globally.
Past Penalties
ICRA was penalised for ₹ 1 crore by SEBI in connection with lapses on their parts while assigning a credit rating to non-convertible debentures of IL&FS.
Association with Moody's
Moody's Investors Services, one of the largest credit rating agencies in the world, is an indirect promoter of the company. ICRA has a technical services arrangement with Moody's. It provides ICRA with access to Moody's global research base, which benefits its in-house research capabilities.
Moodys Investment Company India Private Limited holds a 31.66% stake in the company. Additionally, Moodys Singapore Pte Ltd holds a 20.20% stake in ICRA.
Credit Rating Agencies in India #3 – CARE Ratings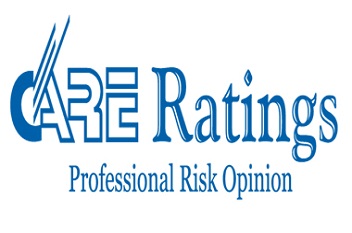 CARE Ratings Ltd. is a leading credit rating agency in India. It provides various credit ratings that help corporates to raise capital for their various requirements. Further, it provides assistance to investors to make an informed decision based on the credit risk and their own risk-return expectations.
Care Edge
It is a knowledge-based group that provides near real-time research on all domestic and global economic developments. Moreover, it undertakes studies and surveys and studies on different subjects. Its industry research team tracks and publishes sector reports on an ongoing basis.
Changes in Top Management
In December 2019, its MD and CEO, Mr Rajesh Mokashi resigned. This happened after he was sent on leave due to an anonymous complaint filed with the SEBI. Then, Mr Ajay Mahajan joined as the new MD & CEO in April 2020.
Later in January 2021, Mr TN Arun Kumar, Executive Director & CRO, and Mr Bharat A Adnani, CFO resigned on account of personal reasons.
Future Plans
The company plans on getting back its lost market share.
It has partnered with Tresata to improve the quality of its ratings by using AI for the early detection of frauds.
It plans to grow its non-rating business from 1-2% to 40-50%.
The company plans to cross sales of ₹300 to ₹350 crores in a three-year time frame.
Past Penalties
The SEBI had imposed a penalty of ₹ 1 crore for its lapses in giving credit rating to non-convertible debentures of IL&FS.
Unlisted Credit Rating Agencies in India
Brickwork Ratings India Private Limited, India Ratings and Research Pvt. Ltd. and Infomerics Valuation and Rating Pvt. Ltd. are a few unlisted credit rating agencies. Further, Acuité Ratings & Research Limited is an unlisted public company.
Brickwork Ratings India Private Limited
It is accredited by RBI and empanelled by NCD, NSIC, and MSME ratings and grading services in addition to being registered with the SEBI. Canara Bank is its leading promoter and strategic partner.
Brickwork Ratings India Private Limited assigns credit ratings to bank loans, capital market instruments, municipal corporations and SMEs. Moreover, it grades real estate investments, NGOs, hospitals, MFI, and so on. It works on several rating systems depending on the financial instrument involved.
India Ratings and Research Pvt. Ltd.
The rating agency was formerly known as Fitch Ratings India Pvt. Ltd. It determines credit ratings for corporate issuers, financial institutions, managed funds, project finance companies, structured finance companies and urban local bodies.
Infomerics Valuation and Rating Pvt. Ltd.
It is an RBI -accredited and SEBI-registered credit rating agency. This rating agency offers an unbiased assessment and evaluation of the creditworthiness of banks, non-banking financial companies (NBFCs), small and medium scale units (SMUs)and large corporates.
Infomerics Valuation and Rating Pvt. Ltd. aims to reduce any kind of information asymmetry amongst lenders and investors.
Acuité Ratings & Research Limited
Acuité Ratings & Research Limited is a full-service Credit Rating agency that is registered with the SEBI. It is accredited by the Reserve Bank of India (RBI) as an External Credit Assessment Institution (ECAI), for Bank Loan Ratings under BASEL-II norms. Earlier, it was known as the Small Medium Enterprises Rating Agency of India. It is a public company, however, it is not a listed company.
Today, they have a significant market share in bank loan ratings. Bankers and investors in debt capital markets readily accept their ratings. Further, they have a strong presence in the corporate and the financial sector. They have ratings on SMEs as well as on large companies with debt in excess of ₹5,000 crores.
The rating agency currently has a 50-member analytical team with professional qualifications and experience in rating a large number of corporates and financial sector players of varied sizes.
Moreover, it employs a rich mix of MBAs, CAs, CFAs, FRMs, Economists, Statisticians, and Engineers. Further, they actively pursue their goal to unlock the growth potential of financial markets and enable their clients to get better insights to make informed decisions.
Key Metrics Of Top Credit Rating Agencies in India
| Particulars | CRISIL Ltd. | ICRA Ltd. | Care Ratings Ltd. |
| --- | --- | --- | --- |
| Face Value (₹) | 1 | 10 | 10 |
| EPS (₹) | 69.01 | 116.35 | 25.33 |
| ROE (%) | 29.55 | 13.31 | 11.59 |
| Debt to Equity | 0 | 0 | 0 |
| Current Ratio | 1.79 | 4.26 | 10.34 |
| Market Cap (₹ in Cr.) | 23,606 | 3,778 | 1,279 |
| Promoter's Holdings (%) | 66.79 | 51.87 | 0 |
| Dividend Yield (%) | 1.42 | 0.72 | 3.94 |
| Stock P/E (TTM) | 46.84 | 33.62 | 17.02 |
| Net Profit Margin | 20.24 | 27.46 | 36.61 |
Note: Many of these metrics are as per 2021 data. The data for 2022 is not available for a few companies as of now. However, we shall keep you posted.
In Closing
In this article, we took a look at some of the top credit rating agencies in India. We understood the meaning of credit risk, credit ratings and credit rating agencies. Then we took a look at their business in detail. And finally, we took a look at key metrics related to the listed companies.
Let us know what you think in the comments below. Keep visiting us for articles like this and more. Happy investing, until next time!
You can now get the latest updates in the stock market on Trade Brains News and you can even use our Trade Brains Portal for fundamental analysis of your favourite stocks.
Hey, there! Thank you for stopping by 🙂 Simran is a master graduate in commerce from Bangalore University, an NSE-certified Fundamental Analyst and a NISM-certified Research Analyst. She finds interest in investing and personal finance. Outside of work, you can find her painting, reading and going on long walks.
---
Start Your Stock Market Journey Today!
Want to learn Stock Market trading and Investing? Make sure to check out exclusive Stock Market courses by FinGrad, the learning initiative by Trade Brains. You can enroll in FREE courses and webinars available on FinGrad today and get ahead in your trading career. Join now!!