Top EV Stocks in India: When it comes to transport, new technologies just keep popping up around the world. These alternative technologies in transport are mainly based around electric vehicles with many companies jumping on the bandwagon to get some traction before the industry gets a radical shift away from traditional fossil fuels.
This change can also be seen as a catchup that existing companies are trying to play in the electric vehicle (EV) segment with companies like Tesla and the bars set by them before it's too late. Today, we take a look at the electric vehicle segment in India and the best EV stocks in India for investors to watch out for in this segment.
Why Electric and What is the plan ahead?
One of the major reasons why countries are forced into adopting an electric alternative is climate change. India according to Environmental Pollution Index (EPI) 2020 is ranked 168 out of 180 in terms of air quality.
One of the strategies adopted to combat this has been the push for electric vehicles (EVs). This will not only improve the environment but also India's overall economic health. India currently imports crude oil and which sets us back in a deficit of approx $60 billion.
The aim set by the government has been 100% electrification by 2030. This is a humungous target considering the early stages of adoption that we currently are in.
The electric vehicle adoption rate in India is less than 1% according to a McKinsey&Company report. According to Bloomberg, in the six years leading up to October 2019, India has barely sold more than 8,000 electric cars. If compared to countries like China these sales figures are achieved in less than 2 days.
Some state government realizing their role have tried to eradicate one of the major barriers to owning an EV i.e. the high initial cost. This can be seen in the example of Maharashtra where subsidies were announced amounting to 1 lakh for electric vehicles. Consequently, Maharashtra had the highest sales volume since 2017 in the Indian electric car market.
The government has also realized that it is best to target their efforts toward the public transport system in the initial stages. This is because the purchase of EVs in the private sector will depend on major other factors like attractiveness etc. The public transport system being one of the most heavily used in a country like India will definitely offer a huge boost to the sector.
Top EV Stocks in India – Leading Vehicle Manufacturers
The Indian EV industry being in its nascent stages does not have an established market leader in all vehicle types. There are 10+ major players existing in the 2-wheeler segment, 3-4 in Electric buses, and a few in car manufacturing. The following are the top Electric Vehicle (EV) Manufacturers in India:
Mahindra is the pioneer of EV in the Indian space. Being the first major EV manufacturer it launched Mahindra Reva, its first EV as early as 2001. The Mahindra Reva was India's first electric car. Over the years Mahindra has gone ahead to set up a dedicated R&D centre in Bengaluru.
Some of its other EV variants include the Mahindra E20 and eVerito. Mahindra however has not only focussed on the manufacture of EVs but also battery packs and has partnered with various institutions in order to boost EV charging.
Top EV Stocks in India #2 – Tata Motors


Tata is India's biggest automobile manufacturer. Its automobile segment ranges from the manufacture of cars, utility vehicles, buses, trucks, and defense vehicles. Its associate companies include Jaguar Land Rover and Tata Daewoo. But when it comes to the EV segment Tata is a new entrant when compared to Mahindra.
In India, Tata Motors has an industrial joint venture with Fiat. One of Tata's major benefits has been its ability to use resources from around the world. Tata's innovation efforts are focused on developing auto technologies that are sustainable as well as suited.
With design and R&D centers located in India, the UK, Italy, and Korea. Tata Motors in collaboration with its subsidiary, the UK based Tata Motors European Technical Centre (TMETC), is looking to have a major play in the EVs market in India. When it comes to EVs, Tata has focussed on the Passenger Vehicles and Electric Buses market in India.
When it comes to four-wheelers Tata offers 4 vehicles to pick from. The Nexon EV, Tigor EV, Nano EV, and the Tiago electric variant. In the Electric bus segment, Tata expects its demand from State transport Unions. The expected demand is estimated to be around 400,000 buses in the long run.
Apart from EVs, Tata has also focussed on setting up charging stations in its efforts to improve the industry infrastructure.
Top EV Stocks in India #3 – Ashok Leyland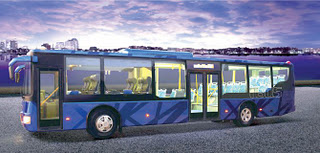 Ashok Leyland, the Hinduja Group's flagship company, is the 4th largest bus manufacturer in the world and a market leader for trucks in India. The company has tied up with Sun Mobility in order to enhance its expertise in the vehicle domain.
Ashok Leyland designs electric variants specifically for Indian conditions and has also introduced battery swapping in electric buses to address e-mobility needs in the country. It has launched multiple electric bus variants like the Circuit, HYBUS, and Electric Euro 6 Truck, and announced the iBUS. The immediate focus of the company, however, is currently on giving more thrust to exports.
Founded in 1992, Olectra Greentech is a company hard to ignore, as it has been a pioneer when it comes to EV public buses. The company is currently India's largest EV bus manufacturer. The company forms part of the MEIL group.
The company has multiple variants which include the K6, K7 and K9 E buses. Their K9 series is considered to be revolutionary when it comes to E buses. It comes with regenerative braking which covers 30% of the energy while braking. Its fast charging technology allows the buses to recharge within 2-3 hours. And finally, their Iron Phosphate batteries allow long ranges on a single charge. In addition to this, the company is India's only manufacturer of tarmac electric buses for airports.
The company's recent developments include opening a factory in Hyderabad which has the capacity to produce 10,000 units. For the December quarter of 2021, the company sat on orders worth Rs. 3000-3500 crores for 2000 buses.
Associated Industries & Stocks in Electric Vehicle Segment
The Indian EV market being in its nascent stages is viewed as an opportunity waiting to be exploited. Other players that also have products in the EV market include MG Motors, Maruti Suzuki, Renault, Audi, Volvo, Hero, Ather, etc. An expansion in the EV industry will also see other associated industries catch on too. This includes the battery and EV chargers. Interest has been shown by many companies like Siemens, Schneider, Delta, etc.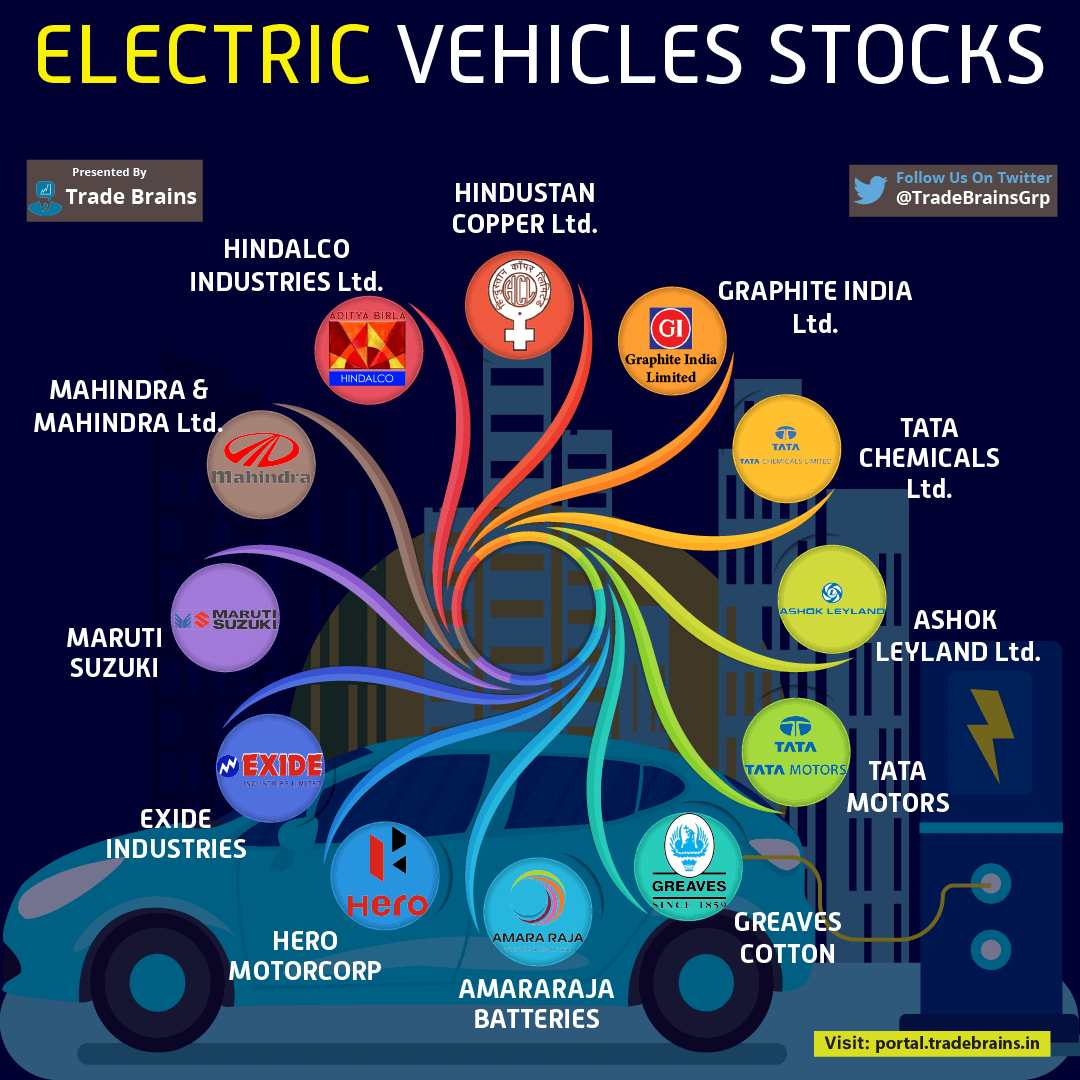 But unfortunately, these companies will only move in once a significant demand arises in the public 4-wheeler segment. On the other hand, one of the major factors for the EV industry not expanding has been consumer concerns regarding the lack of Fast Chargers in India. 
Unorganized and small players are dominating due to the limited scale of business. In order to combat this, the NITI Ayog is laying a key role in setting up EV chargers. There are currently 270 units of installed EV chargers in India. NITI Aayog has partnered with NTPC in order to set up 100,000 EV charging stations across India. Other government entities like BHEL have partnered with ISRO in order to develop batteries using Lithium technologies.
Most lithium requirements are currently imported from China, South Korea, Vietnam, Singapore, and Japan. Other players who have shown interest in the Lithium battery production business in India include Reliance, Suzuki, Toshiba, Denso Corp, JSW Group, Adani, Mahindra, Hero Electric, Panasonic, Exide Batteries, Amara Raja.
List of Top EV Stocks in India for Investors
| S No | COMPANY | Marketcap (Rs Cr) | INDUSTRY |
| --- | --- | --- | --- |
| 1 | Amara Raja Batteries Ltd. | 9,827 Cr | Batteries |
| 2 | Exide Industries Ltd. | 15,559 Cr | Batteries |
| 3 | Hero MotoCorp Ltd. | 54,523 Cr | Automobile Two & Three Wheelers |
| 4 | Himadri Speciality Chemical Ltd. | 3,997 Cr | Chemicals |
| 5 | Vedanta Ltd. | 118,653 Cr | Metal - Non Ferrous |
| 6 | Hindalco Industries Ltd. | 109,775 Cr | Metal - Non Ferrous |
| 7 | Ashok Leyland Ltd. | 43,176 Cr | Automobiles-Trucks/Lcv |
| 8 | Mahindra & Mahindra Ltd. | 165,115 Cr | Automobiles - Passenger Cars |
| 9 | Tata Motors Ltd. | 147,559 Cr | Automobiles-Trucks/Lcv |
| 10 | Tata Chemicals Ltd. | 24,829 Cr | Chemicals |
| 11 | Greaves Cotton Ltd. | 3,259 Cr | Diesel Engines |
| 12 | Graphite India Ltd. | 7,366 Cr | Electrodes & Welding Equipment |
| 13 | Hindustan Copper Ltd. | 12,272 Cr | Metal - Non Ferrous |
| 14 | Maruti Suzuki India Ltd. | 255,360 Cr | Automobiles - Passenger Cars |
| 15 | JBM Auto Ltd. | 6,284 Cr | Auto Ancillary |
Closing Thoughts
In this article, we discussed the list of the top EV stocks in India along with leading Electric Vehicle Manufacturers, their current work in the EV segment, and future prospects. The Indian government had set up the aim of replacing all internal combustion engines with EVs by 2030.
A report from Mckinsey and Company in 2017 indicated that 40% of electrification was a more realistic picture of mobility in 2030. This report, however, was from prior to the Pandemic. This, in turn, will further set back electrification in the industry for years to come.
In addition, the steps taken in order to enable the acceptance of EVs will not suit their main purpose if alternative means of electricity production are not implemented. Currently, up to 60% of the electricity is produced from coal. Although the government has set major aims to bolster the growth of EVs a lot more has to be done in order to ensure they are implemented.
Frequently Asked Questions (FAQ)
1. Which Indian Company is investing in electric vehicles?
The Top Companies that are investing in Electric Vehicles are Tata Motors, Eicher Motors, TVS Motors, Bajaj Auto, Hero MotoCorp, Greaves Cotton, Amara Raja Batteries, Exide Industries, Tata Power, Ashok Leyland, Mahindra & Mahindra.
Other leading EV stocks in India that are working on Electric Vehicles or related EV ancillary products are JBM Auto, Olectra Greentech, Kabra Extrusion Technik, IOC, BPCL, Reliance Industries, NTPC, Power Grid, Tata Chemicals, Gujarat Fluorochemicals, Neogen Chemicals, Tatva Chintan Pharma, Motherson Sumi, Suprajit Engineering, Minda Industries, Film Industries, Tata Elxsi, L&T Technology, Hindustan Copper, NALCO and Hindalco. In addition, six big Tata Group companies joined hands under the name Tata universe to create an EV ecosystem.
2. What are the best EV Charging stocks?
The Top EV Charging stocks are Tata Power, Indian Oil Corporation, BPCL, Reliance Industries, NTPC, and Powergrid Corporation. Among these, IOC and BPCL have already pledged to use their outlets to set up 17000 EV charging centers in near future.
3. What is the future of EVs in India?
The future of EVs in India seems very bright. The Indian government wants to join the Electric Vehicle Revolution and according to the sources, they plan to have 30% of private cars, 70% of commercial vehicles, 40% of buses and 80% of two-wheelers and three-wheelers go electric by 2030. India plans to make 10 million two-wheelers every year, which is about 15% of the world's production.
4. Who is the largest manufacturer of lithium batteries in India?
Some of the largest Lithium-Ion battery manufacturers in India are Exide Industries, a joint venture between Suzuki, TOSHIBA, and DENSO, in Gujarat; Amara Raja Batteries, Li Energy, and ATL and Manikaran Power Ltd.
5. Is Ashok Leyland working on EVs?
Yes, Ashok Leyland is working on EVs and has already operated a fleet of electric buses as a pilot program in Chennai and Ahmedabad. The company is looking for the right investors as their EV initiative is quite crucial. Switch Mobility, a subsidiary of Ashok Leyland and Optare from the UK, is going to launch an e-LCV in India by the end of December 2021. The group has plans to invest $150-200 million in the EV space in the next few years.
6. Why are electric cars expensive in India?
Electric Cars are expensive in India because the batteries used in EVs alone form around 30% to 50% of the cost of EVs. These batteries are very expensive, hence increasing the cost of EVs. Another major factor for Electric Cars being expensive in India is that this industry is not able to utilize economies of large-scale production. When the demand increases and EVs will be manufactured in high volumes, we can expect that the prices might reduce.
7. What is the best EV stock to buy in India?
Looking into the best EV Stocks to buy in India, there are various components that go into making an EV and, hence there are various stocks involved. Overall in EV manufacturing, Tata Motors is the best stock, with respect to the commercial vehicle sector. As far as batteries are concerned, Amara Raja Batteries is a good bet for EV batteries. Tata Power is a good buy for the charging sector. Anyways, please note that you are not recommended to buy stocks on the basis of this answer. Detailed stock analysis has to be done before investing.
8. Who is leading in the Electric Vehicles in India?
Currently, Tata Motors is leading the Electric Vehicle sector in India. Tata Motors was one of the first companies that decided to develop a fully autonomous electric vehicle on its own. Being a leader in the commercial vehicle segment, it has huge plans to go electric in commercial buses, Trucks and is preparing to launch its first electric truck soon.
9. Which company produces electric vehicles in India?
The top Electric vehicle producers in India are Tata Motors, JBM Auto, Olectra Greentech, Mahindra Electric mobility, Ola Electric Mobility, Ashok Leyland Electric, Hyundai, Hero Electric, Menza Motors, Lohia Auto, Kia Motors, etc. In addition, a few other top start-ups in the EV manufacturing space are Ather Energy, Tork Motors, Menza Motors, Verge Motors, Emflux, Okinawa Autotech, Twenty-Two Motors, Lush Motors, etc.

Aron, Bachelors in Commerce from Mangalore University, entered the world of Equity research to explore his interests in financial markets. Outside of work, you can catch him binging on a show, supporting RCB, and dreaming of visiting Kasol soon. He also believes that eating kid's ice-cream is the best way to teach them taxes.
---
Start Your Stock Market Journey Today!
Want to learn Stock Market trading and Investing? Make sure to check out exclusive Stock Market courses by FinGrad, the learning initiative by Trade Brains. You can enroll in FREE courses and webinars available on FinGrad today and get ahead in your trading career. Join now!!