List of Top Indian Philanthropist Businessmen: "Is the rich world aware of how four billion of the six billion live? If we were aware, we would want to help out, we'd want to get involved." these are the words of once richest man Bill Gates who himself has donated over $36 billion. But do we have businessmen who think similarly to him when it comes to philanthropy in India? Lucky for us we do some who believe in the act of giving.
Today, we take a look at the Top 10 Indian Philanthropist Businessmen. Below are the best Indians who have made significant donations in 2020 – the year we needed it the most.
Top 10 Indian Philanthropist Businessmen for 2020!
1. Azim Premji
Wipro chairman Azim Premji has topped the list of philanthropists to become India's most generous person for 2020. The Seventy-four-year-old tech magnates donations amount to Rs. 7,904 crore. Azim Premji is the founder-chairman of Wipro. In 2013, he signed The Giving Pledge to donate at least half of his wealth, a campaign started by Bill Gates and Warren Buffett.
So far he is well on course towards achieving this goal as he has donated $21 billion to Azim Premji Foundation, an education-focused non-profit he founded in 2001.  On April 1, 2020, Azim Premji Foundation (₹1,000 crores), Wipro (₹100 crores), and Wipro Enterprises (₹25 crores) had committed ₹1,125 crores towards tackling the Covid-19 outbreak. These were in addition to Wipro's annual Corporate Social Responsibility (CSR) activities. His donations for the last 3 years amounted to Rs. 9143 crores.
2. Shiv Nadar
HCL Technologies' founder chairman and Padma Bhushan awardee Shiv Nadar comes second on the list. Nadar donated ₹795 crores for charitable causes. Nadar was at the top of the list of India's most generous billionaires last year. So far Nadar is said to have donated over $900 million through the Shiv Nadar Foundation, impacting over 30,000 students directly. The foundation pursues creative philanthropy.
Among other things, the foundation supports rural education and provides scholarships for underprivileged students to study abroad. Nadar's wife, Kiran Nadar chairs the Kiran Nadar Museum of Art, India's first private philanthropic art museum exhibiting modern and contemporary works from India and the subcontinent. His donations for the last 3 years amounted to Rs. 2391 crores.
3. Mukesh Ambani
Asia's richest man Mukesh Ambani came in third on the list. Mukesh Ambani is the Chairman and Managing Director of Reliance Industries and was born into the billionaire Ambani family.
A majority of his donations were directed towards disaster relief with Rs. 500 crores being donated towards the PM CARES Fund. He also donated Rs. 5 crores each to the Chief Minister's Relief Fund of Maharashtra and Chief Minister's Relief Fund of Gujarat to support their fights against the Covid-19. The 63-year old billionaire has donated Rs.1297 crores in the last three years.
4. Kumar Mangalam Birla
 Kumar Mangalam Birla & family ranked fourth on the list. The group has donated Rs. 400 crore to the PM CARES Fund. They also have specifically allocated Rs 50 crore for supplying N95 Masks, PPE's and ventilators. Their donations for the last 3 years amounted to Rs. 374 crores.
5. Anil Agarwal
The fifth position is occupied by the founder and chairman of Vedanta, Anil Agarwal who donated Rs 215 crore. In September 2014 Anil Agarwal pledged 75 percent of his wealth to charity.
A majority of his donations are directed towards healthcare. His foundation also works towards education and computer literacy, vocational training, women and child empowerment, and community welfare. His donations for the last 3 years amounted to Rs. 352 crores.
6. Ajay Piramal
Ajay Piramal & family rank 6th among the nation's top philanthropists with donations of Rs. 196 crore. The Piramal family runs a conglomerate that specializes in pharma, healthcare, and financial services. They participate in philanthropic activities through the Piramal Foundation, initiating projects in areas of healthcare, education, livelihood creation, and youth empowerment. His wife Swati is vice-chairman and their children Nandini and Anand serve on the board.
On 31st March 2020, Piramal Group commits Rs. 25 crores to PM CARES Fund. In November 2019, Piramal Foundation and Gates Foundation partner to set up a Tribal Health Collaborative and will work closely with the Government of India to achieve Sustainable Development goals by 2030. Their donations for the last 3 years amounted to Rs. 596 crores.
7. Nandan Nilekani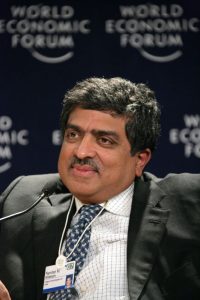 Co-founder and chairman of Infosys and Chairman of UIDAI ranked 7th with his wife Rohini with a donation of Rs. 159 crore. They too have signed the Giving Pledge in 2017, committing to donate half of their wealth towards philanthropy.
8. Hinduja brothers
The four Hinduja brothers, Srichand, Prakash, Gopichand, and Ashok Hinduja rank 8th on the list with a donation of Rs. 133 crore. They make their donations through the Hinduja Foundation which focuses on Water Stewardship, Healthcare, Education, Rural Development, and Arts and Culture.
9. Gautam Adani 
Chairman of Adani Group Gautam Adani claim the 9th spot with donations of Rs. 88 crore. The Adani group handles businesses in ports, energy, agriculture, defense, and aerospace. He is also president of the Adani Foundation, the company's social responsibility arm founded in 1996. Adani Foundation works in four key areas such as Education, Community Health, Sustainable Livelihood, and Community Infrastructure Development, in alignment with the Sustainable Development Goals.
It has established the Adani Vidya Mandir, a school for underprivileged children in Ahmedabad, Bhadreshwar, and other states and supports 300 government schools, educating over 100,000 children. On 29 March 2020, Gautam Adani led Adani Foundation announced Rs. 100 crore donation to PM CARES Fund. Their donations for the last 3 years amounted to Rs. 138 crores.
10. Sudhir and Samir Mehta
Sudhir and Samir Mehta ranked 10th on the list with Rs. 81 crores in donations. The brothers together operate the Torrent Group. The Mehtas are the second most generous family in Gujarat after Adani's. The brothers have donated a total of Rs. 138 crores over the last 3 years.
Honorary Mention – Ratan Tata
This top philanthropic list would never be complete without mentioning the Padma Bhushan recipient Ratan Tata and family. Ratan Tata follows in the footsteps of Jamsetji Tata and after retirement has taken up the full-time leadership role of Tata Trusts. In fact, Tata Trusts the philanthropic arm owns 66% of the group holding company – Tata Sons.
The trust donates to various causes, some of them being healthcare, education livelihood, water, sanitation and hygiene, skill development, etc. The Trust has donated over 850 million to date. Their recent donation included Rs 500 crore to procure protective equipment for frontline workers, respiratory systems for treatment of increasing cases, and testing kits in the fight against COVID-19.
Closing Thoughts
Today we covered the list of top 10 Indian Philanthropist Businessmen. The above list prepared by Hurun India and EdelGive gives us insights into the philanthropic sector.
The list also includes Binny Bansal in the 21st position. Binny Bansal became the first philanthropist under the age of 40 to enter the philanthropy list which has an average age of 66 years. The list also highlighted the role played by women in running family charitable trusts. Major philanthropic donations are directed towards Education, Healthcare, and disaster relief.


Aron, Bachelors in Commerce from Mangalore University, entered the world of Equity research to explore his interests in financial markets. Outside of work, you can catch him binging on a show, supporting RCB, and dreaming of visiting Kasol soon. He also believes that eating kid's ice-cream is the best way to teach them taxes.
---
Start Your Stock Market Journey Today!
Want to learn Stock Market trading and Investing? Make sure to check out exclusive Stock Market courses by FinGrad, the learning initiative by Trade Brains. You can enroll in FREE courses and webinars available on FinGrad today and get ahead in your trading career. Join now!!