Zerodha – India's No 1 Stockbroker: +1 Cr Traders & Investors Community
Start investing with Largest Stock broker in India – 5+ million Zerodha clients contribute to over 15% of all retail order volumes in India daily by trading and investing in. Modern platforms and apps, ₹0 investments, and flat ₹20 intraday and F&O trades. 
Best online platform to trade and invest in stocks, mutual funds, IPOs, derivatives, currency, commodity and more. 
Free Equity Trades
Zero Brokerage on Long-term Delivery Trades
Rs 20 per Order
For Intraday Trading, Futures and Options
Free MF Invests
Free investments in Direct mutual funds
About Zerodha – India's No 1 Stock Broker
Over +50 lacks clients of Investors and Traders
Daily over 15% of all retail order volumes in India by trading and investing
Technology first broker with fast KITE Trading Platform
Founded in 2010 by Nithin Kamath, Zerodha is now India's largest brokerage with over +3 million clients.
Ironically, the term 'Zerodha' is derived from the fusion of an English and Sanskrit word. 'Zero'+'Rodha' where 'Rodha' means barrier. Overall, Zerodha means 'Zero Barrier'.
Nithin bootstrapped Zerodha to overcome the hurdles he faced during his decade long stint as a trader. He was named one of the "Top 10 Businessmen to Watch Out for in 2016 in India" by The Economic Times for pioneering and scaling discount broking in India. Here are a few of the famous awards won by Zerodha recently:
— Economic Times (ET) Startup of the Year 2020
— National Stock Exchange (NSE) "Retail brokerage of the year 2019"
— National Stock Exchange (NSE) "Retail brokerage of the year 2018"
— Outlook Money "Retail broker of the year 2017"
— Ernst & Young "Entrepreneur of the year (Startup) 2017"
One platform to invest in stocks, derivatives, mutual funds, and more
Through Zerodha Demat Account, you can invest and trade in Stocks & IPOs, Direct mutual funds, Futures and Options, Commodity derivatives, Currency derivatives, Bonds and Govt. Securities & More.
It offers a zero brokerage for delivery equity & direct mutual fund investments. For all intraday, F&O, currency, and commodity trades across NSE, BSE, MCX, it offers a brokerage of Flat ₹20 irrespective of the trading volume.
Zerodha provides hassle free trading and account opening process. No upfront brokerage, no turnover commitment & no hidden charges.
 How to Buy or sell stocks with Zerodha Kite? In this video, we discussed how to trade with Zerodha Kite. Here, we gave a demo on buying and selling stocks with Zerodha, along with covering different types of order (Market/Limit), MIS/CNC trades and more. Watch here!
Zerodha Products and Features
 Zerodha has built its own trading applications for the customers. It offers different trading terminals, websites, and mobile apps (Android/iOS) which are free for the customers.
Kite by Zerodha
Kite 3.0 is a modern technology-based trading platform with streaming market data, advanced charts, an elegant UI, and more. It is a minimalistic, intuitive, responsive, light, yet powerful web and mobile trading application offered by Zerodha.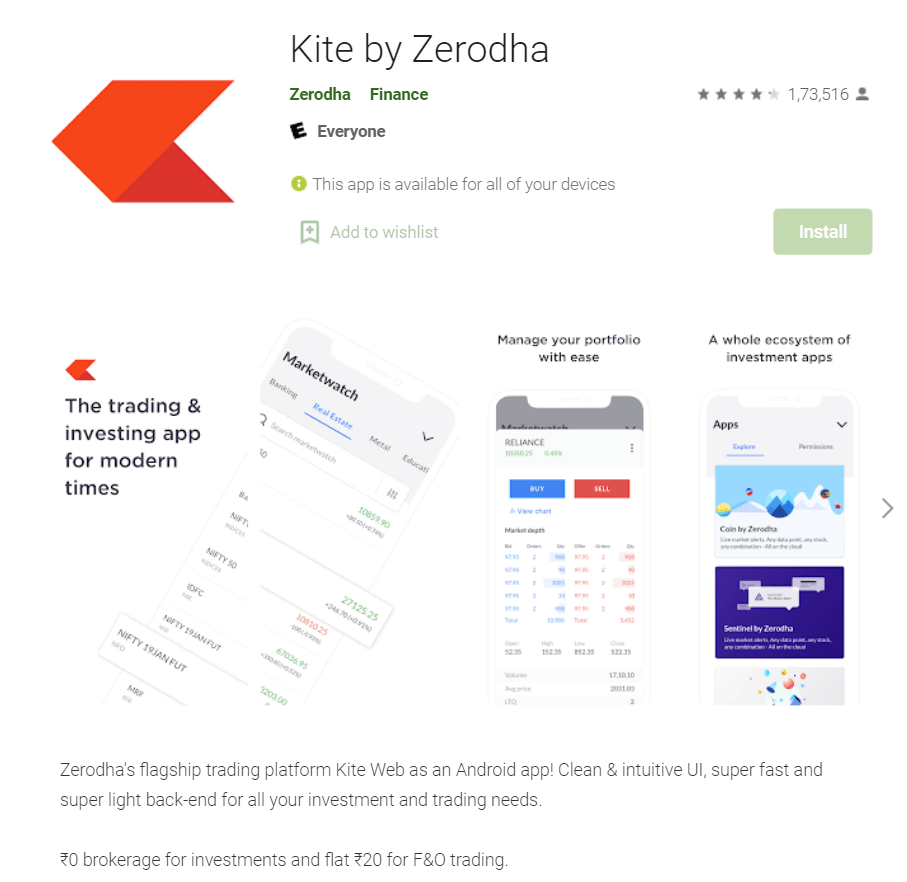 Kite Mobile
This is a mobile version of KITE for a seamless experience for mobile-users and available in both Android and iOS devices.
Coin by Zerodha
Using Zerodha Coin, you can have Direct mutual funds in DEMAT form, with the convenience of one portfolio across equity, MF, currency, etc. It also provides a Single capital gain statement, P&L visualizations, and more. This Coin by Zerodha has made investments through SIPs really simple and flexible.
Other Partner Products by Zerodha
Smallcase: This thematic investment platform is powered by Kite Connect APIs. Smallcase helps users to invest in different themes by intelligently providing weighted baskets of stocks in each theme.
Sensibull: This is an options trading platform which offers simplified options trading for new investors by providing powerful trading tools. Sensibull aims to make options trading safe, accessible, and most importantly, profitable for all.
Zerodha Varsity: An educational platform to educate people about investing and trading. Zerodha Varsity offers free modules on Technical analysis, fundamental analysis, futures, options, risk management, trading psychology & more. Recently, Zerodha Varsity also launched its Varsity mobile app.