Zerodha Success Story in Stockbroking Industry in India: Trading and Investments are the two terms everyone wishes to experiment with but is reluctant to step in due to many reasons like lack of knowledge, hefty commission and brokerage charges, uncertainties in the market and so on.
2008-2010 were the years when the biggest global financial crisis happened and the world was facing a trading hush. In India, the stockbroking companies that existed also experienced a downfall and were using old technologies to provide stockbroking services. Many young generation people were not educated enough to even think of trading at a very young age.
While all of these were encountered by almost every broker in India, Bangalore based discount broking firm, Zerodha was founded in 2010 by Mr. Nithin Kamath that provides trading services at discounted brokerage fees and a user-friendly interface with reliability. This firm enjoys a massive client base of over 2.5 million users.
Let us deep dive into the journey of how Zerodha success story and discuss how it became the biggest discount broker in India in this article.
Quick Note: Nithin Kamath and Nikhil Kamath are the founders of Zerodha, India's biggest stock brokerage company in terms of volume of trade. According to the IIFL Wealth Hurun India Rich List 2021 Kamath and his family are ranked as the 63rd richest Indians. Their net worth is estimated to be above $3.1 billion.
The founding of Zerodha: How did it start?
The Co-founder of Zerodha "Nithin Kamath", before establishing Zerodha, was working in the call center at the night and he used to trade during the morning hours. At the age of 17, he got introduced to the stock markets by his friend and since then he started trading.
Although he made a good chunk of money by trading in stocks, he lost all the money during 2001 and 2002 when the markets crashed. Over a period of time, he was landed a cheque from a foreign HNI to manage his money. Eventually, he joined Reliance Money as a sub-broker and made a lot of money by adding big clients to Reliance money.
Quick Note: If you want to open a FREE Demat account with Zerodha, here's the direct link!
Nevertheless, again lost a significant amount of money in the second market crash in the middle of the global financial crisis in 2008-09. After trading full-time for over 10 years, this Maverick decided to become a broker when he thought that the time has come to provide a different kind of stockbroking services that he never came across during the 10 years span of his trading.
He felt digitization and online user-friendly platform are the need of an hour when he first thought of starting Zerodha. Nitin Kamath also observed that the reason why the young generation is not willing to start trading is that there are high brokerage charges implemented on the transactions. His aim was to become an online broker using the latest technologies that is more people-first than profit-first.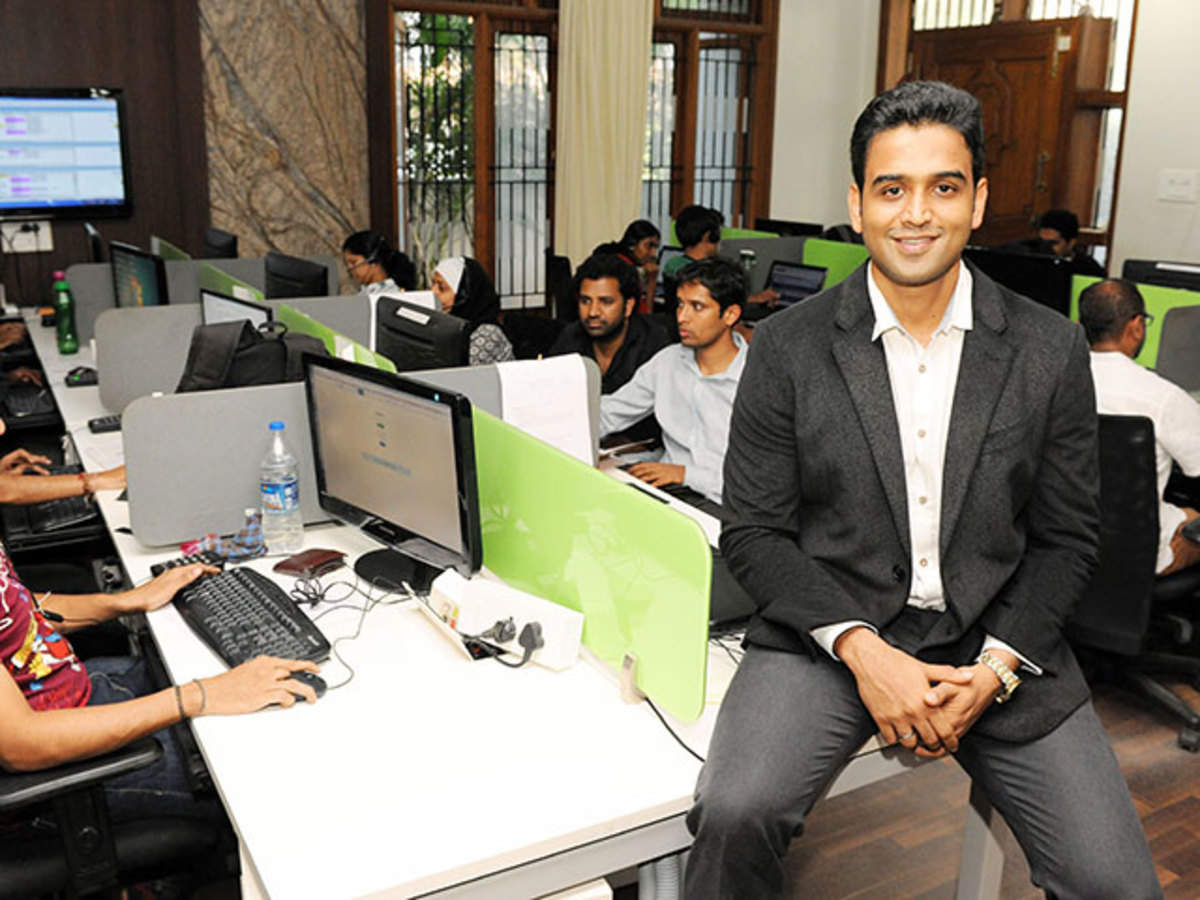 Zerodha is derived from the Sanskrit word Rodha which means Obstructions. The name Zerodha means 'No Obstructions'. Hence, the founder aimed at providing a hassle-free, low brokerage trading platform. He targeted clients who are young and more tech-savvy to contribute to the capital market ecosystem.
According to him, he wanted more of a Google-like platform with simple to use rather than a Yahoo-like platform. When he felt the need to change the system, he along with his younger brother, Nikhil, started Zerodha and the rest is the history or rather a case study for everyone.
Also read: 8 Best Discount Brokers in India – Stockbrokers List 2021
The Secret Formula of Zerodha's Success
It is indeed a fact that there is no shortcut to success. However, Nithin Kamath, when founded this discount broking firm, decided to provide technology-efficient and cost-efficient services to its customers. He observed that there is a huge lag between the commissions charged by the other brokerage firms and the amount of money actually received by the customers.
In addition to that, the technology that was used was too old and Nithin felt the need to introduce a smart platform that enables users to trade online comfortably. He thought of providing services at a low cost where the idea of charging low commission clicked into his mind.
He also wanted to attract more young customers who often do not enter into trading due to high commission charges. With this aim, he started his firm and today it has become the biggest discount broking firm. He believes if we do not depend too much on foreign capital and invest in our own companies, the day is not far when India will become an economically strong country.
Surprisingly, the firm hardly spent any money on advertising or marketing for its own firm. They do not run any advertisements. The founder believes in 'the word of mouth is your true marketing'. Thus, with a very low operating cost Zerodha was able to capture a large number of customers.
Interestingly, trading is provided free of cost at his stockbroking firm if the period of holding for shares is longer than a day. They make money by charging a flat fee of Rs. 20 for futures, options, and intraday trading.
While other competitors charge much more than this which is based on the percentage of a transaction traded. Its business model on which it works is 'low margin – high volume'.
Innovation and New Additions
In order to stay competitive, the firm launched many products to expand its reach and to overcome some challenges they were facing. Below is a brief on what each product provides:
— Console: It is a central dashboard of a customer's account with Zerodha that will provide in-depth reports and visualizations to get more insightful ideas.
— Kite: It is a sleek trading and investment platform using the latest technologies. It eases the customer's experience to trade and transact in the stock market.
— Kite Connect API: This is mainly focused on independent traders and startups to enable them to build an innovative trading and investment platform. Using algorithms, retail traders can automate their trades.
— Sentinel: A platform that enables you to create market alerts. The alerts can be customized based on price, trade quantity, and open interest. The interesting aspect of this product is that you do not need to be a Zerodha customer in order to use Sentinel.
— Z Connect: This is a blog facility regarding stocks, trading, and investment with Zerodha. They publish articles and information on this blog and any user is allowed to ask questions and post comments.
— Varsity: One of the challenges faced by this firm was that it lacked in providing research services to its customers who are sometimes clueless about what and when to buy or sell. To overcome this, they come up with Varsity that gives a vast collection of stock market lessons on the go.
— Coin: It provides a commission-free purchase of mutual funds directly delivered into the customer's Demat account.
— Rainmatter: It is an incubator that provides funding as well as mentorship to startup companies in capital markets and gives a minority stake in the exchange.
In addition, Zerodha has also partnered with a lot of leading stock market platforms and portals like Streak, Sensibull, etc to create more value for their clients.
Let us Talk about Challenges
Despite the tremendous success and huge customer base, Zerodha also had to confront a few challenges as described below:
First of all, Zerodha does not provide stock advisory or any market-related calls that would enable its customers to decide on what to buy and sell.
They also suffered from a lack of delivery of valuable advisory reports and analysis of one's investments and trading activities be it either weekly or quarterly. Most of the big full-service brokers provide research reports.
As Zerodha is mostly online and no offline support branches, inefficient customer support, and lack of quick customer service are the biggest challenges that this firm faces.
Technical errors like app down for a few minutes or charting errors were reported previously which was basically because of the high market traffic situations.
Closing Thoughts
To sum up, competing with big players like HDFC and ICICI is indeed a daunting task that the genius was able to cope up. However, there are other competitors too such as Upstox, Groww, SAS Online, Angle Broking, TradingBells, etc. However, the founder wishes to continue with his low-margin strategy.
This firm also developed a strategy to start selling Treasury bills, Government Securities, and Sovereign Gold Bonds which is everyone's preference while the markets are facing a downfall.
Nithin strongly believes in not running after the money but doing the right things for a long period of time. This is what is the reason his firm has become one of the top-most broking firms in the country over the eight to nine years of time.
To add to that, after facing so many challenges, the firm has made its way to persistently increase its customer base year by year. To get more insights you can read Zerodha review 2021.
That's all for this post. I hope this Zerodha success story is inspiring for all the budding entrepreneurs and business enthusiasts who are planning to make something big in the stock market industry. Stay safe and happy investing.
---
Start Your Stock Market Journey Today!
Want to learn Stock Market trading and Investing? Make sure to check out exclusive Stock Market courses by FinGrad, the learning initiative by Trade Brains. You can enroll in FREE courses and webinars available on FinGrad today and get ahead in your trading career. Join now!!