Zomato IPO Filing Details: If you've not heard of the Zomato IPO you've been missing out. Zomato an Indian food delivery and restaurant aggregator platform, has filed its DRHP with the market regulator SEBI proposing an IPO with hopes of raising Rs. 8,250 crores ($1.1 billion).
In this article, we cover important details about Zomato IPO, company details, their goals, and plans for the initial public offering. Keep Reading!
Who is Zomato?
Zomato was founded by Deepinder Goyal and Pankaj Chaddah initially with the name Foodiebay in 2008 as a platform to review restaurants, find menus and receive their fine details at one place. The company was renamed Zomato in 2010.
Following their rapid expansion within the country and several acquisitions in different markets worldwide, they also provided new features like delivery. There was no looking back as currently, the company holds a 45% market share in the Indian food tech industry.
Why is Zomato applying for an IPO now?
The pandemic brought many sectors to a standstill. This impacted Zomato too affecting them during the initial lockdown last year. However, what followed was a swift recovery and a boom in their business.
Zomato now seems to be focussing on utilizing this period to further build their war chest for the extremely competitive food tech industry. Their main competitors include Swiggy – another food-delivery platform that stands toe to toe with Zomato when it comes to its market share. 
This was also noticed in the US and UK markets too as companies like Doordash and Deliveroo also have come up with IPO's in an attempt to seize better valuations and successful IPO's. 
Purpose of the Zomato IPO?
Now the question remains as to what will the company do with over a billion dollars. The IPO also includes an offer for sale from one of its early investors Info Edge for Rs 750 crore. The rest of the funds will be through a fresh issue of equity shares. It intends to use 75% of these proceeds i.e. Rs 5,625 crore to fund its organic and inorganic growth initiatives for the next 5 years. 
The organic initiatives include user acquisition and improving their platform and delivery infrastructure. Its inorganic growth initiatives include funding its strategic initiatives and acquisition costs.
The company has benefitted greatly from the strategic acquisitions in the past which it also used to enter new markets globally. 
Quick Read
Zomato Financial Details to Know
— How does Zomato make money?
Zomato's food delivery business model is relatively simple to understand. The company pays gig workers for delivery from the various restaurants part of their app. They also charge a commission along with every order delivered. Their app also provides a subscription model for users interested in premium services.
As of December 2020, Zomato had 162,000 active delivery drivers and 350,000 active restaurant listings on its platform. As of December 2020, Zomato had over 1.4 million premium customer subscribers.
The company currently operates in 23 markets around the world but most of its revenue is still generated across India. The company also mentions in its DRHP that it "We have taken a conscious strategic call to focus only on the Indian market going forward".
— Profitability of Zomato: How profitable is Zomato?
Unfortunately, Zomato is not profitable. This however must not be mistaken for lack of growth as Zomato has come to hold 45% of the Indian food-tech industry which is expected to grow to $11 billion over the next five years.
According to its DRHP, the company's revenues have grown from Rs. 466 crore in FY 17-18 to Rs. 2,604 crores ( 5.5 times) in fiscal 19- 20. The company however still posted a net loss of $320 million.
With its growing revenues, the company has been increasingly taking losses. Their losses for the year 19-20 were double the losses incurred the year before and 22 times the losses 2 years prior.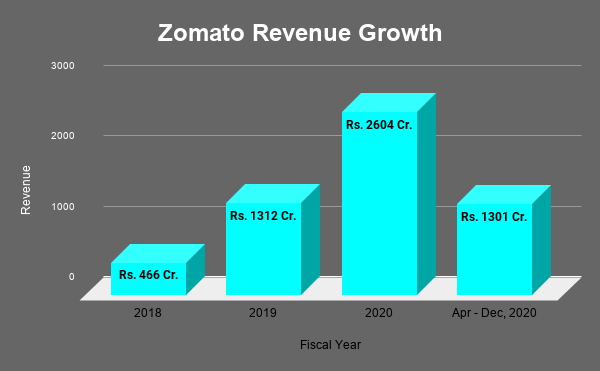 — Zomato Performance during Pandemic
Zomato too just like companies in other industries was impacted during the initial lockdown. This was because customers feared ordering from restaurants during the initial Covid panic. 
But all this turned around in the months that followed. Zomato adapted by cutting its costs between April and December. This was done by reducing discounts and offers, in addition, they also increased their commission. This was met by consumers also responding by taking precautions to order instead of dining out. Zomato recorded the highest gross order value in its history in the third quarter of FY21.
To put it numerically per unit, Zomato was earlier losing Rs 30.5 per delivery as of April 2020 and currently earns Rs 22.9 per delivery. This actually meant they were finally making money per order instead of burning cash.
For the 9 months, that followed the initial lockdown Zomato's revenue from operation stood at Rs. 1,301 crore. This growth however came at a cost as their expenses increased from INR 3,608 Cr to INR 5,006 Cr and their losses for the year increased by 2.3 times from Rs. 1,013 Cr. to Rs. INR 2,363 Cr.
Zomato also managed to double its monthly transacting users to over 10.7 million people.
Who Owns Zomato: Zomato's Shareholding Pattern
Zomato's latest shareholding pattern shows Info Edge as the largest shareholder with an 18.7% stake in the company. Zomato's CEO Deepinder Goyal holds 5.6% shares in the company.
Other holders with significant stakes include Uber B.V., Alipay Singapore Holding Pte. Ltd, and Antfin Singapore Holding Pte. Ltd holding 9.2%, 8.4%, and 8.3% respectively. Uber received this stake as a result of Zomato's acquisition of Uber's Indian food delivery arm. The company includes investments from China as Alipay and Antfin are Chinese investors. 
Zomato had raised $660 million at a $3.9 billion valuation. This included 10 new investors Tiger Global, Kora, Luxor, Fidelity (FMR), D1 Capital, Baillie Gifford, Mirae, and Steadview. Just a few months later their valuation increased as they once again raised $250 million a couple of months ago at a $5.4 Billion valuation. 
In addition to this, the company also plans to take a pre IPO placement amounting to  Rs 1,500 crore.
When is the Zomato IPO?
The SEBI generally takes 2 weeks to review the DRHP. The IPO will likely be held post this period provided the market conditions are favorable. 
Closing Thoughts 
The Zomato IPO will be one of the most exciting IPO's that will come up this year. Investors now have to choose to participate based on Zomato's explosive growth or stand this one out due to their profitability.
Their close competitor, Swiggy, too is in plans to build a war chest to compete with Zomato but has preferred not to take the IPO route. Swiggy has also decided to further increase its footprint by also entering delivery for groceries. It will be interesting to find out how Zomato counters this.
Missing out on this IPO may create an innate feeling of FOMO. But Indian investors will still have an exciting year ahead as Zomato will only be the first in a series of public listings, including startups like Policybazaar, Nykaa, and Delhivery. You can apply for an IPO with Zerodha account. Happy Investing! 

Aron, Bachelors in Commerce from Mangalore University, entered the world of Equity research to explore his interests in financial markets. Outside of work, you can catch him binging on a show, supporting RCB, and dreaming of visiting Kasol soon. He also believes that eating kid's ice-cream is the best way to teach them taxes.

---
Start Your Stock Market Journey Today!
Want to learn Stock Market trading and Investing? Make sure to check out exclusive Stock Market courses by FinGrad, the learning initiative by Trade Brains. You can enroll in FREE courses and webinars available on FinGrad today and get ahead in your trading career. Join now!!