Hello readers. Many a time, you might have heard that you should keep a high credit score. You should not default that EMI or else it will hurt your credit score.
An obvious question that may come to your mind is what actually is a credit score? How are they measured? Moreover, why should you care whether your credit score is high?
Today, we shall be covering this hot topic in personal finance which we believe is central to addressing the financial health of any individual.
This is going to be a very interesting post, especially for the youngsters. Therefore, let's get started.
1. What is a Credit Score?
A credit score is a metric used by banks and lenders to provide a comprehensive risk profile of a borrower. It is provided by four companies in India namely TransUnion CIBIL, Equifax, Experian and Highmark. The most popular agency of this is TransUnion CIBIL which provides the fabled CIBIL score.
The score is basically a reflection of your monetary habits derived from your transaction history up to three years which banks give these agencies periodically.
QUICK READ: 5 Things You Should Know Before Getting Your First Credit Card.
2. Why is Credit Score Important to You?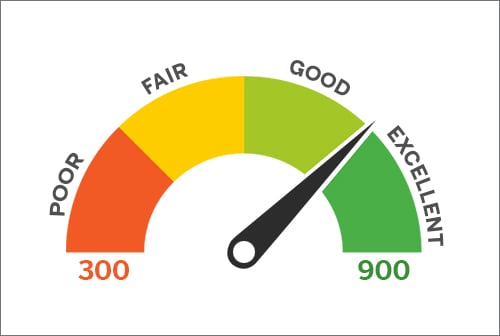 Every time you approach a bank for a loan or credit card, the bank tries to gauge the risk that comes along with your loan application. Gone are the days when your branch manager used to engage you in a long and mundane conversation asking about everything from your family background to your parents' monthly pension before sanctioning the loan you asked for. Nowadays, they just send a mail to the credit agencies asking them for your credit score.
Upon receiving this request, the credit agencies aggregate your transaction data from multiple banks to ratify your profile on a scale of 300-900 to give a simple quantified data point for banks to make a judgment. After analyzing your score, the banks decide whether to accept or reject the application for the new credit card or loan, period.
The score bands used by banks for making an inference about your risk profile are as below
| | | |
| --- | --- | --- |
| Credit score band | Rating | Comments |
| 800-900 | Excellent | You have done great work on your score, make sure it doesn't dip. |
| 700-800 | Good | You most likely have a couple of hiccups in your payments but that shouldn't stop banks from rejecting your applications. You could improve your score through minor improvements |
| 500-700 | Average | Although you may not be able to get loans immediately. You could improve your score within a matter of 2-3 months through planned action. |
| 300-500 | Poor | You have several missed payments and defaults. Most banks would reject you right away. |
Since a lot of things in life is unpredictable like the occurrence of disease or death of a family member, it would be beneficial to keep a healthy credit score so that one can always avail a line of credit when needed.
3. How is Credit Score Measured?
The credit score may vary slightly due to the difference of calculation between each of the credit agencies but they more or less look at the same things to arrive at your score.
The following are the different parameters the credit agencies use to judge your score along with the weightage attributed to each of them.
| | |
| --- | --- |
| Parameter | Weightage |
| Credit History | 30% |
| Credit Utilisation | 25% |
| Credit Mix and Duration | 25% |
| Other Factors | 20% |
Credit History: This is the most important factor in determining one's credit score. The agencies look at one's loan repayment data provided by the banks complete with the loan schedules, EMIs, late payments, and outstanding loans.
Credit Utilisation: This basically the percentage of loan one has outstanding to the total loan amount that can be availed. Ideally lower the loan one has outstanding the higher one's score.
Credit mix and duration: The type of loan you avail also has a bearing on this aspect of one's credit score, a higher amount of unsecured loan could lower credit score faster than an equivalent amount of secured loans. The reason for this is that secured loans are backed by property or any other asset that the bank can claim in case of default making it less risky than an unsecured loan.
Other factors: These include miscellaneous activities such as the number of hard inquiries made at the bank for loans and credit card applications. The banks often construe this as a sign of a person being under financial stress. This may have a negative impact on the credit score.
QUICK READ: Top 5 Personal Finance Books by Indian Authors
4. How can you get your Credit Report?
As per the RBI directive in 2016, every customer is entitled to one free report from each of the credit agencies in a twelve-month period. This means that you can get a total of four credit reports from all agencies together. We at Trade Brains advise that our readers avail this every quarter or at least semi-annually from different credit agencies.
You can avail your reports from the websites of the four credit agencies. (TransUnion CIBIL, Equifax, Experian, Highmark)
It is advisable that you don't use a third-party website to obtain your credit reports since your confidential information could be stored by them.
5. How can you Improve Your Score and How Long Does it Take?
A seven-point roadmap to improving your score can be as shown below:
Make all your EMI payments on time and close your outstanding debt as soon as possible

Avoid making unnecessary credit limit extension or loan applications

Reduce unsecured loans such as credit card loans and personal loans and pay them out as soon as possible

Try to keep surplus cash in your accounts so that you can avoid the use of a credit card

Keep checking your credit report for mistakes, if you spot them to take it up with your agency

Avoid accepting settlements for your loans from banks even though your dues may be reduced significantly. The banks report this to credit agency which adversely affects your score

Avoid being co-signee or a guarantor to friends or family who tend to habitually make late payments on their loans.
We believe that if you follow these steps, you should witness your score improve within the duration of three months to a year depending on your past scores.
ALSO READ
Bottom Line
Credit Score is the most important metric banks and financial institutions use to gauge your risk profile. It would be beneficial for an individual to maintain a high credit score so that they can avail a line of credit in times of need.
Although not easy, a credit score can always be improved through planned and disciplined action on the side of an individual. We at Trade Brains hope our readers make the best efforts to maintain a high credit score.

---
Start Your Stock Market Journey Today!
Want to learn Stock Market trading and Investing? Make sure to check out exclusive Stock Market courses by FinGrad, the learning initiative by Trade Brains. You can enroll in FREE courses and webinars available on FinGrad today and get ahead in your trading career. Join now!!