SWOT Analysis for Stocks: SWOT Analysis for stocks is one of the most widely used tools for performing the 'qualitative' study of the company. It helps to understand the company's market position and competitive advantages.
In this post, we are going to discuss what is SWOT analysis and how to use this tool for qualitative analysis of a stock.
What is SWOT Analysis?
SWOT Analysis focuses on four important factors while evaluating the quality of a company. Here's what SWOT Analysis for stocks looks at:
S—> Strength
W—> Weakness
O—> Opportunity
T—> Threat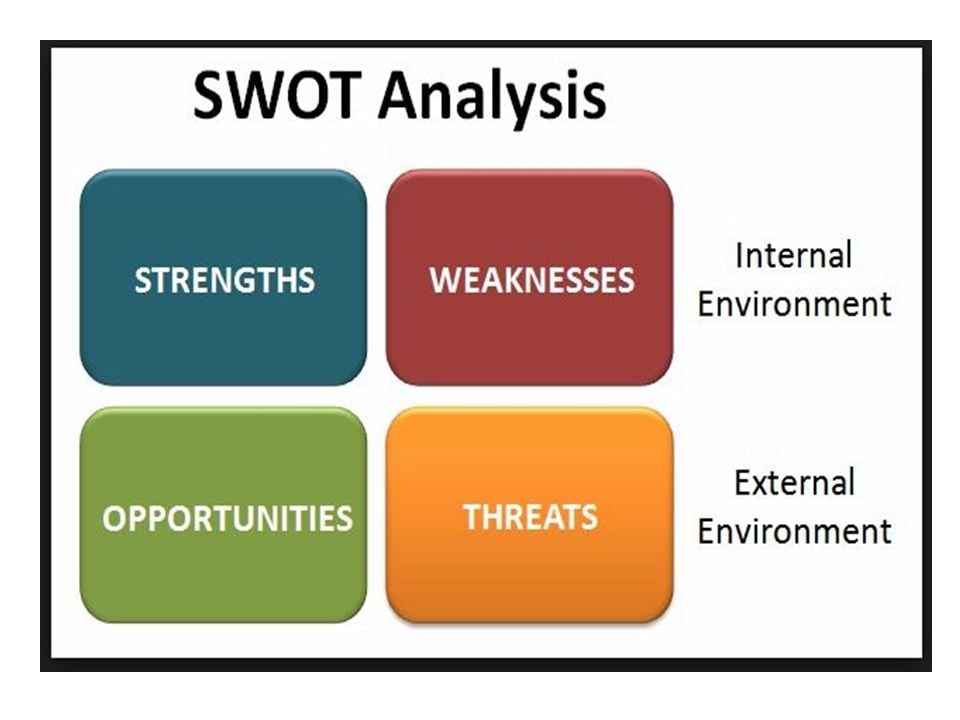 Of the four factors of SWOT analysis, 'strength' and 'weakness' are the internal factors of a company and hence are controllable.
On the other hand, 'opportunities' and 'threats' are external factors and it's a little difficult for a company to control these factors. However, using the SWOT analysis of stocks, the management can identify the threat and opportunities and hence can take proper actions within time.
For example, Bharat Stage (BS)- IV fuel was launched in India in April'2017. This means the ban on the sale of all BS-III compliant vehicles across the country after the launch date.
Those automobile companies who have already realized this big opportunity might have started working on the BS-IV vehicles months before the expected launch date. On the other hand, companies that haven't done the opportunity/threat analysis properly would have faced a lot of troubles. They cannot sell the old BS-III model vehicles. Hence, a big loss of the finished products and the inventories.
Also read: BS-III vehicles: Auto-industry to absorb losses over Rs 12,000 crore.
Why use SWOT Analysis for stocks?
Here are a few reasons why SWOT analysis for stocks is beneficial:
SWOT analysis is one of the simplest yet effective approaches for the qualitative study of a stock.
It helps in identifying weak points of a company that may become an issue in the future.
It helps in finding the durable competitive advantage i.e. moat that will help to protect your investment in the future.
Quick Note: During swot analysis for stocks, only include valid/verifiable statements. Do not add rumor/misleading pieces of information in the study.
Components of SWOT Analysis for Stocks
1. Strength
The strength of a company varies industry-to-industry. For example, a low non-performing asset (NPA) can be the strength of a banking sector company. On the other hand, cheap suppliers or cost advantages can be a big strength for an automobile company.
Here are a few other strengths of a company that you should take notice of while performing a SWOT analysis of stocks:
Strong financials
Efficient Management (People, employees etc)
Big Brand recognition
Skilled workforce
Repeat clients
Cost advantages
Scalable business model
Customer loyalty
Also read: Why You Need to Learn- Porter's Five Forces of Competitive Analysis?
2. Weakness
The 'reverse' of everything discussed in the 'Strengths' can be the weakness of a company. For example- Weak financials, inefficient management, poor brand recognition, unskilled workforce, non-repetitive clients, un-scalable business and disloyal customers.
Besides, there are a few other weaknesses that may affect the company:
Outdated technology.
Lack of capital
High Debt
For example- many companies in the telecommunication industry ran out of business as they were using outdated 2G/3G technology. Similarly, in the energy sector, renewable power generation is the future technology and those companies who are not working on the new technology might get outdated soon. In short, outdated technology adversely affects most of the industry.
3. Opportunity
A company with a lot of opportunities has a lot of scope to succeed and make profits in the future. Here are a few points that you need to consider while evaluating opportunities for a company:
Internal growth opportunity- (New product, new market, etc)
External growth opportunities (Mergers & Acquisitions)
Expansion (Vertical or horizontal)
Relaxing government regulations
New technology (Research & Development)
4. Threats
In order to survive (and moreover to remain profitable), it's really important for a company to analyze its threats. Here are a few of the biggest threats to a company:
Competition
Changing consumer preferences/ new trends
Unfavorable Government regulations
The changing consumer preferences are one of the repetitive threats that many industries face. Here, if no proper action is taken to retain the customer, then it might unfavorably affect the profitability of the company.
For example-  The new trend of 'health awareness among people may result in a decline in the sales of beverages/Soft drink companies. (These companies are fighting back against this threat by introducing 'DIET-COKE').
Similarly, a preference towards ayurvedic products in India has already reduced the sales of non-ayurvedic FMCG companies (and a rise of PATANJALI).
ALSO, READ
How to use SWOT ANALYSIS of stocks to study companies?
Swot analysis of stocks is quite useful while performing the comparative study of companies. Using these analyses, you can study the comparative strengths and weaknesses of different companies.
Let's say there are two companies- Company A & Company B.
'Strength' of COMPANY A can be the 'Weakness' of COMPANY B. Similarly, 'Opportunity' for COMPANY A can be a 'Threat' to COMPANY 'B'. For example-
Loyal customers can be the 'strength' of company A. Whereas, disloyal customers can be a 'weakness' for company B.
A new Merger & Acquisition (M&A) is an opportunity for company A. However, it is a threat to company B.
CONCLUSION
SWOT Analysis of stocks is a useful tool to analyze stocks based on their strengths, weakness, opportunities, and threats. If done properly before investment, SWOT Analysis can help an investor to understand the competitive advantages/disadvantages in order to make a reasoned decision.
By utilizing the stock screener, stock heatmap, portfolio backtesting, and stock compare tool on the Trade Brains portal, investors gain access to comprehensive tools that enable them to identify the best stocks and make well-informed investment decisions.

Kritesh (Tweet here) is the Founder & CEO of Trade Brains & FinGrad. He is an NSE Certified Equity Fundamental Analyst with +7 Years of Experience in Share Market Investing. Kritesh frequently writes about Share Market Investing and IPOs and publishes his personal insights on the market.
---
Start Your Stock Market Journey Today!
Want to learn Stock Market trading and Investing? Make sure to check out exclusive Stock Market courses by FinGrad, the learning initiative by Trade Brains. You can enroll in FREE courses and webinars available on FinGrad today and get ahead in your trading career. Join now!!