List of Top Liquor Industry Stocks in India: India doesn't rank too high on the list of countries with the highest per capita alcohol consumption. But it is also true that Indians consume almost half of the whiskey produced in the world. This is mainly thanks to India's huge population. India's alcohol intake however has increased by 38% in the last 7 years.
Looking at the industry from a business perspective. We have prepared a list of the Top Liquor Industry Stocks in India. Here, we'll discuss the top 8 alcohol players in the industry.
Top Liquor Industry Stocks in India
United Spirits Limited, is the world's second-largest spirits company by volume. The company was originally founded by Scotsman Angus McDowell in Chennai. Currently, United Spirits are headquartered in Bangalore. The company has been around for almost 2 centuries and is currently the biggest in the country with a market cap of Rs. 55,933 cr.
United Spirits produces several famous brands like Antiquity, Bagpiper, McDowell's Royal Challenge, Signature, Black Dog, Romanov, etc. They export their products to over 37 countries. In 2013 global player Diageo began acquiring a stake in the company and currently holds a 56.94% majority stake in United Spirits.
UB Group is another alcoholic beverage giant in India. The company was founded in 1857 by Vittal Mallya. It has a 40% market share in the Indian brewing market. They are headquartered in UB City, Bangalore. Although they come second in terms of size with a market cap of Rs. 42,218 cr, they are India's largest beer producers.
The company sells beer under the Kingfisher brand. Unfortunately, the company has faced difficulty in the recent past when its Chairman Vijay Mallya was accused of money laundering, misappropriation, and being a willful defaulter.

Radico Khaitan Ltd. (RKL) manufactures industrial alcohol, Indian Made Foreign Liquor (IMFL), and country liquor. The company has a market cap of Rs. 12,273 cr., making it the third-largest in the Indian industry.
It was founded in 1943 by Dr. Lalit Khaitan and is headquartered in Rampur, Uttar Pradesh. Their brands include Magic Moment, 8 PM whiskey, Contessa Rum, and Old Admiral Brandy. The company sells its brands in more than 85 countries.
Globus Spirits Ltd. was founded in 1992 and since then has come a long way in a short period of time. The company caters to four segments i.e. Indian Made Indian Liquor (IMIL), Indian Made Foreign Liquor (IMFL), IMFL Bottling, and Bulk Alcohol. It currently has a market cap of Rs. 3,106 cr.
The company is famous in the segment of country liquor better known locally as 'desi daru'. According to Globus, the Indian country liquor is about 242 million cases with a growth rate of about 7% per annum. Its famous brands include Officer's Choice, White Lace, Samurai Rana Rajasthan No 1, Ghoomar Samalkha No 1, etc.
ALSO READ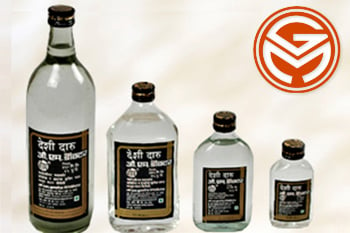 G.M.Breweries Limited (GMBL) was set up in 1981 by Shri Jimmy William Almeida. He created the company with the aim of providing the finest quality country liquor to the common man at the lowest possible price. It is headquartered in the state of Maharashtra. GM Breweries Ltd. currently has a market cap of Rs. 1,064 cr.
The company manufactures Country Liquor (CL) and Indian-made Foreign Liquor (IMFL). Its top brands include Pioneer Doctor Brandy, Pioneer Special Doctor Brandy, Hot Shot Rum, and Reporter Choice Whisky.
6. Assoc Alcohol and Breweries
Assoc Alcohol was set up in Calcutta in the year 1989. The company was promoted by B. P. Kedia and A. K. Kedia scions of the Kedia family. They began by producing IMIL (Indian Made Indian Liquor) and has grown over the years to also produce international brands.
It currently has a market cap of Rs. 834 cr. Since its initial stages, the company has been a leading producer to the Government of Madhya Pradesh. Its leading brands include Royal Falcon Gold Seal Jamaican Magic (rum) Karapov Vodka etc.
Tilaknagar Industries was Founded in 1933 by Shri Mahadev L. Dahanukar. It was initially incorporated as Maharashtra Sugar Mills. It was then engaged in the manufacture of sugar and allied products. They were forced to move out of the sugar business after the 1987 Indian legislation was introduced compelling all sugar production to be managed by co-operative schemes.
The group was then called Tilaknagar in honor of Dahanukar's friend, the independence activist Bal Gangadhar Tilak. They then entered the liquor segment. The company today has a market cap of Rs. 1,307 cr. Its current portfolio of liquor includes brandy, whisky, vodka, gin, and rum. Its most popular brands are Madira Rum and Mansion House brandy, which are among the biggest-selling spirits in their respective categories. The company also produces Scotch whisky, 'Seven Islands' in collaboration with BenRiach distillery.
Som Distillerie was incorporated as a public limited company in 1993 by J K Arora and A K Arora. The company is currently located in Bhopal, Madhya Pradesh. Its current portfolio of liquor includes rum, vodka, beer, gin, scotch whiskey, and other distilled and blended liquor. The company currently has a Mcap of Rs. 638 cr.
Its popular brands include Hunter and Woodpecker in beers, Pentagon Gold Edition Whisky, Milestone Blue and Legend Premium Whisky, White Fox Vodka, Milestone Brandy, Pentagon Rum, and Black fort Rum.
Closing Thoughts
In this article, we discussed the top Liquor Industry Stocks in India. The Indian liquor industry has kept growing in leaps and bounds. Could this be an opportunity to try these companies … at least as investments. Let us know what you think of liquor stocks as an investment opportunity below. Cheers!

Aron, Bachelors in Commerce from Mangalore University, entered the world of Equity research to explore his interests in financial markets. Outside of work, you can catch him binging on a show, supporting RCB, and dreaming of visiting Kasol soon. He also believes that eating kid's ice-cream is the best way to teach them taxes.