Stock Market News Apps in India: A large number of people are engaged in trading in shares and other financial products. Stock market news apps help people to stay updated about the latest developments in the stock market on the go so that they can make sound investing decisions.
They cater only to financial news or anything else that is related to the market and leave out the rest. These days, the latest information is in everyone's pocket, thanks to news apps.
Why are stock market news apps required?
Many people saw a decline in their regular source of income due to COVID. To make up for that, quite a lot of them entered the stock market. Some of them earn money from the stock market as an additional source of income.
However, to earn money from the market, it is important for them to know the latest updates about the companies or industries that they're interested in. These days, missing out on news can cost traders dearly. Stock market news apps help them to stay updated.
There are many stock market news apps in India, therefore, it might be a little difficult to choose. Read on to know our top picks based on Google Play Store ratings, features and relevance.
Top Stock Market News Apps in India
Here's a list of top stock market news apps in India:
Stock Market News App #1 – Moneycontrol
This is one of the top stock market apps in India.  It can be used on Android, Windows and iOS. Users get the latest updates on a wide range of topics covered in their news and personal finance section, including futures, options, stocks, mutual funds, currencies and commodities. Users can get access to expert views, and in-depth coverage and analysis of the financial markets.
Play Store Rating: ⅘ stars (368k reviews)

Downloads: 10 Million+

Available on: Android, iOS, Windows
Its notable features are:
Navigation: It is simple to use, considering its top-notch navigation. Users can browse through their portfolio, market data, watchlist, latest news, message board and so on.
Voice enabled search: Its voice-enabled search helps you to find what you're looking for in a jiffy.
Text to speech feature: Its text to speech feature is especially helpful for news and articles, that help you to listen to content on the go.
All-day coverage: It has an all-day coverage latest market, economic and business news, as well as interviews of senior management.
Read later: There is an option to save your favourite articles and news. They can be read later, even offline.
TRENDING TOPIC
Stock Market News App #2 – Trade Brains Portal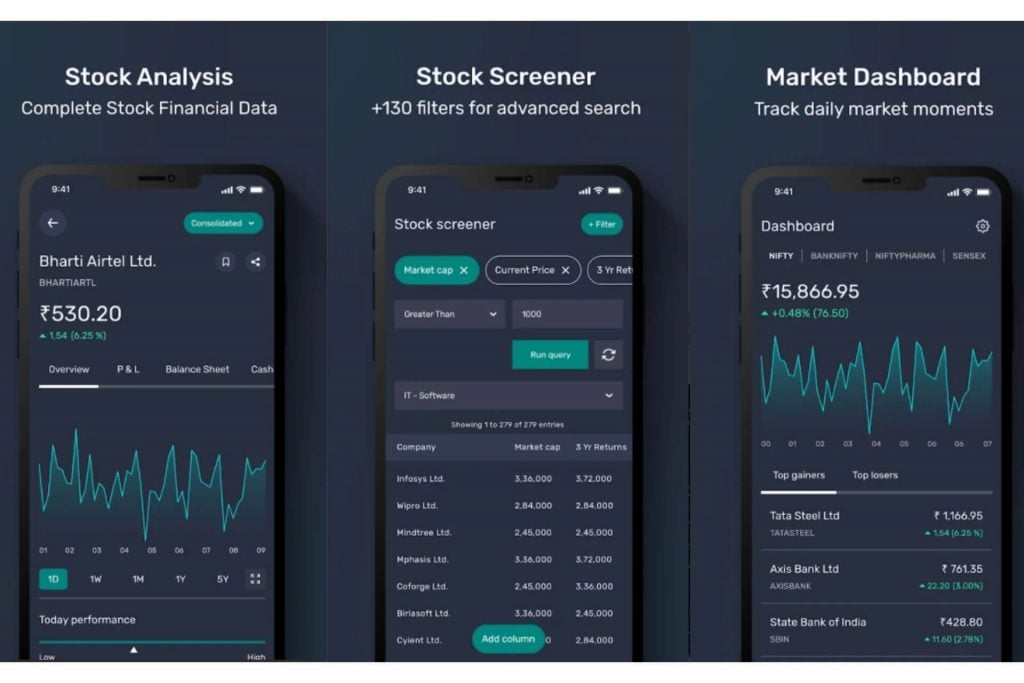 The Trade Brains Portal has an interface that is easy on the eyes. It is well organized and has plenty of features. As soon as you log in, you'll find a section about top news for the day.
In the market news section, you'll find news segregated based on what is trending, editor's picks, alerts, IPO News, company results, corporate actions, commodity, economy, and all news.
Play Store Rating: 4.8/5 stars (83 reviews)

Downloads: 10 thousand+

Available on: Android, iOS
Some of its features are:
Clean UI: It has a clean UI and its analytics tools are fast. It has over 130 filters that users can choose from, in order to find precisely what they're looking for.
Financial data: It has details like ratios, charts, shareholding data, financial statements and more data for over 4000 publicly listed companies on the the NSE/BSE.
All-day coverage: It has an all day coverage of the latest news regarding the markets.
Multiple Watchlists: It has multiple watchlists so that users can easily keep a track of their favorite stocks.
Superstar Portfolios: Users can track the latest portfolios of top investors in the stock market, find out the stocks that they are holding and their value.
Detailed: It provides detailed coverage regarding fundamentals, technicals, peer comparison, earnings and quarterly results.
Download Trade Brains Portal App Now
Stock Market News App #3 – ET Markets
Play Store Rating: 4.7/5 stars (58k reviews)

Downloads: 1 Million+

Available on: Android, iOS, Windows
Its major features are:
Languages: It is available in 8 Indian languages, apart from English.
Data: It offers business and market news, share market tips, investment options, NSE Nifty charts and share prices. Apart from this it provides the latest developments in stock markets, commodity markets, IPOs, mutual funds, money markets, and the stock exchanges.
Podcast: Users can listen to the latest market updates in the form of audio news and podcasts.
Personalized: Users can choose to follow certain stocks, mutual funds, commodities etc and receive news about them instead of having to read news on every topic that is available on the app.
Stock Market News App #4 – Investing.com
It is a financial markets platform that provides real-time data, breaking news and analysis, charts financial tools and more across 250 exchanges around the world in more than 44 languages. It is one of the top three global financial websites according to Alexa and SimilarWeb.
Play Store Rating: 4.5/5 stars (482k reviews)

Downloads: 10 Million+

Available on: Android, iOS, Windows
Its features are:
Financial instruments: It covers news about more than 3,00,000 financial instruments and offers unlimited access to financial market tools such as real-time quotes and alerts, financial insights, customized portfolios, personal alerts and more, free of charge.
Global: This app is especially useful if the user invests in or wants to keep a track of various markets and companies from around the globe.
Alerts: Their alert system allows users to receive customizable alerts for any instrument, news analysis article, or economic event. Alerts can be set based on price volume or percentage change.
Videos: It provides breaking news videos and updates on global financial markets, technology, politics and business.
Stock Market News App #5 – Yahoo Finance
This app will be ready to use once you select the region you're from. If you want to get updates about the Indian stock market, choose India (English). This app offers comprehensive insights, news. Real-time stock quotes and more, tailored as per your preference. It gives complete access to live stock market data.
Play store rating: 4.1/5 Stars (175k reviews)

Downloads: +10 Million

Available on: Android, iOS, Windows
Its features are:
Data: It covers news about shares, bonds, commodities, ETF and more, all in one place. Infact, it provides updates about currency and cryptocurrencies as well.
Global: It provides real-time data related to stocks from major world markets.
Tailored: Finance and stock market news is tailored according to the users preferences.
Accessibility: It is enabled for talk-back, alternate input devices and physical keyboards, optimized for colour contrast and supports closed captions when available.
ALSO READ
In Closing
All the apps that are mentioned above have their own pros and cons. A user might find one of these comfortable while another user might like another app.
Some apps appeal to those who are price-sensitive, while others might appeal to those who are willing to pay for premium for additional features. Ultimately it depends on the user.
It is a good idea to try some or all of these apps and then figure out what works best for you. An app may be downloaded by many people, but what's the point if you're a beginner and find it difficult to understand the best of information that is presented to you.
In that case, go with something simple, even if it is relatively new, or use more than one app that resonates with the information that you require.
You can now get the latest updates in the stock market on Trade Brains News and you can even use our Trade Brains Portal for fundamental analysis of your favourite stocks.

Hey, there! Thank you for stopping by 🙂 Simran is a master graduate in commerce from Bangalore University, an NSE-certified Fundamental Analyst and a NISM-certified Research Analyst. She finds interest in investing and personal finance. Outside of work, you can find her painting, reading and going on long walks.
---
Start Your Stock Market Journey Today!
Want to learn Stock Market trading and Investing? Make sure to check out exclusive Stock Market courses by FinGrad, the learning initiative by Trade Brains. You can enroll in FREE courses and webinars available on FinGrad today and get ahead in your trading career. Join now!!