A Study on Vijay Mallya Scam Case: Vijay Vittal Mallya, once known to you and me as 'The King of Good Times' or also dubbed ' The playboy of the East' was born to the Indian Entrepreneur Vittal Mallya in 1955. Vittal Mallya was largely known for the role played as the director of United Breweries (UB) Group which he achieved at the age of 23. Following his father's sudden demise Vijay Mallya became chairman of the UB Group.
Vijay Mallya was always known for his flamboyant and posh lifestyle. A testament to these were the lavish New Year Parties at his Kingfisher Villa in Goa or the birthday bashes thrown on his luxurious Yacht ' The Indian Empress'.
These parties were filled with prominent sportspersons, Bollywood stars, and models. Baron to Indias biggest liquor company his riches also included a private jet, a yacht and a fleet of 250 rare cars. Today we take a look at Vijay Mallya's rise to the king of good times and his plummet into a debt-ridden slump.
(LtoR: Vijay Mallya with his father Vittal Mallya; Vijay Mallya posing in one of his vintage cars; Vijay Mallya in an interview with Simi Garewal)
Let's Begin With Vijay Mallya's Achievements
Although his reputation as 'The playboy of the East' may create the fallacy that Vijay Mallya was just another spoilt brat squandering the millions he inherited. His achievements tell a completely different story. After becoming the chairman of the UB Group at the age of 28 in 1983, he transformed the beverage company into a multi-national conglomerate of over 60 companies.
One of his first major decisions was to consolidate the various companies under an umbrella group called the "UB Group". This also involved spinning off the loss-making entities in order to focus on the core business which was alcoholic beverages.
By 1998- 1999 the annual turnover had increased by 64% over 15 years to US$11 billion. The UB Group boasted a national market share in excess of 50% and also controlled 60% of the total manufacturing capacity for beer in India.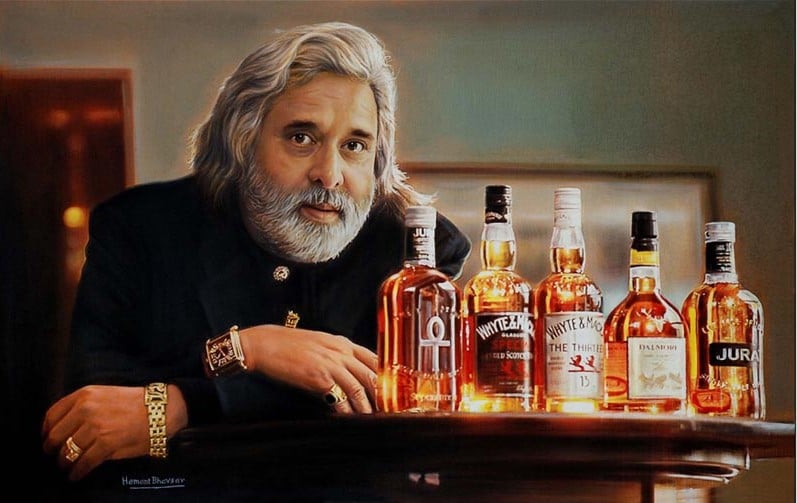 Vijay Mallya However did not stop with the success of his company in alcoholic beverages alone. He went further to acquire Berger Paints, Best, and Crompton in 1988; Mangalore Chemicals and Fertilizers in 1990, The Asian Age newspaper and the publisher of the film magazine, and Cine Blitz, a Bollywood magazine in 2001.
He also went on the serve as the Chairman of Sanofi India and Bayer Crop Science among several other companies. These achievements catapulted him into the status of one of the great Indian business tycoons.
(Vijay Mallya at the launch of the limited edition Kingfisher Calender. LtoR: Vijay Mallya with Preity Zinta; Models; and Enrique Iglesias)
Vijay Mallya's reach also extended to the sports world. In 1996, he became the first Indian tycoon to sponsor a cricket team to the world cup when he did so for the West Indies through Kingfisher (Indian beer brewed by UB). This gave birth to the famous jingle 'Oo la Lala le o'.
His companies also owned the IPL team Royal Challengers Bangalore, I-league teams Mohun Bagan AC, East Bengal FC, and Formula 1 team Force India. Vijay Mallya is also a member of the World Motor Sport Council representing India in the FIA. He also took a particular interest in horse racing and also owned stud farms with up to 200 horses.
Vijay Mallya also contributed significantly to protect Indian history by bringing back precious artifacts belonging to Tipu Sultan and Mahatma Gandhi. This included a bid that he won at 1.7 crores for the sword of Tipu Sultan at an auction in London in the year 2004.
In addition to this, he also brought back 30 other items belonging to Tipu Sultan from auction houses based in the UK. In 2009 Vijay Mallya once again bid successfully for the belongings of Mahatma Gandhi at US$ 1.8 million at an auction in New York.
Mallya also served in the Rajya Sabha, the upper house of the Parliament of India, for his home state Karnataka.
Vijay Mallya's Kingfisher Airlines
Despite Vijay Mallya being successful in running various companies mentioned earlier, he isn't known for their success, but for the failure of Kingfisher and the show that followed. The Kingfisher Airline was part of Vijay Mallya's vision of having a world-class airline in India.
He was quoted saying to his core team before the launch that "We are not entering the business of transportation, but we are going to be in the hospitality business". Mallya was also personally involved with the airlines and also personally interviewed the cabin crew in order to make sure that no mistakes were made.
(The Kingfisher Takeoff Demo which was ahead of its time. Vijay Mallya had roped in Yana Gupta ( featured in the video) for this purpose)
After its launch in 2005, Kingfisher Airlines soon became synonymous with Five Star Air Travel. This was thanks to the newly appointed planes, pretty flight attendants (whom Mallya claimed to personally appoint), good food, and also in-flight entertainment in 2006 which was the first of its kind.
Most importantly this domestic airline also had a first-class. Although domestic flights were not allowed to serve liquor in India, Kingfisher had free liquor in the lounges for first-class passengers. This made Kingfisher the first choice of business travellers. Executives would even give up flyer miles from competitors just to fly Kingfisher.
Vijay Mallya, however, was not content by flying Kingfisher only in Indian skies. He planned on expanding the airline globally. As per Indian rules, airlines that have been in existence for only 5 years are not allowed to fly overseas routes. Mallya decided to bypass this law by acquiring existing airlines.
He first bid for Air Sahara in 2006 but lost to Jet. He later was successful in buying Air Deccan. In 2008, Kingfisher finally got permission to operate on international routes with its first flight being from Bangalore to London. By 2008, Kingfisher Airlines was carrying 10.9 Million passengers with a fleet of 77 aircraft operating 412 domestic flights daily. In 2009 Kingfisher airlines became the Indian market leader with a market share of 22.9%.
Despite its success, Kingfisher was consistently making losses since its inception. The shareholders kept waiting for their first dividends. Post-2010, the airline failed to capture markets which was a major red flag as its competitors continued to do so.
In the year 2011, the airline first declared that it had cash flow issues. In order to keep the loss-making business functioning, Vijay Mallya resorted to continuously borrow money from the banks.
By 2012, Kingfisher Airlines was declared as an NPA by SBI. At this point, it had even failed to pay its employees which led to its pilots leaving it for better opportunities. Finally, the grounding of Kingfisher Airlines in 2012 and the cancellation of its license in December 2012 put an end to the Kingfisher journey.
What went Wrong with Kingfisher?
— 2008 Recession
The news of airlines going bankrupt has been particularly dominant in the recent past. The huge capital costs with regards to aeroplanes, the ever-changing fuel costs, and country-wise regulations have made it one of the toughest industries to survive in. Kingfisher too got entangled with these problems post the 2008 recession.
The recession had adverse impacts on all industries. As of March 2008, Kingfishers' debt amounted to Rs. 934 crores. During the recession, crude oil prices soared to $140 per barrel.
This was almost a two-fold increase in comparison to the 2005 – 2010 average of $72.68. The International Air Transport Association (IATA) estimated that the global aviation market would suffer losses of $5.2 billion. The airlines in India were hit harder due to the taxes and levies imposed by the government. By the end of 2008, the debt with Kingfisher had increased to Rs.5665 crores.
— Issues with Air Deccan


When Vijay Mallya first bought Air Deccan he allowed both to function as separate companies. But over time it became clear that Kingfisher was the golden child in between the two. If there were clashes between the schedules of the two, Kingfisher was always favoured.
The problem arose when passengers not only left Air Deccan due to this but decided to choose competitors other than Kingfisher. Post the closure of Kingfisher the Serious Fraud Investigation Office (SFIO) found that serious corporate ethics were violated during the merger. Kingfisher had created three new departments in the airline to avoid paying capital gains tax.
— Business Model Followed by Kingfisher Airlines
If we take a look at the picture offered by Kingfisher to the travellers at inception it would be safe to say that Kingfisher would be luxurious domestic travel. But over time this picture began to change. Kingfisher went ahead and purchased Air Deccan.
Air Deccan did not fully suit the image that had been created by Vijay Mallya in consumers' eyes. Air Deccan was set up as a low-cost airline. By purchasing it Kingfisher gained a few consumers particularly those looking for cheap fares but in the process lost its distinctive sheen.
This is just one of the examples of Kingfisher changing its business models. A regularly changing business model gave travellers the impression that Kingfisher wasn't consistent and would only keep getting worse.
Vijay Mallya Scam: Was it just Mallya's Fault?
Loans associated with Kingfisher amounted to Rs. 7000 crores. The table below shows the loans taken by Kingfisher from various banks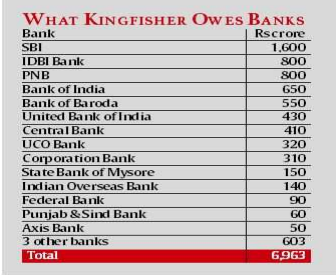 There has also been controversy when it comes to the means used and collateral placed to acquire these loans. BOI had given a loan of 300 crores to Vijay Mallya on items like office stationery, boarding pass printers, and folding chairs as collateral. The banks' willingness to provide loans based on Current assets as capital created suspicion on the bank officials if they were involved in the Vijay Mallya scam.
The loans given by SBI were on the trademarks and Goodwill of Kingfisher airlines kept as collateral. These trademarks were worth over Rs. 4000 crores in 2009 have now plummeted to not more than Rs. 6 crores. IOB too faces similar issues where the 2 helicopters placed as collateral are not in a flying condition and hence cannot be sold to recover Rs. 100 crores of debt.
— Vijay Mallya Scam – What Were the Loans Used For?
Over the course of time, the loans associated with Kingfisher were monumental. But the question arises if the loans that were taken by UB Group were actually implemented for their actual purpose. There have been allegations that the loans taken by Vijay Mallya were only to further his personal agenda.
These allegations claim that the loans taken by Vijay Mallya were laundered overseas to various tax havens. This was done with the help of shell companies. Mallya would have the loan received from banks transferred to these shell companies where dummy directors were placed for this purpose.
These companies were not active and did not even have an independent source of income. The directors placed here would act as per the directions received from the UB group at the command of Mallya. These companies were located in seven countries including the United Kingdom, the USA, Ireland, and France.
Furthermore, it is also alleged that Vijay Mallya also diverted these loans in order to fund his IPL cricket team The Royal Challengers Bangalore, and his F1 racing team Force India. This was all in the midst of a period when the employees of Kingfisher were not paid their salaries. As of October 2013, the salaries had not been paid for a period of 15 months.
ALSO READ
Vijay Mallya's Viewpoint
According to Vijay Mallya, the reason for the failure of Kingfisher Airlines was the macroeconomic factors and then government policies. And as far as his name is being dragged in all NPA cases he claims that he is a victim of a media campaign.
Vijay Mallya has also made an offer to banks where he would pay them Rs. 4,000 crores in order to settle all his accounts. But as per the news reports lenders together have decided that they need a minimum of Rs.4900 crores to be paid upfront.
Closing Thoughts on Vijay Mallya Scam
When the Vijay Mallya scam case is first looked at, it seems similar to those of businessmen getting unlucky. But a closer look reveals the possibility of money laundering that can only be proved once he is extradited back to India. The ability to turn UB into a global giant had turned him into a business superstar.
Although his fast and flashy life inspired many to strive for such wealth, his placing himself above the greater good of all stakeholders associated with Kingfisher took all of this away.
One only wonders where did these skills evaporate when dealing with Kingfisher in times of crisis when his employees were not paid for 15 months. On being questioned about this he replied that "In a Public Limited Company where is one man, who might be the chairman, responsible for the finances of the entire Company? And what has it got to do with all my other businesses? I have built up and run the largest spirits company in the world in this country.".
Although he had already lost the billionaire status by the year 2013, his wealth still stood at over $700 million. This meant that he had the resources to provide his employees with some relief. But instead, he chose to celebrate his Birthday by spending lavishly where international singer Enrique Iglesias performed.
His indifferent attitude shown towards the suffering of his employees coupled with the allegations of Rs. 4000 crore laundered made it impossible to sympathize with which is sad as he was looked up to by many. It is safe to compare him to a Captain of an abandoned ship.
The most important man at the helm, but when things go awry also the first man to get out. That is it for the article on Vijay Mallya Scam, if you liked the article then comment down below and let us know.

Aron, Bachelors in Commerce from Mangalore University, entered the world of Equity research to explore his interests in financial markets. Outside of work, you can catch him binging on a show, supporting RCB, and dreaming of visiting Kasol soon. He also believes that eating kid's ice-cream is the best way to teach them taxes.
---
Start Your Stock Market Journey Today!
Want to learn Stock Market trading and Investing? Make sure to check out exclusive Stock Market courses by FinGrad, the learning initiative by Trade Brains. You can enroll in FREE courses and webinars available on FinGrad today and get ahead in your trading career. Join now!!