A complete guide on Wisdom Capital review – what they offer, their brokerage charges, and why or why not it is recommendable.
One of the evolving discount brokers of India, Wisdom Capital Advisories Private Limited is a subsidiary of the Ashlar Group of Companies. With its low brokerage, quick order execution, and customer-centric services, the stockbroking company has a presence across 250 franchisees.
Despite being a discount stock broker stockbroker, they also offer broker-assisted trade facilities to their customers. They focus on providing technology-driven, prompt execution-enabled services to their clients so as to expand their reach and become India's unmatched discount broking firm.
In this Wisdom Capital review article, we are going to discuss how was Wisdom Capital originated, the brokerage and other charges they charge, why it is recommendable to trade through this discount stockbroking firm, what disadvantages an investor will have to accept if they trade with them, what range of other products and services they offer apart from the stockbroking service and much more.
The Wisdom Capital review 2021 article aims to provide all the above information especially to our readers that will serve as their absolute guide.
About Wisdom Capital Advisories Pvt Ltd
Incorporated in 2013, Wisdom Capital was founded by Deb Mukherjee and it is headquartered in Noida. Initially, in 2005, Mrs. Sudesha Mukherjee and Mr. Pralay Chakraborty started 'Devswings' which over a period of time got the legal form as a Wisdom Capital Advisories Pvt Ltd with Sudesha and Deb as directors.
The company is considered one of the fast-growing discount broking firms with its use of advanced level technology and focus on customer-centric services. They offer trading in equity, derivative, commodity derivatives, depository and investment in mutual funds, Insurance, and other financial planning tools across the exchanges NSE, BSE, MCX, and MCDEX. They offer automated online trading, as well as broker-assisted trading experience to their clients.
As a fintech – financial company, they are focused on providing hi-tech trading platforms that ensure a convenient and hassle-free trading experience. Their low brokerage plans and free Wisdom Capital Demat account and Trading Account facilities have attracted many customers. 
They have an enticing offer of a 100-day challenge where investors are offered to take this challenge and at the end of 100 trading days if they come out profitable the Wisdom Capital brokerage charges are refunded. They also offer unlimited leverage through all exchanges and their leverage in NSE and MCX Derivatives is up to 20x and up to 40x in cash which is unbelievable for any discount broking firm to have within a very short span of time.
They also provide trading in precious metal futures and trading in almost all other metals along with agricultural and non-agricultural commodities trading. The dual benefit of being a stockbroker as well as a depository participant enables clients with smooth execution and settlement of trades.
To count its achievements, the company has won Amity Corporate Excellence Award for promoting financial literacy, India's Most Influential Business Leader, Most Admired Financial Advisory Company in India, Most Promising Capital Market Service Provider, and Most Promising Capital Market Solution Provider.
The broker has also introduced a Wisdom Capital news trading terminal – Alpha Trading Terminal where Greek tools such as Alpha, Gamma, Theta, Delta are provided to help investors make decisions based on real-time updates. Watch Pro Wisdom Capital demo –
List of Charges: Brokerage and Transaction Charges, Account Opening Charges, and Other Related Charges
Wisdom Capital Brokerage Charges
Brokerage Plans
Freedom Plan
Pro Plan
Ultimate Plan
Account Opening
Free
Free
Free
Validity
Lifetime
Lifetime
Lifetime
Brokerage in NSE Equities
ZERO (0.00%)
0.005% Intraday &
Delivery
0.007% Intraday &
Delivery
Brokerage in NSE Future
ZERO (0.00%)
Rs 9/Trade
Future:0.005%
Brokerage in Options
ZERO (0.00%)
Rs 9/Trade
Options: Rs. 15/Lot
Brokerage in MCX
ZERO (0.00%)
Rs 9/Trade
0.005% Intraday & Delivery
Intraday Margin in NSE Cash
Up to 5X MIS
Up to 32 X MIS
Up to 60 X MIS
Intraday Margin in NSE Futures (MIS)
1X
Up to 4X
Up to 15X
Intraday Margin in NSE Futures (BO/CO)
1x
Up to 10X
Up to 15X
Intraday Exposure in NSE Options
1X
1X Buy & Up to 4X Sell.
1X Buy & Up to 15X Sell.
Intraday Leverage in MCX (MIS)
1X
6X
Up to 8X
Intraday Leverage in MCX (BO/CO)
1x
Up to 6X
Up to 12X
Delivery Margin in NSE Cash (BTST)
1X
Up to 2X
Up to 4X
Call & Trade Charges
Rs 20/Executed Order
Rs 20/Executed Order
Rs 20/Executed Order
Free Wisdom Capital Demat account Opening
Yes
Yes
Yes
Demat Maintenance Cost
Lifetime 999+ Taxes
Lifetime 999+ Taxes
Lifetime 999+ Taxes
Trading Software Nest
NSE NOW
Free
Free
Wisdom Capital Review: Margin / Exposure
| | |
| --- | --- |
| Segment | Wisdom Capital Margin |
| Equity Delivery | 5x to 40x (dependent on brokerage plan) |
| Equity Intraday | 5x to 40x (dependent on brokerage plan) |
| Equity Future | 5x to 20x (dependent on brokerage plan) |
| Equity Options | 5x to 40x (dependent on brokerage plan) |
| Currency Future | 4x to 15x (dependent on brokerage plan) |
| Currency Options | 4x to 15x (dependent on brokerage plan) |
| Commodity Future | 5x to 20x (dependent on brokerage plan) |
ALSO READ
Main Features of Trading and Investing with Wisdom Capital
The discount broker firm offers services and products at a cheap rate and equity delivery for free.
The company has excelled in providing high-speed online trading platforms and at the same time, they offer broker-assisted offline trading facility as well to its customers which any other discount broker would resist offering at such a cheap rate.
To educate investors and traders as they call it newbies, they offer Wisdom Capital Trading School where such newbies can undergo a small course and learn the basics of the market and understand the pattern and the trend.
They also provide customer-centric affordable brokerage plans based on the requirements by each investor and trader being either a regular investor or an active trader.
The customers are offered a wide range of advanced trading platforms such as NEST, NOW, NET, Fox Trader, Wisdom Pro, and Wisdom Trade along with MIS, CO, SL, SL(M), and Bracket Order (BO) facilities for the order types.
They offer unlimited leverage across all the exchanges for active and professional traders.
The company offers SEBI authorized Portfolio Management Services as well as an uninterrupted call and trade facility.
Their research team offers live trading tips based on the technical analysis and on the terminals.
Wisdom Capital Review: Products and Features
Wisdom Capital is said to be the fastest-growing discount broking company in India as they offer a wide range of products and services with advanced technologies and are called the unorthodox broking house.
Products: The company offers to trade in Equity, Currency, Futures, and Options, and Commodities. Their trading terminals are enabled to provide single ledgers for all types of trading.
Services: The extensive services offered by the discount broking house contain Wisdom Capital Demat account, Trading, Intraday, Depository, and Portfolio Management Services. It is among very few discount broker who offers advanced customer support in terms of live chat, email support as well as the toll-free number. They also offer free live trading tips based on technical analysis and terminals during market hours.
NEST Trader: The real-time trading facility and a user-friendly trading platform offering an array of trading tools, charts, and scanners, the NEST is specifically designed for desktop traders.
Fox Trader: This is also a desktop terminal with the latest and advanced features for every modern trader that includes live tick screening, chart analysis, technical indicators, algorithm designing, execution of automated orders, and generation of trade signals.
Wisdom Power: This is a .exe platform that allows the traders to perform detailed research and analysis with the execution of the trades in no time. It also offers advanced charting, smart tools that identify the mathematics behind a particular pattern of futures and options, screeners and daily reports at the end of the day to enable traders aware of every movement in the market.
Wisdom Pro: Wisdom Capital Pro is a highly integrated mobile trading app that allows users to trade hassle-free as well as manage a portfolio, customize watchlists, research various scrips across all exchanges.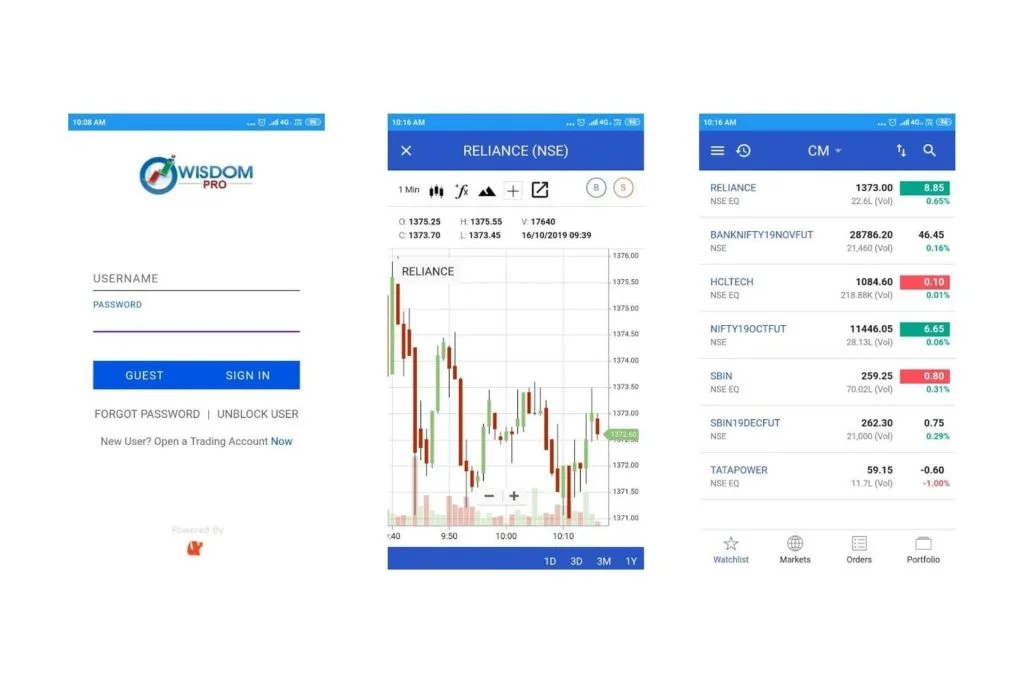 Wisdom Trade: A browser-based trading platform that offers exclusively seamless research and analytical tools right before placing an order for the trades. Apart from this, it is also equipped with advanced charting and screening tools, a customizable trading screen, quick and easy order placement, and execution, a shared watchlist, single-point access to the profile, Wisdom Capital back office reports and live scrip statistics, and many more. 
Pros and Cons of Wisdom Capital
Below are the advantages and disadvantages of trading with Wisdom Capital.
Pros:
Cheaper Wisdom Capital brokerage plans being a discount broker enables customers to easily pick them as their stockbroker.
The users also get an advantage of learning the stock market fundamentals from the panel of experts offering a small course through their Trading School.  
Despite being a discount broker, they offer broker-assisted trading experience with their 250 offices and more than 1000 network of franchisees and sub-brokers.
Their trading platforms are based on advanced technologies and provide a very smooth trading experience to their users which is self-explanatory. 
They offer a dedicated team of customer support executives who are well-structured and professional with live chat, email support, and toll-free numbers. 
A variety of brokerage plans are offered considering specific requirements and different types of investors and traders. 
They also offer unlimited leverage across all the exchanges and the Nifty trading is offered with 3000 margins, Crude with 3000 too, and Mega Gold with 9000 margins.
Cons:
They do not provide investment services in IPO, Mutual Fund, FPO, FDs, and NCDs.
The facility of Algo trading is available with an additional charge which some customers might be resistant to pay.
Closing Thoughts
An honest Wisdom Capital review – one of the evolving discount brokers of India. In this article, we have covered all the important details of Wisdom Capital – review, brokerage charges, Demat account, margin, benefits, and more. Check reviews of other top brokers on Nifty Brokers.