Paytm Case Study: This Indian payment giant is all around us. From making payments for our elite needs at Starbucks to even paying our local Paanwala, Paytm has it all covered. But this giant has once again made the news with its colossal Rs. 16,600 IPO. Although the company still hasn't released its DRHP, in this article, we complete a quick case study on Paytm's business. This will in turn help you best prepare for what's coming. Keep Reading to find out!
Paytm Case Study – About the Company
Looking at its size today one would find it hard to believe that the company was founded just over a decade ago in 2010. Paytm was founded in August 2010, by Vijay Shekar Sharma in Noida with a capital of $2million. Unlike today where Paytm is used as a means of payment for almost everything the company then was used as a means of prepaid mobile recharge website.
The company then added DTH recharge, postpaid and landline payments only by the year 2013. Although the first 3 years took a while for the company to grow into other fields there was no stopping it from here.
The very next year the famed Paytm wallet was launched. What further gave a boost to this novice idea in 2014 was its acceptance as a means of payment by the Indian Railways and Uber. Paytm now had a customer base of 11.8 million.
The coming years set apart the growth story of Paytm. Paytm now was also in the travel business allowing their customers to book tickets for their needs. This saw their travel business touch a record booking of 2 million tickets per month.
In addition to this One97 Communications became the official partner for the IPL team Mumbai Indians. They also acquired the rights to matches played in the home ground for both national and international cricket matches. This year alone saw its user base grow to 104 million.
Demonetisation
Paytm's real growth however came in 2016. The year is known to us for Demonetisation and Jio. When PM Modi announced demonetisation in 2016 the whole country was put into shock. Even at this point, only a fragment of the population used online payments over cash.
But this was where Paytm saw an opportunity and pounced at it. Immediately advertisements were made visible to show Paytm as the alternative to cash and a solution to the cash problem of the country. Indians too bought into it.
Another advantage that worked in Paytm's favour was the technological changes taking place in the smartphones sphere. In addition to this the entry of Jio making the internet available to everyone who was willing to wait in line for a sim. This further boosted the willingness of users to slowly adapt to online payments.
There was no stopping Paytm now. The following year they also went a step ahead to introduce Paytm Gold. This allowed users to purchase gold even for Rs 1 at the respective rates.
UPI vs Paytm
UPI was introduced into the Indian markets in 2016 in an attempt by the government to boost online payments. Paytm however lacked to see the potential of the newly made interface. One could look at it from their point of view and understand that they had the first movers advantage.
This however should have stopped other apps depending on UPI payments like Google Pay and PhonePe right. As we can see today Paytm's approach here was a disastrous move for the company's growth.
Instead of what was expected these UPI payment apps immediately began acquiring market share thanks to their genius marketing strategy which involved giving back to their users and the convenience that they provided. Paytm realised this too late and suffers the consequences to this date.
Despite this setback Paytm was valued at $10 billion in 2018.
Paytm Case Study – Investors
In a milestone for Indian startup's, Warren Buffets Berkshire Hathaway also invested in One97 Communications. The investment however did not involve directly being selected by Warren Buffet but instead by its key fund managers Todd Combs.
In addition to this Ratan Tata invested an undisclosed amount in the parent company of Paytm back in 2015.
Paytm Case Study – Revenues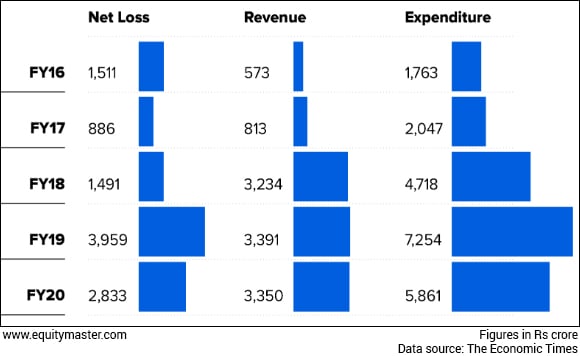 ALSO READ
Notable Concerns with Paytm
Paytm fell into hot water when US-based PayPal filed suit against the company for using a logo similar to theirs in 2016. This could turn out to be a costly affair for Paytm if the courts rule in favour of Paypal as Paytm and could also affect their business s Paytm has ready established their logo in the market.
Paytm also had been removed from the Google play store for violating its guidelines.
Despite being an early mover in online payments Paytm has yet to acquire a significant stake in the UPI segment which currently hosts many large plyers.
Paytm is yet to become a profitable enterprise and with the increasing competition this now looks like an even steeper challenge.
In Closing
Despite the multiple troubles plaguing Paytm, it still remains one of the most favoured online payments apps among Indians. Their biggest strength to this date remains their +300 million user base. In their biggest development, this year Paytm is currently seeking a $25-$30 billion valuation for the IPO.
Let us know what you think bout Paytm and its possible future in the comments below. Also, let us know if you found the Paytm case study and Paytm IPO offer to be attractive. Happy investing!


Aron, Bachelors in Commerce from Mangalore University, entered the world of Equity research to explore his interests in financial markets. Outside of work, you can catch him binging on a show, supporting RCB, and dreaming of visiting Kasol soon. He also believes that eating kid's ice-cream is the best way to teach them taxes.
---
Start Your Stock Market Journey Today!
Want to learn Stock Market trading and Investing? Make sure to check out exclusive Stock Market courses by FinGrad, the learning initiative by Trade Brains. You can enroll in FREE courses and webinars available on FinGrad today and get ahead in your trading career. Join now!!