List of Founder/Promoter Family Managed Companies in India: It comes naturally for a man to wish and attempt to try and get rich quickly. Barring means that heavily rely on luck, there are a few that provide returns like that of entrepreneurship for the majority of the population. These businesses last for two to three generations if successful in most cases whereas a few outliers go on to become the Tata's, Birlas, Ambani's.
These outliers are immensely successful as promoters and play an active role in their business across generations rather than finding a way out for quick bucks. In this article, we cover the top family managed companies in India i.e. such family-owned businesses that still strive along with their businesses in India.
About the family business in India
Most of the top conglomerates around the world started out as family businesses but transitioned into publicly held companies with the promoters taking a minority position. In India however, the promoter families still hold a majority in the company. These family business enterprises have played a crucial role in the Indian industry. Even those that are not listed create significant economic value and employment.
As of 2018, India ranked third on the list of countries with the highest number of family-owned businesses with 111 such companies. India only ranked behind China and the US which had 159 and 121 companies respectively. The study only included companies with a minimum cap of $250 million or more.
How do these companies compare to non-family-owned businesses?
The most recent study conducted by Credit Suisse during the pandemic found out that family-owned businesses outperform non-family-owned companies by an annual average of 370 basis points. This was strongest in Europe and Asia where family-owned businesses outperform non-family-owned companies 470 basis points and more than 500 basis points per annum, respectively.
Even during the pandemic, it was noticed that these promoter family-owned businesses tend to have above-average defensive characteristics that allow them to perform well. Following are some more findings from the report
— Higher growth and profits 
The analysis conducted by Credit Suisse shows that since 2006 revenue growth generated by family-owned companies has been more than 200 basis points higher than that of non-family-owned companies. The analysis also shows that family-owned companies tend to be more profitable. These superior returns were observed globally.
— Higher ESG scores
ESG stands for Environmental, Social, and Governance. This is a modern metric introduced to analyze companies on non-financial factors. According to the Credit Suisse 'Family, 1000' report family-owned companies on average tend to have slightly better ESG score results than non-family-owned companies. In addition, older family-owned companies have better ESG scores than younger firms.
Top Founder/Promoter Family Managed Companies in India
Following are some of the top family managed companies in India. These families still play an important role in the management of the company and are a driving force in their respective industries. The list is prepared based on the Family 1000 rankings created by Credit Suisse in 2018, 2020, and the Family Capital World's top 750 family business rankings.
1. Reliance Industries
The Reliance organization was brought into existence by the late Indian business tycoon Dhirubhai Ambani. Hailing from the state of Gujarat Dhirubhai was the son of a teacher. What is surprising is that one of the richest men at the time of his death once worked at a petrol pump in Yemen. He left Yemen in 1958 and returned to India with the aim of entering the textile market. Hence Reliance was born.
Dhirubhai's first employees included his younger brother and nephew and former schoolmates. In 1973 the company was renamed Reliance Industries. At the time of his death in 2002, Reliance was already a conglomerate having its business in the Oil and Gas, Refining, petrochemical, Electricity, Telecom, and Financial services industries.
Due to his untimely death, Dhirubhai had not left a will behind. After a bitter feud, the assets were split between the two brothers Mukesh and Anil Ambani.
Under the leadership of Mukesh Ambani, Reliance Industry slowly but steadily scaled new heights. By 2007, it was the first Indian company to exceed $100 billion in market capitalization. Today Mukesh is the Second richest man in Asia with a net worth of $76.5 billion. It is expected that the company will pass on to the third generation(Isha, Akash, and Anant Ambani) of Ambani's in the business. All three are appointed as directors in the company.
ALSO READ
2. Wipro
Wipro Limited was brought into glory by the man known as the Czar of the Indian IT industry, Azim Hashim Premji. Azim was born into a family that already had its roots in business. His father Mohamed Hashim Premji was known as the Rice King of Burma and after Independence was even invited by Jinnah to live in Pakistan which he declined.
Azim Premji graduated in Electrical Engineering from Stanford University, USA. He returned to India post the death of his father in 1966.
He initially took care of his father's business but after IBM was forced to leave India in 1980 he saw an opportunity to fill a gaping hole in the IT Industry in the country giving birth to Wipro. Today Wipro has emerged as one of the global leaders in the software Industry. Premji has two sons– Rishad Premji and Tariq Premji. Both the sons serve on the board of the company but Rishad has been named as the successor.
3. Dr. Reddy's Laboratories
(GV Prasad and Satish Reddy)
Dr. Reddy's Laboratories is an Indian multinational pharmaceutical company founded by Dr. Kallam Anji Reddy. Dr. Reddy was the son of a turmeric farmer from Andhra Pradesh.  Dr. Reddy founded Dr. Reddy's laboratories in 1984. The company entered the Indian pharmaceutical sector by reverse-engineering the best-known drugs of Western MNCs at a fraction of their prices.
During the 1990s the company began trying to discover its own patentable drugs. Dr. Reddy passed away in 2013 after suffering from cancer. His son Kalan Satish Reddy currently serves as chairman of the company. His brother-in-law G.V. Prasad serves as the co-chairman and managing director of Dr. Reddy's Laboratories.
4. HCL Technologies
(Shiv Nadar with daughter Roshni Nadar)
HCL Technologies Limited was founded by Shiv Nadar an Indian industrialist and philanthropist. Shiv Nadar began HCL in 1976 in partnership with several friends and colleagues from his job at Walchand Group's College of Engineering, Pune (COEP). HCL was founded with an investment of Rs. 187,000.
As of 2020, the company boasted revenues of $10 billion. His only child Roshni Nadar Malhotra serves as the chairperson of HCL Technologies and is the first woman to lead a listed IT company in India.
5. Cipla

(Cipla founder Khwaja Abdul Hamied with son, Dr. Yusuf Khwaja Hamied)
Cipla has its roots in the pre-independence period. The company was founded in 1935 by Khwaja Abdul Hamied, a disciple of Mahatma Gandhi. His family had sent him to England for his Ph.D. but Hamied changed ships and chose to go to Germany. He completed his Ph.D. at the Humboldt University of Berlin in Germany.
He also met his future wife a Lithuanian Jewish with whom he fled the country after the Nazis gained power.  CIPLA was founded in 1935 with an initial capital of Rs. 2 lakhs.  The name stood for 'The Chemical, Industrial & Pharmaceutical Laboratories. After his death in 1972, the company was inherited by his son Hamied who led the company for the next 52 years and still serves as its chairman. 
6. Tata Group
The Tata Empire was begun by Jamsetji Tata in 1868. Jamsetji Tata was born to a family of Parsi Zoroastrian priests. He broke the tradition to become the first member of the family to start a business. Before his death, he went on to scale the company in the Iron, Steel Cotton, and Hotel Industries. He inaugurated the Taj Mahal Hotel in 1903, priding it as the only hotel in India that had electricity.
Jamsetji Tata is regarded as the legendary "Father of Indian Industry". His eldest son Dorbji Tata and following successors which included JRD Tata and Ratan Tata played a crucial role in scaling the company to the heights it has reached today. Under Ratan Tata, the group's revenues grew over 40 times, and profit, over 50 times. As of 2020, the group had revenues of $106 billion.
ALSO READ
Although Tata Group has been a family-managed company in India for decades, it is currently professionally managed. As of 2021, Natarajan Chandrasekaran is the Chairman of the Board of Tata Sons, the holding company and promoter of more than 100 Tata operating companies with aggregate annual revenues of more than US $100 billion.
Some of the other top companies run by families who are still promoters include Hinduja Group, Aditya Birla Management, Rajesh Exports, Bajaj Finance, TVS Motors, etc. 
Why do these family owned-companies perform better?
One major factor that differentiates businesses is the long-term perspective. Family-owned businesses often outperform because they often have a longer-term investment focus compared to non-family-owned companies. Due to this, they end up driving significant excess returns for all shareholders.
This has particularly been the case in the Asia Pacific where returns were compounded in excess of close to 5% a year since 2006. This long-term focus could be fuelled with the aim to transfer the business to the next generation.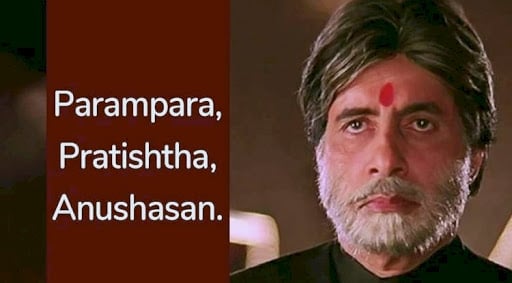 Another report studying family businesses by PwC showed that family businesses have a clear sense of agreed values and purpose as a company and that the family that owns the business has a clear set of family values. These values are often generic revolving around honesty, hard work, integrity, respect, and so on.
In some cases, these values were written down in the company's mission statement which included additional aspects of family values like – community, customers, people, commitment, ethics, sustainability, quality, innovation, trust, fairness, and openness. Indian businesses are also gradually putting their value statements and purpose down on record.
90% of Family-owned businesses in India also stated that they involve themselves in philanthropic activities. This involves giving money to good causes and local communities. Family-owned businesses also focused more on social policies since the outbreak of the COVID-19 pandemic.
Closing Thoughts
In this article, we covered the family managed companies in India. Even though family businesses perform better than their counterparts in a number of metrics, they still face their own set of challenges. The study conducted by PwC identifies the need to innovate as the biggest challenge for family businesses.
Another challenge they face is that of attracting professionals to their companies. Businesses face this as professionals often fear a lack of independence in decision making and the absence of a clear path to the top. These however may not include the top-tier businesses like the ones mentioned above.
In India, 92% of family businesses allow family members to work in the business. 73% of the next-gen work in the family business, which is higher than the global figure (65%). Further, 58% of the next-gen in India, compared to 43% globally, are a part of the leadership team. 50% of the next-gen are senior executives and 43% are on company boards. 60% plan to pass on management and/or ownership to the next-gen.
When it comes to diversity family-owned businesses fall behind in comparison. Women average only 15% on the board and 13% on management teams in Indian family businesses. This falls short compared to 21% on the board and 24% in management teams across the globe. In addition, fewer family-owned businesses have support groups for the lesbian, gay, bisexual, and trans (LGBT) communities.
Do you think this will impact your decisions when comparing family-owned and non-family-owned companies? What do you think about promoters remaining in businesses through generations? And How important are promoters and their family's future prospects to you when it comes to investing? Let us Know!
Stay updated on the latest Stock Market News and Corporate Actions NSE with Trade Brains Portal, while also keeping an eye on the Top Gainers Today in NSE with our Stock Heatmap feature.


Aron, Bachelors in Commerce from Mangalore University, entered the world of Equity research to explore his interests in financial markets. Outside of work, you can catch him binging on a show, supporting RCB, and dreaming of visiting Kasol soon. He also believes that eating kid's ice-cream is the best way to teach them taxes.
---
Start Your Stock Market Journey Today!
Want to learn Stock Market trading and Investing? Make sure to check out exclusive Stock Market courses by FinGrad, the learning initiative by Trade Brains. You can enroll in FREE courses and webinars available on FinGrad today and get ahead in your trading career. Join now!!