Swiggy vs Zomato Fight for India's Biggest Food Aggregator: The online food delivery industry has evolved as one to watch out for. Food tech unicorns Zomato and Swiggy have made ordering online more of a necessity than a luxury in recent times.
In this article, we take a look at how these two market leaders fare against each other. Keep Reading to find out! 
Zomato and Swiggy Company Profile
Over the last decade, we have lived through enormous changes in concepts as simple as restaurants. These changes have been led by online food ordering and delivery platforms. One day you're driving down to your favorite restaurant and the next there's talk of the same food being delivered through drones.
In India, these changes have been led by several companies most of them unsuccessful like Eat Fresh, TinyOwl, FoodPanda, UberEats, etc.
The decade clearly has two winners, Zomato and Swiggy. They have not only successfully entered the unicorn club but also have expanded their presence from metropolitans to tier II and III cities.
Both the companies have attracted considerable investment with the former amidst its IPO to be the first of its kind to list in the Indian stock market.
1) Zomato – Never Have a Bad Meal!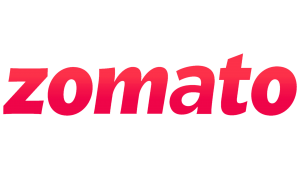 Founded in 2008, Zomato initially only existed as a platform that provided restaurant information, restaurant menu's and their user reviews at one place. The startup only entered the food delivery business in 2015 and hasn't looked back since.
Within the next 3 years, the company entered the unicorn club. The company has raised over $3.4 billion in funding including the IPO. The main sources of income for Zomato are
Commission on delivery.

Restaurant promotions.

Zomato Pro Membership.

Ticket sales for events at their partner restaurants.

Hyperpure, a supplier of farm products to restaurants.
ALSO READ
2) Swiggy – Order food from favorite restaurants near you!
Swiggy was founded in 2014. Although a late entrant the startup was set up as a food delivery platform from the beginning itself.
Swiggy entered the unicorn club the same year as Zomato in 2018. Over the years the company has successfully raised over $2.9 billion in funding.
The main sources of income for Swiggy are
Commission on delivery.

Swiggy Access, which provides ready-to-use kitchen space to restaurant partners.

Swiggy Super, its membership program.

Restaurant promotions.

 

Swiggy Go, its package delivery service available to all customers.
Both the company have used similar strategies to emerge as market leaders. The most important being a strategic discounting model. This has helped them attract customers and retain them.
Zomato has also extensively used inorganic means to grow not only in Indian markets but also in international markets. Its most prominent acquisition being UberEats.
Zomato acquired Uber's food delivery business in India for cash and stock transaction value of Rs. 1376 crores. Swiggy acquired companies like 48 East, Scootsy logistics and partnering with Sodexo.
Crunching Numbers: Swiggy vs Zomato
 Post-2015 Swiggy managed to maintain a marginal lead in the food delivery segment. But post the acquisition of UberEats Zomato finally gained a significant upper hand.
According to Bernstein analysts, Zomato leads the market with about 50% market share as of 2020. The two food delivery giants currently maintain a duopoly holding more than 80% market share for the same year.
Through its inorganic growth, Zomato operates through 35 subsidiaries through its acquisitions and business units. Its consolidated revenues stood at Rs. 2605 crores in FY20. Its losses however rose to Rs. 2358.6 crores for the same period.
For the first 3 quarters of FY2020-21 Zomato clocked a revenue of Rs. 1,367 crores. On the bright side although Zomato was yet to be profitable they reduce their losses by Rs. 812 crores for the 3 quarters.
Zomato did this by cutting discounts and reducing costs. These measures included selling its stake in Bengaluru-based Loyal Hospitality. In addition to this Zomato shut down its subsidiaries in Austria, Romania, and Norway.
Swiggy on the other hand earned a revenue of Rs 2776 crores for FY2019-20. Their losses for the same period stood at Rs. 3768.5 crores.
Swiggy also suffered losses in many of its subsidiaries. These included Mumbai-based delivery venture Scootsy, Milk delivery startup SuprDaily which posted losses of  Rs 206.8 crore and Rs 272.2 crore during FY20 respectively.
Quick Read
Closing Thoughts
The pandemic has had a silver lining for these 2 food delivery firms as the lockdowns have forced citizens to limit themselves to only ordering online. If this were to play in their favor in the long run it could also result in widespread changes in user habits.
One aspect both the companies have struggled with is acquiring and retaining customers. Ever since Zomato and Swiggy have tried to stop their discounting policies their growth has slowed.
Apart from these the two online food aggregators also face the external threat of big players like Amazon and Reliance entering the market. Considering both Zomato and Swiggy are building their war chests this should not be a problem in the immediate future.
The luckiest aspect for users now being that they can not only order through these apps but now can also take part in their growth through Zomato. Happy Investing!


Aron, Bachelors in Commerce from Mangalore University, entered the world of Equity research to explore his interests in financial markets. Outside of work, you can catch him binging on a show, supporting RCB, and dreaming of visiting Kasol soon. He also believes that eating kid's ice-cream is the best way to teach them taxes.
---
Start Your Stock Market Journey Today!
Want to learn Stock Market trading and Investing? Make sure to check out exclusive Stock Market courses by FinGrad, the learning initiative by Trade Brains. You can enroll in FREE courses and webinars available on FinGrad today and get ahead in your trading career. Join now!!