List of Best stocks and Top themes to invest for Future: While investing in stocks, one should always look for companies whose products and services will thrive in future because investments should be made on the future expectations and not just the current market scenario. That's why stock investors are always on the look of those sectors or themes which are growing at a fast pace and may dominate the market in the future. Enter Themes to invest for future.
In this article, we'll look into three themes to invest for futures and the top stocks in these themes. Al these themes can grow significantly in future and the stocks mentioned in these themes are going to play a major role in making these themes grow faster. Keep reading.
3 Themes to Invest for Future
Here are the three themes and the constituent stocks to watch out for future. Please note that there may be many other companies working on these themes too. However, we have picked the top ones.
1. Electric Vehicle
One of the major reasons why countries are forced into adopting an electric alternative is climate change. India according to Environmental Pollution Index (EPI) 2020 is ranked 168 out of 180 in terms of air quality. One of the strategies adopted to combat this has been the push for electric vehicles (EVs). This will not only improve the environment but also India's overall economic health. India currently imports crude oil and which sets us back in a deficit of approx $60 billion.
The aim set by the government has been 100% electrification by 2030. This is a humungous target considering the early stages of adoption that we currently are in. The electric vehicle adoption rate in India is less than 1% according to a McKinsey&Company report. Further, according to Bloomberg, in the six years leading up to October 2019, India has barely sold more than 8,000 electric cars. If compared to countries like China, US etc, these sales figured are achieved in less than 2 days.
Anyways, some state government realizing their role have tried to eradicate one of the major barriers to owning an EV i.e. the high initial cost. This can be seen in the example of Maharashtra where subsidies were announced amounting to 1 lakh for electric vehicles. The government has also realized that it is best to target their efforts towards the public transport system in the initial stages.
There are multiple companies in India that are working for the Electric Vehicle Segment. Here are the top stocks to watch out for in the Electric Vehicle theme in India:
| Company Name | Industry | Market Cap (Rs Cr) |
| --- | --- | --- |
| Adani Green Energy Ltd. | Power Generation-Distribution | 156,745.51 |
| Tata Power Company Ltd. | Power Generation-Distribution | 39,558.30 |
| Indian Energy Exchange Ltd. | Power Generation-Distribution | 11,829.49 |
| JSW Energy Ltd. | Power Generation-Distribution | 28,059.10 |
| NTPC Ltd. | Power Generation-Distribution | 114,226.73 |
ALSO READ:
2. Digital India
The second one in this list of top themes to invest for future is Digital India. Before looking into Digital India stocks, let us first discuss what exactly is this theme and why investors should keep an eye on these stocks.
Digital India is a campaign launched by the Government of India in order to ensure improved online infrastructure by increasing Internet connectivity. The government has put forward plans to connect rural areas with high-speed internet networks. This empowers citizens with access to digital services and information can emerge as one of the biggest drivers of economic growth.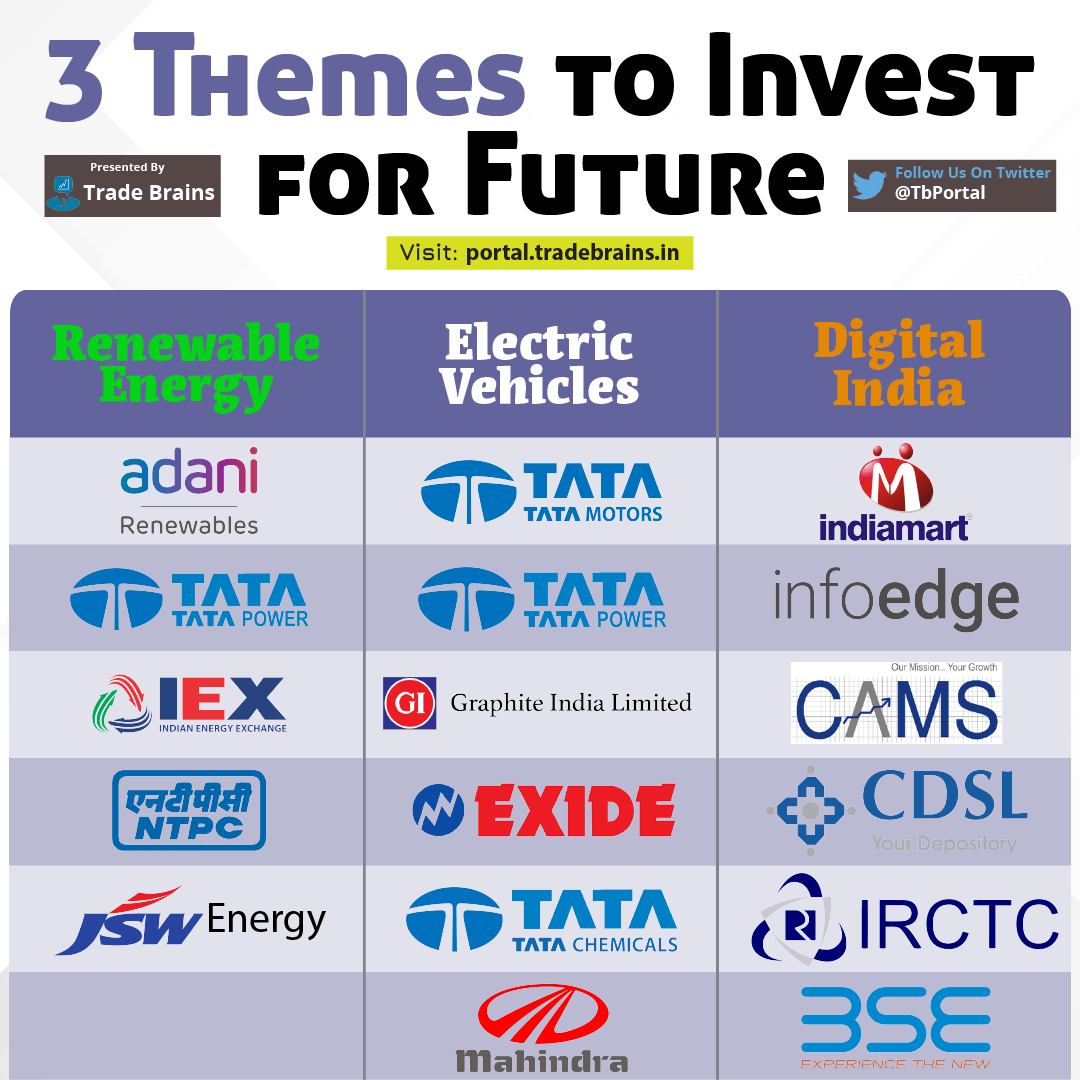 The government has rightly identified this sector in order to bring greater focus to this sector. The initiatives include enhancing digital infrastructure, increasing digital literacy, and providing a sustainable living environment in urban areas through the use of technology, and building smart cities.
There are already a lot of major companies working on Digital India theme in India including the tech giants like Infosys, Tech Mahindra, TCS, Infoedge, etc. Further, with Zomato entering the stock market and other tech stocks like Paytm, Flipkart, Ola etc to be offering IPO soon, there will be tremendous options for investors to invest in Digital India and get benefitted from huge returns. Here are the top stocks to watch out for in the Digital India Themes:
| Company Name | Industry | Market Cap (Rs Cr) |
| --- | --- | --- |
| Indiamart Intermesh Ltd. | e-Commerce | 22,298.70 |
| Info Edge (India) Ltd. | BPO-ITeS | 69,546.64 |
| Computer Age Management Services Ltd. | BPO-ITeS | 13,984.12 |
| Central Depository Services (India) Ltd. | Finance - NBFC | 11,321.01 |
| BSE Ltd. | Finance - Others | 4,485.55 |
| Indian Railway Catering And Tourism Corporation Ltd. | Travel Services | 36,202.40 |
| Quess Corp Ltd. | Miscellaneous | 11,956.28 |
ALSO READ:
3. Renewable Energy
Finally, the one theme on which two on the Richest man in India, Mukesh Ambani and Gautam Adani are competing for, i.e. Renewable Energy.
In Reliance's Annual General Meeting of 2021, Mukesh Ambani announced that Reliance is going to invest Rs 75,000 cr in the new energy business over the next three years. It will invest ₹60,000 crores to build four 'Giga factories' at Jamnagar for the production of solar cells and modules, energy storage batteries, fuel cells, and green hydrogen. It will also invest 15,000 crores in the value chain and other partnerships relating to its new renewable energy business.
"Jamnagar was the cradle of our old energy business. Jamnagar will also be the cradle of our new energy business," said Ambani.
In addition, Gautam Adani is already a big existing player in this industry with his ventures like Adani Renewables and Adani Power.
Looking into the themes, India is the third-largest producer and second-largest consumer of electricity in the world. India had an installed power capacity of 371.97 gigawatts (GW) as of July 2020. When we take a look at the growth opportunities in this sector their prospects can be viewed in the two plans already put forward by the government. The first being the governments' vision of ensuring 24×7 affordable and quality power for all.
According to the Ministry of Power, the Saubhagya mission which had begun in 2017 where 100% of households in 25 states would be electrified has already been achieved. The only states left out were Assam, Rajasthan, Meghalaya, and Chhattisgarh. 100% electrification, however, does not mean that going forward there will be limited opportunities isolated only to the remaining four states. India's energy demand is expected to double by 2040 and also has the potential to triple. This is mainly because of the rising Indian temperatures and increased appliance ownership among consumers.
This would require India to add massive amounts of power generation capacity in order to meet the demand from the 1 billion airconditioning units the country is expected to have by 2050. And that's where the renewable energy companies are going to play a major role.
Here are the top stocks that you should look out for in the Renewable Energy theme in India:
| Company Name | Industry | Market Cap (Rs Cr) |
| --- | --- | --- |
| Tata Motors Ltd. | Automobiles-Trucks-Lcv | 102,082.86 |
| Tata Power Company Ltd. | Power Generation-Distribution | 39,558.30 |
| Graphite India Ltd. | Electrodes & Welding Equipment | 12,409.28 |
| Exide Industries Ltd. | Batteries | 15,576.25 |
| Amara Raja Batteries Ltd. | Batteries | 12,615.36 |
| Tata Chemicals Ltd. | Chemicals | 19,842.97 |
| Mahindra & Mahindra Ltd. | Automobiles - Passenger Cars | 96,092.57 |
ALSO READ
Closing Thoughts
Today we looked into three of the most exciting and growth potential themes. Investors should watch out for these thmes to invest for future and the stocks related to them. All these themes are investors' favourite as they have tremendous potential to give amazing returns to the investors who takes the opportunity and stayed invested in them for the next 10–20 years. Apart from these, a few more interesting themes to invest for future that investors should also look out for are Artificial Intelligence Stocks, Fintech stocks, Infrastructure India stocks, and Power Energy stocks.
That's all for this post on top themes to invest for future. Do let us know which themes you are most bullish on for the next 10 years in the comment section below. Have a great day and Happy investing.
Kritesh (Tweet here) is the Founder & CEO of Trade Brains & FinGrad. He is an NSE Certified Equity Fundamental Analyst with +7 Years of Experience in Share Market Investing. Kritesh frequently writes about Share Market Investing and IPOs and publishes his personal insights on the market.
---
Start Your Stock Market Journey Today!
Want to learn Stock Market trading and Investing? Make sure to check out exclusive Stock Market courses by FinGrad, the learning initiative by Trade Brains. You can enroll in FREE courses and webinars available on FinGrad today and get ahead in your trading career. Join now!!